5 Hair Loss Myths Debunked
When seeking out hair loss information, it's easy to get obsessive about a million little things that are supposedly bad for your hair density or cause hair loss. According to Dr. Kristin Hughes, about 50% of women will experience noticeable hair loss in their lifetime. And while there are plenty of documented and proven reasons women lose their hair, there are myths about hair loss floating around, too.
So what's real and what's not? To save you some stress, here's what you need to know about these top five hair loss myths.
Myth #1: Wearing Hats Cause Hair Loss
The source of this hair loss myth springs from two separate concerns. Some people falsely believe that wearing a hat can cause hair follicles to be cut off from oxygen, causing the follicles to suffocate and die, which can lead to hair loss issues. Others think that wearing a hat with a snug hatband might restrict blood circulation to the hairline and deprive hair follicles of the nutrients they need to grow.
Fortunately, there's no evidence that either of these claims is true. In fact, regularly wearing a hat when exposed to direct sunshine can actually prevent hair damage caused by ultraviolet radiation. And Dr. Hughes agreed: "It is important to continue wearing hats when exposed to sunlight and the outdoors for extended periods of time," she said. So go ahead and rock that baseball cap, trilby or snapback — wearing a hat might actually serve as a passive hair loss solution.
Read: What Should You Know About Saw Palmetto for Hair Loss
Myth #2: Hair Loss Is Irreversible
It's true that some kinds of hair loss, like genetically rooted male pattern baldness and some forms of alopecia, are caused by genetic conditions, which makes them irreversible. People also experience a normal amount of hair thinning as they age. However, the majority of hair loss problems experienced by both men and women have a chance of being reversed.
If you believe you may be suffering from an inherited condition that causes pattern hair loss, the first step is to speak to your doctor and request a blood test. "Hair loss needs to be looked at from several angles, and identifying the cause is the first step to treating it," said Dr. Hughes. "This might include having your blood drawn to further investigate and address treatable causes of hair loss. It is important to get thyroid, testosterone and other hormone levels in order to fully evaluate unexpected hair loss. 
Thankfully, most of the causes of hair loss are temporary, such as stress, shifts in hormone levels that may lead to postpartum hair loss and disruptions caused by illness. Taking care of your health, from your tresses to your toes, is one of the best ways to support hair wellness.

Shop: Nicole Franzel Arroyo's Top VEGAMOUR Picks
Myth #3: Only Men Experience Hair Loss
One of the most common false hair loss myths is that it's caused by an overabundance of testosterone, suggesting that men who have a bald spot or other markers of hair loss might also have elevated levels of the hormone. However, that's simply not the case. While men do experience higher instances of inherited pattern baldness, it's not only men who suffer from hair loss. And men and women who experience hair loss or alopecia are no more likely to have elevated testosterone than anyone else.
Still, that doesn't mean hormones don't play a role in hair health. The facts support a discovery that having too much of a hormone called DHT (which is caused by genetics) causes your hair follicles to slowly stop producing as you age. But a product like GRO+ Advanced Hair Serum can help combat the effects of excess DHT due to DHT-blocking ingredients. The serum contains ingredients like red clover, which has been shown in clinical studies to improve hair volume and thickness.

Myth #4: Overwashing Can Cause Hair Loss
No, overwashing your hair doesn't impact hair loss. This hair loss myth is likely rooted in the fact that you're more likely to notice hair falling out as you wash or brush it, but that doesn't mean these actions are causing you to lose hair.
The hair that falls out during a normal wash day might be caused by age, the hormonal shifts of pregnancy for women or simply by the normal hair growth cycle, which includes periods of loss as well as growth. Everyone's ideal wash routine is different, so it's important to make sure you're not overwashing (or washing too little!) for optimal hair health and beauty. Try VEGAMOUR's plant-based GRO Revitalizing Shampoo and Conditioner Kit to clean and hydrate your tresses without pore-blocking residue.

Myth #5: OTC Hair Loss Products Aren't That Bad
Lastly, one of the most dangerous myths when it comes to hair health: The false idea that OTC hair products really aren't that bad. The sad fact is, many of the OTC products that claim to prevent hair loss are ineffective at best, and at worst, may cause dangerous side effects. Some common red flag ingredients to look out for include:
If you do choose to use an OTC hair loss treatment, it's wise to research the listed ingredients to be aware of any possible side effects and make sure each ingredient aligns with your health and lifestyle goals.
Also: Can Lack of Sleep Cause Hair Loss?
How VEGAMOUR Can Support Hair Wellness
Replacing potentially toxic and damaging hair restoration treatments with a healthier, science-based approach to treatments was our primary inspiration in founding VEGAMOUR. Our all-vegan, hormone-free hair wellness formulas are based on active botanical ingredients that contain bio-active phytomolecules that open the communication channels between hair follicles and skin tissue. Hair regrowth experts have found these ingredients can help enable hair growth stimulation. Some of our most widely used active ingredients include:
Red clover and mung bean: Promotes normalized strand protection by fighting against the follicle shrinking action of DHT.
Turmeric root: Supports a longer anagen (hair growth) phase throughout the scalp.
Nicotiana benthamiana: Reduces hair loss from telogen effluvium (i.e., excessive shedding due to stress) while strengthening and increasing the density of existing hair .
Because all of our products contain these powerful ingredients, you can start small with a simple serum routine or swap out your shampoo and conditioner for our boosted botanical versions. Or go big and try a combo pack to experience the benefits of multiple active ingredients working to simultaneously support hair beauty and wellness. We know from experience how stressful hair loss can be, and we'd love to have you join us on your hair restoration journey!
More From VEGAMOUR
Photo credit: Alexander Stemplewski/Pexels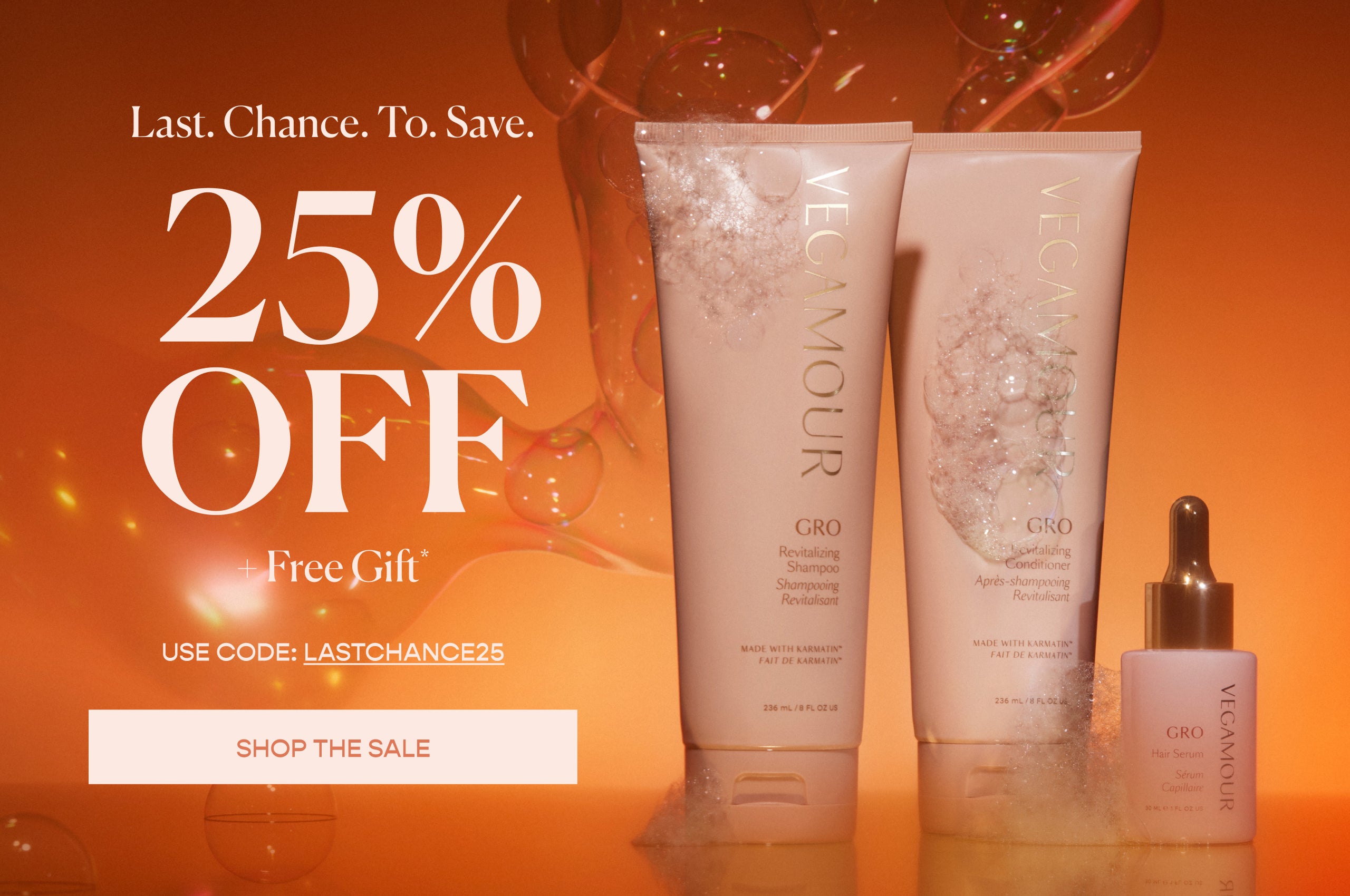 Disclaimer: Information in this article is intended for general informational and entertainment purposes only. It is not intended to constitute medical advice, diagnosis, or treatment. Always seek professional medical advice from your physician.