12 Ways to Use Marula Oil in Your Beauty Routine
You've almost certainly seen marula oil's rise to fame in the beauty and wellness spheres. But did you know that marula oil has been benefiting humankind for generations? Native to parts of southern Africa, the marula tree (Sclerocarya birrea) is prized by the African culture for the sacred oil its fruit's nut yields  — oil which Africans believe can boost fertility and strengthen marriages. But Africans aren't the only fans of the marula: The fruit, nuts and oil are used for food, medicinal and cosmetic purposes across the globe.
Marula oil is primarily extracted from the inner kernel of the marula nut but can also come from the husks of the nut as well. Because marula oil is rich in protein and easily absorbed, it's become a popular treatment for hair and skin. But marula oil offers up a bevy of benefits that make it oh-so appropriate for a wide variety of applications:
Amino acids: Rich in L-arginine and glutamic acid, which have hydrating and anti-aging properties.
Fatty acids: Contains fatty acids like palmitic, stearic, oleic and myristic acids, which can pack a powerful moisturizing punch.
Antioxidants: Boasts several phenolic compounds along with vitamins E and C, meaning it can fight free radicals.
Keep reading to learn more about the power of marula oil, plus explore the best marula oil products for your hair, skin and nails.
12 Ways to Use Marula Oil in Your Self-Care Routine
What is marula oil used for? Well, there are actually a ton of uses! Let's get into the many benefits of marula oil — and the many ways you can work it into your health, beauty and self-care routines.
1. Make a Marula Mask
Because of its antimicrobial properties, marula oil can help tackle bacteria and related issues on the scalp. Beyond that, you can whip up a hair mask that will moisturize your hair from root to tip. If you want to really hack your hair's visible sheen, try wearing the mask overnight with a shower cap. We love blending bananas with marula oil to help tame frizz, but there are lots of wonderful recipes out there to try for hair health.
Shop: Clean Hair Products
2. Prime Your Face
Makeup artists and everyday glam gals alike love to use marula oil as a primer for makeup. Why? As an emollient, marula fills in the cracks and gaps on the top layer of skin to leave it softer and smoother. Not only that, but marula can also be an effective part of your skincare routine. It's known for providing a light but protective layer to skin and hair, so it can help keep all the goodies you applied prior to your makeup where they belong. 
"I love having marula oil in my kit!" said makeup artist Molly Thompson-Tubridy. "Since it's a lightweight oil, it is absorbed quickly, which makes it great for refreshing the skin before applying heavy makeup."
And don't fret — since marula is a lightweight oil, it doesn't leave behind a greasy residue that could mess with your look. A 2015 study found that the specific profile of fatty acids in marula oil is comparable to the oils naturally found in the skin. Win-win.
Shop: Marula Oil Products
3. Soothe the Burn
Due to the many therapeutic properties marula oil brings to the table, it can soothe minor burns caused by things like shaving or too much sun. In fact, it has been used to treat burns in Africa for centuries. The fatty acids that make it so hydrating also help combat inflammation.
4. Soothe Acne-Prone Skin
Speaking of taming inflammation, this is one of several reasons dermatologists love marula for people with acne who are seeking improved skin health.
"Marula oil is extremely helpful to those with oily, acne-prone and dry skin as it's very moisturizing and provides moderate prevention of water loss in the skin, according to studies," said Dr. Orit Markowitz, board-certified dermatologist and founder of OptiSkin in New York City. "It can also help reduce dryness, inflammation and calm irritated skin. And, because it also contains anti-microbial properties and is not very greasy, it can be effective against bacteria that contribute to the formation of blackheads, whiteheads and pimples, which is why it's recommended for people with oily and acne-prone skin."
Read: Compare GRO vs GRO+ Advanced 
5. Make Your Lips Extra Kissable
"It's great as a lip moisturizer," explained Essie Button, a beauty writer based in Portland, Oregon. Button's take is not surprising given marula's excellent moisturizing and protective benefits. Plus, there's an added bonus: Since it's so lightweight, it won't make your lips feel heavy or greasy.
6. Pamper Your Cuticles
"Having dry cuticles is one thing that really irritates me, especially when I get hangnails," said beauty and health writer Kryz Uy. "Marula oil really helped me. As simple as it sounds, just apply a few drops to your nails and cuticles. It's really magical."
In studies, marula has been shown to help cuticles maintain their barrier function, sealing in moisture and preventing bacteria, yeast and other pathogens from invading your nail beds. Amino acids, vitamin E and marula's emollient properties might make it an essential tool in your mani/pedi kit.
7. Soften Stretch Marks
Because of marula's ability to enhance and protect the skin's barrier, it's an excellent option for helping to prevent and treat stretch marks on all skin types. It's rich in lipids and fatty acids that hydrate the skin while also promoting the skin's own production of lipids— both of which are beneficial during the formation of stretch marks or for treating them after the fact.
8. Keep Your Skin 100
It probably doesn't come as much of a surprise at this point that marula oil is just plain good for the general health of your hair and skin. "It is widely used as it is rich in antioxidants, amino acids and essential fatty acids," Dr. Markowitz said.
We know how important antioxidants are to help protect us from environmental stressors like sun and pollution or from other free radicals that might be caused by internal stress or our diet. Marula is a great source of vitamins C and E, potent antioxidants. It also contains the amino acids L-arginine and glutamic acid, along with a phytochemical called epicatechin, all of which have wonderful anti-aging properties.
9. Protect Your Collagen
Collagen and elastin — the proteins essential for healthy, youthful skin—are easily degraded by certain enzymes. The antioxidants in marula can protect the skin's collagen from being degraded. In fact, a 2018 study found that marula is effective at inhibiting the enzymes that break down both collagen and elastin.
Also: Are Collagen Supplements Vegan?
10. Smooth Your Locks
Aside from the deep moisture and protection a marula hair mask can provide, you can also add it to your toolbox of hair wellness products to use before heat styling, to help keep hair hydrated or to tame flyaways.
"This quality of marula — trapping moisture under a protective layer — makes it an effective treatment for dry hair and very effective against split ends," said Button.
Read: How to Grow Your Hair Out Faster
11. Scrunch Out the Crunch and Refresh Your Curls
Curly girls know the feeling of going through an entire styling routine only to be left with crunchy, wet looking curls that were popular circa 1996. This is due to mousse or gel products creating a cast around your curls, and it's not a bad thing! But you do need one more step to make your curls look their best.
Apply a few drops of pure marula oil to the palm of your hands, rub your hands to together and then scrunch your curls until the crunchy feeling is gone. This will leave you with the gorgeous curls you're after. Plus, the marula oil will lock in moisture and keep those curls hydrated. You can go through this same process when refreshing day-two or -three (... or -four or -five) curls!
Related: How to Protect Your Curls While You Sleep
12. Boost Efficacy of Other Beauty Products
"I started mixing a few drops of marula oil with my beauty products ever since I noticed that one of my favorite brands had marula oil in almost all their products," said Uy. You can add a few drops of marula to almost any of your current beauty products (think hair conditioners, moisturizers, serums or night creams), and it can be layered over products with their own active ingredients (like retinoids and peptides, for example) to help seal them into skin and hair and boost their efficacy. Adding a few drops of pure marula oil can be the easiest way to incorporate it into your current hair or skincare routine.
Where to Buy Marula Oil
You can get the best, pure marula oil right here at VEGAMOUR, either unscented or with a fresh bergamot scent. VEGAMOUR uses a raw, cold-pressed method of extraction and filtration, for a pure and concentrated result. With our sister company, Southern Botanica, we provide fair trade economic opportunities to over 5000 women in Namibia who harvest the marula nut. Plus, use a VEGAMOUR coupon code for a discount.
P.S. Southern Botanica, our sister company that produces the 100% pure and unrefined marula oil we use in our products, provides Fair Trade jobs to over 5,000 women in northern Namibia each year. As part of our social mission, VEGAMOUR is partnering with Southern Botanica to fund a tree planting program in northern Namibia that will help grow 30,000 mango trees over a ten-year period in drought-stricken communities without access to fresh fruit.
More From VEGAMOUR
Photo credit: VEGAMOUR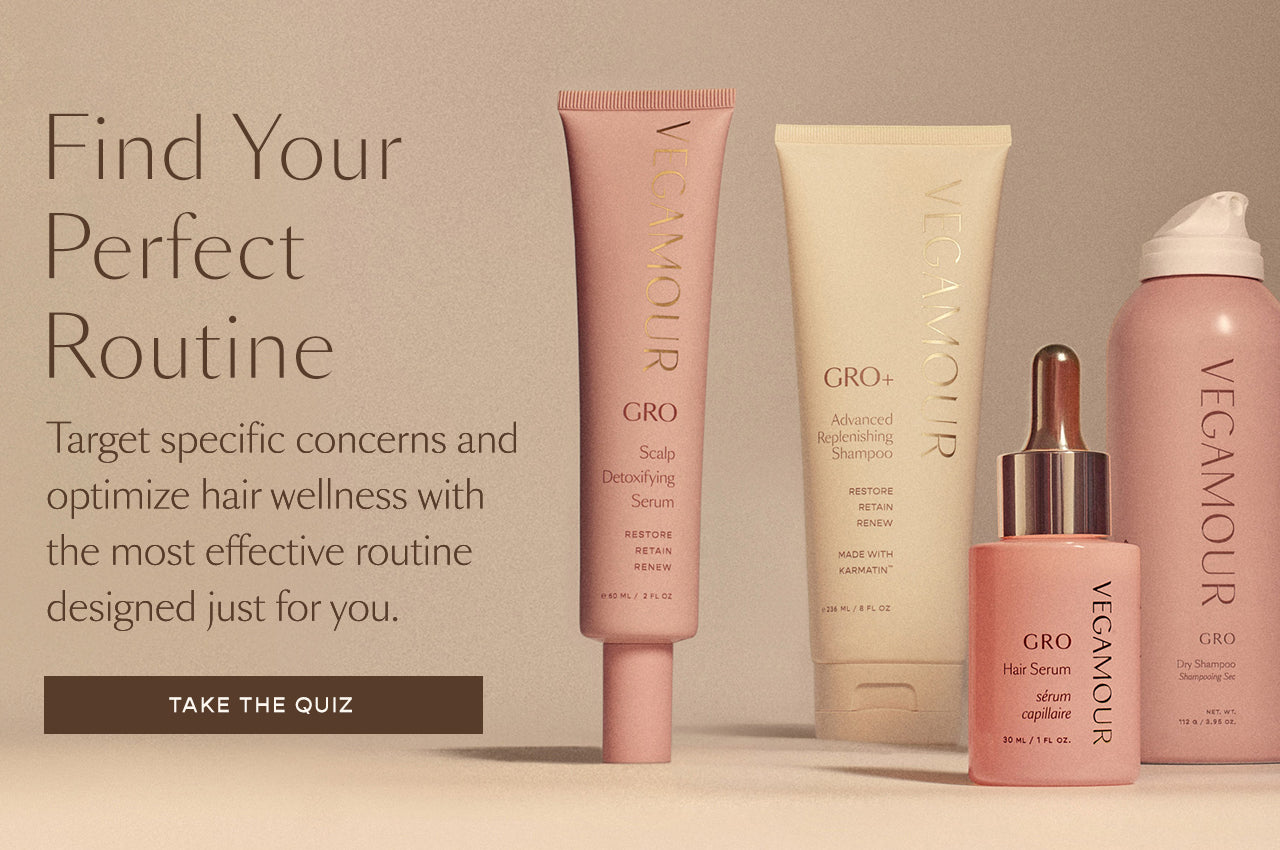 Disclaimer: Information in this article is intended for general informational and entertainment purposes only. It is not intended to constitute medical advice, diagnosis, or treatment. Always seek professional medical advice from your physician.