Your Guide to High Porosity Hair
You wash, brush, tease, style and swish your hair daily, but how much do you know about your hair porosity? If you struggle with an almost unmanageable curl pattern, you might be working with high porosity hair.
Understanding your hair's porosity can help you transform the way your hair behaves with a targeted routine. Read on to find out what the pros say about highly porous hair, and discover what plant-based products you should use to encourage healthy-looking, manageable hair.
What Is High-Porosity Hair?
There are generally three hair porosity types: low porosity hair, medium porosity hair and high porosity hair. If you have high porosity hair, more often than not, the thirsty hair shaft will drink up hydration fast but lose moisture just as quickly.
Certified and award-winning dermatologist Dr. Alpana Mohta MBBS, M.D., DNB explained, "If your cuticle is raised or lifted, your hair is considered to be high porosity. This means that the cells are spaced further apart, making it easier for moisture and oil to escape. High porosity hair is often dry, brittle and prone to tangles and frizz." Those with highly porous hair essentially have hair strands compromised of large pores that struggle with moisture retention. So, because the hair cuticle is porous, it soaks up moisture but can't seem to seal it in.
Shop: GRO Total Body Wellness Collection
What Causes High Porosity Hair?
"There are a few things that can cause porosity. One is damage to the cuticle layer. This can be caused by chemicals, heat or physical trauma," said Mohta. "Another is the environment. If you live in a dry climate, your hair is more likely to be high porosity. If you live in a humid climate, your hair is more likely to be low porosity." High porosity hair can be genetic, which means it can run in the family, but often it's overprocessing that wreaks havoc on hair.
More often than not, the curlier the hair strand, the higher the porosity. This is because the kinks and curls make it challenging for the scalp's natural oils to travel down the shaft from the hair cuticles. This isn't a hard-and-fast rule, however. Sometimes, those with straight strands and thick hair density have high porosity and vice versa.
Shop: GRO+ Advanced AGELESS Essentials Kit
How to Recognize High-Porosity Hair
The characteristics of high porosity hair can vary, but typically, you might notice the following:
Rough, dry hair
Frustrating frizz
Tangles
Breakage
Air dries easily
Retains moisture immediately
Never looks shiny
If the hair is highly porous, too much heat will exacerbate the issue — and no matter how much moisture the hair drinks, it will always feel just a little dry.
If you bleach, color, relax or hit the heat styling hard, you could experience a porosity shift. Over-manipulating your tender strands and overusing harsh products with harmful ingredients can negatively impact your strands. When the hair cuticles are healthy, they lay flat. When damaged, they often lift, making locks and curls trickier to manage.
High Porosity Hair Test
It's surprisingly easy to discover whether you have high porosity hair — you just need to do a hair porosity test.
Start by filling a glass or clear with water.
Grab a couple of your hair stands and drop them into the water.
Watch to see what the hair does. If it immediately sinks to the bottom, it absorbs moisture quickly and is probably high porosity hair. If it sits on top of the water, it's likely low porosity hair.
Knowing more about your strands will ensure you take care of them correctly, whether your hair has low or high porosity.
See Also: How to Figure Out Your Hair Porosity (And Why It Matters)
Does High Porosity Impact Hair Growth?
If you have high porosity hair, you might be wondered if it will affect how well your hair grows. That all depends on how you care for your hair. Color-treated hair and hair that's consistently dyed, bleached or blasted with hot tools will often be damaged and have high porosity. And unfortunately, hair that's damaged will be more fragile and prone to breakage.
If you want to grow your locks to a long and luscious length, regardless of your hair porosity, you'll want to nourish the growth from the root. Set hair up with the best possible growth environment by applying GRO Hair Serum. This powerful, all-natural serum contains powerful phyto-actives that promote sustainable hair health and help keep the strands and scalp in peak condition. Multiple clinical studies have shown that the formula can help increase hair density and reduce the signs of shedding that can leave locks looking limp. Apply daily to see impressive results in just three months.
Pro tip: If you're working on retaining the lengths of your hair, visit the salon for regular trims to ensure the lengths and ends remain healthy. Split, dull and dry ends will always drag down your look.
Good to Know: How Often Can You Dye Your Hair?
Hair Care Tips for High Porosity Hair
If you've determined you have high porosity hair, it's helpful to know how to care for it. Here are some suggestions.
Use a Deep Conditioning Treatment
Very dry hair will soak up a regular deep-conditioning mask. Oil blends are a great way to lock moisture into strands. Following every wash, slather on oil blends such as argan oil, shea butter, jojoba oil and avocado oil. The heavier and richer the treatment, the more chance you have of restoring the protective layer of hair. Once you've applied the deep conditioning treatment of your choice, cover the hair with a plastic cap or cotton T-shirt and leave for about 20 minutes before rinsing. You could also leave the conditioner in overnight for added oomph.
Also: 12 Ways to Use Marula Oil in Your Beauty Routine
Try Aloe Vera and Apple Cider Vinegar
If you have high porosity hair, it might not respond well to heavy oils, deep conditioners. Instead try a lightweight hydrating leave-in conditioner spray so you can control just how much product you use and where. 
You might also want to try apple cider vinegar or an aloe vera treatment. Both ingredients are excellent for adjusting hair's pH balance, making it look and feel healthier. The slightly acidic apple cider vinegar will flatten the cuticle, and the aloe vera will help seal the moisture.
Avoid Sulfates and Silicones When Shampooing and Conditioning
Sulfates can give your strands a good lather in the shower and silicones can leave hair feeling silky soft, but long term, they can hurt your hair. Ditch any moisture-stripping and buildup-causing formulas you're currently using and turn to shampoo and conditioner with natural ingredients that will clean gently, protect strands and encourage thicker, fuller locks — all without leaving buildup behind.
Avoid Excessive Heat and Tight Hairstyles
Rather than constantly manipulating your hair with heat or pulling it back into a tight bun or ponytail, give your hair a break from time to time. Any hair type will benefit from looser styles that don't tug locks from the root. And skipping the blow dryer and other heated tools when you can will also help.
High Porosity Doesn't Always Mean Hard Work
If you have high porosity hair, you'll notice that strands absorb moisture quickly but struggle to retain the hydration. Unfortunately, this can lead to brittleness, breakage, frizz and hair that tangles easily.
If your strands continue to break, catch up with your stylist for tips on improving texture and overall health. Thankfully, VEGAMOUR's hair wellness collection is made with thirst-quenching ingredients that will help hair retain the right amount of moisture, making hair easier to manage and care for.
More From VEGAMOUR
Photo credit: Ron Lach/Pexels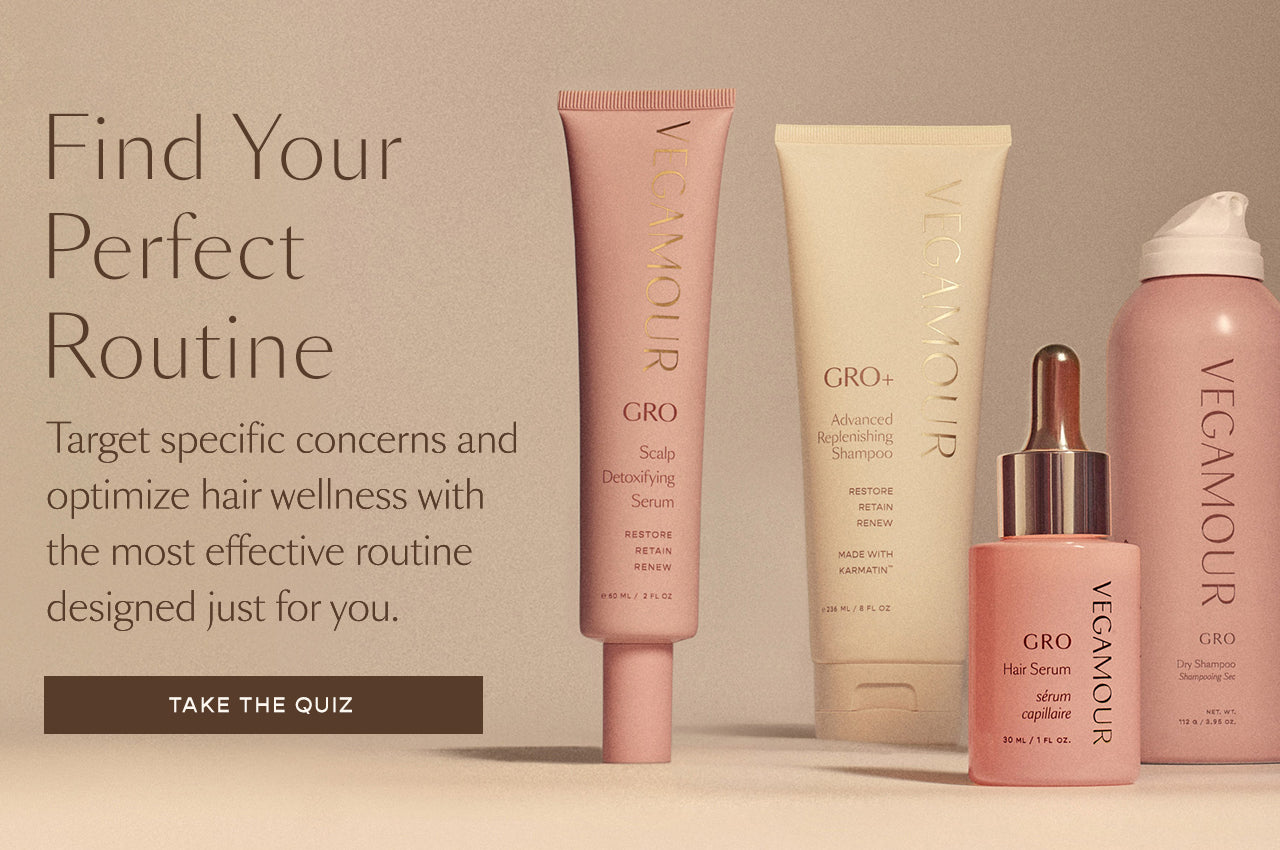 Disclaimer: Information in this article is intended for general informational and entertainment purposes only. It is not intended to constitute medical advice, diagnosis, or treatment. Always seek professional medical advice from your physician.