Should I Bleach My Hair? 5 Things to Consider Before You Commit
There are a few things to keep in mind before bleaching your hair to a lighter shade, including the cost to both your hair and your wallet, your existing hair color and the aftercare that's required for bleached hair.
VEGAMOUR spoke with the experts to find out everything you need to know before beginning the bleaching process. Plus, discover how to best care for your bleached hair with color-safe, cruelty-free formulas.
1. Is Bleaching Necessary?
Will it be necessary to bleach your hair to get the color you want? Possibly.
Bleach is the only way to cut through previously colored hair to achieve a lighter end result. This is due to two main rules of thumb that hair colorists are taught to follow:
Color on top of color creates a darker color. This is why when you put lighter hair color from a box on your previously colored hair, it actually gets darker instead of lighter.
Hair color will not lighten hair color. Again, putting a lighter color from a box on top of your color-treated hair will not lighten the hair. Worse — it will lighten your roots and not the previously colored hair, creating a botched color job you'll pay three times as much to correct at the salon.
Also, if you want to go more than four shades lighter from your natural shade, you'll have to use a bleaching agent on the hair. Some brighter looks will also require a clear pale blonde undertone created with bleach — like lavender highlights, for example.
Read More: How to Prepare Hair for Bleaching
2. The Cost to Your Hair and Wallet
Hair bleaching services are expensive because they are complex processes that require a professional touch to protect the hair cuticle and internal structures of your hair while achieving a targeted result. When bleaching your hair, your colorist will combine bleaching agents with hydrogen peroxide developers and then expertly apply it to your hair to process it to a lighter shade. This is not a one-and-done hair color.
Plus, the end result of bleaching your hair — though beautiful — will leave your hair structurally compromised with damaged hair cuticles, requiring aftercare and root touch-ups, which can add to the expense.
So, before bleaching your hair, consider whether or not you really want to pay a hefty sum of money to achieve and maintain that ice-blonde hair color you saw on TikTok.
Related: Nicole Kidman's Transition to Hair Wellness
3. Is Your Hair Strong Enough to Withstand the Bleaching Process?
Madison Dufour of The Exquisite Find explained that there's a test you should try to make sure the hair is structurally healthy enough to withstand bleaching services before making an appointment with your colorist.
"You can test your hair's elasticity by firmly pulling on it to see if it stretches to the point of breaking or only stretches a little bit," said Dufour.
A great understanding of hair structure is needed to bleach hair safely. Plus, a professional will help prepare your hair for bleaching.
Preparing the hair for bleaching could include several protective measures. Your colorist might use a scalp-protecting solution or fillers to help protect your hair and scalp while minimizing breakage. Split ends will also need to be removed with a quick trim. Your colorist might also perform a strand test to determine if your desired color is achievable on your hair while maintaining the hair's integrity.
Regarding home bleaching vs. salon bleaching, there is only one correct answer to the question of "Should I bleach my hair at home?" No. Just. No. Bleaching sessions are complex and should be left to the professionals — at least if you want to avoid a botched bleach job and damaged hair! Here are the steps you should take to ensure your hair is healthy enough to withstand the bleaching process:
Ask your colorist if the desired look will require frequent bleaching.
Ask your colorist if your hair is healthy enough for hair bleaching.
Be completely honest about what chemicals you have used on your hair and if you have well water at home, which could leave mineral deposits on your hair and make the lightening process more complicated.
Read More: Dull Hair? Things You Can Do to Bring Your Hair Back to Life
4. Your Current Hair Color
Your genetic makeup and existing hair color matter when you bleach your hair. Some nationalities, like some Asian populations, for example, do not lighten as easily due to tighter hair shaft structures. Also, some looks could require more frequent bleaching to maintain the look. It's a good idea to know what you're getting into so you can plan your budget and the time required for touch-ups and maintenance accordingly.
Here's what you can expect when you beach your hair according to your hair type:
Blonde hair: Blondes bleach very quickly to a lighter color. Toner colors might "take" quickly to blonde hair as well. Avoid dark or strong undertones. Purple shampoo might even leave a lavender cast on blonde hair that's lightened with bleach. Blonde hair might allow for more time until a root touch-up is needed.
Dark blonde with dull natural colors: Darker blonde hair tends to cast a yellowish or golden hue on the finished result. Your colorist will adjust the toner to help reduce this warmth if you don't want it.
Medium brunette: Brunette hair casts a golden or orange-y color on the finished look. Bleach has to stay on the hair much longer to reduce this, creating more damage to the hair. High contrast will mean the upkeep is more high maintenance.
Dark brunettes: If you want a blonde result, prepare to spend the big bucks. Bleach sessions might take several trips to the salon, and the result will fade more quickly than it would in lighter natural tones. The colorist will have to bleach through the orangey cast and the golden and yellow hues to get rid of any unwanted warmth. If it's a lighter warm red you want, though, rock on! That's a much faster result for your dark hair and easier to maintain.
Shop: GRO Origins Kit
5. The Aftercare
To maintain your chemically lightened strands, you'll need to use the proper color-safe hair care products in your routine. For the lifetime of those bleached hairs on your head, you'll need to invest in the proper hair care products and do regular treatments on the hair to keep it as healthy as possible.
Repairing the internal hair structure with protein is important, but because animal keratin proteins can make the hair brittle and the molecules are essentially too large to do any real good for the hair, we recommend going with a phyto/plant protein. VEGAMOUR uses microencapsulated vegan b-SILK™ protein. This type of protein is plant-based and a smaller molecule protein that bonds to your hair follicles.
Unlike animal keratins, b-SILK™ protein remains in the hair after rinsing. It's far superior care for your bleached hair. The GRO Foundation Kit is an excellent way to ensure your bleached hair gets the ongoing protein it will need after using hair bleach with just the right amount of moisture for styleable shiny hair. Use the scalp detoxifying serum after any hair coloring services and regularly thereafter to cleanse your scalp and keep it healthy.

Read More: Make Your Hair Color Last Longer With These 6 Simple Steps
Tips for Protecting Bleached Hair
If you've considered all five of the factors above and decided to move forward with the decision to bleach your hair, here are a few tips you should keep in mind if you want to maintain strong, healthy hair:
Always use color-safe hair products on hair that's been treated with bleach.
Replace the natural oils lost by hair bleach services with deep conditioning molecules like the ones in GRO Revitalizing Conditioner.
Treat your hair to the occasional hair mask, which provides a quick moisture boost for thirsty hair.
Dry the hair carefully; gently dab out excess moisture with a microfiber towel and allow to air dry before styling.
Avoid heat styling tools or use a heat protectant if you must use hot styling tools to style your hair. Always set your blow dryer on the lowest temperature setting to prevent any further hair damage. (Heating tools can severely damage lightened strands.)
Use tepid or cool water on bleach-processed hair when shampooing and conditioning to avoid fading of the color and to smooth the cuticle layers of the hair.
Improve Your Hair Wellness
Whether or not you choose to bleach your hair, keeping your hair healthy is the best thing you can do to improve the strength and shine of your hair. This is why VEGAMOUR created the GRO Revitalizing line to keep all types of hair looking and feeling healthy and strong. Follow our blog to discover more styling tips and the hair wellness products you can use to help achieve your perfect style.
More From VEGAMOUR
Photo credit: MilosStankovic/iStock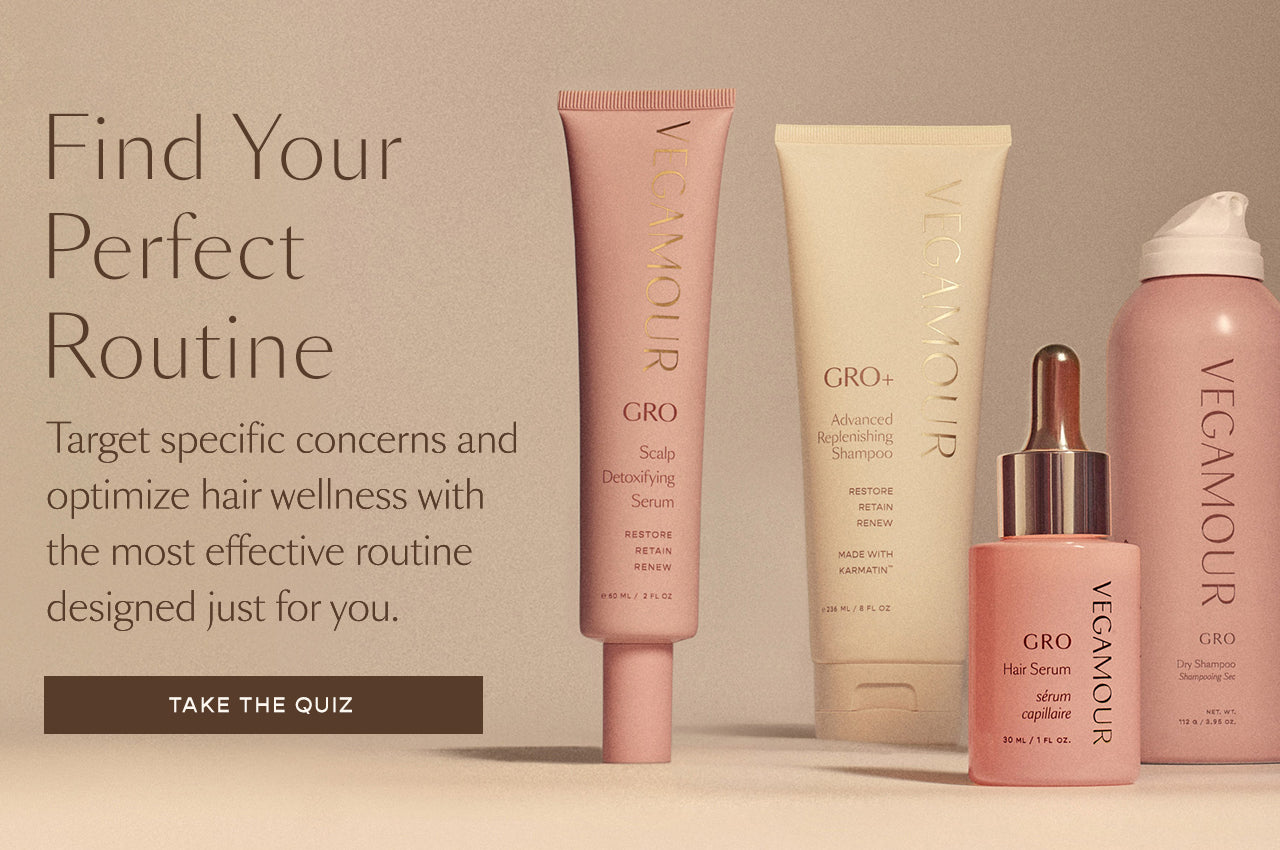 Disclaimer: Information in this article is intended for general informational and entertainment purposes only. It is not intended to constitute medical advice, diagnosis, or treatment. Always seek professional medical advice from your physician.