Thinking of Going from Brunette to Blonde?
Making the switch from brown hair to blonde hair can be daunting even for a seasoned strand expert. If you're contemplating a blonde hair transformation of your own, you probably have lots of questions about the process, from how to transform your natural hair color without damaging your strands to the various options you have when choosing your perfect new permanent color.
VEGAMOUR talked to a professional hair colorist about the brunette to blonde transition, covering the many factors that will impact your coloring process. Plus, discover the products you really need to nourish and support colored hair from the inside out.
How to Get Blonde Hair
Going blonde isn't as easy as slapping on a box of drugstore blonde hair dye over your dark brown hair and hoping you'll end up with your desired shade. It's an involved process that requires lots of collaboration with your hairstylist to make sure you end up with a shade that suits your skin tone.
According to hairstylist Alice Rawling, your method of going blonde depends on your hair history and natural color, all of which will impact the color you end up with and alter the way your stylist approaches the dying process.
"The process of lightening hair entails color mixing, bleaching, development and toning," she explained. "Several techniques may be used, all of which are chemical processes, depending on the desired level of lightning."
Permanent color or demi-permanent tones often require more than one appointment to get right. Going blonde frequently involves a multi-step double process.
"Going from brunette to blonde will start with ammonia or other alkaline agents which swell the hair shaft and open up the cuticles," said Rawling. "The next approach is using oxidants such as persulfates which penetrate the hair fiber to permanently remove melanin."
Bleached hair involves stripping hair of its natural oils, so Rawling explained that many colorists prefer to use alternate processes, which cause less damage to the strands.
"You can expect to lighten your hair without bleaching during an appointment using a super-lightening color treatment," she explained. "The process takes about five hours. Other techniques include balayage, traditional and babylight highlighting."
Transitioning from a cool brown to a bright blonde is a complex process, so Rawlings said the best approach is to be patient and understand that these things take time. Bring a good book or magazine and settle in for the long haul. Good things come to those who wait!
Read More: How to Prepare Hair for Bleaching
Understanding the Degrees of Blondness
Once you've decided to commit to your new blonde lifestyle, Rawlings said that the next step is determining which shades of blonde work best for you.
"The various stages of lightening from brunette to blonde start from [stage] one, which is black, to [stage] ten, which is the lightest blonde," she said. "Black is the darkest and first hair color which is unbleached. Darkest brown is the second stage, just above black. Dark brown is the third stage and lighter than darkest brown. The fourth stage is brown. Reddish brown or light brown is the fifth level and is almost auburn or almost blonde."
The fifth level of hair tone is where the brown shades with yellow and orange tones begin to shift to the blonde hues you're looking for.
"Stage six is orange or darkest blonde, which is the first entry into the blonde category," said Rawling. "The seventh stage is dark blonde. Blonde is the eighth stage, where true blonde is achieved with medium golden color. The ninth stage is light blonde, with a pale or sometimes silvery color. The tenth and final stage is lightest blonde which is practically or completely white hair."
To determine which shade works best for you, consult with your colorist. If you have a pink skin tone, which can be indicated by the presence of blue veins under your skin, a cool blonde style like platinum blonde or ash blonde will suit you best. If your skin has golden undertones, warm tones like honey blonde are the way to go.
At the beginning of your dye process, your colorist will likely perform the strand test, which involves using a tint brush or other tool to apply a lightening agent to some of the strands on your head. The response will let them know if you're able to take on certain levels of blonde hair and help them determine how your color will turn out. It also helps them figure out how difficult your hair will be to dye and how many appointments you might need to get your desired shade.
This test is critical because, without it, your colorist won't be able to determine how your dyed hair will look when it's completed. It helps them understand the condition of your hair and whether it has been impacted by past dying or the use of hot tools, which they'll need to account for as they design your dye protocol. Going blonde is a highly individual process and the strand test ensures you'll get it right.
Read More: How to Hydrate Hair After Bleaching It
How to Care for Your Lighter Color
You've done the tests, figured out your ideal hue and made the leap from brunette to blonde. Congratulations on your new blonde hair! But how do you actually care for it?
Because dyed hair (and lightened hair in particular) tends to be delicate, it's more important than ever that you're using products that nourish and support your hair's health, rather than depleting it with harsh chemicals.
Purple shampoo is a popular option for people with dyed hair who are looking to neutralize brassy orange and yellow tones that can give hair an artificial appearance, but the most important thing is to use a sulfate-free shampoo that doesn't have hair-damaging harsh chemicals. A shampoo and conditioner set that supports hair color by delivering critical nutritional support, fighting off free radicals and nourishing hair from the inside out is your dyed hair's new BFF.

Moisture is especially important for dyed hair, which has been depleted of its natural protective oils by the dying process, so you need to stay away from anything that dries out your strands. Heat styling is a no-go, as is swimming in chlorinated water, using harsh chemical styling products or spending too long exposing your hair to the sun's UV rays.
Instead, adopt a routine that introduces moisture deep into your thirsty strands. Colorists recommend you use conditioner every day in the weeks after you get your hair dyed to help your hair regain its missing moisture. Shampoo no more than a few times a week, but condition liberally with every wash to ensure you're locking in hydration where you need it most.
For an extra boost of hydration, it's a good idea to start using an ultra-hydrating hair mask that nourishes deeply and reduces frizz while enhancing color and shine. Use a hair mask specifically designed to rehydrate color-treated or heat-damaged hair to restore your hair's healthy appearance while keeping your new color vibrant for as long as possible.

Read More: 10 Steps to Take Before Your Next Hair Color Appointment
The Natural Products You Need to Support Healthy Hair
Going blonde can be a complicated process, but caring for your hair doesn't have to be. Making the switch to a hair care routine that's designed to support your transition from brown to blonde hair naturally is the best way to ensure your hair is getting the nutrition and moisture it needs. Achieving healthy blonde hair is possible with the right products that nourish your dyed strands with all-natural plant-based active ingredients.
More From VEGAMOUR
Photo credit: okskukuruza/iStock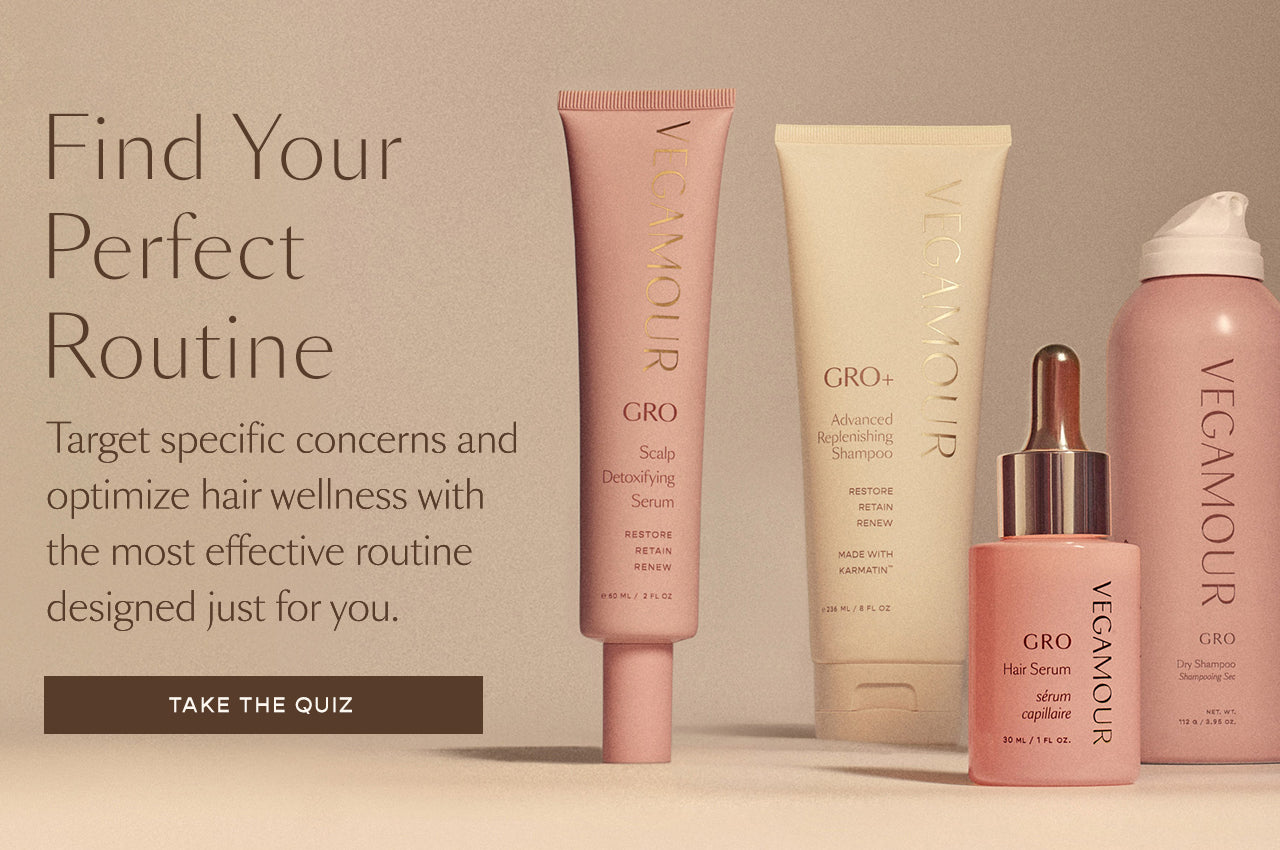 Disclaimer: Information in this article is intended for general informational and entertainment purposes only. It is not intended to constitute medical advice, diagnosis, or treatment. Always seek professional medical advice from your physician.