How to Deep Condition Curly Hair
If your curly hair feels dry, brittle, dull or unmanageable, you might be at a loss as to what to do to achieve healthy hair. Just like skin, curly hair needs moisture and hydration to thrive and oftentimes, that comes in the form of a deep conditioning mask or treatment.
Read on to learn more about deep conditioning curly hair — plus, find out about the best products for adding hydration and moisture to your hair naturally.
Why Curly Hair Needs Deep Conditioning
First off, it's important to know the porosity of your hair to understand why deep conditioning is necessary. Curly hair is usually high-porosity hair (the opposite of low-porosity hair) because it has the ability to lose and gain moisture quickly.
But porosity isn't the only reason curly hair needs deep conditioning.
"Curly hair is more prone to dryness, frizziness and breakage due to its shape," said dermatologist Dr. Anju Methil. Methil also explained that curls are not as efficient at retaining moisture as easily as straight hair, so it tends to be dryer. "The coils make it difficult for natural oils from the scalp to travel down the length of hair strand, leading to drier ends that need extra hydration."

Deep conditioning is more intense than a regular conditioner and seals moisture back in, which prevents dehydration of the hair. "[Deep conditioning] can help reduce frizz and make curls look more vibrant and healthy," Dr. Methil said. "[It] also helps to strengthen the hair strands by delivering much-needed hydration and nourishment to them. This can result in less breakage and overall improved texture of curly hair."

Applying your favorite deep conditioner once or twice a week can help your curls to have a lovely bounce and an overall healthy look to them. Dr. Methil explained that it also makes them softer and more manageable. "It is important to use a deep conditioner specifically formulated for curly hair," Dr. Methil said. "These deep conditioning treatments are designed to penetrate the cuticle layer of the hair, infusing moisture and nourishment into the strands, reducing frizz and promoting smoothness."
When choosing a deep conditioning treatment, it's important to choose one with ingredients that can tame curls and also impart moisture. Beneficial ingredients can include marula oil, shea butter, coconut oil, olive oil, jojoba oil, aloe vera, honey, argan oil, avocado oil and vitamins A & E.
Shop: HYDR-8 Collection
How to Deep Condition Your Curls
If you have dry, brittle hair or damaged hair, deep conditioning can help reverse some of the stress and damage your hair has undergone. It also helps to restore moisture to your hair strands, improve hair texture, add softness, reduce breakage and add shine.
"Deep conditioning can be done in several ways — using a deep conditioner, using an at-home treatment such as a hot oil treatment, using a mask and serum or going to the salon for a professional deep conditioning treatment," said Dr. Methil. "If you are using a blow dryer or an at-home treatment or mask, it should be left on the hair for 15-30 minutes."
Once you've finished applying a hair mask, put on a plastic shower cap, wrap your head in plastic wrap, or envelop your strands in a hot towel. The warmer the hair is, the more moisture you'll retain. "Steaming your hair with a hot towel will open up your hair cuticles, allowing the conditioner to penetrate deeper," said Methil. Once the treatment is complete and rinsed off, there's no need to fuss over your hair further. "Rinse off the conditioner thoroughly and style as usual," she said.
If your hair is in need of a bit more TLC than you feel you can accomplish at home, or if you just aren't sure where to begin, your salon and stylist can help. "For a professional deep conditioning treatment, the conditioners are tailored to your individual needs," Dr. Methil explained. This process takes a bit longer as these professional-grade treatments will be left on for about 30 minutes before rinsing.
How Often Should You Deep Condition Curly Hair?
So now that you know the benefits of deep conditioning, it brings up the question of timing. How often do you swap out your normal conditioner to deep condition your hair? Dr. Methil explained, "Deep conditioning is best done one to two times per month, depending on your hair type," she said. "If you have curly or coily hair, you may need to deep condition more often."
"Deep conditioning will strengthen and nourish strands, prevent split ends, improve elasticity and manageability, restore shine and make your hair softer," Dr. Methil said.
One way to ensure your hair is deep conditioned and receiving extra moisture is to use an all-natural option that promotes hydration and moisture, like VEGAMOUR's HYDR-8 Deep Moisture Repair Mask, which was shown in a controlled hair swatch study to deliver 15x the hydration and 3x stronger strands. This luscious mask contains the following helpful ingredients:
Karmatin™(our proprietary vegan silk alternative to keratin) to reduce the appearance of damage
Marula oil and moringa seed oil to reduce frizz and promote shine
Milk thistle to moisturize and soften
VEGAMOUR recommends that you swap out your conditioner for this hydrating mask once or twice each week. You simply apply it to damp hair from roots to ends and leave on for just three to five minutes. Then, rinse thoroughly and style as usual.
Consider Your Shampoo
Unfortunately, not all shampoos are good for your hair. In fact, many of them contain harsh ingredients, like sulfates, which can lead to dry hair. Lorraine Massey, the author of "The Curly Girl Method" and inventor of the co-wash, discourages the frequent use of shampoos that contain sulfates because they are too harsh for curly hair.
If you feel your hair is drying out or struggling from your regular wash routine, consider washing your hair with an all-natural shampoo and conditioner specifically engineered to impart moisture and promote hydration, like our HYDR-8 Shampoo and Conditioner Kit. This all-natural, vegan, color-safe duo is perfect for all hair types and formulated without sulfates. The shampoo and conditioner will cleanse and hydrate hair without stripping it of its protective oils or drying it out.
This duo contains the following ingredients:
Karmatin™ to reduce the appearance of damaged hair
Aloe vera and murumuru seed butter to condition and hydrate hair
Marula oil and moringa seed oil help lessen frizz and enhance shine
Magnolia bark extract to calm and soothes the scalp
But don't worry — even with all this moisturizing goodness, you won't have to deal with buildup on your hair follicles.
Also: The No-Poo Method of Washing Hair: Does It Work?
Results You Can Expect From Deep Conditioning
The best result you can hope for is hair that is softer to the touch and looks visibly healthier. That also means more bounce and shine in your curls and hair that is easily managed.
Still, it's important not to impart too much moisture to the hair as it can have adverse effects. You want to alternate between using deep conditioning treatment and regular conditioner. "It's important to pay attention to how often you deep condition," Dr. Methil said. "Doing so too frequently can leave your hair weighed down and greasy. Instead, aim for conditioning every one to two weeks."
Other Care Tips for Curly Hair
If your natural hair is curly, it needs TLC to look and feel its best. Besides avoiding hair products with harsh chemicals, follow these tips:
Avoid using hot or warm water when rinsing your hair. Instead, use cool water to help seal in moisture.
Avoid roughing up each hair cuticle by rubbing it with a towel to dry it.
Avoid using a blow dryer on your curls — even on medium heat. If you have to use a blow dryer, add a protective layer to the hair shaft by applying a heat protectant and using a low-heat setting with a diffuser.
Try drying your curls using the plopping method, which will give you more defined curls.
Revive Lifeless Hair With Deep Conditioning
No matter what treatment you choose to moisturize your curls, make sure you're choosing quality, all-natural products that are geared toward both hydrating hair and providing nourishment. Add that to your curly hair routine, and you can't go wrong. Your reward will be bouncy, shiny, healthy-looking curls!
More From VEGAMOUR
Photo credit: Vlada Karpovich/Pexels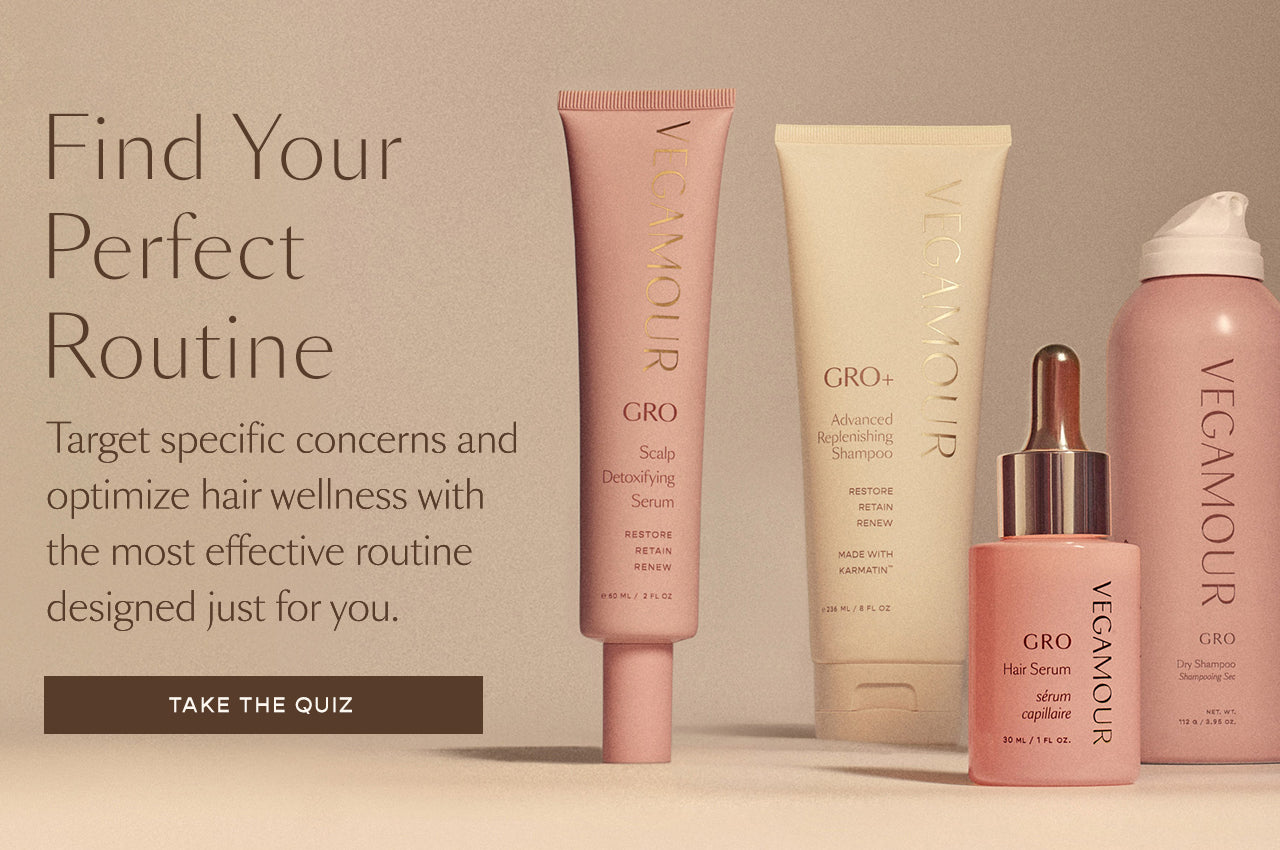 Disclaimer: Information in this article is intended for general informational and entertainment purposes only. It is not intended to constitute medical advice, diagnosis, or treatment. Always seek professional medical advice from your physician.