How to Help Dry Hair Feel More Hydrated
Dry hair is a fairly common occurrence these days. Most people quickly shampoo, run a little conditioner through the ends and then blow dry their hair, trying to shave a few minutes off their morning routine. And the drier your hair gets, the more frazzled your mornings can often be.
VEGAMOUR spoke with a hairstylist about why your hair gets dry and what can be done to fix it. Plus, discover an easy daily hair care regimen for your thirsty tresses.
Why is My Hair So Dry?
VEGAMOUR spoke with hairstylist Edna Ferber to get to the bottom of what's making your hair feel so dry. Turns out, it has a lot to do with tiny secreting glands at the base of your hair follicles called sebaceous glands.
"The scalp secretes natural oils to coat the hair shaft, preventing the evaporation of moisture," said Ferber. "The oil also nourishes and leaves hair shiny and smooth."
When these glands are compromised by underlying health issues or your hair care habits strip the oils from the hair, the result is dry and frizzy hair. But there's more to dry hair than what's going on with your sebaceous glands.
The outermost layer of your hair's structure — the hair cuticle — also plays a role. The scales of the cuticle layer help direct sebaceous oils to reach the mid-shafts and ends of the hair, keeping them hydrated and protected. "When the hair is healthy, these scales are tightly intertwined to form a flat surface, giving the hair a shiny look," said Ferber. "When the hair is weak, the scales will break or peel off."
The shape of the hair shaft itself can play a role. If your hair shafts are sleek and straight, the oils can slip down the hair shaft more easily. If your hair shafts have a lot of bend or curl in them, then those oils might not slide as easily down the shaft, leaving the ends thirsting for moisture and protection. Brushing and combing help the natural oils to disperse throughout the hair lengths, and since people with curly and kinky hair types end to brush their hair less often, the ends tend to get dry more quickly.
Related Reading: How to Moisturize Dry Hair
Dry Hair Characteristics
You might be suffering from dry hair if your hair is:
Brittle or prone to breakage
Rough feeling rather than soft
Dull
Wrought with split ends
Tangly and frizzy
Difficult to manage
When the hair begins to show these signs of dryness, people often turn to DIY hair mask treatments and moisturizing conditioners aimed at rehydrating dry and damaged hair.
But are you using the right things to fix those dry hair strands or are you simply covering up the problem? Some deep conditioners contain waxes, silicones and other not-so-helpful ingredients that impede the natural job of the hair cuticle, making matters worse.
Read: How to Hydrate Hair
What Dry Hair Really Needs
Protecting the natural process of oil production and balancing scalp health is the first step in treating dry hair. You'll also want to protect the hair from UV rays and moisture loss from over-shampooing. To repair damaged cuticles (from heat damage, chemical damage, etc.), you need to use hair care products infused with proteins that bond well to your hair to help restore lost moisture. Protect dry hair by limiting hair color, permanent dye, chemical hair straighteners, and other damaging treatments until the hair is in better condition. Using the right hair products can improve dry hair and get it back to its naturally hydrated state.
Read More: Brittle Hair? Here's What You Can Do
Dry Hair Treatments
Dry and damaged hair treatments are in every store; chances are you have dozens of hair dryness miracle products in your home right now. What do they all have in common? They aren't working for you.
This could be because the oils or humectants used in those products don't bond well with your hair, they're too heavy for your hair, or they are loaded with animal keratins which can actually make your hair drier, ironically.
Humectants can be found in moisturizing shampoos and conditioners, hair oils or hair masks. What varies between these products is the types and quality of the humectants used. To treat dry hair you'll need good sources of moisture, plus protein to help repair damaged areas of the hair shaft.
You might be trying DIY home treatments like olive oil, which does little to fix dry hair. Further, the molecules are so heavy they can leave your hair with a greasy residue that might clog your pores and impede healthy hair growth.
What Are the Best Hair Treatments to Fix Dry Hair?
Should you go all-in on those trendy bond-building treatments or head to the salon for a hair massage and deep conditioning treatment? Well, you can. Should you get a haircut to remove split ends? Yes, absolutely.
But there's an easy way to repair your dry hair without sacrificing inches, thanks to the advanced technology VEGAMOUR offers with its blend of vegan proteins and carefully curated hydration molecules that bring back the bounce and shine your hair's been missing.
If you really want to nourish your fragile hair back to health, VEGAMOUR's HYDR-8 Collection can help. Designed with tiny microencapsulated Karmatin™ proteins, each product contains lightweight oils and humectants to add moisture and protect your locks, making dry hair and brittle hair can be a thing of the past.
Even extremely dry hair can be restored to health and shine. And don't worry, Hydr8 is safe for hair dye or color-treated hair.
Excess shampooing or using the wrong shampoo and conditioner for your hair will make your dry hair worse. A mild shampoo and a nourishing conditioner can do far more for your damaged hair.
VEGAMOUR's HYDR-8 Hydrate and Repair Shampoo offers a surfactant-free cleansing with superior hydration to protect the natural moisture, polish and nourish the hair cuticle and support scalp health, which all help to support hair growth and maintain healthy hair.

It's formulated with vegan proteins, aloe vera and magnolia bark extract to help restore your locks, from the sleekest straight hair looks to the most coily and thick hair types.
Say goodbye to damaged hair with HYDR-8 Hydrate and Repair Conditioner, which curbs breakage by a whopping 60 percent. This conditioner is packed with the humectants thirsty locks crave, including vegan proteins, marula oil, other botanical oils and soothing murumuru seed butter. After cleansing, apply the conditioner to wet hair and rinse for 72 hours of advanced hydration for silky and soft hair.
If your hair needs extra hydration, use the HYDR-8 Moisture Repair Mask a few times a week. Massage damp hair with the deep-hydration mask, wrap it with a shower cap and let the milk thistle, Karmatin™ proteins and botanical oils do their magic.

Related Reading: What Is Karmatin™? VEGAMOUR's Quest for Vegan Keratin
Take Care of Your Locks
To protect dry hair from even more damage, use a heat protectant on your hair for all heat styling. These usually come in the form of a thermal protectant spray that also has a humidity protectant to guard your style against frizz. Heat styling leads to hair damage and ruffled hair cuticles, which block the movements of natural oil and cause moisture loss in your hair strands. Turn down the heat on your hot tools, blow dryer, curling iron and flat iron or avoid using them altogether.
When it comes to washing your hair, use cold water, which won't draw out moisture as much. It will also help keep the cuticle more smooth and help your hair dry down to a nice shine.
Lastly, protect your hair! Use a hat or sunscreen to shield your locks from UV rays, sleep on a silk pillowcase and drink plenty of fresh water each day to stay hydrated from the inside out.
Repair Dry Hair Naturally
Dry hair is a sign your hair needs help. When your ends start feeling a little dry or brittle, act quickly with VEGAMOUR's HYDR-8 Hydrate and Repair Shampoo and Conditioner to instantly flood hair with hydration. Pretty soon, dry hair will be transformed into soft, silky strands that shine from root to tip.
More From VEGAMOUR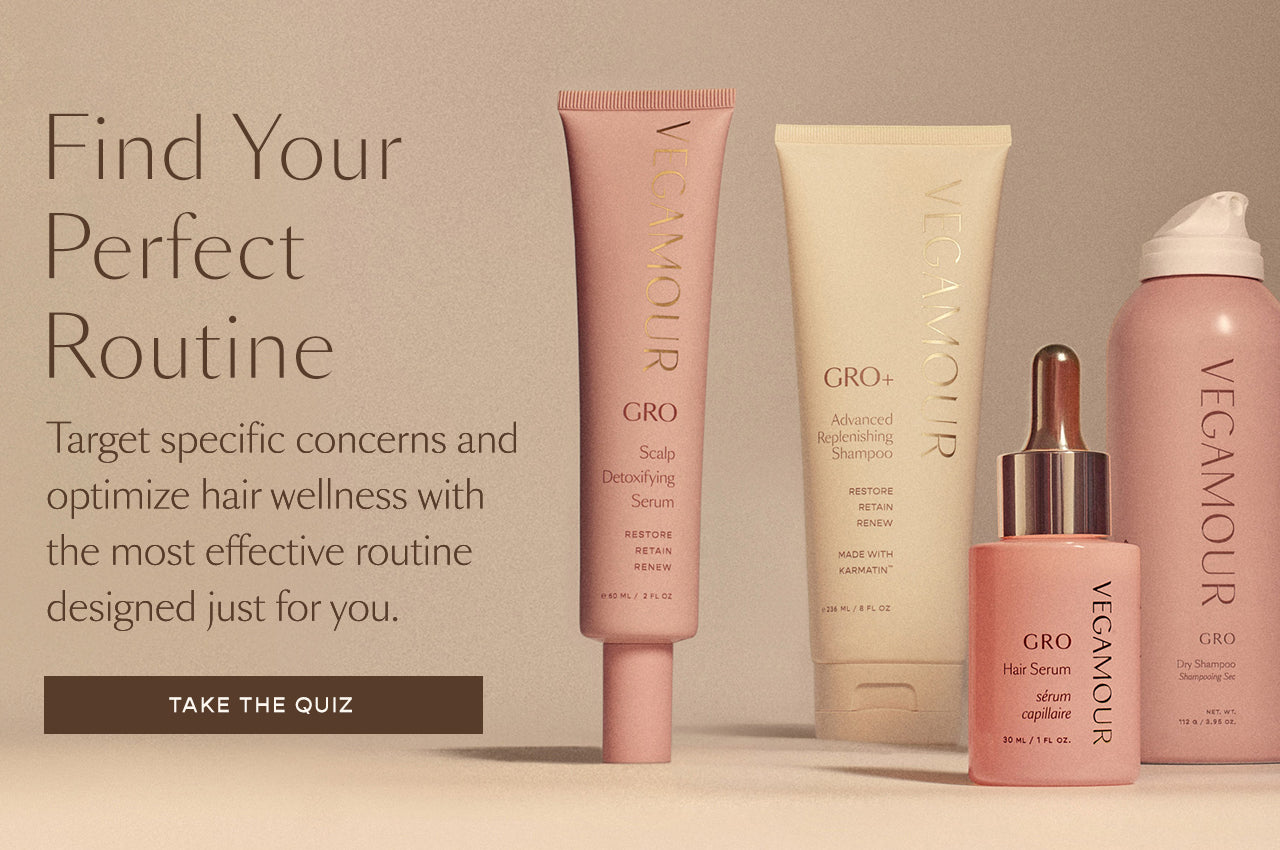 Disclaimer: Information in this article is intended for general informational and entertainment purposes only. It is not intended to constitute medical advice, diagnosis, or treatment. Always seek professional medical advice from your physician.