Why You Should Try This Shampoo If You Have Dry Hair
Running your fingers through your hair when it's hydrated and happy is a wonderful feeling, but on the flip side, it can be disheartening and frustrating when your hair feels dry, unruly and unmanageable. Some hair types are naturally more prone to dryness while others can become dried out from poor haircare habits or exposure to harsh chemicals.
When it comes to treating and repairing dry hair, there are various treatments and masks that can help impart moisture, but one of the best ways to keep your hair in good shape is to use a moisturizing shampoo. Read on to learn more about why dry hair happens and the best salon-grade shampoos for nourishing dry hair naturally.
Why Does My Hair Get So Dry?
If you're dealing with dry hair then what you need more than anything is hydration and moisture. While this can be achieved with hair masks and moisturizing treatments, it helps to get an assist from a hydrating shampoo or moisturizing conditioner. Not all shampoos and conditioners are created equal so it's important to know what you're looking for in a nourishing shampoo and what you want to avoid.
First, it's helpful to understand the different hair types that are naturally more prone to dryness. "Curly hair is prone to dryness due to its structure which hinders natural oils from moving down to the ends," explained hair expert Alice Rawling. "The natural bending structure of the hair makes the ends dry and brittle as oils have [a harder time] moving down the shaft."
Because curly hair is naturally prone to dryness it's important to use a shampoo that contains hydrating ingredients so that hair retains its moisture after you wash it.
Dry hair can also occur from too much exposure to heat, bleach, dye or other harsh chemicals, like the ones you might find in a hair rebonding treatment. Once you know you're dealing with damaged hair it's important to jump into action to rehydrate and nourish your hair.
Read More: Why Is My Hair So Dry?
How Shampoo Leads to Dry Strands
Because some hair types are naturally prone to dryness, the best shampoo for dry hair is a shampoo that promotes moisture. Shampoos that contain harsh ingredients can further dry out hair, which can lead to breakage and split ends. If your hair is dry due to excess heat styling or too much bleaching or coloring, it's equally important to use a hydrating shampoo.
"Shampoo can have a huge impact on the dryness of your hair," explained Krysta Biancone, stylist and owner of Amari Salon and Spa in Santa Barbara, California. "Depending on the ingredients in the shampoo, it can leave your hair feeling dry and brittle or soft and manageable. It is important to choose a shampoo that is tailored to your hair type, as certain ingredients are better suited for certain types of hair."
Read More: This Vegan Shampoo and Conditioner Changed My Hair
What to Look for (and Avoid) in a Shampoo
It's clear that using a moisturizing shampoo is important for dry hair, but what types of ingredients are best, and which ones should you stay away from?
Not all shampoos and conditioners are of equal quality, so whenever possible you want to choose a high-quality shampoo. This is especially true if you're dealing with damaged hair, dry hair or even colored hair. If your hair is relatively healthy and you have to use whatever shampoo is available to you once or twice it won't be the end of the world, but if you're dealing with color-treated hair, damaged hair, brittle hair, frizzy hair, thin hair and dry hair you want to make sure you're shampooing smart.
"Choosing the wrong shampoo type for your hair can affect hair dryness," said Rawling. "Shampoos that still use sulfates and other drying agents which cause frizziness, breakage and an itchy scalp as they strip off the natural oils from the hair."
Biancone concurred. "If you have dry hair, then it is best to avoid sulfates in your shampoo," she explained. "Sulfates are harsh detergents that strip away natural oils from your scalp and hair, leaving it feeling dry and brittle."
Instead, Biancone suggested that you look for shampoos that contain natural ingredients, which help nourish and hydrate your strands while cleansing. "Additionally, you should look for products that are free from harsh chemicals such as parabens, phthalates, formaldehyde and artificial fragrances which can all cause irritation or lead to further dryness," she said.
Rawling cautioned that frequent washing could also be damaging — no matter how good your shampoo is. "Avoid frequent shampooing as the natural oils are washed away," she said. "To select the best shampoo for your hair, consider the texture, structure and intended effect. Select that which has nourishing ingredients and proteins to repair any damages."
Read More: This is the Best Volumizing Shampoo
Special Considerations for Curly Hair
As previously explained, curly hair is naturally more prone to dryness. So if your dry hair is coming from hot tools, poor shampoo choices or too much coloring or chemical treating then you can usually right the ship by reducing those habits that can lead to damage and dryness. If your hair is curly, however, imparting hydrating regularly is a must.
"People with naturally curly or coily hair are more prone to having dry hair since their strands tend to be more fragile than straight or wavy strands," Biancone said. "In this case, it is important to use a shampoo specifically formulated for curly/coily textures so that it helps to lock in moisture without being too heavy or greasy on the scalp." Biancone also suggested using a deep conditioning treatment or repair mask once a week, which will help keep curls hydrated regularly.
Read More: What's Your Hair Texture and Hair Type? How to Find Out
The Perfect Moisturizing Shampoo
Now that you know that the best shampoo for dry hair is one that contains natural ingredients and natural oils, you want to find a shampoo that contains these nourishing ingredients to promote hydration and moisture. "These components help to nourish the hair and repair it with vitamins and hydration," Rawling said.
VEGAMOUR HYDR-8 Hydrate & Repair Shampoo and Conditioner contains one of the most moisturizing shampoos you'll find. This all-natural, vegan, color-safe duo is perfect for all hair types and will flood your hair with instant hydration and vital nutrients to fortify and quench damaged strands. If your hair is already dry, this is great news because you can be confident that your wash days won't further dry out your hair. This duo is enhanced with Karmatin™ (the first-of-its-kind vegan keratin) as well as aloe vera, magnolia bark extract, marula oil and murumuru seed butter to help condition and hydrate hair.
Pair that with the VEGAMOUR HYDR-8 Deep Moisture Repair Mask containing Karmatin™, marula oil, milk thistle and moringa oil for an extra boost of hydration. As Biancone explained, a hydrating treatment or repair mask once a week is especially smart for those with naturally dry hair, curly or coily hair.
The Wrap Up
There are myriad reasons why you might experience dry hair. It could result from poor haircare habits like over-washing, too much exposure to heat, hot tools or harsh chemicals. If this is the case, do your best to curb or rectify these behaviors to give your hair strands a bit of a break and allow them time to repair. Be sure to use a hydrating shampoo to help nourish your strands back to health.
If your hair is naturally dry due to its texture, adding extra moisture regularly is important. Washing your hair with a quality shampoo that contains natural ingredients to help nourish, hydrate and moisturize your hair is one way to treat your hair right. Using a hydrating deep repair mask once a week can also help deliver deep hydration to dry, damaged strands. Employ all of these techniques and you can kiss dry hair goodbye!
More From VEGAMOUR: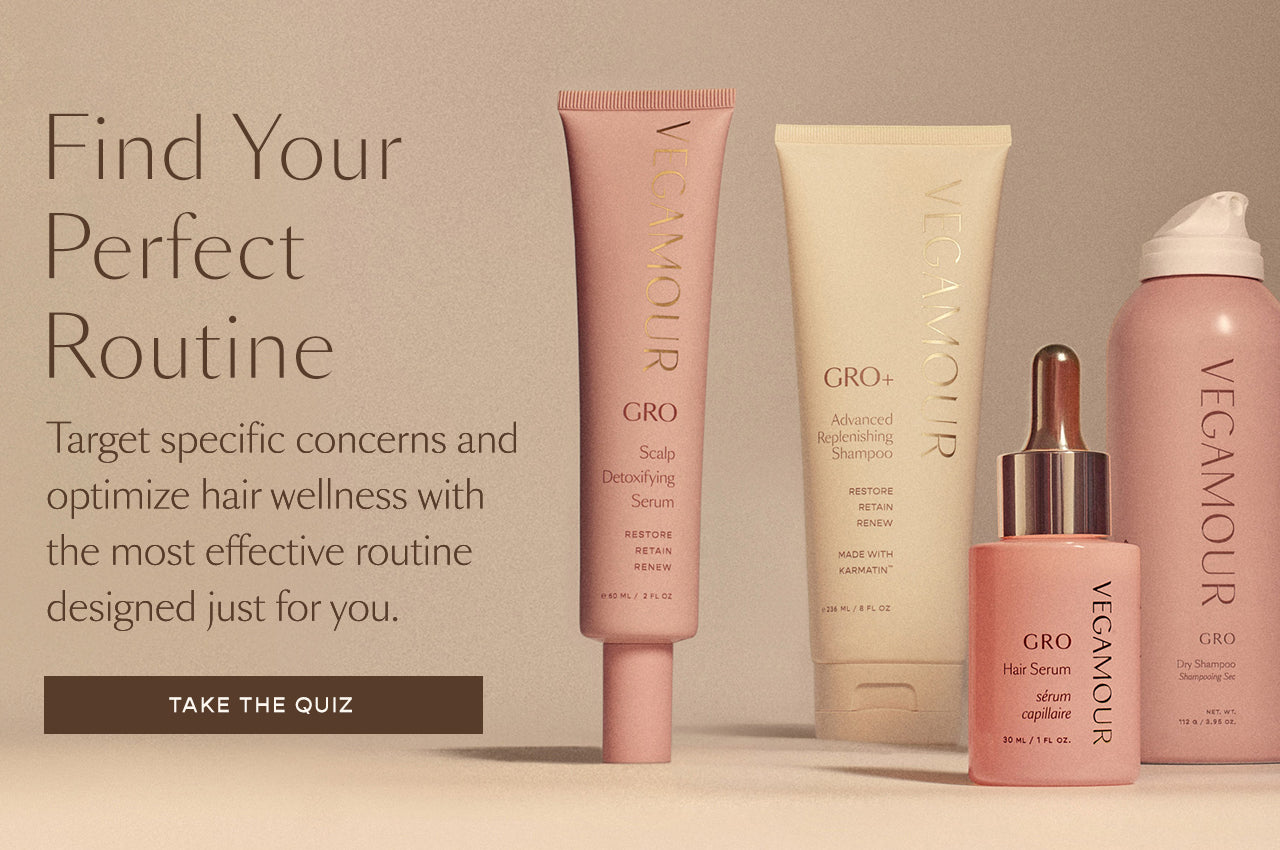 Disclaimer: Information in this article is intended for general informational and entertainment purposes only. It is not intended to constitute medical advice, diagnosis, or treatment. Always seek professional medical advice from your physician.