How to Make Gray Hair Look Shiny and Silver
Embracing your gray hair can be an interesting transition. Gray hair can be coarse and tougher to manage than hair that still has its natural hue. However, with a little love, it can become sleek, shiny silver hair. Read on to learn more about how to make gray hair shiny silver — plus, find out what products you can use to nurture your gray hair.
Here's Why Gray Hair Can Be Coarse
If you've ever noticed that gray hairs can be wiry and coarse, you might have wondered why. The truth is it has less to do with the color of the hair and more to do with how the hair follicle has aged.
Dr. Anna Chacon, a dermatologist, explained that the hair follicles don't create as much sebum (an oil your body naturally produces) as you age, so gray hair has a distinct texture. When your body produces less sebum, your hair loses hydration. "Gray hair sometimes seems coarser, dryer and more wiry as a consequence, but applying the appropriate hair treatments can help," Dr. Chacon said.
Bottom line: Gray hair needs a bit of extra love when it comes to hydration and moisture, especially if it's damaged hair.
Shades of Gray
Not all hair is created equal — just like how not everyone will go gray at the same time —  so there are numerous possibilities for how your gray hair will grow in.
Kayla Lofaro, the owner of Discotheque Salon in Los Angeles, said that natural gray hair has a bunch of different shades, such as what's called salt-and-pepper gray hair that mixes a dark ash color with white. She said that the various shades could range from salt-and-pepper shades to pure white.
Also: Why Does Hair Turn Gray?
How to Make Gray Hair Shiny Silver
Whether you have a lot of gray hair or you're blending your grays, there's a way to make those dryer, coarser hairs shine.
Wash Smart
Using good quality products makes all the difference when it comes to your hair. Lofaro said that creating a shine in gray hair begins with your shampoo. Lofaro recommended using a gentle shampoo formulated without sulfates that won't strip your hair of oil.
Here are some of her other recommendations:
"Definitely add a serum when your hair is dry," she said. "Hydrating masks throughout the week are for sure a good way to add some shine to your hair."
If you have dull gray hair, product buildup could be part of it. Dr. Chacon suggested washing hair occasionally with a clarifying shampoo to reduce buildup on the hair shaft. However, clarifying shampoo can be drying to the hair, so avoid using it too much.
Hydrate Hair
Because gray hair is dryer, it might have more of a matte finish. The good news is you can make it look shiny silver with products that hydrate hair.
"Dark surfaces reflect light more readily than shiny surfaces do," Dr. Chacon said. "Therefore, gray hair is not as light reflective as dark hair. But here's a trick to increase its shine: apply serum. The serum helps to keep the hair cuticle down, which makes it easier for light to bounce off of the gray hairs."
Stay Out of the Sun
Too much sun exposure can damage hair or turn hair yellow. Prevent sun damage by wearing a hat with built-in UV protection that shades your entire head if you're going to be outside for a long period of time.
Avoid Overstyling With Heat
Just like the sun can damage hair, so can heat from styling tools. Be sure to use a heat-protectant spray before using curling irons, flat irons or a blow dryer.
Try This Hair Spray Technique
Another trick to making sure hair shines is to apply hair spray correctly when you use it. Dr. Chacon explained that most hairsprays dry quickly, which can give gray hair that is already coarse a matte look. "There is a proper technique to use hairspray (if you must) in order to keep your strands in place," she said. "Apply a medium-hold hairspray to the hair close to the scalp before pulling up parts of your hair at a time. You may give your gray hair hold without losing its gloss by spraying below the top visible area of hair."
How to Avoid Gray Hair Turning Yellow
Without the proper care, your gray hair can turn yellow. The good news is that you can tone the hair to make it brighter and more silver and keep yellow hues at bay.
Lofaro said that gray hair could naturally turn brassy, but you can tone down the brassiness and brighten your grays with a toner. Gloss treatments and violet toner can help keep hair shiny silver.
If you don't want to visit the salon for toner, you can do a bit of toning at home. "Use a purple shampoo or conditioner to counteract the brassy undertones in your white hair," Dr. Chacon suggested. "Purple pigments are deposited by these chemicals to counteract the yellow tones. Either one or both can be used at once."
Also: 6 Hair Dressers Share Their Best Kept Hair Secret
How to Keep Gray Hair Happy
Since gray hair is drier and more brittle than other hair colors, a good haircare regimen is essential to make your hair shine and keep it healthy. A deep-cleansing, moisturizing shampoo is critical for showing off your natural luster and keeping your gray hair healthy. "The key to maintaining smooth, shining silver strands is to start your hair care regimen with a hydrating shampoo and conditioner," Lofaro said.
VEGAMOUR's HYDR-8 Shampoo and Conditioner Kit can accomplish all of this naturally without harsh chemicals. This vegan, color-safe duo is perfect for all hair types and will cleanse and hydrate your strands, leaving them with a glass-like shine. Both formulas contain our proprietary Karmatin™, which is a vegan keratin alternative that bonds to hair without rinsing away to help form a defensive barrier. Plus, the shampoo and conditioner contain plant actives, like aloe vera and murumuru seed butter, that were shown in a controlled hair swatch study to provide 8x hydration and 2x stronger strands after one use.
Aside from using good products to wash your hair, you might need a deep conditioning treatment or leave-in conditioner to help keep hair moisturized.
A hair mask that contains natural oils like VEGAMOUR HYDR-8 Deep Moisture Repair Mask can also add extra shine and work wonders for brittle strands or thirsty hair, providing 15x hydration after one use.
The Takeaway
When you want shiny gray hair, start out with good hair habits. Make sure you're not overexposing your hair to too much heat styling or hot tools. Also, wash and condition with quality products that promote moisture and enhance hair shine. If your hair starts to exhibit brassy tones, you can visit the salon for toner or a hair gloss treatment or use a purple shampoo occasionally to help tone hair at home and keep yellow hues away. Additionally, remember that gray hair is naturally dry, so the more you can include hydrating and moisturizing products in your hair wellness routine, the better your hair will look and feel!
More From VEGAMOUR
Photo credit: cottonbro studio/Pexels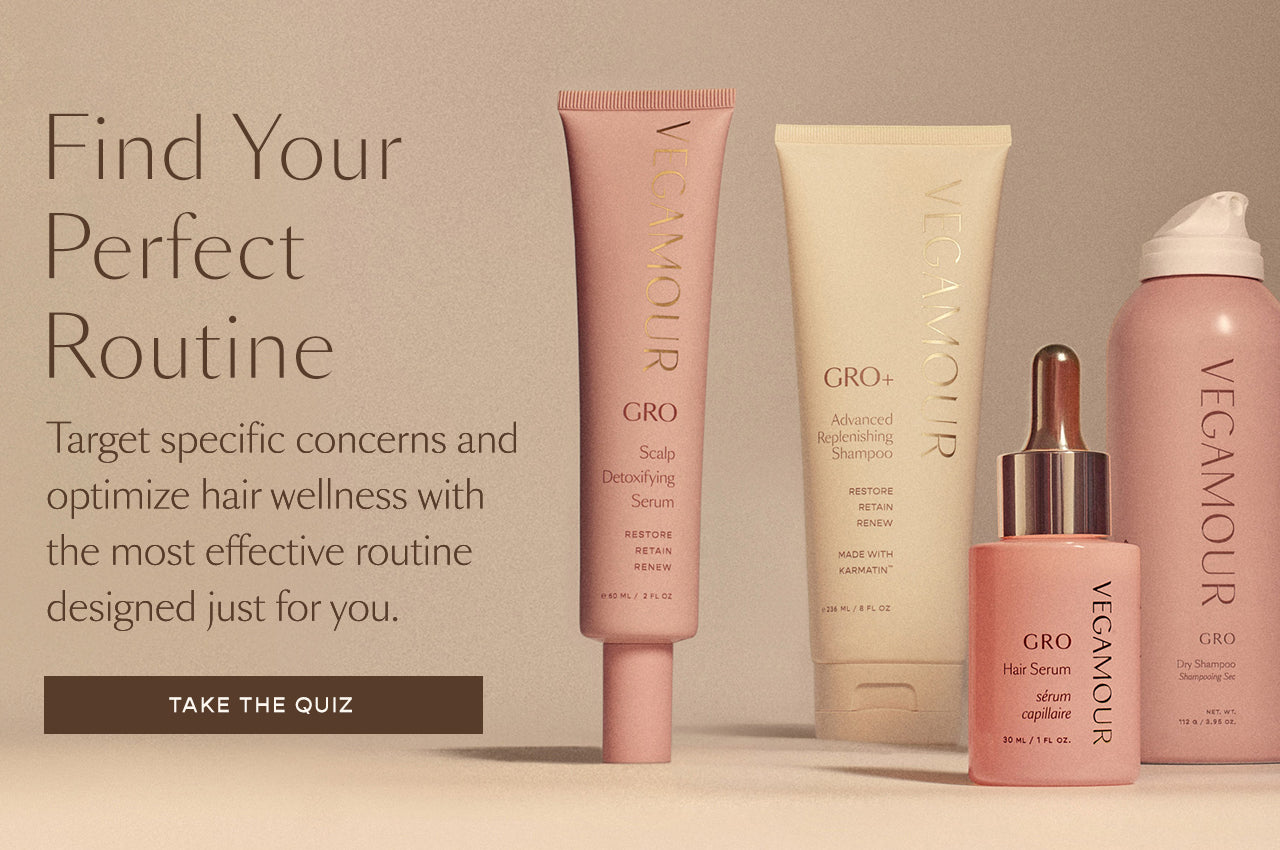 Disclaimer: Information in this article is intended for general informational and entertainment purposes only. It is not intended to constitute medical advice, diagnosis, or treatment. Always seek professional medical advice from your physician.