Bad hair days happen to everyone. But when frizz strikes your strands, it can cause major frustration. Humidity, harsh hair products, heat styling, hair damage or friction-induced frizz can really damper your day. 
Wondering how best to fight frizz — or when to go with the flow and embrace it? Here's what you need to know. Plus, find out what products you should use to manage frizz and revamp your hair wellness routine.
What Makes Frizz Form
"Almost all types of hair can be frizzy; it really depends on the porosity of the hair itself," said Jay Jackson, lead stylist and manager at NV Salon and Spa. "It's important to remember that frizz is just hair reaching for moisture in the air around you, and not to be confused with flyaways (generally caused by static or finer hair), breakage and/or damage. It's also important to note you can have multiple things going on at the same time."
While all hair types and textures can suffer from unwanted frizz on occasion, there are some tresses that tend to be more prone to it, such as curly hair. This is because natural oils from the scalp aren't able to travel down the curly hair shafts as easily as they do for straight strands. However, dry hair and fine hair (yes, really!) might also experience unwanted frizz.
Shop: Delay the Gray With GRO AGELESS
Frizz Factors
When your hair starts to look out of control, it might be a sign to step back and find out what's actually going on. The following hair care habits can cause frizz:
Going overboard with heat styling: Overstyling using high heat tools, such as a flat iron or curling iron, as well as blasting sopping wet hair with the highest heat setting on your blow dryer, can lead to split ends or leave hair frizzy
Showering or shampoo mistakes: Lather, rinse — don't repeat too often! Showering with too-hot water, using harsh shampoos and conditioners or washing your hair too often can strip hair's natural oils, creating dryness; this lack of excess moisture leads to frizz.
Using color-processing or chemicals: Chemical treatments such as Keratin, bleaching and/or color-processing can also result in damaged hair or dryness, resulting in a roughed-up cortex and more frizz. 
Introducing friction: Abrasive pillowcases, rough towels and harsh hair ties or accessories can rough up the hair cuticle layer, leading to abrasion, breakage, flyaways and frizz.
Exposing hair to weather: Summer heat, humidity and winter's harsh, dry air, are factors that can trigger frizz. Like your skincare routine, you may want to consider switching up your hair wellness routine by season, too!
Experiencing the hands of time: Aging and/or graying hair may also factor into frizz. "Sometimes, as we age, our natural texture changes," said New York City hairstylist Jasmine Anna Galazka. "Gray hair, for example, is a lot more coarse."
See also: How to Care for Your Hair in Your 40's
7 Pro Tips to Tame Frizz
Now that you know how frizz happens, it's time to learn how to combat it. And the first step to controlling frizzy hair starts with reconsidering your hair care routine.
Here are some helpful pro hair tips for dealing with frizz.
1. Choose Hair Products That Hydrate
"Frizz occurs when your hair isn't correctly moisturized; this tends to be about incorrect or lack of product choice," said Jackson. "Sometimes, damage and static can read as frizz visually. To address frizz, I recommend water-based products to ensure hair is thoroughly saturated and hydrated. This way, hair doesn't grab the moisture in the air causing frizz or flyaways."
2. Dial Down the Heat
When possible, steer clear of high, direct heat, blow dry less often or avoid hot tools altogether. Allowing hair to air dry can help it remain frizz-free. If that's not possible, pair protective products with careful styling when using heat tools.
"Be mindful when using extra heat like from a flat iron or curling iron after you blow-dry," said Galazaka. "And, always use a heat protection product."
Read: Why You Should Avoid Hot Tools When Growing Out Your Hair
3. Rethink the Daily Hair Wash
"Along with skipping the high heat setting while blow-drying, avoid overwashing your hair to help control frizz," said Jackson.
Regular overwashing can strip your hair, potentially altering the hair cuticle and leading to frizz or split ends. Get through those in-between hair wash days and give your hair a breather with a dry shampoo instead. And, on the days you do wash your hair, lather with lukewarm water and finish with a cool rinse to smooth down the cuticle, reducing the risk of frizz.
4. Soften Up
Get rid of frizzy hair and avoid breakage by eliminating abrasive elements. Instead, use a microfiber towel or cotton towel to softly pat dry hair. Less friction equals healthier, frizz-free, stronger strands!
5. Be Gentle
Wet hair can be extra vulnerable. Rather than brushing wet hair in its weakened state, gently finger comb or use a wide-tooth comb. Smooth hair by combing through with a hydrating hair oil to tame frizz and flyaways.
6. Use a Deep Conditioning Mask
"The best advice for frizz is to start with a good leave-in conditioner that will hydrate dry hair and allow you to seal damp hair with some type of hold product afterwards," explained Jackson. "But, if you skip the leave-in hair conditioner and just go for the hold, then you're more likely going to experience frizz."
Set yourself up for tress success with a hair mask that works to keep hair moisturized — and minimize frizz — as you snooze! Schedule a standing hair wellness appointment (Hello, self-care Sunday!) with the deeply nourishing, hydrating, restorative deep conditioning hair mask.
7. Go With the Flow
Finally, when you can't control your surroundings, stop working against what's going on and opt to embrace it! Adapt to your environment by maximizing moisture to help prevent unsightly frizz while reducing its effects on other less noticeable areas.
"When hair lacks moisture, it reaches for it in the air, hence our hair being so reactive to different environmental climates. The natural solution would be to keep your hair strands very wet. As crazy as that sounds, it's a great hair hack, especially for vacation," said Jackson. "Provide extra moisture to your hair and prevent frizz, including halo frizz, by choosing products that work with your hair type."
Say Goodbye to Frizz and Hello to Healthier, Happier Hair!
Frizz might be a part of life, but it doesn't have to sway your day. Integrate the right hair wellness products with these pro styling tips, and you'll be on your way to managing and getting rid of frizzy hair for good!
MORE From VEGAMOUR
Photo credit: PeopleImages/iStock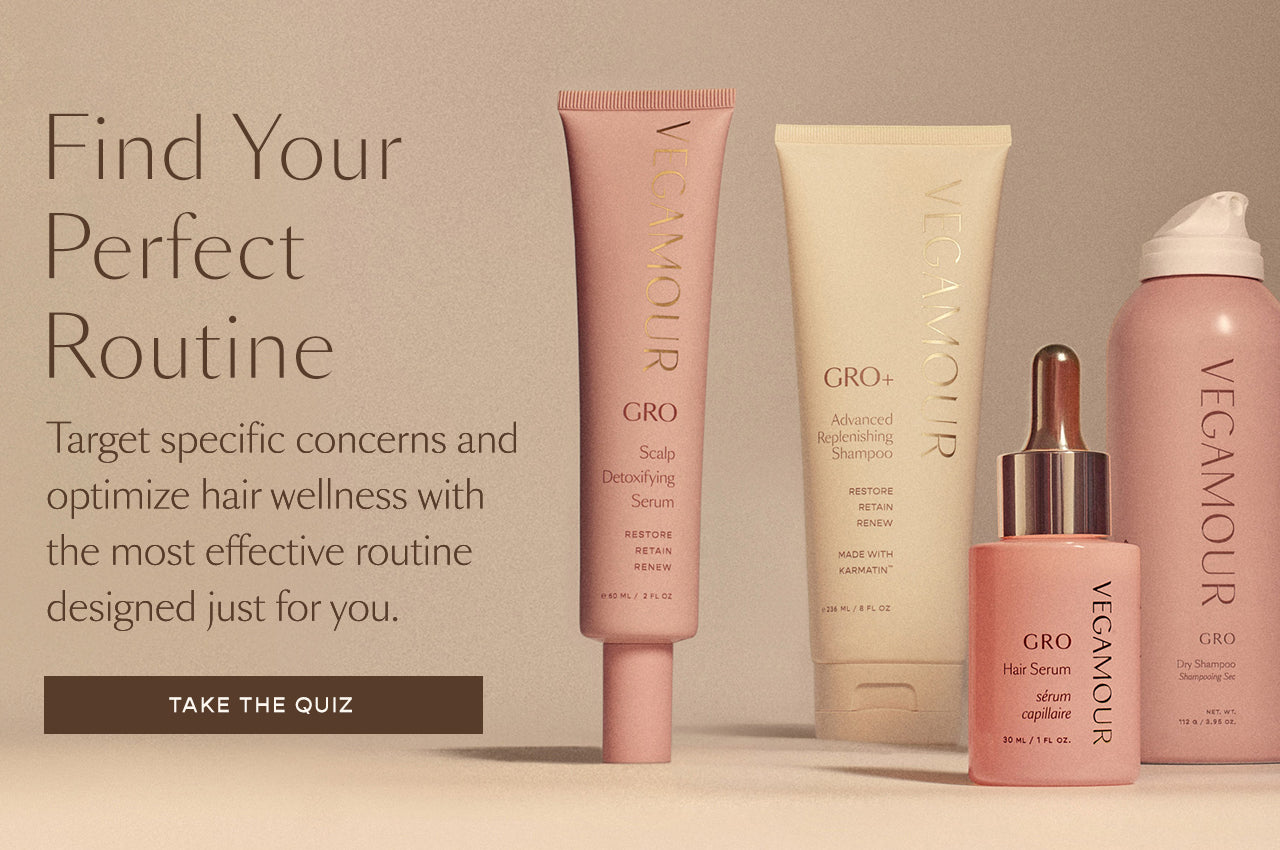 Disclaimer: Information in this article is intended for general informational and entertainment purposes only. It is not intended to constitute medical advice, diagnosis, or treatment. Always seek professional medical advice from your physician.