Here's How to Tame Flyaway Hair
Many people know how frustrating it feels to wash and style your hair only to see annoying flyaway hairs on the top of your head. If you have a big date or an important meeting, you probably want to have smooth hair that looks sleek and polished — and dealing with flyaways can really kill that vibe.
Read on to explore why flyaway hairs occur, as well as how to tame and prevent them. Plus, discover the best products to give you luminous frizz-free hair.
Understanding Flyaway Hair
It's important to note that there is a distinct difference between hair loss and hair breakage. Unexplained hair loss is oftentimes rooted in causes like shock, stress, environmental factors or medical issues, while breakage often happens due to poor haircare habits, lack of moisture or overuse of chemicals or hot tools.
"Dry, brittle and damaged hair is more likely to break, which frequently causes those annoying flyaways," hair expert Lauren Holland explained. "You are also more likely to experience these irregular hairs if your strands are weakening."
Holland explained that small baby hairs that have grown in your hairline are usually the result of breakage, injury or hair loss. It's important to know the difference.
Sometimes flyaways are just the result of humidity and dealing with having frizzy hair, and in those cases, there are products that can help. "Sometimes humidity, a change in the weather or friction can result in static," said Holland.
"The most common reason is due to lack of moisture and nutrition in the hair follicles," said Tamika Arrington, owner of The Look Salon in Houston, Texas. "[This] leads to weak hair breaking off, split ends, baby hairs occurring and a head full of damage."
Arrington explained that dry, broken strands of hair have nothing in the cuticle, which results in the hair being slow to grow. "Those strands will stand with the wind," she said.
Read More: Why Is My Hair So Frizzy?
How to Tame Flyaways
If you're on a mission to tame flyaways, there are a few tips and tricks you can use to help get those pesky stray hairs to stay in place. Here's how to smooth flyaways and prevent frizz before it starts.
Add a Bit of Frizz Control
It's important to determine if you're getting frizzy hair or flyaways because your hair is lacking moisture, or if there's simply too much moisture in the air. Many people have frizzier hair that doesn't stand up as well to humidity. That is a very different reason than experiencing flyaways because you're overexposing your hair to harsh chemicals or damage from hot tools.
Regardless of if your hair tends to frizz up more on wetter days, experts agree that having a healthy hair care routine is a must. If you're experiencing flyaways and frizz using a shampoo and conditioner with frizz control can help. Arrington suggested using a hair gloss, leave-in conditioner, hair oil or hair serum to keep flyways down after washing and drying your hair.
Shop: GRO+ Advanced Essentials Kit
Try Natural Hair Oils
When it comes to protecting your hair from humidity, using a natural product is always wise. There are many ways you can use VEGAMOUR's Pure Marula Oil, but one way, in particular, is to tame flyaways.
This clean and luxurious oil has been extracted from the kernels of the marula tree fruit and is naturally packed with antioxidants, omega fatty acids and oleic acid that can nourish your hair — all while keeping baby hairs and flyaway hair in place. Just add a few drops of this pure Marula Oil to your palms and apply it to your hair to control flyaway hairs, or to give dry, frizzy locks a nourishing and glossy finish.
Read More: How to Use Hair Oil for Shiny, Gorgeous Hair
Add Moisture
If it's conceivable that your flyaways are due to damage, especially from heat styling, then it might be time to add some moisture back into your hair. Using a nourishing hair mask treatment or deep conditioning at least twice a week can help get your hair back to a better place of moisture. You can also use natural oils like coconut oil, jojoba oil or sweet almond oil to soothe dry or damaged hair.
If you think your shampoo or conditioner might be to blame, consider using a clean, vegan, moisturizing shampoo and conditioner duo like VEGAMOUR's GRO Revitalizing Shampoo and Conditioner. Sometimes hair becomes damaged when there's too much product buildup on the scalp, so you want to use a good quality shampoo and conditioner to help create a healthy hair microbiome.

Dry Your Hair Gently
Often times those pesky flyaways come from hairs that break, which can happen when you dry or brush out your hair too vigorously. This process can create frizz, and over-drying your hair can result in damage that makes the hair more prone to breakage.
Try drying your hair gently with microfiber towels. Or, let it air dry and use hair oil to seal the hair cuticle. Be sure that you brush it gently, too. Consider alternating days when you blow dry and when you air dry. If you have to use heat styling products, be sure to use a heat protectant. If you're experiencing static hair, take a dryer sheet and rub it on your flyaways for smooth strands that stay down.
Detangle Hair with Care
Brushing out wet or damp hair is a recipe for hair breakage. Instead, try gently drying your hair with a towel first and then detangling it with a wide tooth comb so that you don't add as much force onto the strands of hair. The only exception is if your hair is curly, in which case you likely brush it and style it when it's soaking wet.
Read More: How to Detangle Hair With Minimal Damage
Moisturize and Nourish
"To prevent flyaways, use a moisturizing conditioner that promotes [hair] harmony," Holland explained. "Numerous hydrating hair products are widely available on the market, including hyaluronic acid, which helps nourish hair and keep it supple."
Holland suggested including a moisturizing mask in your weekly shower routine in addition to a good conditioner. "Apply the mask just before getting into the shower to get the most out of it and then get some warm steam for your hair to help the mask release moisture into your hair."
Arrington agreed that using quality products is the best. "Allow the flyaways to grow out by upgrading your hair routine," she explained. She suggests using products that contain healthy ingredients like vitamin B5 and wheat protein. She also likes heat protection products that contain natural ingredients like jojoba, safflower and vitamin E oils.
Read More: Why You Should Avoid Hot Tools When Growing Out Your Hair
Avoid Tight Hairstyles
"Do not wear hair in tight ponytails," warned Arrington. Any time you pull and yank your hair into submission is not a great day for your hair strands. Remember, although healthy hair is strong, that's not an excuse to abuse it. Tight buns or tight ponytails can stress the hair shafts and cause them to break. If you need to put your hair up, try more gentle hairstyles that apply less force on the hair.
The Takeaway
Dealing with pesky flyaway hairs is frustrating and annoying, especially when you're hoping to have a sleek and polished hairstyle. If you want to tame your unruly hair, you should first determine if your baby hairs result from hair loss, hair thinning or hair damage. Use clean, all-natural and high-quality products, dry with a microfiber towel and use dryer sheets to get rid of static electricity.
By removing product buildup and using a hydrating conditioner to add moisture back to dry, brittle hair, those pesky little hairs will become a thing of the past. To keep your hair strong and healthy, explore VEGAMOUR's extensive range of powerful plant-based products that promote gorgeous, frizz-hair hair.
More From VEGAMOUR
Photo credits: Ion Ceban/Pexels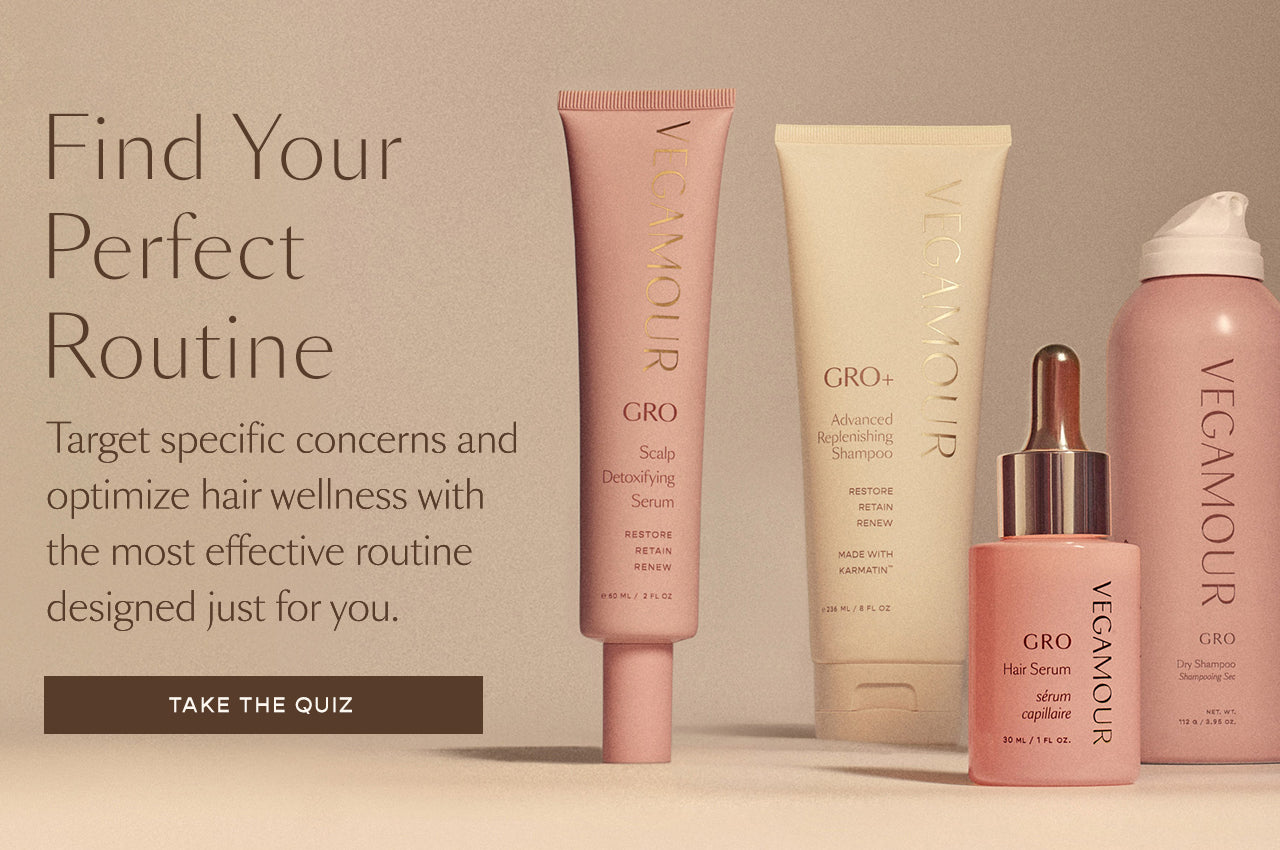 Disclaimer: Information in this article is intended for general informational and entertainment purposes only. It is not intended to constitute medical advice, diagnosis, or treatment. Always seek professional medical advice from your physician.