Explore These Benefits of Murumuru Seed Butter for Hair
Are you looking for a natural alternative to combat frizzy, dry or damaged hair, along with sensitive or dry skin? Consider integrating murumuru butter, a natural emollient that's ultra-hydrating, into your skin and hair care routines. Learn more about the benefits of murumuru butter — plus, discover what clean products you should also be using to support well-nourished and hydrated hair. 
What Is Murumuru Seed Butter?
You've heard it before: Hydrating is essential for your whole body's wellness, including the health of your skin and hair. But did you know that if you have dry hair or dry, irritated skin (or both), moisture retention is all the more important? Maximizing moisture — and maintaining it — the natural way is key for well-hydrated, healthier skin and hair.
One natural emollient ingredient to try is murumuru seed butter. Murumuru butter is derived naturally from the murumuru nuts which fall from a Brazilian palm tree (Astrocaryum) found in the Amazon. The plant-derived therapeutic and functional properties of astrocaryum murumuru seed butter include being used as an anti-microbial, anti-inflammatory and moisturizing agent.
SHOP HYDR-8 Collection Featuring Murumuru Seed Butter
Benefits of Murumuru Seed Butter
Now, it's time to learn about what exactly murumuru butter does — and how it can be beneficial. Thanks to its moisture-sealing nature, murumuru seed butter has the potential to be a helpful natural alternative for the skin, scalp and hair.
Here, discover more examples of the skin- and hair-boosting benefits of murumuru butter:
Ultra-hydrating: "Murumuru butter is extracted from the seeds of the Astrocaryum murumuru palm tree found in the Amazon," said Brittany Pereira, Mario Badescu R&D chemist. "It has emollient properties that are moisturizing and smoothing. It is used in products such as body creams, lip balms, lotions/moisturizers, hand creams, hair treatments and hair conditioners."
Less comedogenic than other oils: Murumuru butter is a non-fragrant vegetable fat, making it less comedogenic than other kinds of skin butter, such as coconut oil, cocoa butter and shea butter. This might make murumuru butter an ideal option for those with acne-prone skin, an oily skin type, eczema or other skin conditions.
Supportive, soothing and anti-inflammatory: "Murumuru butter is rich in fatty acids, omega 3s and 9s [and] Vitamins A, E and C," said Pereira. "It seals in moisture, reduces inflammation and helps support the skin barrier."
Naturally rich in nourishing properties: Murumuru butter, similar to palm oil, is rich in lauric acid and myristic acid and is not water-soluble, making it possible to adequately hydrate your skin without worrying about clogging pores. Murumuru butter enhances moisture retention, which prevents drying while repairing the skin barrier. The nourishing, skin-soothing benefits of murumuru butter can also help ease sensitive skin.
Healthy hair starts with a well-hydrated scalp: "As for hair benefits, murumuru butter promotes shiny hair [and] decreases frizz and split ends," said Pereira. "It hydrates a dry scalp."
Optimal hydration: While solid at room temperature, murumuru butter melts immediately on contact, so it absorbs quickly and penetrates deeply for deep hydration.
What does this mean for your hair care routine? An immediate infusion of much-needed hydration and lustrous shine, while reducing frizz and breakage. Read on for the radiant, moisture-maximizing hair care routine you should start right now.
Read: How to Moisturize Dry Hair
Make Murumuru Butter Part of Your Hair Wellness Routine
First, tap the benefits of murumuru butter starting in the shower. Transform wash night into the ultimate relaxation ritual as you cleanse and condition with HYDR-8 Shampoo and Conditioner Kit. Quench your hair's thirst for healthy hydration with the ultra-hydrating, shine-boosting, fortifying and frizz-reducing duo. Our HYDR-8 and Repair Conditioner includes nourishing, hydration-boosting murumuru butter.
The cleansing and conditioning duo is powered by VEGAMOUR's vegan silk alternative to keratin and silicone, Karmatin™, which bonds to hair, infusing dry, damaged strands with intense hydration and a glass-like shine. Best of all, you'll love that your hair will stay silky-soft, super-hydrated and frizz-free until your next wash.
Next, don't forget to treat your tresses with the same mindful TLC you give your skin by including masks in your weekly routine. Simply swap out the conditioner for the mask. Our HYDR-8 Deep Moisture Repair Mask nixes frizz and dryness while fortifying strands with weekly (or, twice a week, depending on your needs) use.
Use the mask to encourage strength, boost hydration and encourage smoothness and shine in five simple steps:
After shampooing, wring out any excess water.
Apply from roots to ends on damp strands.
Leave the mask on for three to five minutes.
Rinse completely.
Use the mask once or twice a week.
Read: How to Hydrate Hair
The Takeaway: Hydration is Essential From Head-to-Toe
Say goodbye to struggling with dry skin and hair, and hello to an instant infusion of hydration help via VEGAMOUR's HYDR-8 Collection, which includes murumuru butter in the conditioner. And, don't forget to minimize heat styling when possible and steer clear of harsh ingredients that can strip strands of key nutrients and hydration.
Instead, elevate your health habits by utilizing non-toxic hair wellness products in your day-to-day self-care. With the right styling techniques and clean ingredients, you'll enhance and maintain optimal hydration, beautiful shine and a healthier, fuller-looking style that feels and looks its best yet!
MORE From VEGAMOUR
Photo credit:
Yoann Boyer/Unsplash
Paralaxis/iStock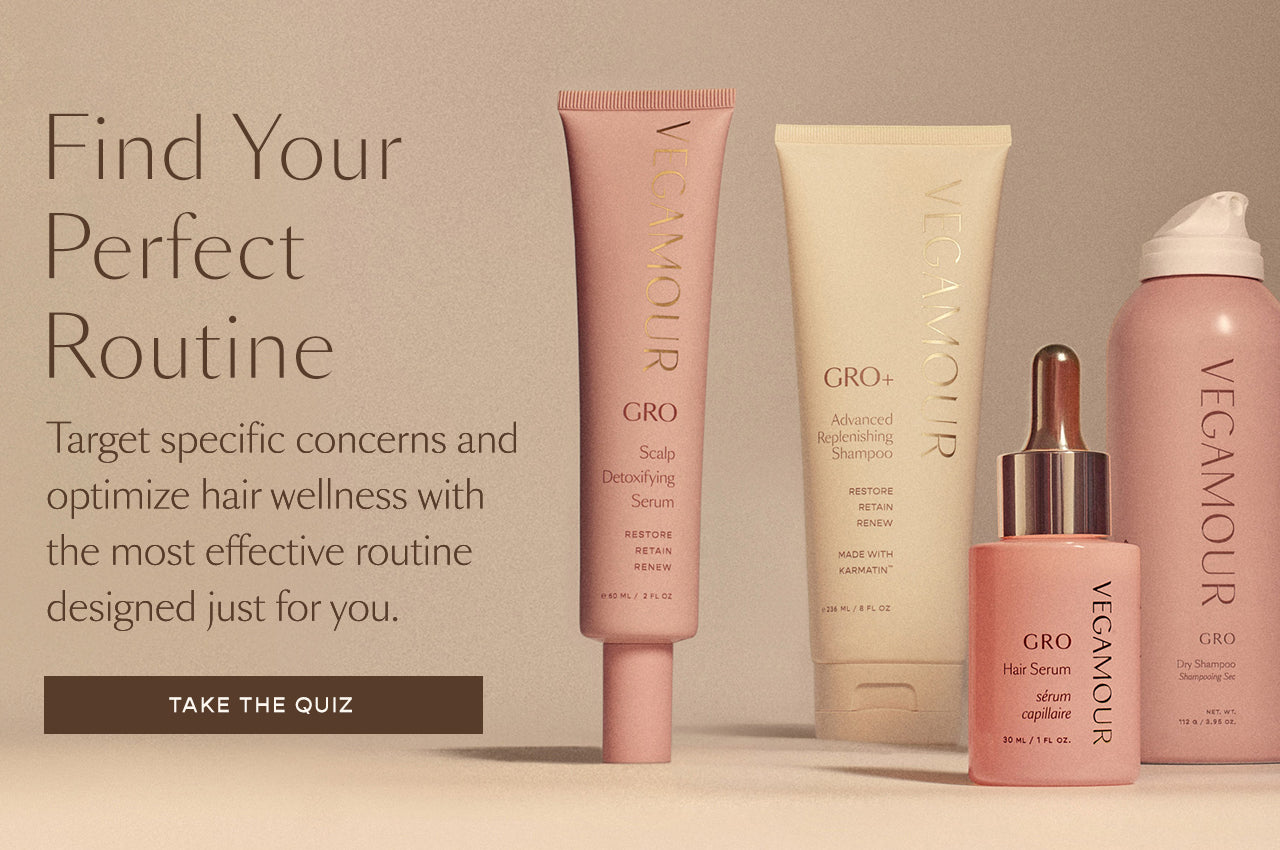 Disclaimer: Information in this article is intended for general informational and entertainment purposes only. It is not intended to constitute medical advice, diagnosis, or treatment. Always seek professional medical advice from your physician.