What a Nutritionist Eats for Lunch To Support Healthy Hair
Raise your hand if you often scramble for a quick but nourishing lunch during your busy workday. Same. 
That's why I have this vegan, high-protein salad on repeat year-round. It's delicious, filling and nourishing — plus, it makes enough for three to four days of meals! You can also enjoy it warm or cold, so it's great for any time. 
And as a huge bonus, it's also great for your hair wellness. To kick up your hair wellness even further, add this adaptogen/probiotic drink mix to your favorite latte or smoothie and enjoy it with your salad. 
Erica's Roasted Butternut Squash Salad with Tahini Garlic Miso Dressing 
To make this salad, you'll need the following: 
Quinoa: a high-protein ancient grain that's one of the few complete vegan proteins (containing all the essential amino acids) and a great source of fiber. 
Lentils: another fantastic source of protein and a great source of plant-based iron! Iron deficiency is one of the most common nutrient deficiencies contributing to hair loss.
Butternut squash: a rich source of vitamins, minerals and antioxidants, including B vitamins, potassium, manganese and magnesium. 
Cauliflower: a cruciferous vegetable that supports detoxification and contains a number of phytonutrients important for overall health. 
Kale: a second source of cruciferous veggie power! Kale is also a source of alpha-linolenic acid (ALA) which is an anti-inflammatory omega-3 fatty acid. 
Radicchio: one of the bitter greens, radicchio supports your digestive system and is a rich source of vitamin K. 
Turmeric: one of nature's most powerful anti-inflammatory herbs
Cumin: a rich source of antioxidants and plant-based iron
For the dressing, you'll need the following: 
Tahini: this sesame seed butter is creamy, mild and full of protein! 
Balsamic vinegar: a source of antimicrobial compounds that is beneficial for scalp and skin health.
Miso paste: a wonderful source of probiotics to support gut health.
Ingredients: 
1 tablespoon extra-virgin olive oil
1 medium butternut squash, peeled and cubed
1 head of cauliflower, cut into small florets
1 tsp ground cumin
1 tsp ground turmeric 
1 cup cooked quinoa
1 cup cooked lentils 
1 head kale, chopped with stalks removed 
1 medium radicchio, chopped
Dressing:
4 tablespoons tahini
1 tablespoon balsamic vinegar
4 tablespoons water, hot
½ teaspoon garlic powder
1 teaspoon miso paste 
Salt and pepper to taste 
Shop: Erica's Favorite Hair Wellness Products
How to Assemble the Salad
Now that you have all of the required ingredients together, here's how to assemble the salad. 
Preheat your oven to 350 F. While preheating, peel and cube the butternut squash (or buy pre-cubed to save time!) and toss with a drizzle of olive oil. In a separate bowl, drizzle cauliflower florets with olive oil, turmeric and cumin. Season both with salt and pepper to taste. Roast butternut squash for 10; then add cauliflower florets and roast for an additional 20 minutes. 
Cook your quinoa and lentils according to package directions (or buy precooked!). Once cooked, mix with the chopped kale and radicchio. 
Allow roasted veggies to cool slightly, then add to the salad and mix. 
Make your dressing: mix all ingredients together until smooth. I find it easiest to use a blender or food processor, but you can also whisk by hand. Once smooth, pour over the salad and mix well. 
Optional: top with a mixture of sunflower, chia or pumpkin seeds for crunch and additional nutrition! 
This salad can be refrigerated for up to four days. Enjoy! 
More From VEGAMOUR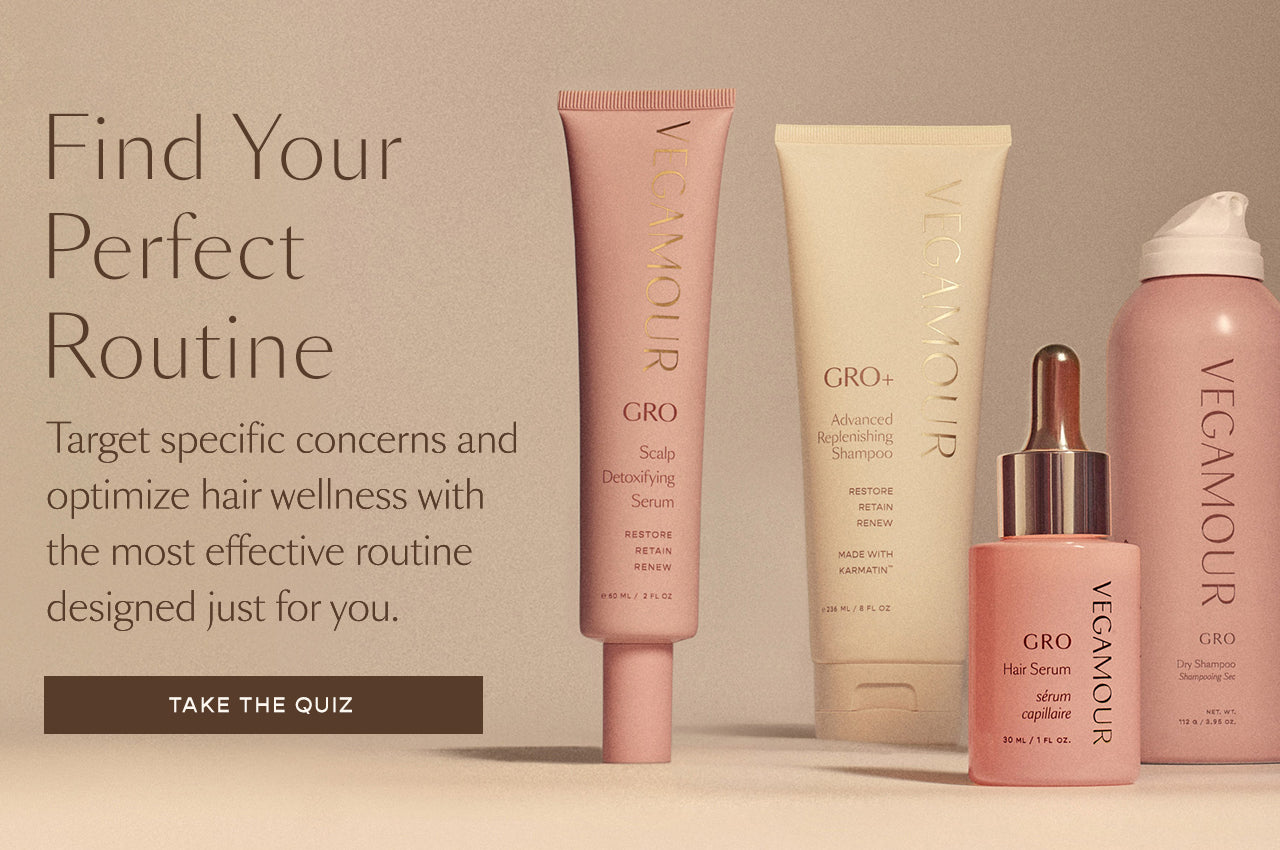 Disclaimer: Information in this article is intended for general informational and entertainment purposes only. It is not intended to constitute medical advice, diagnosis, or treatment. Always seek professional medical advice from your physician.