Can an Oily Scalp Cause Thinning Hair?
If you have an oily scalp and thinning hair, you may wonder if there's a connection between the two. It's true that scalp health is critical to healthy hair growth, but are these often co-presenting conditions really related?
Read on to find out how an oily scalp and thinning hair might be linked — plus, get details about beneficial changes you can make to your hair care routine, including what products you can start using to gently care for your scalp and achieve thicker, fuller looking hair.
Is There a Connection Between Oily Scalp and Thinning Hair?
This is one of those questions that has baffled the experts for years. Some swear by a definitive connection between an oily scalp and thinning hair, while others are not convinced, saying it's just a matter of two unrelated conditions presenting simultaneously. The science is thin to prove it either way.
What is certain is when you have an oily scalp, the sebaceous glands are overproductive, which can cause clogged pores and greasy scalp conditions that can lessen the health of the entire scalp region. An oily, greasy scalp can harbor dirt, sweat, debris and pathogens, as well as dead skin cells, and result in painful scalp conditions like folliculitis.
Whether the connection between an oily scalp and thinning hair is to blame for your hair shedding or not, it's important to control the excess oil no matter what. Here's how you can create a healthy scalp environment and also encourage thicker, fuller looking hair.
Shop: The Best Products for Thinning Hair
What Actually Causes Hair Loss?
There are lots of causes of thinning hair and balding, including genetic conditions like female or male pattern baldness. Here are other potential causes of excess hair shed:
Poor scalp conditions or disorders (such as seborrheic dermatitis, fungal infections) or regular exposure to chemicals or pathogens
Hormonal imbalances, fluctuating hormones
Age
Genetics
Mental health factors such as trichotillomania (also called excoriation disorder or hair-pulling disorder)
Severe cases of dandruff
Vitamin deficiencies (Some of which can be solved by implementing a healthy diet or the right supplements to provide essential nutrients.)
Note: Dry scalp can alternatively be a problem if you overcorrect oily conditions with overshampooing.
Does Oiliness Affect Hair Growth?
Does an oily scalp cause hair to fall out faster? Although there's no hard evidence that points to an oily scalp as a direct cause of hair loss, it can play a role in an unhealthy scalp environment.
Your scalp is skin just like the rest of your body. This means your scalp has sebaceous glands in the pores which produce natural oils called sebum. These oils soothe the scalp and keep the hair well-moisturized. But if your scalp gets too oily, problems can arise.
Your habits, from how you shampoo and style your hair, to what you put into your hair can also either help solve the problem or make it worse. Unfortunately, once these oil glands are stimulated to produce more oils, you can end up with an oily scalp problem that can be tricky to treat.
Related Reading: Oily Scalp But Dry Ends? Try This
Managing Your Scalp & Hair Health the Right Way
To solve an oily scalp and thinning hair at the same time you'll need to make some adjustments to how you care for your hair and scalp to get the excess sebum under control.
Your scalp biome requires a delicate balance of nutrition and hygiene to keep the life cycle of your hair on track. The right scalp conditions will help your hair follicles to complete their natural hair cycle, which can slow excess hair fall. Likewise, good hair care practices can help prevent excessive sebum production and clogged pores.
Home Care Treatments
There are some easy home care treatments you can do to help manage the oils and make your scalp conditions more normalized.
Dab on a little apple cider vinegar diluted with water.
Avoid overwashing as this can exacerbate excessive oil production.
Avoid heat styling and overstimulation of the scalp, both of which can generate more production of sebum.
Use a dry shampoo for thinning hair between your shampoo sessions.
See a dermatologist to discuss scalp health.
Eat a well-balanced diet that includes foods with hair-healthy biotin.
These methods may help to prevent excess oil production but there are also hair care products made just for the complexities of managing multiple scalp and hair issues at the same time.
Use Products That Encourage Scalp and Hair Health

The best hair and scalp products are those that are free of harsh chemicals and contain nourishing ingredients. VEGAMOUR's Good to GRO Kit works hard to balance your scalp environment and create the optimal conditions for healthy hair growth.
Here's how the system works.
Begin with GRO Scalp Detoxifying Serum to detoxify the scalp and stabilize the scalp biome. This serum includes powerful phyto-actives and vegan proteins to help gently remove persistent scalp buildup and soothe scalp damage. The serum also includes Zinc PCA to reduce excess oils while supporting the scalp's natural moisturizing factor. Apply 10 minutes before you shampoo.
Follow up with one of our favorite gentle cleansers: GRO Revitalizing Shampoo. This sulfate-free formula cleanses the hair and scalp gently to avoid triggering excess production of sebum at the pores. (And it smells heavenly!)
Once you've towel dried your hair, apply GRO Hair Serum. This daily scalp serum contains vegan phyto-actives, which are clinically shown in some subjects to increase the appearance of hair density by up to 52% and reduce shedding by up to 76% after four months of use. Use this lightweight, non-greasy serum daily on dry or towel-dried hair for best results.
Adjust Your Shampooing Schedule
Once you switch your hair products, reduce the frequency with which you shampoo your hair (to every other or every third day) and allow the scalp to naturally balance itself. Try this reduced shampooing schedule but use GRO Hair Serum each day. After a few weeks, you can readjust shampoo frequency to get the perfect routine for your hair and scalp.
Shop: Sulfate-Free Shampoos for Oily Hair
Read the Labels on Your Hair Styling Products
Take a look at your current hair styling products and consider eliminating those that contain sulfates, phthalates, silicones and other harsh ingredients that can negatively impact your hair and scalp. (You'll never have to worry about those types of ingredients when it comes to VEGAMOUR!)
Tackle an Oily Scalp and Thinning Hair With a Few Easy Changes
Barring any underlying scalp issues that need medical attention, a few tweaks to your current routine could help you start solving your oily scalp and thinning hair problems. By using gentle hair care practices, giving your scalp a break and incorporating plant-based products that are clinically proven to get results, you'll be on the right track to achieving the lustrous and healthy hair (and scalp!) you desire.
More From VEGAMOUR
Photo credit: Artursfoto/iStock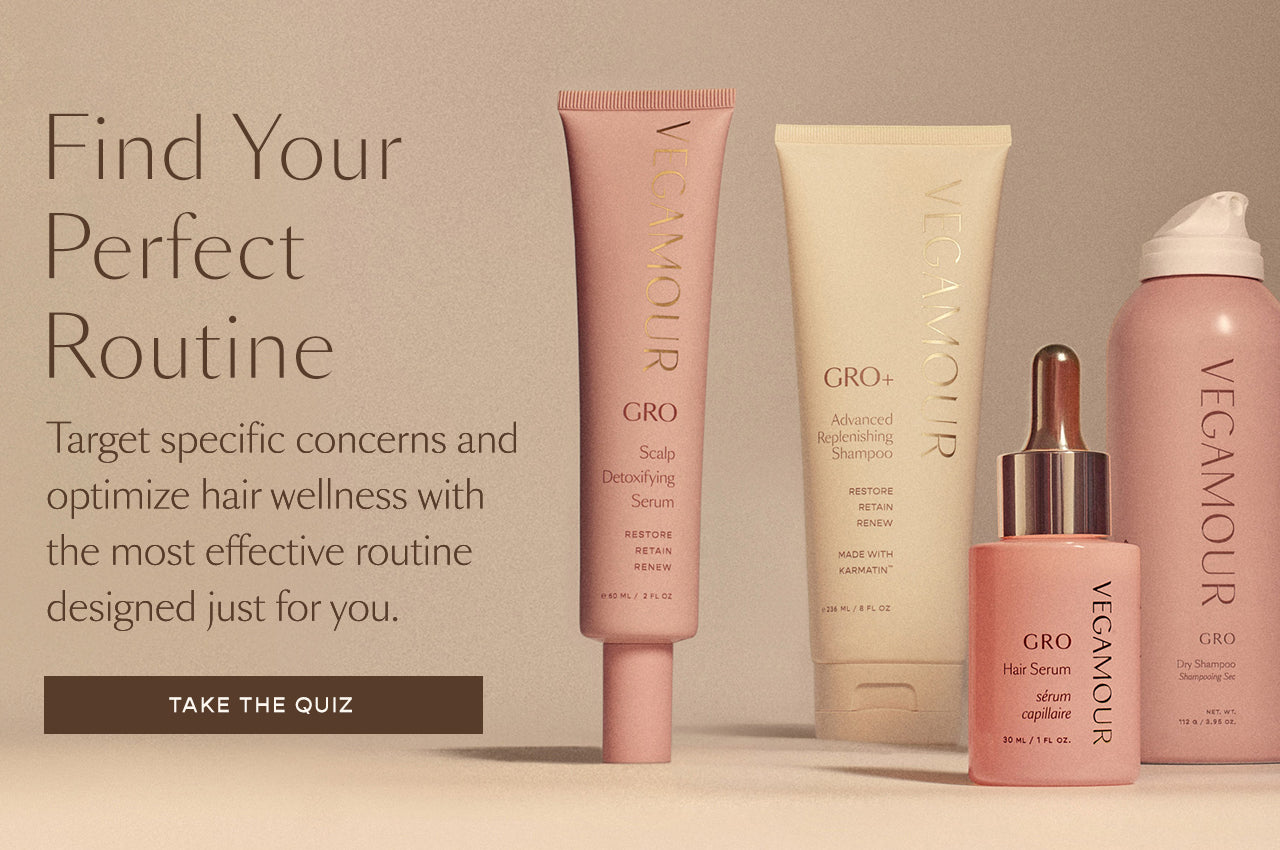 Disclaimer: Information in this article is intended for general informational and entertainment purposes only. It is not intended to constitute medical advice, diagnosis, or treatment. Always seek professional medical advice from your physician.