Postpartum Hair Thinning Devastated Me — Then I Found VEGAMOUR
Violet Kanian is a lifestyle blogger and new mama. After battling fine hair all her life, she was thrown for a loop with the challenges that come with postpartum hair. Although devastated and insecure, Violet's hair journey did a full 180 when she discovered VEGAMOUR, especially GRO Hair Serum.
To shed light on postpartum hair challenges, Violet told us a bit more about her hair wellness journey and the major progress she's made in the last few months.
How did your hair journey start?
"I have always had issues with my hair. It's so fine and there's so little of it, I can't even get a layered cut! It ends up being a mullet because there just isn't enough hair. I was always wearing clip-in extensions for volume. Then, after having my first baby, I started losing a ton of hair. It was a very big struggle both mentally and physically. After a much-needed trim and amazing products, my hair is growing back and I haven't put in extensions for months! Sure there are random 2-inch baby hairs all over, but I am proud of them."
How did losing your hair postpartum feel emotionally?
"Losing my hair postpartum was devastating. Aside from all the other postpartum trauma and emotions, now I had to deal with something very physical. I feel naked without my hair. I always have it down and styled, and while I was losing all the hair postpartum, I had to always have it up in a low bun. It truly took a toll on my confidence."
What changes have made the biggest difference?
"Honestly, the VEGAMOUR serum was a game-changer. About 30 days in, I started noticing a huge difference. I had two big bald spots in the front, and they started filling in. It was close to a miracle. I soon after got a haircut and with the gummies, it made all the difference."
What would you say to someone struggling with hair thinning postpartum? 
"Be patient and be kind to yourself. I was so miserable and didn't want to leave my house. What if people see my bald spots? What if I shed all over them or their space?! Guess what, who cares?! It's hair and thank goodness, it grows back, eventually." 
Shop: VEGAMOUR Best Sellers
What does your self-care routine with VEGAMOUR look like?
"I absolutely love the GRO serum and the gummies. The GRO serum is a game-changer and the gummies are so delicious, they ended up being my daily 'sweet snack' with so many benefits. 
I have experienced a HUGE difference in my hair. I have so many tiny baby hairs growing in. I can swear the hairs growing in are exactly where I applied the serum every day." 

More From VEGAMOUR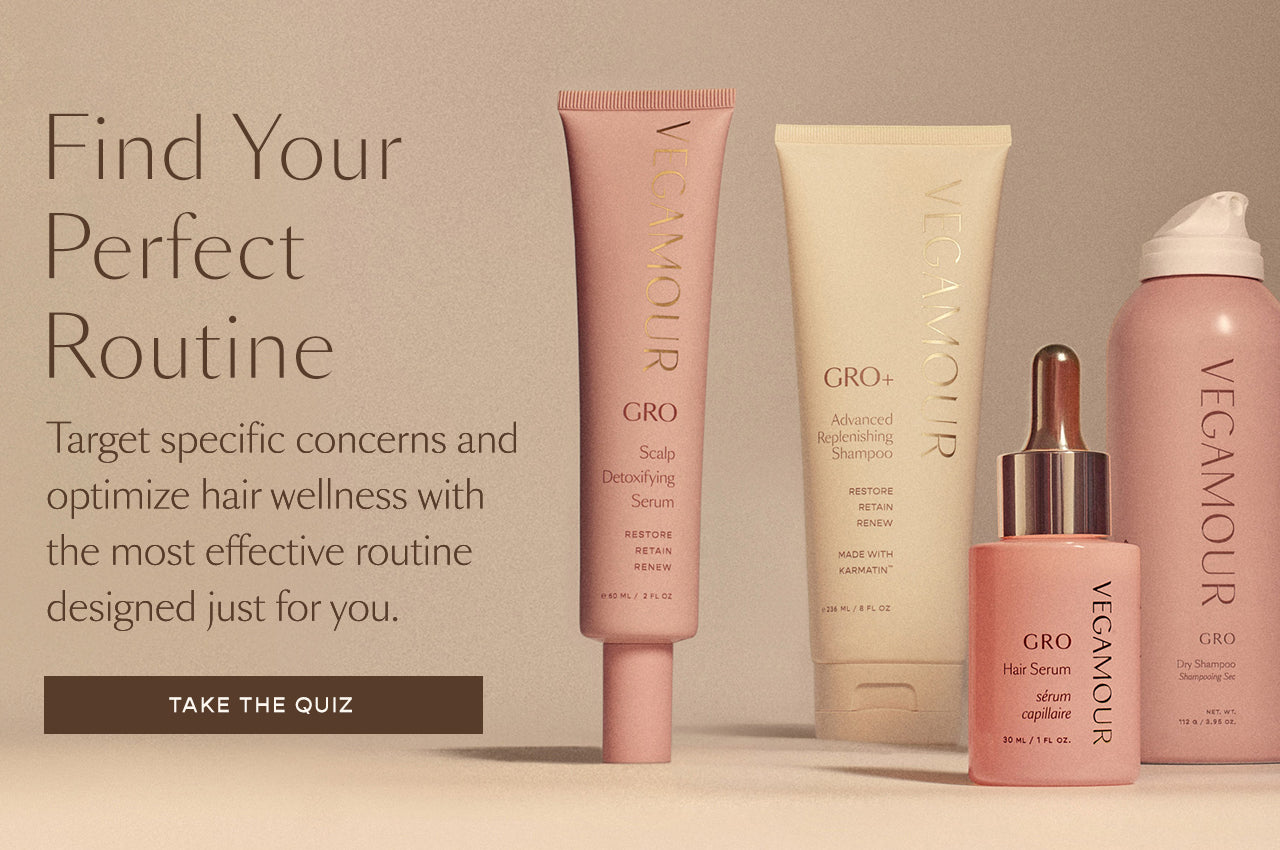 Disclaimer: Information in this article is intended for general informational and entertainment purposes only. It is not intended to constitute medical advice, diagnosis, or treatment. Always seek professional medical advice from your physician.