What You Should Know About Red Clover for Your Health and Hair Growth
Female hair loss is more common than you might think. About 55% of women will experience some form of hair loss by age 70. For those experiencing hair loss issues, beyond normal daily shedding of 50-100 hairs per day, chances are that multiple factors — such as hormones, age, stress and more — are playing starring roles in what is ultimately causing it. The good news is that many options are available to help you address hair concerns, and some are plant-powered.
Enter red clover. This perennial herb has been and continues to be used as an herbal supplement with health benefits, including supporting hair growth. Wondering how red clover can help? Read on to learn more about the potential power of plant extracts, such as red clover, in revitalizing your hair and overall health. Plus, find the best hair products fortified with red clover to support healthy, fuller hair.
@vegamour

Meet our key ingredient, ✨red clover✨ Red clover combats the negative effects of DHT, a byproduct of testosterone that increases during the natural aging process. DHT prevents nutrients from being absorbed by hair follicles, which causes them to shrink and eventually fall out. Red clover is a rich source of isoflavones, which are water-soluble chemicals that act like estrogens, helping to prolong the anagen phase of the hair follicle's growth cycle. It also contains other beneficial nutrients, such as calcium, chromium, magnesium, niacin, phosphorus, potassium, thiamine and vitamin C.

♬ original sound - VEGAMOUR
What Is Red Clover, and How Is It Used?
Red clover (trifolium pratense) is a flowering plant that belongs to the family of plants called legumes, such as peas and beans. A variety of products contain this ingredient, including liquid extracts, supplements and even red clover tea. Natural medicine practitioners have long used the plant's extract to address both common and more serious health concerns such as:
Respiratory conditions including asthma and whooping cough
Gout
Menopause
Skin disorders
Blood clotting
Heart disease
Bone health
Prostate cancer
Endometrial cancer
Breast cancer
Ovarian cancer 
However, red clover extract can also be found in a variety of beauty and wellness supplements due to its powerful isoflavones, which are thought to influence healthy skin and hair growth.
"Red clover has historically been used to treat inflammatory skin conditions, including rashes and minor skin irritations," said Jennifer Kennedy, Director of Skincare and R.N., at PFRANKMD by Dr. Paul Jarrod Frank. "Red clover boosts the skin's ability to increase circulation and therefore reduces healing time and decreases inflammation. It's used as an oral supplement or a serum applied directly on the area of concern."
"Many believe that red clover also has estrogen-like effects which help to maintain overall hair and skin health," said Kennedy. "As we get older, our skin and hair become dehydrated, resulting in dull, dry skin and brittle hair. Red clover can help with these hormonal shifts."
Read: Nicole Kidman's Transition to Hair Wellness
Hormonal Hair Loss and Menopause
Hormonal hair loss usually goes hand-in-hand with dramatic hormonal shifts, such as menopause. During this time, the body is producing fewer female hormones like estrogen and progestin. Menopausal women can also experience an increase in DHT if their body produces more testosterone because of a specific endocrine (i.e., hormonal) health condition like polycystic ovary syndrome. And DHT can prevent nutrients from reaching hair follicles, causing them to shrink, which can lead to hair loss.
If you're in any stage of menopause and you're experiencing hair loss, see a health care professional who can perform a series of blood tests to detect levels of estrogen and testosterone to find out what's going on.
Can Red Clover Help With Menopausal Hair Loss?
According to experts, the answer is yes. Red clover contains a high level of isoflavones — a type of phytoestrogens, which are compounds similar to the female hormone estrogen. Red clover isoflavones are linked with positively addressing and impacting hormonal and menopausal symptoms in women, including:
Menopausal hot flashes or night sweats
Osteoporosis and other bone mineral density issues
High cholesterol levels
"Red clover has been shown to help mitigate some negative menopausal symptoms, including a reduction in menopausal hair loss and/or hormonal hair loss," said Kennedy. "Studies show it also may help to maintain moisture and thickness of the skin for those going through hormonal changes including menopause."
However, before you decide to take a red clover supplement, you should check with your doctor, especially if you are taking birth control pills.
"While some studies show red clover can be helpful for menopausal and postmenopausal women, as with all supplements and medications, it is important to get baseline blood work done and check with your GYN or endocrinologist if it's OK for you to take," said Kennedy.
Find Out: What Medications Can Cause Hair Loss?
Red Clover as a DHT Blocker
As mentioned earlier, elevated DHT levels can occur during menopause. And because DHT prevents nutrients from being absorbed by hair follicles, which causes them to shrink, it may shift how fast hair grows.
Because red clover is a rich source of isoflavones, it can act as a natural DHT blocker to help mitigate issues, including hair thinning and hair loss. "Due to its ability to act as a pseudo estrogen, [red clover] can help with hot flashes, hair loss, bone density and overall dehydration of the skin, hair and nails if you are looking for a natural approach to dealing with perimenopausal or menopausal symptoms," said Kennedy.
According to one study, applying DHT-inhibiting ingredients to the scalp, such as red clover, may help stall the cycle of hair loss and trigger the anagen or growth phase of hair.
And guess what? Red clover is a key ingredient in VEGAMOUR hair serums and foams. GRO+ Advanced Hair Serum features the power of red clover, mung bean, curcumin, nicotiana benthamiana and broad-spectrum CBD. GRO Hair Serum features all the same hair healthy goodness without CBD. 
Also Try: GRO+ Advanced Hair Foam
Other Natural DHT Blockers
Besides red clover, there are other natural DHT blockers, which allow you to address hair loss issues without the serious side effects of prescription medication, like hormone replacement therapy. These include:
Pumpkin seed oil: When used as a topical application, it has been found to promote hair growth by blocking the 5-alpha reductase enzyme in order to inhibit DHT.
Saw palmetto: It prevents the conversion of testosterone into DHT to promote hair growth and has anti-inflammatory properties. Inflammation in hair follicles or the scalp can cause hair growth problems.
Healthy Holistic Habits for Hair Wellness
Now that you know how red clover and other plant-based products can help with hair loss or thinning, why not take things a step further? As with most things in life, a reset to your routine may help improve the quality of your whole-body health, including that of your skin, scalp and hair. To achieve
hair wellness
, along with overall healthy habits, try implementing all of these positive lifestyle shifts into your daily routine.
Reduce stress.
Maintain a balanced diet.
Stick to a healthy sleep cycle. (Yoga can help!)
Stay hydrated.
Add a short meditation as a part of your morning routine.
Make mindfulness a daily habit.
Take a daily hair supplement such as GRO Biotin Gummies, which include biotin, B vitamins, folic acid and more. For an added boost, try GRO+ Advanced Gummies, which include hemp oil, biotin, folic acid, zinc and other beneficial vitamins and minerals.
Ease digestive issues that may be linked with hair loss or thinning hair.
Prioritize self-care.
Consider using plant-based natural alternatives, including those containing red clover extracts, to fight hair loss.
Photo credit: Petr Ganag/Pexels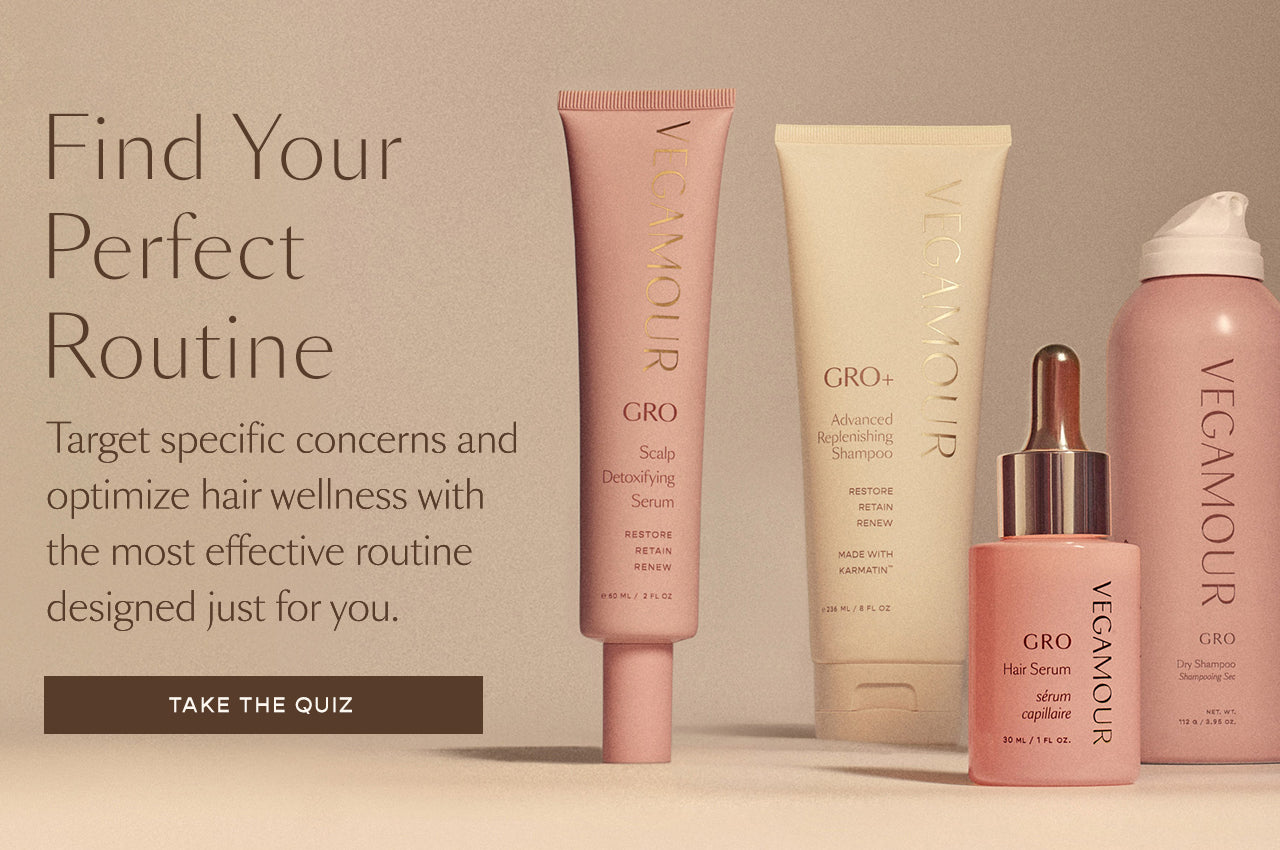 Disclaimer: Information in this article is intended for general informational and entertainment purposes only. It is not intended to constitute medical advice, diagnosis, or treatment. Always seek professional medical advice from your physician.