10 Spring Hairstyles To Freshen Up Your Look
Out with the old, and in with the new — and that goes for new spring hairstyles too. To start, here's a little inspiration. Read on to discover the springtime hair trends that will freshen up your look. Plus, what products you can use to achieve gorgeous spring hairstyles. 
Popular Spring Hairstyles To Try Now
VEGAMOUR asked hairstylists and influencers to weigh in on their favorite hair trends to rock this spring. Here are popular spring hairstyles to try yourself:
Curtain Bangs
Curtain bangs are likely one of the most popular haircuts we'll see this year. If you're not sure what those are, think 70s beauty icon Farrah Fawcett. Like a curtain draping a window, these namesake bangs work to subtly frame both sides of your face. Not only are they flattering on most hair types, hair lengths and face shapes, they're also arguably the lowest-maintenance of all kinds of bangs since they grow out and look cute at any length.
To achieve the curtain bang look, you will likely need to use a heat styling tool like a blow dryer or hair straightener, which can leave hair feeling dry. Combat dryness in the shower with a hydrating hair mask that will leave hair feeling soft, shiny and super hydrated.  
Read: Here's How to Get Rid of a Cowlick
Elevated Messy Top Bun
The Pamela Anderson up-do of the 90s is the hairstyle of the moment — and you can achieve a version of this look with an elevated messy top bun. Regardless of your hair length or hair type, a classic messy top bun is an ideal go-to hairstyle for an effortlessly chic look.
If you're looking to switch things up this spring, Paris-based hairstylist Joleen Emory recommends pairing a fishtail braid with your bun. "This is great for when you want to look glam in the spring without much effort — especially on days you don't know what to do with your hair."
Here are Emory's step-by-step tips on how to elevate your everyday bun for medium- to long-length hair:  
Start with two small sections of your front hair. Take one piece from the left and move it onto the right, then move another section from right to left, like you would with a fishtail braid.
Continue crisscrossing one strand after another until you reach the crown of your head. Seal the deal with bobby pins before continuing on to the next step.
 Then take the rest of your hair and roll it into a high bun starting where your braid ends. Use bobby pins instead of an elastic to lock it in so you can make the bun as big or messy as you want.
Gently tug on your braids for added volume. To make it even more spring-friendly, choose a colorful hair accessory (like a pastel pink oversized hairpin).  
Bob Cuts
Spring is a time of new beginnings, so it's no surprise that we're already seeing some daring spring haircuts trending this season.
Bob cuts first took off in the 1930s as a form of rebellion against traditional female beauty standards. Today this haircut is just as bold and beautiful with a dozen different variations — whether you're looking to play it safe with an outgrown bob, go even shorter with a chin-length Amelie-esque french bob, or pair it with short bangs for a timeless Audrey Hepburn-inspired pixie look.
Be warned: Most hairstyles agree that anything above a shoulder-length hair cut is more ideal for straight hair types unless you're prepared for daily maintenance.
But what happens if you get your pixie cut and it doesn't look as cute as you thought? Don't worry: it will grow back. In the meantime, consider adding hair gummies to your daily routine, which are a delicious option to promote your hair's health.
Half-Up Ponytails and Buns
Beauty vlogger Caitlyn Lindsay's go-to hairstyle in the springtime for her natural hair is a half-up ponytail.
Here are Lindsay's tips on how to rock the perfect half-up look for natural hair:
Start by getting your hair damp. I like to use a basic spray bottle with water for that.
Then add some GRO Hair Foam for a hair-nourishing mousse that gives instant volume.
Afterward, tie half of your hair up into a ponytail or bun, polishing it up with some hair spray and a toothbrush to brush any flyaways back into your hair.
For straighter hair textures, Emory shared her tips on how to add some glam to a classic half-updo.
Start with spraying your favorite dry shampoo for instant volume.
Tie your hair in a high half ponytail.
Twist the hair from your ponytail into a bun, securing it in with some bobby pins.
Create some light curls with a curling iron for a hairstyle that's more polished. 
This look lets you have your hair down but not in your face — and works great with all textures including your natural texture or even in a protective style like braids.
Ribbon-Wrapped Hairdos
The possibilities are endless when it comes to enhancing a simple hairstyle. French hairstylist Clémence Dolmaire recommends wrapping your ribbon of choice around your bun or ponytail for a look that's more put together for spring. "
Something that's so simple to instantly freshen up any look is adding fabrics like a ribbon into your hairstyles," Dolmaire said. "Next time you don't know what to do, throw your hair in a big bun and wrap a ribbon around it. It's so much classier than a normal bun and elevates your entire look without much effort."
You can even create a braid with your ribbon woven in it. "Try braiding your hair while adding a ribbon into it," added Dolmaire. "Even if your hair is looking lifeless or you have little flyaways all over causing frizz, this hairstyle keeps your hair put together with minimal effort. Just be sure to add a little hair oil for hydration and shine." 
Choose a ribbon with a bright color or a floral pattern to make your look more springtime-chic. If you don't have any ribbons on hand, opt for a bandana or over-the-top scrunchie for a casual spring hairstyle. 
Bubble Braids
Bubble braids offer up a fun twist on classic ponytails. The best part is that this style can be done in under a minute but looks like it took much longer.
Here's how to master the bubble braid in three easy steps:
Tie your hair into a high ponytail.
Take an elastic and tie it a couple of inches further down your ponytail. Keep doing this with other elastics until you make it down your hair.
Gently tug on the hair in the spaces between your elastics to add some shape and volume to your hair "bubbles."
Read: 9 Biotin-Rich Foods for Healthy Hair
One-Length Cut
Do you have thinning hair, especially at the ends? While layers can leave thin hair looking sparse, a single-length style is a perfect cut to make your hair look fuller, healthier and thicker, especially if you have natural curls.
Thin hair remedies 101: To help your hair looking lusciously full, apply hair foam onto the roots of damp hair before styling for major volume. And to help strengthen strands, try an advanced botanical solution.
Hair Extensions
Spring is the perfect time to sport a new style, but it doesn't have to permanent. Adding clip-in extensions to any of your favorite spring hairstyles is an easy way to add length to your hair while injecting some instant fullness and shape into your everyday hair looks. Extensions come in a variety of hair colors for easy matching and will allow you to enjoy long hair and new styles with zero long-term consequences.
Hair Clips
Hair clips are the perfect accessory for any outfit, whether you're dressed to the nines or sporting a basic everyday look. Better yet, they're functional. You can use these snap-on accessories to help keep your hair out of your face while still looking on point. For fun, opt for a floral clip or one in a bright spring shade to add a pop of color to your hair.
To achieve a style accented with a hairclip, Dolmaire recommends spraying some dry shampoo or other volumizing hair care products to your roots to remedy flat morning hair. Then embrace your natural texture, add some hair extensions or use a curling wand before adding a big hair clip to doll up your hair for your springtime look.  
Elastic Hair Styles
As the weather warms up, finding hairstyles that are both cute and help keep your hair out of your face is key when it comes to keeping you feeling cool (both temperature and style-wise). Elastic bands are the newest IG-worthy hair tool coming back in fashion that are perfect for crafting any easy springtime look. You can use them for a half-up ponytail, fishtail braids, space buns and so many other creative styles. 
Here's one type of style you can try using elastics that works for any hair type, including curly hair:
Part your hair in the middle.
With your elastics, tie one small section of the very front of your hair that's right above your ear.
Now tie another section about 1 inch away, incorporating the remaining hair from the first hair tie.
Follow this pattern, tying new sections together with the previous section of hair until you get to your part.
Then move down your scalp, securing small sections with your elastics until you get to the crown of your head.
Repeat the process with the other side of your hair.
Up Next: 6 Signs You Need a Scalp Detox
Spring Has Sprung
Spring is here and just like the blooming flowers, being exactly who you are is what makes you beautiful. So wear the hairstyles that make you feel your best — whether that's trying something new or sticking to your old favorites. Either way, VEGAMOUR's plant-based hair products are here to help along the way. 
More From VEGAMOUR
Photo credits:
Main: Ekaterina Krusanova/Unsplash  
Raphael Lovaski/Unsplash
Mstudio/Pexels
cottonbro/Pexels
Force Majeure/Unsplash  
Cristian Rojas/Pexels
Kimson Doan/Unsplash
Liza Summer/Pexels
Tim Mossholder/Pexels
Lovi Vecino/Pexels
Brooke Cagle/Unsplash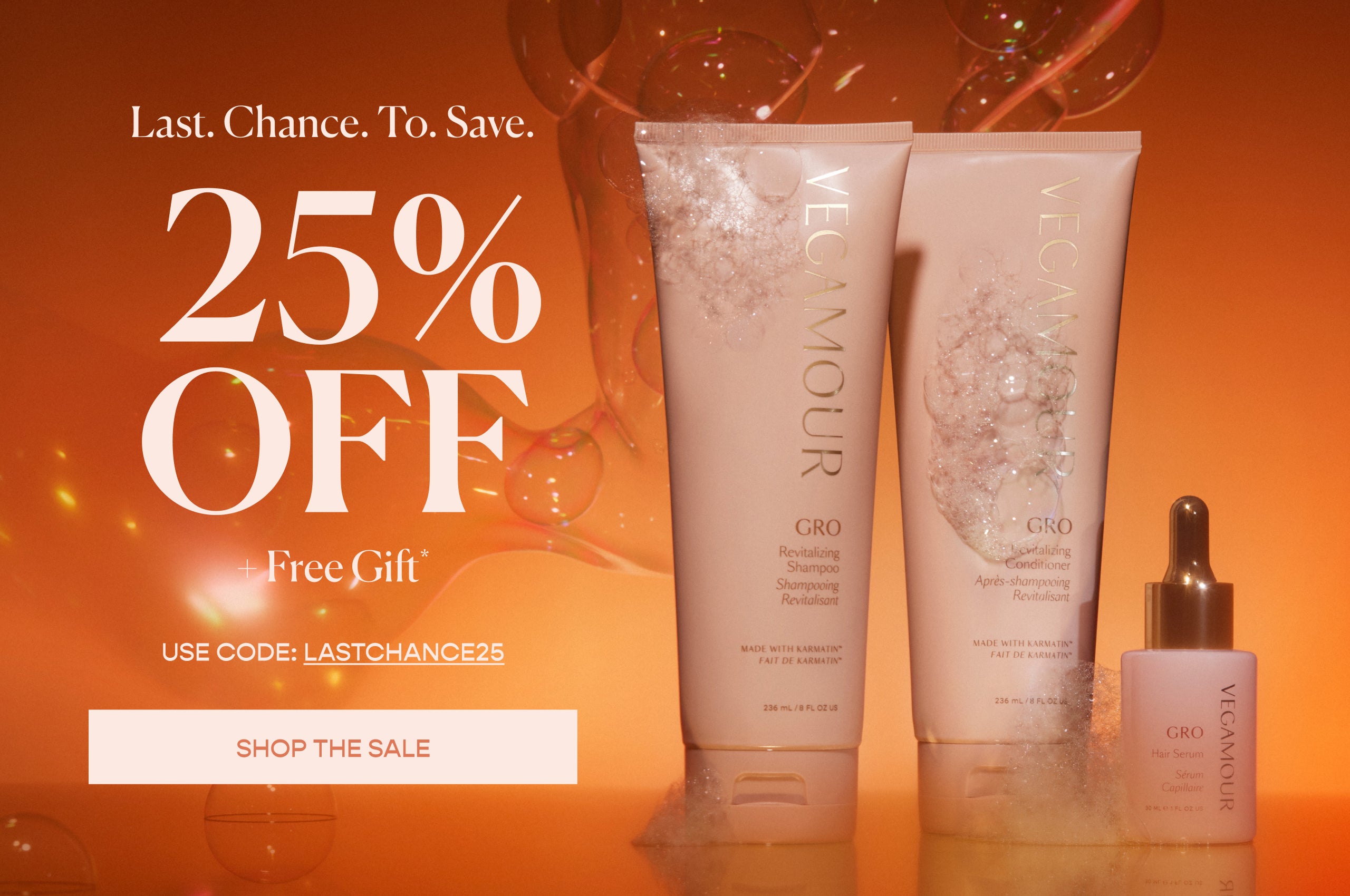 Disclaimer: Information in this article is intended for general informational and entertainment purposes only. It is not intended to constitute medical advice, diagnosis, or treatment. Always seek professional medical advice from your physician.