Here's How to Find the Right Strawberry Blonde Shade for You
Strawberry blonde colors might remind you of warm summer days in a sunny meadow, chasing butterflies and naming the insects. But will this lovely hair color suit your skin tone? And which shade of strawberry blonde should you choose?
VEGAMOUR spoke with a hairstylist for her tips on finding the right shade of strawberry blonde for your skin tone. Plus, find out what your freshly colored hair needs to stay strong and healthy no matter what shade of strawberry blonde you choose.
What Is Strawberry Blonde?
If you're a natural redhead, then you share this trait with less than 2% of the world's population. A combination of two hair pigment types in natural hair — eumelanin and pheomelanin — creates a reddish hue to the hair.
When the hair is light in color and contains this reddish hue, it's called strawberry blonde. The hair appears blondish and reddish at the same time — as if it is lit from within by a reddish, golden or coppery glow.
Related reading: Thinking of Going Copper? Here's How to Upkeep Your New Hue
Will Strawberry Blonde Work for You?
VEGAMOUR spoke with Alice Rawling of Hairdo Hairstyle for some tips on choosing strawberry blonde colors. Rawling shared that people with "neutral, fair and coolskin tones look wonderful with strawberry blonde hair," making this color a wonderful choice for those with fair or pale skin. In fact, a warm strawberry blonde (or even some subtle highlights in the tone) might brighten up the complexion.
Nicole Kidman dazzles the screen with strawberry-toned bouncy curls or golden feathery tresses. She's worn a variety of strawberry colors, making each of them look glamorous. One reason these colors look so good on her is her light-colored eyes and the naturally pale golden shade of her skin. But you might be wondering if strawberry blonde or strawberry blonde highlights are right for you.
Rawling explained that the right shade can make all the difference. For instance, "a copper and goldcombination is perfect for dark skin tones." Look for pictures of strawberry blonde in various shades and compare that to your natural skin tone to get a good idea of what will work best for you.
Light reddish-blonde tones work well for:
Blue eyes or green eyes
Fair skin tones or porcelain skin
Darker skin tones with some warmth in the skin
People who have warm-toned freckles
Natural redheads
On naturally light brown hair or a warm natural color
A strawberry hue might not wear well on:
People with icy-cool skin tones (Unless you warm up your skin with cosmetics.)
People with darker roots — black hair or very dark cool brown hair
Read More: How to Make Your Hair Color Last Longer
Color-Treated Hair Care
When you choose to color your hair, you'll need the right kind of care to preserve the color you've just paid for and to help repair the damage that happens with chemical treatments. Chemical treatments break down the natural proteins in your hair — either to make way for the deposit of new color pigments or to reshape the structure of the hair. Even with the best chemicals on the market, without proper care, your hair's health can deteriorate.
Shop: Clean Hair Products
Go Healthier with GRO
VEGAMOUR's GRO Revitalizing Shampoo and Conditionerprovide that extra measure of care for color-treated hair. Microencapsulated vegan b-SILK™ proteins bond with your hair to fill in the holes and repair the cuticle layer so your hair can be healthier. Wild-harvested marula oil, organic murumuru butter and ximenia oil help to hydrate the hair. This plant-powered duo also provides protection from damaging free radicals to help preserve your color.

One other consideration is to cleanse the scalp of impurities following your hair coloring service with the weekly use of a scalp serum, which is especially important if you have any scalp issues or thinning hair.
Strawberry Blonde Hair Color Ideas
Strawberry blonde can be playful and dramatic or soft and subtle. Here are some strawberry-blonde color ideas to take with you to the salon.
Light Strawberry Blonde
Is there anything more glamorous than a light strawberry-blonde bob? It's a classic look that will never go out of style. Pale reddish hues give that hint of elegance to a blonde look, creating interest and a warm glow to the hair. Your hair might require pre-lightening with bleach to bring it up to the light shade needed to capture this light strawberry blonde color.
Dark Strawberry Blonde Hair
This is a warm strawberry blonde tone that's a little darker. Some might call this a very light reddish-brown. It looks great on those who need darker hues to balance out their skin tone.
Classic Strawberry Blonde
Classic strawberry blonde has an equal measure of red and blonde hues, providing a clearly reddish-blonde balance to the overall look, which is warm and bright. All cool tones are eliminated for this classic look. Toss in some subtle highlights around the face for a red-carpet-worthy style.
Strawberry Blonde Balayage
Warm and cool tones mixed together can also be rather lovely for color-treated hair. Balayage is so much fun when the inspiration is strawberry blonde! You might have dark red roots, panels of a golden shade and a wash of strawberry blonde highlights all mixed in for a breezy mixture of tones that's especially nice on medium to long hair.
Strawberry Blonde Ombre
Another artistic approach to strawberry blonde is to create an ombre effect. This strawberry blonde look will transition softly from dark strawberry blonde to lighter tones toward the ends. This look is stunning on super-straight long hair.
Rose Gold Highlights
Rose gold colors are all the rage right now and these are essentially a copper-toned metallic version of strawberry blonde. These look great on warmer skin tones and naturally warm hair tones.
Golden Strawberry Blonde
Your strawberry blonde look can be more red-toned or golden-toned. With a strong golden blonde base to your color, you'll look sun-kissed all year round!
Highlights on Natural Red Hair
Red hair is captivating all on its own. But when you add in some warm-toned highlights, keeping some of that natural red hue in the strands, you create a highlighted look that looks like it came from the sun rather than a bottle. It's purely gorgeous!
Copper Blonde
Similar to rose gold, copper blonde hair colors are beautiful, though you'll need warm-toned skin for this look. Darker skin tones also wear this color well. The copper is essentially an orange tone rather than a gold one. Darker strawberry blonde colors transition well into this light coppery hue for a bit of change in the fall.
Reddish Brown Base with Strawberry Blonde Highlights
Changing the base color of your hair to reddish brown might help if you have a naturally ashy brown tone to your hair. Ask your stylist about "shattering" your roots if you have dark roots that compete with the final color. This is an extra step for your hair color to bring the roots up a half to a whole shade, which will blend better with the strawberry blonde highlights.
Related: Try These 5 Gray Hair Color Ideas
Before You Head to the Salon
Switch over to the GRO Revitalizing Collection a few weeks prior to your new color and then use it for the duration of your color-treated hair. This will strengthen your hair both before and after the chemical treatments needed to get you to that new magical strawberry tone. With GRO, your hair will have a more healthy sheen to show off that gorgeous new sunny hair color.
More From VEGAMOUR
Photo credit: iStock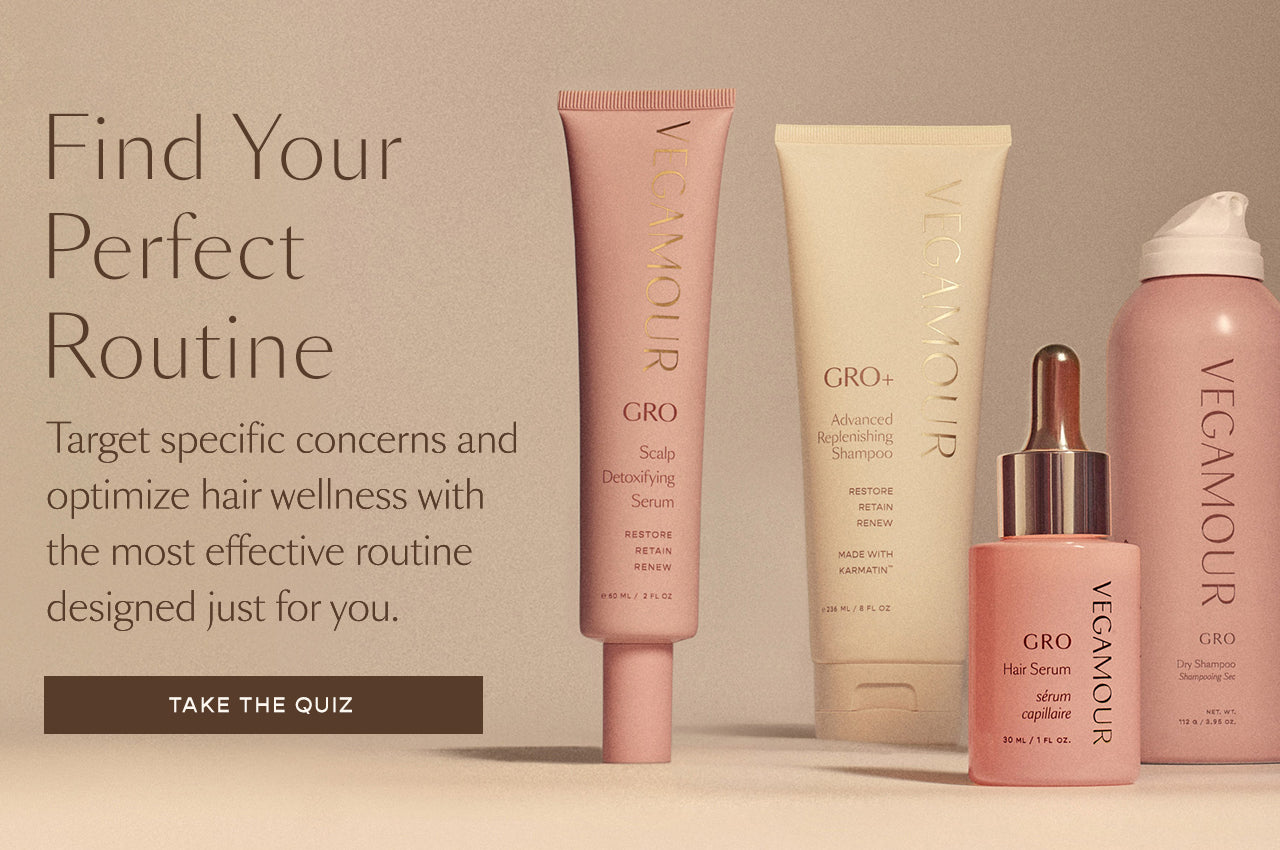 Disclaimer: Information in this article is intended for general informational and entertainment purposes only. It is not intended to constitute medical advice, diagnosis, or treatment. Always seek professional medical advice from your physician.