Try This DIY Homemade Dry Shampoo Recipe
Dry shampoo can be a lifesaver for your strands; yet, its convenience can come with a cost. Some dry shampoos can contain synthetic or alcohol-based ingredients that may lead to dryness, breakage and damage. That's exactly why you should try DIY dry shampoo!
Read on to learn what a doctor said about dry shampoo, along with expert advice on using natural ingredients to make your own. Plus, find out what plant-based dry shampoo you should use when you don't have time to whip up a homemade version.
Why Natural Dry Shampoo Is Better for Your Hair
Spoiler alert: Not all dry shampoos are created equal. Splurging on a store-bought dry shampoo can be harsh for your skin, hair and wallet, especially if potentially harmful chemicals, alcohol or synthetic fragrances are on the ingredients list.
"Commercially available dry shampoos can contain talc, aluminum, petroleum-based ingredients and other preservatives/stabilizers," said Dr. Tanuj Nakra, M.D., FACS, double board-certified dermatologist, facial and ophthalmic plastic surgeon. "None of these ingredients help your hair!"
Your hair wellness relies on your scalp health. That's exactly why you should choose a DIY dry shampoo powder, where you can control the ingredients used in the formula.
Shop: Non-Toxic, Natural Dry Shampoo
Ingredients to Avoid in Dry Shampoo
The "mane" priority in any dry shampoo is its ability and, more importantly, efficacy in absorbing excess oils. When your natural hair is saturated with sweat or buildup, it looks, feels and might even smell less-than-clean. It's not always practical or possible to hit the shower to get rid of greasy hair, and that's when dry shampoo comes in handy.
However, there are certain things you might want to steer clear of, including the following:
Recently, personal care products, such as dry shampoos, have been recalled for containing benzene. Excessive exposure to the chemical via the skin or as an inhalant can lead to cancers and blood disorders.
Synthetic fragrances and other chemical-based ingredients can create further complications for your skin, scalp and strands. These additives can irritate the skin of the scalp, which may inflame or clog the hair follicles, potentially leading to hair loss or interfering with a healthy hair growth cycle.
Dry shampoos containing alcohol, sulfates or silicones can be harsh on many hair types. Even as they do their "job" to refresh hair, absorb excess oils and eliminate debris, they can also strip away the hair's natural oils and remove too much moisture, resulting in overly dry hair.
Store-bought dry shampoo may include additional coloring powders, which can leave their mark on certain hair colors, no matter your hair type. If you have dark brown hair, black hair, gray hair or red hair, you might be familiar with those telltale white marks. Even if you have light or blonde hair, you might notice stray streaks or residue from store-bought dry shampoo.
"Homemade dry shampoo is relatively easy to make with ingredients that are easily available," said Dr. Nakra. "You can avoid the unnecessary ingredients in commercially available products and customize the formula to your needs. Plus, you can save money!"
Read: These Shampoo Ingredients Might Contribute to Hair Loss
Try Making This Homemade DIY Dry Shampoo
"Homemade DIY dry shampoo allows you to create a fresh, effective product," said Dr. Nakra. "This allows skipping some of the undesirable ingredients in commercially available products."
Aside from being a great way to know exactly what is in your product, making your own homemade dry shampoo powder offers other perks. For example, the following recipe uses ingredients you likely already have in your kitchen pantry, which benefits your budget.
Here's how to make your own DIY dry shampoo recipe.
Step 1: Build your base.
"The simplest recipe is a combination of corn starch or arrowroot powder and cocoa powder," said Dr. Nakra. However, you'll want to skip the cocoa powder if you have lighter hair.
Blonde, strawberry blonde and gray: Combine arrowroot powder to absorb oils and bentonite clay, which cleanses, moisturizes and clarifies the scalp. Those with ultra-light hair might opt to include only arrowroot powder if the clay is too gray.
Brunette, black and red hair: Combine arrowroot powder, bentonite clay and cocoa powder to darken the tint of your DIY dry shampoo. A bit of cinnamon powder can also help with color, but use caution, as too much can irritate the scalp. For those with super-dark hair, you might opt for activated charcoal to darken the mixture.
If you're wondering about the amounts of each ingredient, here is Dr. Nakra's advice: "So, experiment with the ratio," he said. "This will help you to find the right color match for your hair."
Step 2: Add baking soda to neutralize odors.
"The cornstarch or arrowroot powder do the heavy lifting of neutralizing oils, and the cocoa powder darkens the mixture for brunettes," explained the doctor. "I do recommend also adding a bit of baking soda to neutralize odors: For each 1/2 cup of mix, add in 1 tablespoon of baking soda."
Step 3: Experiment with essential oils.
"If you like to nerd out on DIY beauty, you can even experiment with using a couple [of] drops of an essential oil [and] mix into your blend with a whisk," said Dr. Nakra. "Consider peppermint oil, sweet orange oil or vanilla, which all work well with cocoa powder!"
Consider tea tree oil for its enhanced clarification properties and to help to prevent lice and soothe irritation.
Step 4: Store accordingly.
Keep your completed DIY dry shampoo in a salt shaker or Mason jar. The salt shaker makes it easy to sprinkle on the roots, whereas you can dip a makeup brush or a hairbrush into the Mason jar to apply to the length of your hair.
GRO Dry Shampoo Offers a Convenient, Clean Difference

Or, on those days you don't have time to mix up a homemade dry shampoo, and when lathering, rinsing and repeating isn't possible, GRO Dry Shampoo is the perfect clean alternative!
Here's a rundown on the benefits of VEGAMOUR's dry shampoo spray:
Formulated without talc or benzene
Features an eco-friendly propellant that provides safe, even, effective distribution throughout the hair
Lightweight formula balances, volumizes, texturizes and refreshes while absorbing excess oils, odors and sweat.
100% vegan, cruelty-free, clean, non-toxic and free of synthetic fragrances
Formulated with natural ingredients: USDA organic certified rice hulls, mung bean, red clover and kaolin clay.
Read: This Dry Shampoo Was Formulated With Thinning Hair in Mind
Take a Mindful, Natural Approach to Wellness
Wellness begins within. Your hair health relies on what's going on internally and reflects what's going on externally. Recalibrate your hair with protective, clean ingredients that won't compromise your scalp or hair integrity.
DIY dry shampoos are a great alternative to store-bought versions that contain unwanted ingredients and leave a residue on your hair. Also, consider keeping VEGAMOUR's GRO Dry Shampoo on hand — it's one of VEGAMOUR's best sellers for a reason!
More From VEGAMOUR
Photo credits: Tran Huynh Nam/Pexels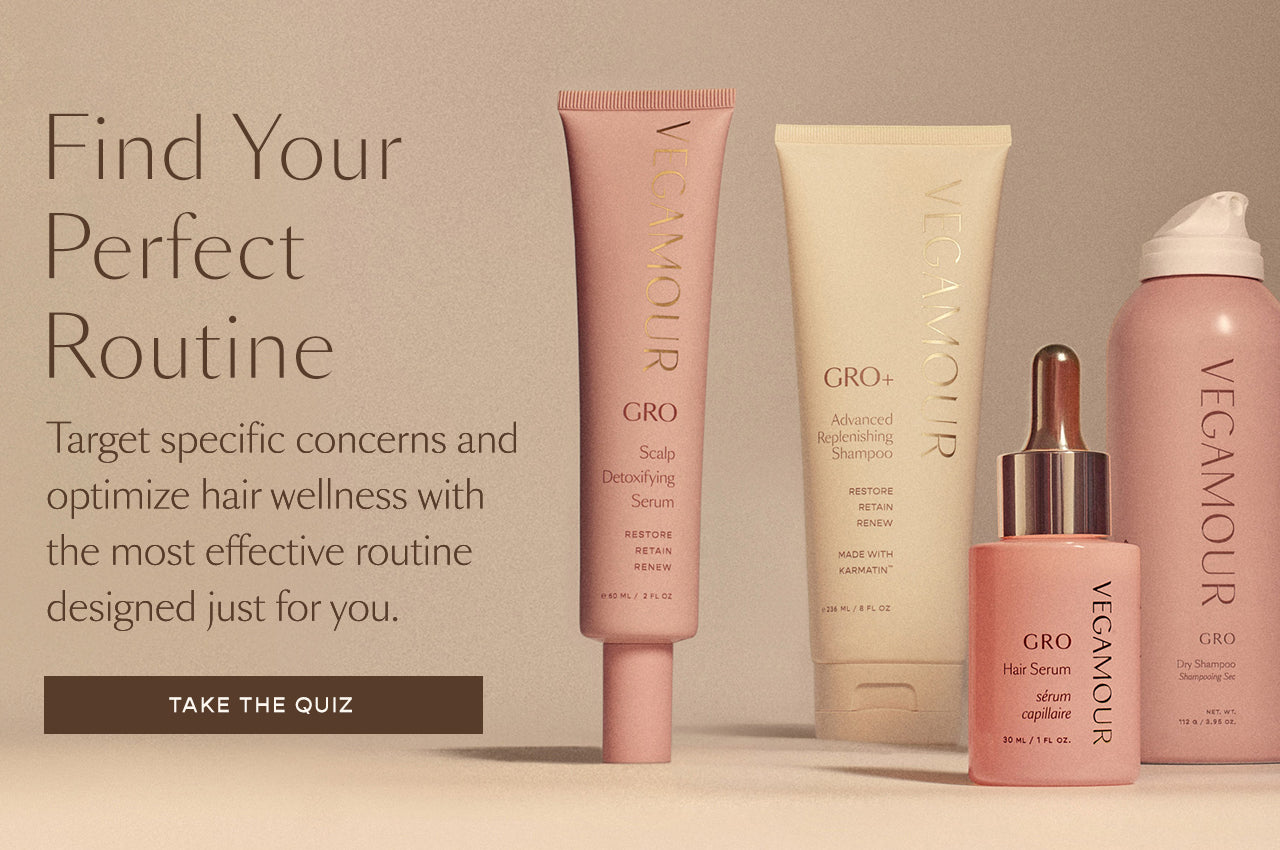 Disclaimer: Information in this article is intended for general informational and entertainment purposes only. It is not intended to constitute medical advice, diagnosis, or treatment. Always seek professional medical advice from your physician.