10 Things You Should Never Do When Growing Out Your Hair
When you're sick of rocking that pixie or bob, it can feel like it will take forever to achieve the long locks of your dreams. And while you can't fast-forward hair growth, you can make sure that your regular hair care routine isn't sabotaging your goal. To help you know what to avoid, here are the top 10 things experts say you should never do to get longer locks, plus info on the products you should be using to get thicker, fuller looking hair.
10 Things to Avoid If Growing Out Your Hair
Growing your hair long is just as much about what you don't do as what you do. Here are 10 things you should never do if trying to grow long, gorgeous hair:
1. Don't Use Hot Tools Regularly
The #1 thing you can do for growing locks is cut out heat treatments, like, yesterday! Using too much heat on your strands can cause hair to weaken, fray and even fall out. That means that, as long as you're growing out your hair, straighteners and curlers need to be temporarily abandoned. If you simply must blow-dry, make sure to use a diffuser on the lowest setting. And don't skimp on the heat protectant either.
2. Don't Eat Too Much Fast Food
There's nothing wrong with indulging in a takeout treat or two every once in a while. But make sure you're eating those vegetables as well. If your diet is missing out on essential vitamins and minerals, your hair will be the first thing to suffer. It's always important to eat a balanced diet, but when you're growing out your hair, make sure to load up on foods high in protein, zinc and biotin. Also, consider taking a vitamin designed to boost hair health, like GRO Biotin Gummies. These 100% vegan, strawberry-flavored gummies are fortified with folic acid and zinc, plus a host of hair-healthy vitamins. 
3. Don't Wear Your Hair Loose Every Day
We get it; you want to show off that longer look. But while you're actively working to grow hair, you might want to try a protective hairstyle to prevent damage to the vulnerable ends and encourage new growth. A protective hairstyle, like a bun or braid, helps your hair grow longer by reducing damaging agents, such as sun or other sources of heat, which it may encounter throughout the day.
4. Don't Wash Your Hair Daily
If you're growing out your hair, it's a good idea to invest in a shower cap to keep those locks dry while you rinse your body. Washing hair removes dirt and grime, but it also strips those strands of their natural protective oils. Giving it a few days between washes lets your hair recover. If you want to keep things fresh, a dry shampoo can help give your scalp a lift between wash days. 
5. Don't Use Just Any Hair Tie
One of the best things you can do to encourage hair growth is be discerning about how you pull it back or put it up. While convenient, hair ties with metal fasteners or inadequate fabric covering are incredibly hard on those fragile new strands. Instead, opt for a scrunchie or non-damaging hair tie that can lift your hair without causing damage.
6. Don't Use Sulfates and Silicones
Many conventional hair products contain damaging sulfates and silicones, which can dry out hair and cause breakage. Harsh silicones are not water-soluble, meaning they lock out moisture and can cause those strands to suffocate. And the wrong kind of sulfates can pull too much oil from the hair and scalp, even if you're not overwashing. Instead, opt for gentle products like the GRO Revitalizing Shampoo and Conditioner Kit, which actively encourages stronger, healthier- looking hair.
7. Don't Skip Your Hair Appointment
We know it sounds counterintuitive, but one of the best things you can do for hair growth is to cut your hair. While it might not make sense on the surface, keeping up your regular trim schedule can actually help encourage the growth of stronger, healthier hair. Not only does it eliminate split ends that can weaken your strand structure, checking in with a hair professional as you continue your hair growth journey can help ensure you're on the right track.
Also: How Often Can You Dye Your Hair?
8. Don't Ignore Your Scalp
When growing your hair out, it can be easy to get hung up on those exciting longer strands. But don't forget to nurture the source of all that gorgeous new hair of yours! Scalp care creates an environment that enables healthy hair to grow, so it's especially essential when you're looking for longer locks.
 Try incorporating a scalp massage into your wash day routine, which can help clear your roots of product buildup and stimulate blood flow to the scalp's sensitive skin. A good way to do both is to use a scalp massager to apply GRO Scalp Detoxifying Serum. The serum, which is formulated with a proprietary vegan silk protein, works to gently remove scalp buildup while soothing scalp damage. Plus, it's been clinically proven to reduce scalp buildup by up to 58% in 15 days. 
9. Don't Skip the Serums
Speaking of scalp care, are you using a hair serum? If not, get on that, stat! It's the secret weapon in your attempt to grow longer locks. And when picking a serum, check for a formula that's rigorously scientifically tested. Multiple clinical studies show that GRO Hair Serum increases the appearance of hair density while reducing signs of shedding to give you thicker, fuller-looking hair. Think of it as the ultimate secret weapon.
For an extra boost, opt for GRO+ Advanced Hair Serum fortified with CBD to help soothe the scalp and nourish your strands for thicker, fuller looking hair. 
10. Don't Touch Your Hair Too Much
We know, we know — it's so tempting to pet and paw those longer strands. When your hair growth journey is making progress, it's tempting to check in tactically whenever you can. But touching and playing with fragile new strands too much can damage them. Use a soft T-shirt instead of a towel to dry off on wash days, and keep your hands off! We promise it will be worth the wait.
Hair Growth Takeaways
With some patience, the right products and good habits, you'll be well on your way towards longer locks. Make caring for your hair part of your daily self-care routine and give yourself some grace. Good things come to those who wait! 
More From VEGAMOUR
Photo credit: Suhyeon Choi/Unsplash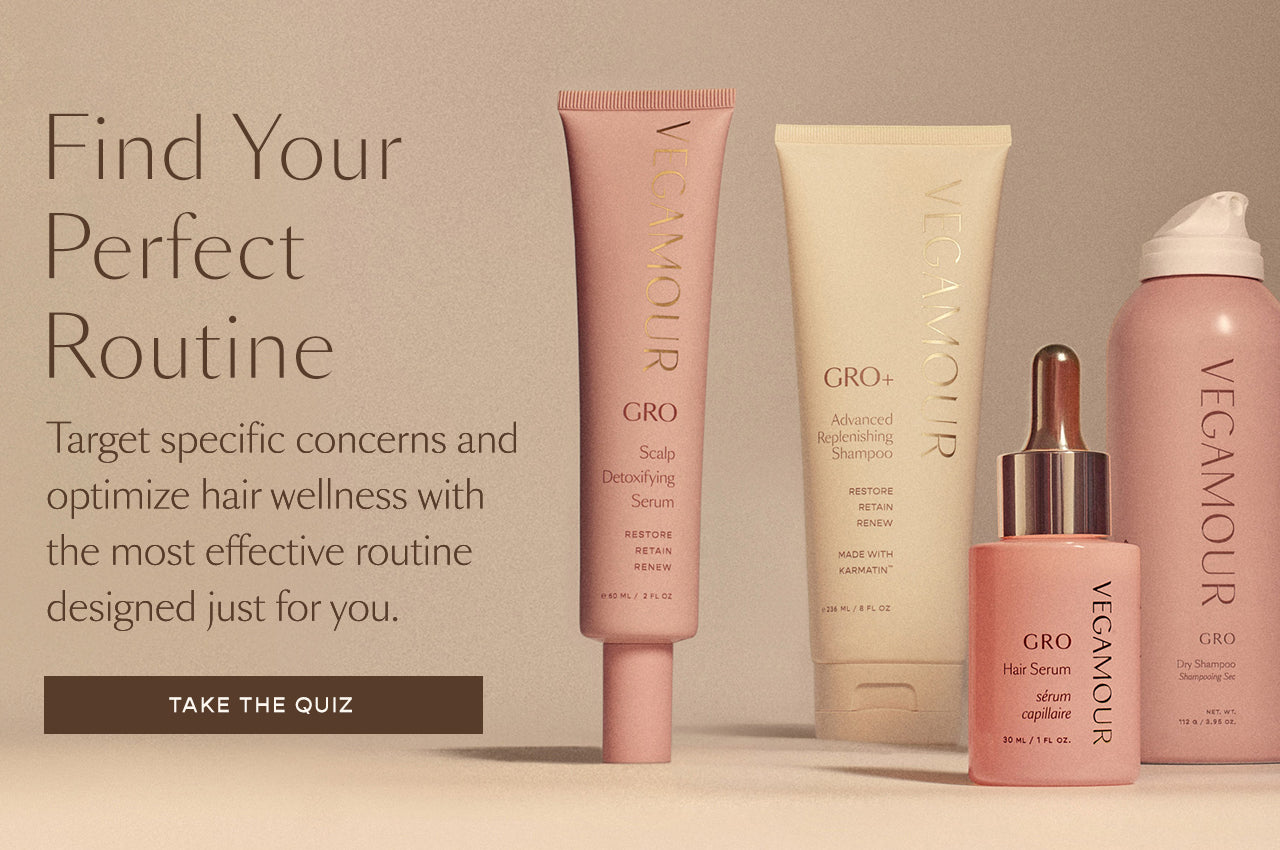 Disclaimer: Information in this article is intended for general informational and entertainment purposes only. It is not intended to constitute medical advice, diagnosis, or treatment. Always seek professional medical advice from your physician.