Meet VEGAMOUR's Best-Selling Kits
VEGAMOUR's best-selling kits are popular because they're plant-based powerhouses that work! Each kit is packed with 100% vegan, clean products designed for optimal wellness, meaning your hair will feel and look its best yet. 
Plus, these kits are formulated with natural ingredients to address any concern — from thinning hair to bolstering scalp health — offering better results without compromising your healthy lifestyle. Read on to discover what best-selling kits you really should be using to promote scalp wellness and thicker, fuller looking hair. 
GRO More Kit
Wellness starts from within, including that of your scalp and hair! The GRO More Kit is a powerhouse combination of our best-selling GRO Biotin Gummies and GRO Hair Serum. 
Our naturally flavored strawberry gummies are formulated with essential nutrients to support collagen and keratin production and neutralize follicle-damaging free radicals. Each gummy contains:
Biotin 
Vitamins B-5, 6 and -12 
Vitamin A
Vitamin C
Vitamin E 
Folic acid
Zinc
Customer Grace C. wasn't sure at first, but she soon saw the results she was hoping for:
"I was skeptical at first, but after about three months, I noticed 'baby hairs.' I also noticed a difference in my part. You have to stick with them and be diligent about taking the gummies on a daily basis."
The kit also contains our clean and effective GRO Hair Serum that's simple to integrate into your daily self-care routine. This non-greasy serum is fortified with clinically-tested, vegan phyto-actives, including:
Curcumin
Concentrated mung bean
Red clover
"I have been using the GRO Hair Serum for three months now, and it is the most effective product I have ever used … I have been diagnosed with PCOS, hypothyroidism [and] suspected SIBO, and when I came off the hormonal birth control pill seven months ago, all of my hair started to fall out. I was devastated and worried that it would get worse, but then I found this serum! I apply it every night on wet or dry hair … it doesn't leave any residue or make my hair look greasy in the morning if applied on dry hair. I would highly recommend this product, especially if you are dealing with hormonal issues or an autoimmune disease." – Jasmine M.
Read: 5 Reasons to Start With the GRO More Kit
Ageless Gray Control Duo
Although you can't turn back time, you can take control of its effects on graying hair! VEGAMOUR's Ageless Gray Control Duo helps you dial down gray strands from within, combining daily supplement usage and hair serum application for healthier, more youthful-looking strands in as soon as 90 days.
Nourish with our GRO AGELESS Anti-Gray Hair Serum to gain the following benefits:
Reduces appearance of gray hair on new hair growth
Renews color and shine
No greasy hair or left-behind residue
Also included is GRO AGELESS Gray Delay™ Hair Supplement, which offers these benefits:
Supports healthy hair roots and thickness
Delays gray hair
Adds collagen-rich shine
Customer Kimberly C. called the supplements "super easy to incorporate" and reported she noticed a difference in just a few weeks:
"I've been taking these in conjunction with the serum for the last month. They've been added to my daily schedule effortlessly and are easy to take. I've already noticed an improvement in the overall health of my hair and gray strands … I'm looking forward to seeing the improvement with continued use!" 
Shop: GRO Dry Shampoo Duo
GRO Foundation Kit
The GRO Foundation Kit is a transformative trio for scalp and hair that begins with GRO Scalp Detoxifying Serum, followed by GRO Revitalizing Shampoo and GRO Revitalizing Conditioner.
Do a weekly clarifying treatment with the scalp detoxifying serum, which is free of sulfates, silicones, parabens, gluten and artificial fragrance and offers these benefits:
Gently removes persistent scalp buildup 
Provides a semi-permeable barrier to lock in moisture
Protects the scalp from harmful environmental pollutants
Zinc PCA supports hydration as it absorbs excess oils.
Epilobium angustifolium (willowherb) extract reduces the appearance of adherent and non-adherent flakes while supporting a healthy scalp microbiome. 
Wild-harvested baobab and marula oils provide additional antioxidant support in the form of Omega 6 & 9 fatty acids, which further moisturize, protect and balance.
"I'm so happy I tried it. No more dermatitis … I've tried different serums [and] maybe had a little relief, but they would leave my scalp oily. This VEGAMOUR product worked from the very first day; my scalp looked 90% clean after the first use… usually, I would have buildup and flaking even immediately after shampooing. I've used it a total of three times now (once a week), and my dermatitis is completely gone. I'm shocked. Highly recommended! No more flakes!" – Stephy
Follow the scalp treatment with our GRO Revitalizing Shampoo and Conditioner, which are safe for all hair types, including color-treated tresses. The formulas include these nourishing, clean ingredients:
Wild harvested marula oil, organic murumuru butter and ximenia oil
Omega 6 & 9 fatty acids 
Karmatin™, our proprietary micro-encapsulated vegan b-SILK™ protein, wraps each strand in a protective sheath until your next hair wash. 
Customer Jessica J. said her thinned hair is gone: 
"I love this shampoo and conditioner set. It smells good, lasts a long time and has helped regrow the sides of [my] forehead thinned area. It's coming back, and my hair feels so healthy!" 
GRO Hair Serum 3-Pack
Triple the benefits for both your hair and budget by stocking up on a GRO Hair Serum 3 Pack. Apply the serum daily to notice fuller-looking hair in as soon as 90 days, with results that peak around 120 days. 
To use, follow these three simple steps:
Apply a full dropper directly to the scalp. 
Massage using fingertips, distributing product evenly; it works best on dry or towel-dried hair. 
Leave in and style as desired.
Customer Katie R. called the hair serum "amazing" with great results: 
"I've been using this for five months now and can't believe how much my hair has been growing. I've never been able to grow my hair out … By three months, it was definitely noticed by my hairdresser and friends who were constantly saying how they have never seen my hair so long and full!!" 
GRO+ Advanced Hair Serum 3-Pack
Take hair to the next level with the GRO+ Advanced Hair Serum 3 Pack, which includes all the same powerful phyto-active ingredients in the original formula, plus the added bonus of micro-encapsulated, broad-spectrum CBD, 
CBD helps soothe and calm the scalp.
CBD works in tandem with the included mung bean, red clover, curcumin and nicotiana benthamiana extracts to reach problem areas more effectively and boost the appearance of hair density and volume. 
Best of all, with consistent use, the serum has been clinically shown to increase the appearance of hair density by up to 52% and reduce signs of shedding by up to 76%.
Customer Ashton reported speedy results, noting the hair serum was "working faster than advertised": 
"For me, I believe this is working faster than advertised, which has me absolutely thrilled. I think they earned a lifetime customer. I've been using this for about a month, and my part is getting visibly smaller." 
Good to GRO Kit
Elevate scalp and hair wellness with a solid foundation using the Good to GRO Kit, including the power duo of GRO Scalp Detoxifying Serum and GRO Hair Serum. 
Free of sulfates, silicones, parabens, gluten and artificial fragrance
Use the detoxifying serum weekly to clarify scalp buildup, along with daily use of the hair serum to encourage thicker, fuller-looking hair.
In a clinical trial, GRO Scalp Detoxifying Serum showed up to a 58% reduction in scalp buildup in 15 days. 
GRO Hair Serum is clinically proven to increase the appearance of hair density up to 52% while reducing shedding up to 76% in as little as four months. 
GRO+ Advanced Lash and Brow Kit
Get set to sport bolder brows and flutter fuller-looking fringe with the volumizing, fortifying GRO+ Advanced Lash and Brow Kit, which is enhanced with our powerful phyto-actives — mung bean and red clover — and the added benefit of soothing, calming, micro-encapsulated, broad-spectrum CBD.
After four months of consistent use, some subjects experienced: 
94% greater increase in the density and volume of lashes
34% longer-looking lashes 
Customer Brenda had this to say about the GRO+ Advanced Lash Serum:
" My lashes are fuller and longer. Now for a quick, simple look, I just curl my lashes with no mascara because they have grown so much. When I add mascara, it's next level." 
And customer Erica V. gave her stamp of approval on the GRO+ Advanced Brow Serum:
"I highly recommend this product. Within three months, I started noticing substantial new hair growth throughout my patchy eyebrows."
Experience the Results for Yourself!
The bottom line? VEGAMOUR's best-selling kits are created to address any and all hair concerns. Use the information and customer reviews presented here to help you decide on the right VEGAMOUR kit for you. And once it arrives, you'll be on your way to ultimate scalp and hair wellness! 
MORE From VEGAMOUR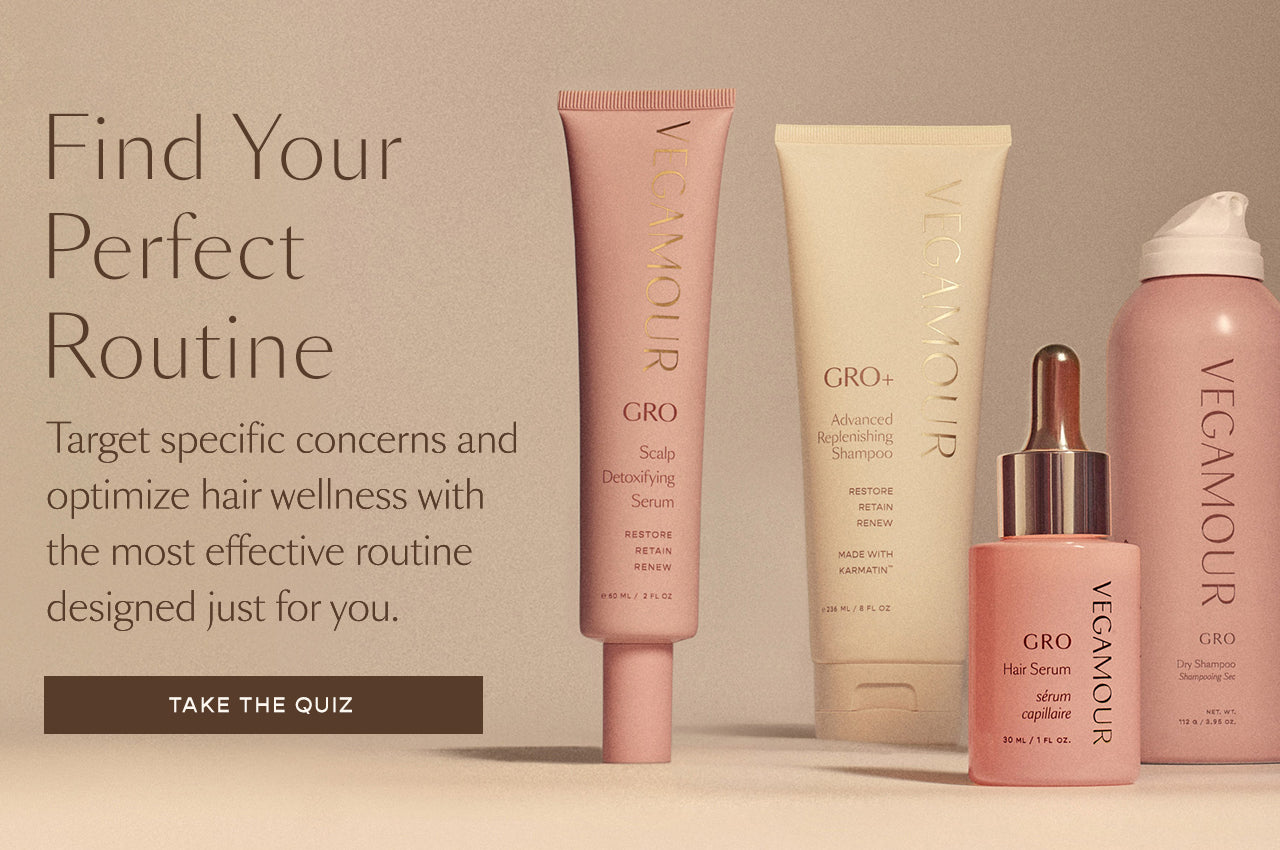 Disclaimer: Information in this article is intended for general informational and entertainment purposes only. It is not intended to constitute medical advice, diagnosis, or treatment. Always seek professional medical advice from your physician.