Try These Volumizing Haircuts for Thin, Long Hair
Long, thin locks in need of a lift? Volumizing haircuts could be the secret to taking naturally thin hair to the next level!
If you have long, thin hair, you may fear it falling flat. Lifeless, limp hair is another common concern. That's exactly why starting from a solid foundation — selecting a strategic haircut for thin hair — is so important.
Below, we consulted with the experts to find out which volumizing haircuts you should try, along with the styling tips you need to know if you want to amp up the volume. Plus, discover what you can do to encourage thicker looking hair.
What to Focus on If You Have Fine Hair
Having long, fine hair seems simple. After all, it's easy to manage with minimal styling and drying time. That being said, fine locks often equal flat hair. Why? It can be tricky to get curl or volume to hold onto long straight hair.
"Fine hair can refer to one's density (total amount of hair strands) or the diameter of each strand," said Tatum Neill, Creative Director of Aveda Arts & Sciences Institutes. "Generally speaking, when people refer to 'fine hair' they mean the density."
If you're finding it a challenge to create volume with your thin straight strands, you've come to the right place. According to the pros, one of the best ways to address this concern is with a haircut.
Read: How to Add More Volume to Your Hair
How to Choose the Right Haircut for Thin Long Hair
If you have thinning hair, especially long thin hair, it can be tempting to immediately start piling on volumizing products. But don't skip the first key step in establishing a hair wellness routine — curating the ideal cut with help from your hair pro!
Approximately 80 million people in the U.S. are battling hereditary hair loss, according to the American Academy of Dermatology. Hair loss affects 25% of women by age 49 and half of all women by age 79. Although it might sound counterintuitive, creating a solid foundation with a volume-enhancing haircut is essential for fuller-looking, healthier hair.
Try These Volume-Enhancing Haircuts
Get right to the root of thinner hair, starting with a snip! If you find yourself always wearing your hair up, it may time for a new cut. Some hairstylists believe that constantly pulling hair into a pony or wearing hair extensions could lead to traction alopecia, as a result of prolonged pulling. Instead, carefully choose a haircut for thin hair with the intention of maximizing the appearance of fullness and volume.
"As far as volumizing haircuts go, there are a few I like to consider," "said Neill. Before going scissor-happy, contemplate these cutting cues:
#1: Focus on fullness with a lob.
"I would go for a one-length look like a bob," said Neill. "And be careful not to add too many layers as this will diminish the fullness of the longer bob."
Why it Works: Light layering in a layered cut can help play up where hair is more full while detracting from other areas where strands are more sparse.
What to Use: Encourage thicker, fuller-looking hair by integrating GRO Hair Serum as a part of your daily hair wellness routine.
Massage directly into the scalp, distributing product evenly on towel-dried or dry hair.
Leave in and style as desired.
#2: Opt for shaggy chic layers.
"Many times, finer hair is most fine around the hairline. I like to encourage people to lean into it and cut the hairline shorter and allow the back to be a little longer in shaggy layers," explained Neill. "Some well-placed soft layers at the crown will really take this look to the next level and will help with styling long feathered layers for volume."
Why it Works: Shaggy layers can help accentuate natural texture, mirroring the appearance of fuller hair.
What to Use: GRO Dry Shampoo pairs the texturizing power of traditional dry shampoo with a fortifying, scalp-balancing and volumizing formula designed to support a healthy hair ecosystem. Simply spray it on, allowing the absorbent rice starch to instantly add volume to loose waves.
Related: 7 Best Haircuts for Thinning Hair
#3: Go bold with a piece-y pixie or choppy layers.
"Sometimes being bold is the right answer," said Neill. "A short pixie cut can not only freshen up your style, but it can maximize your current density."
Why it Works: Shorter strands can make hair look more voluminous with face-framing layers spotlighting the face. Chunky layers within a layered cut can also help promote the look of fuller hair.
What to Use: Cleanse and condition with your favorite thickening shampoo and conditioner. The duo is free of sulfates, is totally color-safe and instantly adjusts to hair on contact, helping to provide ideal amounts of moisture, volume, repair and protection.
#4: Boost a long haircut with bangs.
Not quite ready to dial up the drama by chopping it all off? Instead, pair soft long layers with bangs.
Why it Works: Consider curtain bangs, wispy bangs, soft bangs or side-swept bangs as your best volume-building bet. Cutting bangs can help a layered style appear to be more voluminous.
What to Use: Enhance fullness in the fringe and around the crown by applying GRO Hair Foam. Its mousse-like formula adds volume to any hair texture and is powered by phyto-actives that help encourage visibly thicker hair.
Styling Do's & Don'ts
Now that you've made the cut, be sure to style it accordingly! Pair your favorite VEGAMOUR products with these expert-approved tips.
DO: Be mindful to prevent hair from falling flat. "For styling, it's important to remember that whatever position your hair is in when it dries is the position it will remain," said Neill. "Because of this, I recommend blow-drying your hair as soon as you get out of the shower to add volume, soft waves or loose curls."
DON'T: Delay heat-styling your hair. "If you wait too long after you've cleansed, the hair will dry flat to your scalp and it will be nearly impossible to get lift at the roots without wetting the hair down again," said Neill. " If you can't blow-dry right away, get a spray bottle to dampen your roots before you [blow] dry using a round brush."
DO: Focus on the front when styling. "When blow drying, add a volumizing product and focus the dryer on your crown and front hairline first," said Neill. "Most people start in the back and it's the least important part of your look — no one is looking at the back of your head."
DON'T: Avoid your doctor. "If you feel like your hair diameter is getting thinner, your hair haas suddenly lost diameter or you are losing hair in large quantities, it might be a good idea to visit a dermatologist to see if something else is happening," explained Neill. "Diet and hormones can affect your hair health so be aware of any lifestyle changes that could have caused an imbalance."
Amplify Your New Cut
A fresh haircut is the first step you want to take if you want to add volume to thin long hair. Then, be sure to include these volume-boosting styling ideas and 100% clean VEGAMOUR hair wellness products into your haircare routine to help achieve your happiest, healthiest and fullest-looking hair yet!
More From VEGAMOUR
Photo credit: Galina Zhigalova/iStock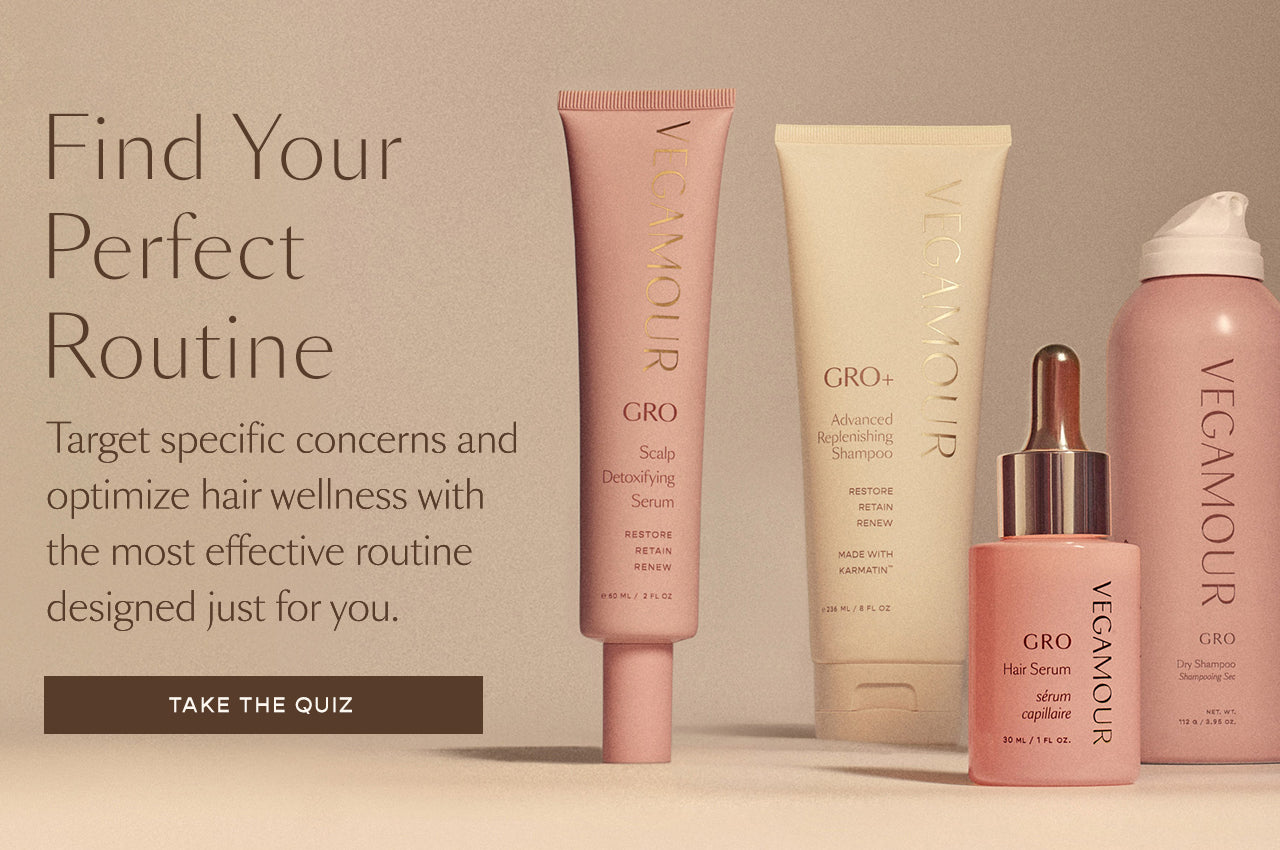 Disclaimer: Information in this article is intended for general informational and entertainment purposes only. It is not intended to constitute medical advice, diagnosis, or treatment. Always seek professional medical advice from your physician.