These Are the Biggest Signs of Damaged Hair
Like your skin, your hair needs nourishment from gentle, wholesome ingredients — even when you wash or style it. The trouble is that certain haircare and style practices aren't always the best for your hair and can even lead to damage.
Read on to learn more about the signs of damaged hair, and find out what products can help you nourish and hydrate dry, damaged hair from root to tip.
How to Identify Damaged Hair
While trendy styles attained through heat styling or a new vibrant hair color might be enticing, you never know how these experiences will affect your hair over time. And while there's nothing wrong with getting your hair colored or styled for a special event, handling your tresses with TLC each day is essential. "Mechanical, chemical and thermal factors are the main causes of hair damage," said hair expert Alice Rawling.
So what are the signs of damaged hair?
"Different hair types and textures present different signs of damage," Rawling said. "Generally speaking, damaged hair has a dull appearance and may be dry, brittle or have split ends."
Here are some other ways damage shows up in hair.
Wavy and Curly Hair
Damaged wavy or curly hair may exhibit the following symptoms:
Split ends
Lack of elasticity
Tangles
Roughness
Inability to hold a curl
Hair thinning
Shop: HYDR-8 Collection to Revive Damaged Hair
Straight Hair
Damaged straight hair might exhibit these signs:
Kinkiness
Breakage when brushing or combing
Uneven surfaces on the hair shaft
Thinning hair
Dull hair
Coily Hair
Coily hair that's damaged might exhibit these frustrating symptoms:
Dry hair
Excessive breakage
Failure to respond to hair products
Limp appearance
Unmanageable
Hair loss
Related: Hair Shedding vs. Hair Loss: How to Tell the Difference
More About What Causes Damaged Hair
While chemicals like bleach and sulfates are usually the first at the top of the list for causing damage, they aren't the only culprits. Here's more about chemical damage and other causes of damaged hair.
Treatments That Damage Hair
Even though they're colloquially referred to as "beauty" treatments, some hair treatments, such as hair bonding, chemical relaxing and bleaching, can cause significant damage to the hair. "Chemical and thermal factors are the most highly practiced [treatments] that damage hair," Rawling said.
Here are some examples:
Periodic exposure to chemicals is not as detrimental to healthy hair, but if you already have damaged hair, these treatments can make matters far worse. If your hair is damaged, consider taking some time away from coloring or chemical treatment until you can get your hair back to a healthy place.
See: How to Hydrate Your Hair After Bleaching It
Environmental Factors
Rawling said the following environmental factors could also cause damage:
Air pollution can cause the degrading of hair protein and damaging of the hair's cuticles.
Sun exposure can cause breakage and discoloration to hair and damage the hair cuticles.
Poor hair care habits can also damage hair, including the following:
Skipping conditioner
Not cleaning your hair
Brushing wet hair
Too much heat from blow dryers, flat irons and curling irons
Overuse of poor hair products
How to Prevent, Protect and Repair Damaged Hair
The good news is that if your hair is damaged, there is usually a way to help it heal.
Rawling explained that in order to repair damaged hair, you must first be aware of the cause of the damage. "If heat styling is the culprit, reducing the use of hot tools is the first step," she said. "If chemical treatments are to blame, consider investing in hair care products specially formulated for chemically-treated hair. Avoiding excessive washing with harsh shampoos
and reducing the amount of conditioner you use can also help to minimize damage."
Here are some ways to prevent hair further damage by protecting or repairing it.
Upgrade Your Wash Routine
If your hair is exhibiting signs of damage, try using salon-quality, all-natural shampoos and conditioners like VEGAMOUR's HYDR-8 Shampoo and Conditioner. With each wash, you can lock in long-lasting hydration that doesn't wash away. Working together, HYDR-8 Shampoo and Conditioner instantly quench dry or damaged strands from root to tip each time you wash and condition your hair. This duo is powered by Karmatin™ — a vegan silk alternative to keratin and silicone — that bonds to hair helping to fortify your strands, leaving them stronger. Achieve 8x the hydration and 2.5x stronger strands in just one wash.
Always Use Conditioners
"Deep conditioning treatments are a great way to nourish the hair and add moisture to dry
brittle tresses," Rawling added. "Intense nourishing oils can also be used to help repair the hair cuticle and increase shine. For those with chemically-treated hair, specialized treatments can help to restore damaged strands."
Try adding VEGAMOUR's HYDR-8 Deep Moisture Repair Mask to your hair care routine once or twice a week. This ultra-hydrating treatment helps to reduce breakage and delivers 15x hydration and 3x stronger strands after one use. Hair is left looking and feeling healthier with a gorgeous shine and smooth, silky finish.
Avoid Brushing Your Hair Too Much
While it's important to brush your hair to keep it tangle free, distribute natural oils and help shed loose hair, doing it to excess can damage the hair cuticle and cause hair to frizz. The idea that you need to brush your hair 100 strokes a day is a myth and can actually cause more harm than good.
Also: How Often Should You Brush Your Hair?
Clean Your Hair Based on Your Hair Type and Texture
"Overwashing can strip the hair of its natural oils, leaving it dry and prone to breakage," Rawling said.
Hairwashing frequency depends on the type and texture of your hair. If your hair is straight or fine, washing more frequently is normal since the sebum will move from root to tip faster. If your hair is curly or coily, you can wash less frequently as it takes longer for your hair's natural oils to coat the strand.
Use Lukewarm Water When Washing
Washing with too hot water can also strip the hair and scalp of protective oils, leading to dryness. A dry scalp can become irritated and dry hair can lead to breakage.
Related: Dry Scalp and Oily Hair? Try This
Avoid Brushing Your Hair When It's Wet
Brushing wet hair can lead to breakage and damage because the hair is much more porous and delicate when it's wet. If you absolutely must comb wet hair to set your natural curls, be sure to use a wide-toothed comb and comb gently.
Also: How to Detangle Hair With Minimal Damage
Dry Your Hair Gently
The same goes for drying your hair. Use a microfiber towel to absorb water from your hair and let your hair air dry. Never rub hair with a towel, which can cause damage. If you need to blow dry your hair, spray your strands with a heat-protectant spray and use a low-heat setting and a diffuser to minimize heat damage.
Avoid Tight Hairstyles
Tight hairstyles, including tightly-wound ponytails, buns or cornrows, can cause damage and breakage to hair. Wearing heavy weaves or hair extensions for extended periods can also wreak havoc on hair.
Stop Damage Before It Starts
While it's possible to repair damaged hair, it's better to avoid doing things that cause the damage in the first place. Preventative measures like minimizing your hair's exposure to chemicals and heat can really help. Also, use high-quality products with gentle, hydrating ingredients as a regular part of your hair routine to reduce breakage and leave your locks looking sleek and lustrous!
More From VEGAMOUR
Photo credit: iprogressman/iStock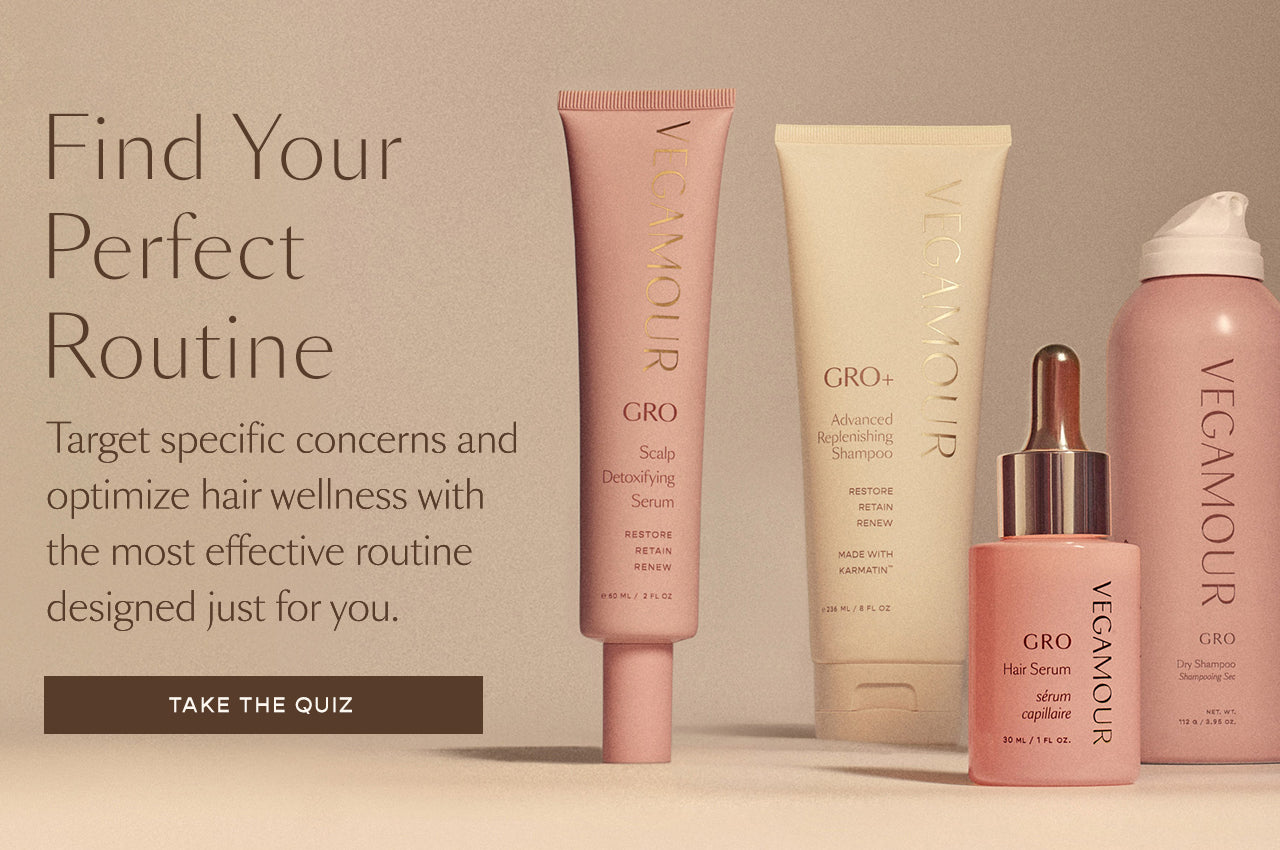 Disclaimer: Information in this article is intended for general informational and entertainment purposes only. It is not intended to constitute medical advice, diagnosis, or treatment. Always seek professional medical advice from your physician.