Have a Scalp Sunburn? Here's What You Can Do
It happens. You've been outside all day having a great time with family and friends, and now your hairline and part are glowing with an angry reddish tone. Now what?
Sunburned skin on the scalp can cause a lot of pain and discomfort, but it's completely preventable. VEGAMOUR spoke with experts about what happens when the sun burns your scalp and how you might avoid it. Plus, find out what products you really should be using to treat your scalp with TLC.
What Is a Scalp Sunburn?
When your scalp is exposed to harmful UV rays without adequate sun protection, it can burn — just like the skin on your body can. Damaged skin cells on the outer layers of your scalp skin are pressed to the surface and shed while newer cells move up to the surface level to take their place. It's important to keep the skin well hydrated and clean while this resurfacing and healing is taking place. A sunburned scalp will need time and care for it to heal.
Shop: The Best Dry Scalp Treatments
Who Is Most at Risk for Scalp Sunburn?
VEGAMOUR spoke with Dr. Michael May of the Wimpole Clinic. As a hair transplant surgeon, Dr. May is especially knowledgeable about scalp health. He talked with us about sun injury to the scalp and why it's more dangerous than you might think. Sunburn on the scalp increases your risk of skin cancer. But many people aren't adequately protecting their scalp even if they're aware of the risks of skin cancer.
Dr. May explained that many people don't even realize they need to protect their scalp when they're out in the sun. Or they avoid it because it's not "fun" to wear a hat or to stop and apply and reapply sunscreen. Many people don't even think to put their sunscreen on their scalp.
Dr. May shared that if you have a sunburn on your scalp, you may experience soreness, itching and redness. "Others may also have blisters and feel feverish before the skin sheds about a week after," he said.
Some people are at higher risk for a sunburned scalp. People who are balding or who have lighter skin tones or thinning hair might be at higher risk — including children and babies or even your dog!
Additionally, a sunburn on an area of skin that hasn't been exposed to the sun before (like when thinning hair exposes the bare scalp) results in a proportionally larger representation of skin cancers, according to a spokesperson for the Skin Cancer Foundation. Preventing sunburn on the scalp is important for avoiding that increased risk.
Also: How to Protect Your Scalp From the Sun
Symptoms of Scalp Sunburn
Here are some of the symptoms you might experience with a sunburned scalp.
Tender scalp, pain or discomfort
Redness and inflammation
Itching or dryness
Blistering, oozing, crusting
Peeling of the skin
Possible infection
Related: Yes, The Sun Can Damage Hair — Here's How to Protect It
Avoid a Sunburned Scalp
When it comes to sunburned skin, an ounce of prevention goes a long way. While you're on vacation or out at the lake with your family, prevent sunburn on the scalp with these tips.
Avoid the Sun
The easiest way to avoid getting a sunburn on your scalp is to reduce sun exposure. According to the American Cancer Society, it's best to avoid direct sun exposure between 10 a.m. and 4 p.m.
Cover Up
Put on a hat to keep the sun off your scalp. A hat with a UPF of at least 30 is best, according to the Skin Cancer Foundation. UPF is how much UV radiation a fabric allows through. The Skin Cancer Foundation rates UPF 30 to 49 as very good protection from the sun and UPF 50+ as excellent.
However, if your hat doesn't have UPF protection, also wear sunscreen on your scalp to help protect it. The American Cancer Society recommends using sunscreen with a sun protection factor (aka SPF) of at least 30 to help block harmful UVB rays.
Also: 8 Summer Hair Care Tips Straight From the Experts
Apply and Reapply Sunscreen
It's a little awkward to get sunscreen on the whole scalp, especially if you have a lot of hair. Use the tips of your fingers to work the sunscreen beneath the hair. Don't forget the neck, ears and hairline. Pat sunscreen into any areas that may experience hair parting from wind or water.
Take along a sunscreen spray as a backup to apply once your hair has been out in the sand and water for a bit. This tip is especially helpful for children who don't want to be still for long reapplications. A quick spritz across the tops of their heads can help them avoid lots of tears later on in the day.
If you've tried all you can to prevent it but still end up with a sunburn on your head, you'll need to make some immediate changes so that your skin can heal.
Shop: GRO Revitalizing Scalp Massager
Your Scalp Gets Burned — Now What?
Now, it's time for soothing after-sun care that allows your skin to heal while protecting your scalp's natural oils. At the first signs of sunburn, use the following tips to shape your scalp care routine into one that helps the skin to heal better.
Stay out of the sun until your sunburn heals.
Take a cool shower. This will help to relieve discomfort and soothe the skin. Hot water can cause more irritation.
Use a gentle shampoo and conditioner on your hair and scalp to remove sunscreen residue, sand, pool water or any other residues. Avoid harsh shampoos, surfactants, phthalates, chemicals or dandruff shampoo. These could irritate the tender skin and strip the natural oils.
Avoid scrubbing your scalp as it heals, especially if it develops blisters. The CDC advises not to break sunburn blisters.
Apply aloe vera gel or marula oil gently to your scalp with the pads of your fingers to nourish the scalp and help it heal.
Use a soothing scalp serum to calm scalp stress, eliminate bacteria and lock in moisture.
Keep styling products to the lengths of the hair — not the scalp — while the skin heals.
Avoid anything that might irritate the scalp, such as heat styling tools (blow dryers, curling irons), using tight bands or clips or scratching the scalp with your fingernails or hairbrush.
If the scalp is especially painful, try a cold compress on the tender areas. Ice water, cold water, or cold compresses could all help to soothe the burning skin. Use a cotton ball to gently dab the cool water onto your sore scalp.
Stay hydrated from the inside out by drinking plenty of water.
A Healthy Scalp Leads to Healthy Hair
Once your sunburn is healed, don't give up on caring for your scalp. After all, the health of your hair depends on a healthy scalp! Take your hair and scalp to their healthiest level yet with our collection of vegan formulas and supplements featuring powerful, clinically proven phyto-actives.
When you give your hair and scalp the care it deserves, that sun hanging in the sky won't be the talk of the barbecue — your radiant hair and summer smile will be!
 More From VEGAMOUR
Photo credit: Jess LoitertonPexels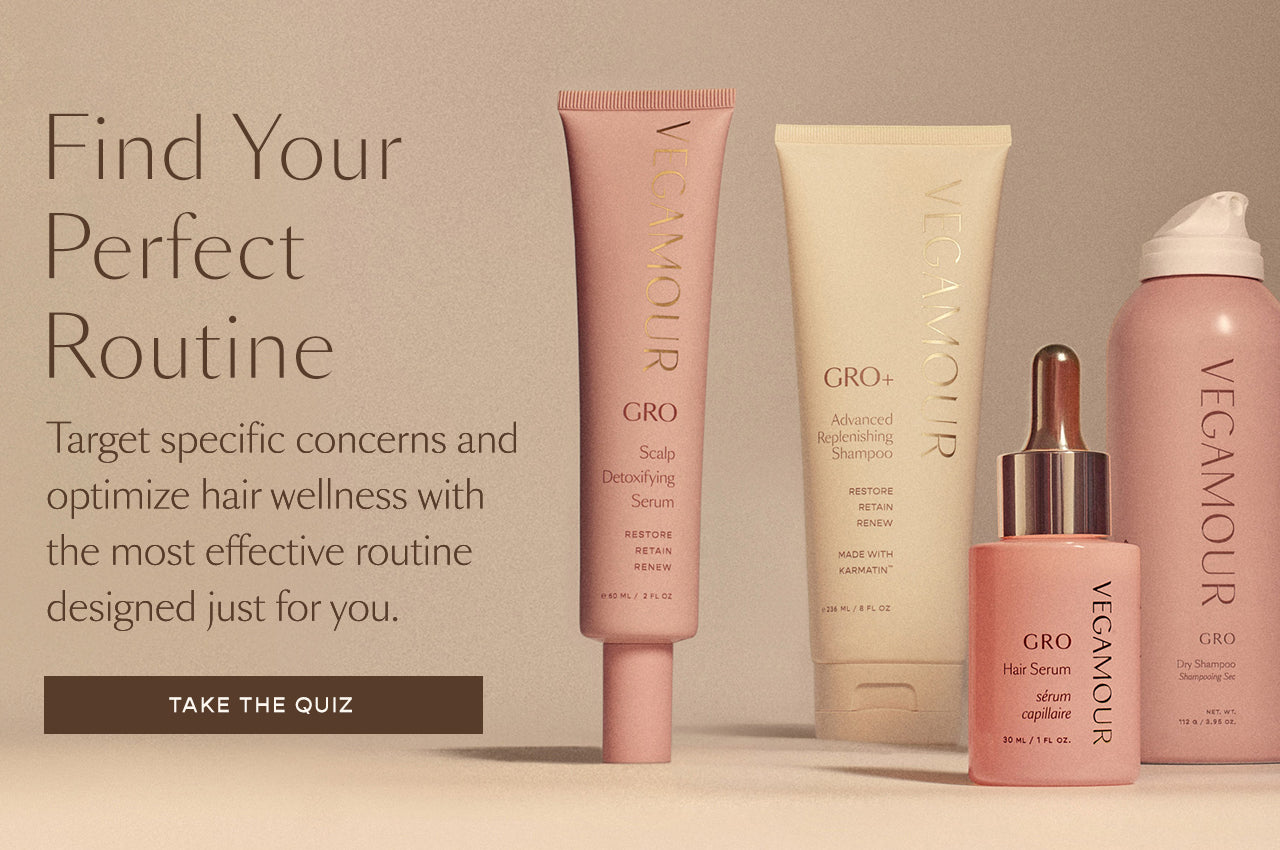 Disclaimer: Information in this article is intended for general informational and entertainment purposes only. It is not intended to constitute medical advice, diagnosis, or treatment. Always seek professional medical advice from your physician.