What Can Fo-Ti Do to Help Your Gray Hair?
Fo-ti, an herb used in traditional Chinese medicine, is gaining worldwide recognition as a dietary supplement that is said to improve longevity and help delay the harmful effects of aging. So what is fo-ti, and what can it do for your hair—and specifically for gray hair?
Read on to find out what VEGAMOUR learned from the experts about what fo-ti can do for grey hair and health. Plus, find out what products you should be using to combat gray hair and preserve your hair's natural color.
What Is Fo-Ti?
In traditional Chinese medicine, fo-ti has been used for centuries as a treatment to keep dark hair from graying and to help maintain natural hair color.
Fo-ti, or fo-ti root, comes from the plant Polygonum multiflorum (or tuber fleeceflower), which is a perennial herb native to China. In Chinese medicine, fo-ti—known in China as he shou wu—is touted as a "hair-blackening" treatment for people with gray hair, known for its ability to diminish gray hair and restore natural hair color. In recent years, fo-ti has become a popular ingredient in dietary supplements, hair products and hair treatments, including hair serums and creams for use on the scalp.
Fo-ti, like many Chinese herbs, is most potent in its least processed, raw form. There are several ways to take fo-ti to help prevent graying or thinning hair—and even as a treatment to reverse existing grey hair. In traditional preparations, fo-ti root is boiled in the juice of black beans to create an oral tonic. Today, though, you can easily find fo-ti supplements, fo-ti teas or topical beauty and hair products that include fo-ti.
What Fo-Ti Can Do for Gray Hair
There are a variety of benefits attributed to fo-ti. Since it's mainly used in anti-aging remedies, many of the known fo-ti benefits focus on how it can improve hair. Fo-ti works to:
Promote hair growth and slow hair loss, including alopecia
Restore natural color to gray hair
Delay loss of natural hair color, thereby slowing the graying process
For more insight on fo-ti and how it works on hair, VEGAMOUR spoke with board-certified registered nurse Beth Hawkes of NurseCode.com. 
"Fo-ti is an ancient Chinese remedy that has recently been gaining momentum as a potential treatment for hair graying," Hawkes said. Hawkes explained that fo-ti seems to help hair by significantly inducing synthesis of melanin—thereby increasing melanin production to promote hair pigmentation—as well as improving blood circulation to the scalp to help hair grow. It's also believed that fo-ti can work to prevent negative effects of hydrogen peroxide in the cells. Hydrogen peroxide can damage melanocytes (melanin-producing cells) and cause premature graying. By neutralizing hydrogen peroxide, fo-ti is thought to be effective as a treatment to reverse or prevent gray hair.
Beyond supporting hair growth and preventing hair loss and gray hair, fo-ti is also used in traditional Chinese medicine to address a wide variety of health conditions, including:
Alzheimer's disease
Constipation
Cancer
Diabetes
Fatigue
High cholesterol
Parkinson's disease
Tuberculosis
Is Fo-Ti Safe to Use?
Though it is known for its health benefits, it's best to talk with a healthcare professional before taking any supplement such as fo-ti, especially if you take medications or have a health condition. A doctor can give you advice on what supplements you should take or avoid based on your personal medical history.
Be sure that when you use fo-ti, you always thoroughly read and follow the product directions for intended use.
Fo-Ti: An Herb of Many Names
Fo-ti is known by many other names, the most common ones being fo-ti, fo-ti root, he shou wu, and Chinese knotweed. To be sure you are getting the correct thing, look for these possible names on the product label:
Chinese knotweed, climbing knotweed or flowery knotweed
Chinese cornbind
Tuber fleeceflower
Fo-ti, fo-ti root, fo-ti tieng or fo-ti tient
He shou wu or ho shou wu
Shou wu or shou wu pian
Zhihe shou wu or zi shou wu
Shen min
Multiflori preparata
Polygonum multiflorum
Rhizoma polygonati
How to Take Fo-Ti
Whether you're looking to protect dark-colored or black hair, enhance and protect hair follicles, stimulate hair growth, prevent premature graying or improve your general hair health, there are numerous options when choosing a product with fo-ti. VEGAMOUR offers two formulas that include fo-ti, one taken by mouth and the other applied topically to the scalp.
How to Treat Graying Hair with Fo-Ti
VEGAMOUR has created advanced vegan hair care products for all types of hair, especially thinning hair, aging hair and even graying hair. We've combined our hair expertise with effective ingredients like fo-ti for a perfect gray hair care system to combat rapid hair aging.
Fo-ti is featured in both a supplement capsules and a topical hair serum. VEGAMOUR offers GRO AGELESS Gray Delay Hair Serum, which is applied topically to the scalp with a dropper daily. For best results, massage the serum onto the scalp with dry or towel-dried hair.
If you prefer incorporating a daily supplement, you can add GRO AGELESS Gray Delay™ Hair Supplement to your daily hair care routine as an oral fo-ti option. The capsules are a super easy way to help restore color to your graying hair—simply take two capsules each day. 
In addition to fo-ti for fighting gray hair and preventing thinning hair, GRO AGELESS Gray Delay™ Hair Supplement contains a plethora of other plant-based ingredients to make hair more luscious, shiny and healthy, including:
B vitamins to help grow and maintain hair
Antioxidants to support integrity of hair and prevent damage
Selenium to aid in stimulation of hair follicles
Calcium to help with enzyme secretion to stimulate hair growth
Copper to help maintain structure of the hair shaft
Para-aminobenzoic and folic acids to support skin and hair health
Kerenat to support healthy hair growth, thickness and shine
Venetron to support healthy sleep, sleep maintenance and relaxation
This powerhouse combination of ingredients helps in restoring the natural color in 34% to 79% of gray hair, a significant improvement.
The GRO AGELESS Collection is a cruelty-free vegan option that can help support hair growth and slow the process of hair graying. For best results, VEGAMOUR recommends taking the capsules and using the hair serum daily.
The Takeaway
Fo-ti has been trusted for years as an anti-aging remedy, in particular as a preventive measure or treatment for gray hairs. Try VEGAMOUR's all-vegan anti-aging line with supplement capsules and a serum to keep hair looking healthy at any age. And stay up to date with the VEGAMOUR blog for the latest treatments to support beautiful hair that's healthy from the inside out.
More from VEGAMOUR
Photo credit: YakobchukOlena/iStock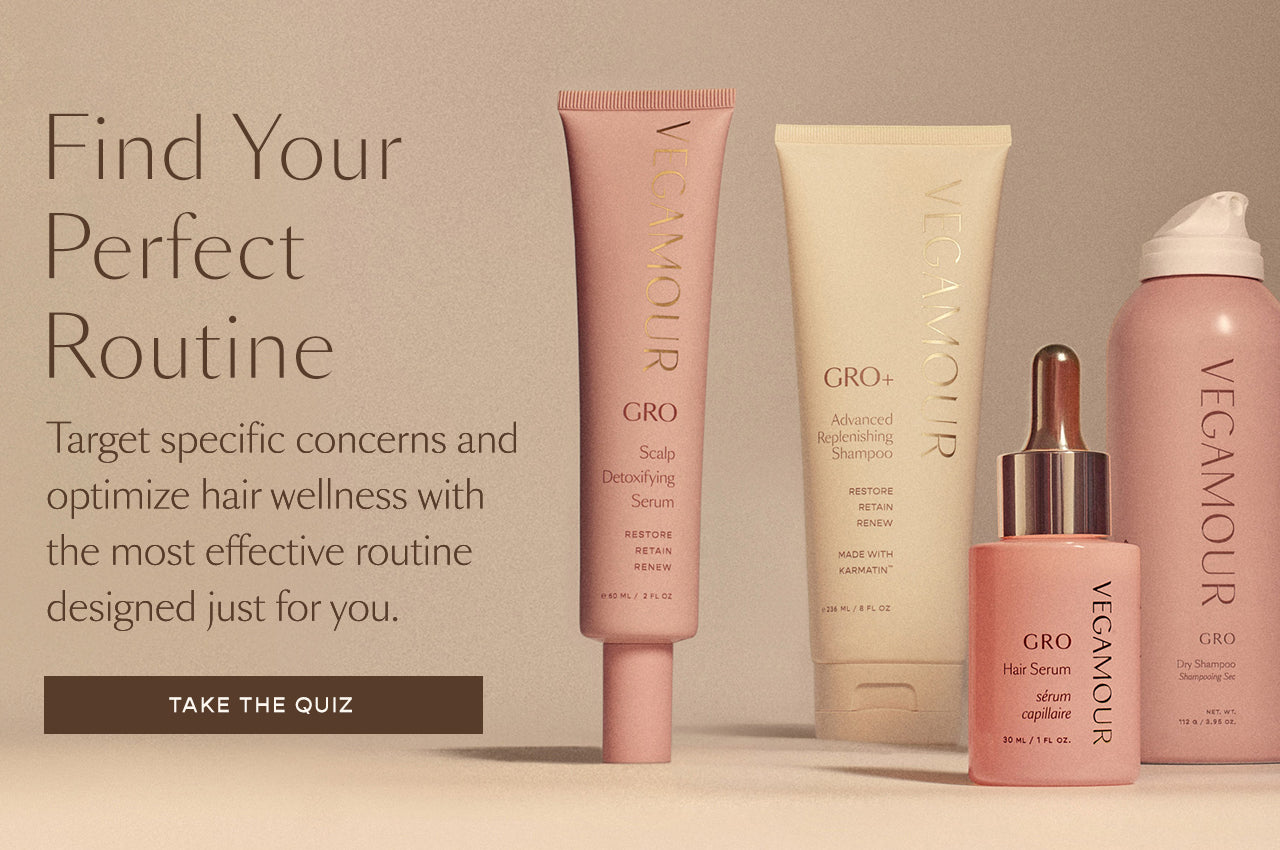 Disclaimer: Information in this article is intended for general informational and entertainment purposes only. It is not intended to constitute medical advice, diagnosis, or treatment. Always seek professional medical advice from your physician.