These 10 Herbs Might Help With Hair Loss
Herbal remedies have been used for millennia to help with a diverse array of conditions and symptoms, including hair loss.
You might have heard of a number of herbs being touted for their ability to help your hair, but how can you know which claims are sound? Keep reading to understand how herbal remedies could help with hair thinning and loss, along with a breakdown of what science has to say about using herbs for thin hair and tips for a holistic approach for optimal hair wellness.
What Causes Hair Thinning and Loss?
The scalp is a complicated part of the body! Home to tens of thousands of hair follicles, the scalp orchestrates many different biological functions to support these follicles and all they do to grow healthy strands of hair.
So it probably comes as no surprise that hair loss and thinning can be quite complicated. Hair thinning and loss might be the symptom of a long list of health concerns. With that said, some of the most common causes of thinning hair or hair loss include:
Stress
Postpartum hormone imbalances
Surgery
COVID-19 or any other serious infection
Autoimmune conditions like alopecia areata
Thyroid disorders
Androgenetic alopecia (AKA male and female pattern hair loss)
Nutritional deficiencies
Damaging hair styling practices and treatments
This list is nowhere near exhaustive, but it can provide some context in understanding why millions of people are managing hair shedding or loss every day in the United States. If you're experiencing hair loss or shedding, you're not alone!
Not only that, but in many of the cases listed above, hair loss is a symptom of a condition, not a condition itself. So in many cases of hair loss, it's just as important (if not more important) to address the underlying causes before you can start to see your hair bounce back.
How to Use Herbs for Hair Growth
When it comes to hair growth, herbs are most often used either topically on the scalp or orally as a supplement.
Many herbal cosmetics for hair feature the herbal extracts mentioned here, but you can also create a DIY hair mask, herbal hair oil (also called hair tonic) and other hair products at home using other natural ingredients like coconut oil or olive oil. 
Prioritize the use of herbs in hair care with the right hair care products that use these herbs to their benefit, such as red clover in our GRO Hair Serum.
You might also buy any of these herbs as a supplement in a capsule or oil, when they would be taken orally. As with any supplement, quality plays a big part in efficacy so be sure to do some research and choose a reputable brand.
"Many supplements are often cut with cheap filler ingredients and can have old, poor-quality extracts of the herb you're trying to take, rendering them basically useless," advised Nika Lawrie, a certified functional nutrition counselor and integrative nutrition health coach. 
Do Herbal Remedies Really Work? 
When exploring how herbs could help with hair regrowth, it's important to manage your expectations: No herb or natural remedies will provide a miracle elixir that will magically restore a full head of hair. Not only that but research is lacking for many of the herbs claiming to help with hair growth.
"There are many herbs claimed to be beneficial for hair loss," said Rita Farruggia, CEO at Happy Being Well. "Much of the research is still in its preliminary stages."
With that said, there is some preliminary support for several herbs' efficacy in helping hair follicle function. Here are ten of the most popular herbs used for hair growth.
Rosemary
Rosemary oil is among the few herbs that have been investigated in human clinical trials, where it has been shown to improve hair growth. Rosemary is believed to stimulate hair growth by improving scalp blood circulation and modulating inflammatory responses in the body.
Horsetail
Horsetail has become a popular herbal treatment for hair loss, though there is not enough data from human clinical trials to say definitively if and how it works. Horsetail is a natural source of silica, a mineral that is important for delivering nutrients to your hair follicles and strengthens hair. One small study showed that women supplementing with choline-stabilized orthosilicic acid (a stabilized form of silica) had thicker hair after nine months.
Find Out: Horsetail and Hair Growth — What You Should Know
Nettle
Some research suggests that the herb nettle (also known as stinging nettle) might be beneficial for supporting a healthy scalp thanks to its anti-inflammatory properties. In addition to being rich in antioxidants, nettle is also a good source for vitamins A, B, and C, iron, potassium, calcium and magnesium — all important for general hair health. VEGAMOUR's GRO Biotin Gummies have ingredients to promote healthier looking hair with A, B-5, -6, and -12, C, and E. 
Ginseng
Ginseng is another popular herbal remedy that has gained traction and is commonly used to treat hair loss thanks to its ability to enhance the proliferation of dermal papilla, an important part of the hair follicle that regulates growth of the hair shaft.
Red Clover 
Red clover is another herb that has clinical research supporting its use for hair health. Red clover is thought to impact hair growth by inhibiting DHT production, reducing inflammation and stimulating protein synthesis in the hair follicles. Not only that, but red clover also contains isoflavones, which have an estrogen-like effect in the body that could benefit follicles. Small clinical studies have shown it can promote hair growth, and one larger study in menopausal women showed that it can improve skin and hair texture. 
That's why red clover is one of the main ingredients in VEGAMOUR's formulations. Take our bestselling GRO Hair Serum, for example. Red clover is just one of the several phytoactives in the proprietary herbal extract blend that powers our all-natural vegan hair care products.
Aloe Vera
There is no clinical research to support the use of aloe vera for hair loss, although it has been used by many different cultures over centuries to help with thinning hair. Aloe vera gel has many therapeutic benefits, including anti-inflammatory, antibacterial and skin conditioning properties that could help support scalp health, and in turn stimulate hair growth.
Get More: Does Aloe Vera Help With Hair Loss?
Tulsi (Holy Basil)
Tulsi, also known as Holy Basil, is an Ayurvedic herb that has been used for centuries for its medicinal properties. It has not been studied for its impact on new hair growth or loss, though its antimicrobial, anti-inflammatory and immunomodulatory effects could beneficially impact hair follicles.
Hibiscus
Hibiscus is another herb that has been used for centuries in traditional medicines for hair health. While more research is needed, hibiscus is thought to increase blood flow to the scalp and hair follicles. As one review points out, it might also help to stimulate hair follicles, increase follicle size and promote hair growth.
Saw Palmetto
Saw palmetto has received research attention for its ability to impact the production of testosterone and DHT, two hormones that are involved in the common hair loss condition androgenetic alopecia. While there aren't many clinical studies of saw palmetto for hair loss, two small studies with male participants did show an increase in healthy hair growth and hair thickness when applied topically.
Find Out: Does Saw Palmetto Help with Hair Loss?
Ashwagandha
Another adaptogenic herb that has been used in Ayurvedic medicine for centuries, ashwagandha is often used as a natural way to support stress management and relaxation. For hair, these benefits could have indirect benefits on our follicles, since stress is a major factor when it comes to increased hair shedding and hair thinning. While it has not been studied on its own, one clinical trial used ashwagandha in an herbal blend where both male and female participants saw significant improvements in hair density and thickness after six months of topical use.
Learn: Ashwagandha Hair Benefits
Talk to Your Doctor
"When adding in a new herb or supplement to your diet or health routine, you always want to check with your healthcare provider first," said Lawrie.
Not only might a new herb induce an allergic reaction or cause scalp irritation to the skin if applied topically, but many herbs interact with prescription medications when taken orally. Additionally, many herbs are not recommended for women who are breastfeeding or pregnant. 
The Takeaway
Herbal supplements and topical herbal hair treatments could be a simple and effective way to holistically support healthy hair growth, but don't expect an herbal remedy to regrow a full head of hair.
Research into herbal extracts to encourage hair growth is still in its early days, though there is supporting research for several herbs for improving scalp health and hair growth or otherwise beneficially impacting hair follicles. If you're thinking about exploring the hair growth potential of herbs for yourself, be sure to speak with your doctor before applying or ingesting any herbal supplements. 
Daily use with herbs and supplements can definitely encourage hair density and the look of longer-looking hair. With the right products and hair care, the right hair care routine starts with products with clean and effective ingredients. 
More From VEGAMOUR
Photo credit: lilartsy/Pexels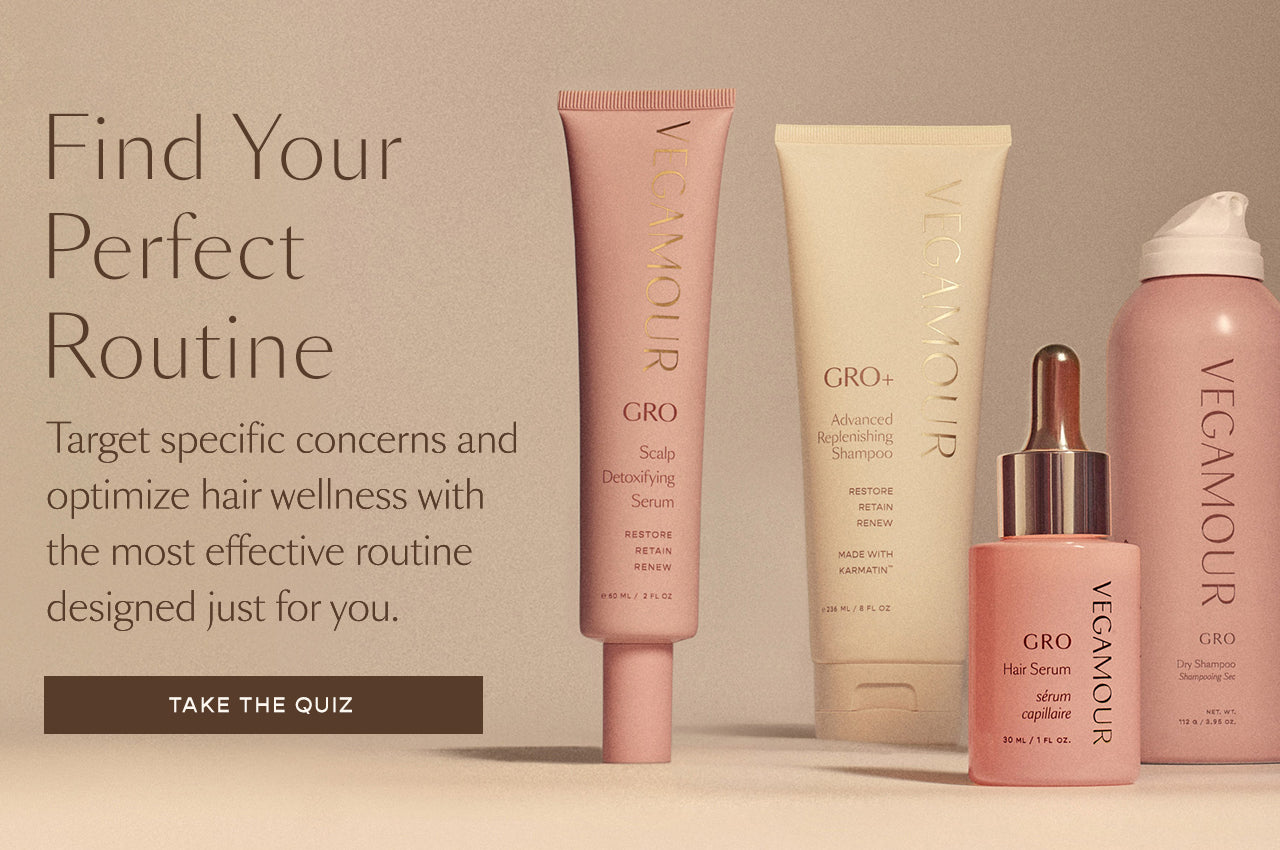 Disclaimer: Information in this article is intended for general informational and entertainment purposes only. It is not intended to constitute medical advice, diagnosis, or treatment. Always seek professional medical advice from your physician.