Can Tea Tree Oil Help With Hair Growth?
Essential oils have been used in hair and skin care products for years. Many essential oils also have anti-inflammatory properties and are known for their biological benefits, as well as their soothing scents. Tea tree oil has been used medicinally for many generations and was initially introduced to the world by Australian aboriginals.
If you've ever struggled with acne or the occasional pimple, you might've been recommended tea tree oil, thanks to its antimicrobial properties. And some suggest tea tree oil for hair can encourage new hair growth — but what's the truth? VEGAMOUR dug into the research to unearth the facts. Plus, discover the all-natural products hair products clinically proven to work.
Can Tea Tree Oil Help Hair Grow?
The quest for healthy hair growth can lead you down some unknown paths. From essential oils to nightly routines, if you want long, luscious locks, you're probably willing to try anything. Tea tree oil has been a key ingredient found in many beauty products for years. Historically, it's been used to help heal cuts and burns because of its antiseptic qualities, but does adding tea tree oil to your routine encourage new hair growth?
Before answering that question, it's important to understand how and why hair occurs. Hair loss can happen for many reasons, but thinning hair can occur when the scalp's health is compromised. An itchy scalp can indicate fungal infections, seborrheic dermatitis and dandruff, which can negatively impact hair growth. Because of its anti-fungal properties, tea tree oil can improve scalp health and unclog follicles when used topically.
"A common cause of hair loss is dandruff. The hair that grows on a dandruff-infected scalp suffers from cuticle and protein damage," said Dr. Anna Chacon, a board-certified dermatologist. "Inflammation and scratching of the scalp also lead to breakage and hair loss. Excess sebum blocks hair follicles and makes hair roots weak, too."
Research into tea tree oil specifically for hair growth is limited, but there's some suggestion that the oil could help maintain a healthy scalp, and in turn, keep hair growth consistent.
If you're looking to improve the health of your hair, a supportive shampoo is essential. If you haven't got time to add a couple of drops of tea tree into your shampoo daily, use a clinically proven formula instead.
The powerful plant actives in the GRO+ Advanced Replenishing Shampoo remove the daily buildup of dead skin cells, sweat, sebum, smog and product residue that can impact hair growth. The unique formula also contains microencapsulated hemp, penetrating deep below the skin's surface to soothe irritation and energize the follicles. In addition, the no-fuss shampoo is mild enough for daily use and keeps hair looking and feeling silky smooth.

What Else Can Tea Tree Oil Do for Hair?
Healthy hair starts at the scalp, and although the jury is out on whether tea tree oil makes hair grow, it can help with other hair concerns. Tea tree oil benefits include:
Fighting irritating flakes and dandruff. Researchers at the Journal of American Academy of Dermatology investigated the effectiveness of shampoo hair products that contained tea tree oil on 126 participants. Over four weeks, they found that using just five percent of tea tree essential oil could cause a 41 percent improvement in dandruff symptoms. Participants also stated that their hair and scalp health improved and that the tea tree oil helped with itchiness and greasiness. Always seek professional medical advice if you're struggling with uncomfortable, persistent symptoms.
Regulating excessive hair growth. Hirsutism is a condition that causes women to grow thick, dark hair on their stomach, face, neck, chest, lower back, buttocks or thighs. It results from excessive male hormones and can be a source of significant discomfort and embarrassment for those who experience it. However, one study showed that women who used a lavender oil and tea tree oil spray on the affected areas twice a day for three months saw a reduction in hair growth.
Preventing greasy roots. Oily, greasy hair can be frustrating and embarrassing. It's often a result of dandruff, product buildup or other bacteria on the skin. "Tea tree oil can effectively soothe the scalp and treat dandruff," said Chacon. "It nourishes hair follicles and roots, prevents excess oil production, improves blood flow, and allows nutrients to reach hair follicles to grow healthy hair." Just a few drops of tea tree oil can help regulate oil production by the sebaceous glands, improving hair health and reducing the look of greasy roots.
Acting as a natural delousing treatment. Whether your child has picked them up at kindergarten or you've accidentally used the wrong hair brush, head lice can crop up unexpectedly. To kill lice and lice eggs, you might be recommended treatments that contain harsh chemicals to curb further infestation. Unfortunately, these hair treatments can cause skin irritation. One study found that tea tree oil could be an effective treatment for those looking for an all-natural approach to delousing.
Improves blood circulation. Though the research is limited, some believe massaging the skin with tea tree oil can increase circulation and health benefits and potentially improve hair growth. In addition, a scalp massager increases blood flow and provides an exhilarating experience and relaxing experience.
Warnings and Risks of Tea Tree Oil
Though it's a natural ingredient, using tea tree oil on the skin directly isn't advised and comes with risks. It has high potency for sensitivity and can trigger allergic reactions, so it's recommended to dilute tea tree oil with a carrier oil such as marula or coconut oil before application. "Do not use a pure tea tree oil because it can cause allergic reactions that can manifest in the form of skin inflammation leading to hair loss," said Chacon.
It's also important to check the label if you use a tea tree oil-infused shampoo because it might irritate sensitive skin. Fresh tea tree oil is less likely to cause harsh irritation, but the potential remains.
Pregnant or breastfeeding women should also use tea tree oil with caution. Always talk to a medical professional before you use tea tree oil for hair — just in case.
Read: Experiencing Sore Scalp and Hair Loss? Here's What You Should Know
How to Use Tea Tree Oil on Hair
Even though using the oil comes with risks, there are plenty of tea tree oil benefits. If you want to try using it on your hair, here are a couple of ways to incorporated tea tree oil into your hair care routine:
1. Add Drops to Your Shampoo
Tea tree oil can cause skin irritation without an effective carrier oil. To avoid this, pour your shampoo into your hands and add two to three tea tree oil drops. Mix between your palms and wash your hair as usual. Avoid adding tea tree oil to the bottle directly in case irritation occurs.
2. A Refreshing Treatment
Mix a few drops of tea tree oil with a carrier oil and massage the mixture onto the scalp. If you prefer hot oil treatments, warm the blend gently first — but always let it cool! Leave on the hair for approximately 10 minutes and wash as usual.
3. Make a Hair Mask
If you have an itchy scalp, a cooling treatment can help. Choose a base with a thick consistency for your hair mask, such as yogurt or avocado. Add a drop of honey to your base alongside a few drops of tea tree oil. Massage the mixture onto the hair and scalp, washing it off after 15-20 minutes. If you prefer to keep things simple, just add drops of the oil to your favorite hair mask instead.
Shop: Shea Whitney's VEGAMOUR Picks
Alternatives to Tea Tree Oil
Tea tree oil for hair growth might not be a real thing, but VEGAMOUR boasts a range of all-natural, vegan products that are clinically proven to work. A healthy, balanced diet is essential for scalp health, alongside good sleep hygiene and targeted, non-toxic products to help you achieve your best hair yet.
Tea tree oil isn't something you want to apply daily to your hair. It can irritate and leave roots looking greasy — plus, mixing it with a carrier oil daily will quickly become a chore! The GRO+ Advanced Hair Serum features the same powerful ingredients found in the bestselling GRO Hair Serum with the added benefit of soothing and replenishing hemp. The formula is free from toxins and strengthens hair from the root to increase the appearance of hair density, thickness and volume. Clinical studies show that the serum can rebalance the hair-growth cycle and reduce the appearance of shedding.

The GRO+ Advanced Serum is a daily formula that's super lightweight upon application and won't interfere with a styled look. It's non-greasy, and you'll see results in just three months with consistent use. Rather than risk irritating your skin by using too much tea tree oil, reach for formulas created to soothe, rebalance and keep your locks gorgeous and glossy instead.
The Final Word
Though it's unlikely that tea tree oil encourages hair growth directly, it can help keep your hair and scalp in good condition as it grows naturally, making space for healthy new hair follicles. The powerful essential oil is strong enough to help clear away dandruff, reduce the look of greasy roots and even remove head lice. But if you leave tea tree oil on the skin for too long, you might suffer an uncomfortable reaction.
To avoid this, skip the DIY method and start incorporating hair products with clinically phyto-actives and vegan keratin to boost your hair health. VEGAMOUR's GRO Foundation Kit offers a fully comprehensive approach to scalp health, which is the first step towards strengthening strands for thicker, fuller looking hair.
 More From VEGAMOUR
Photo credit: Recep-bg/iStock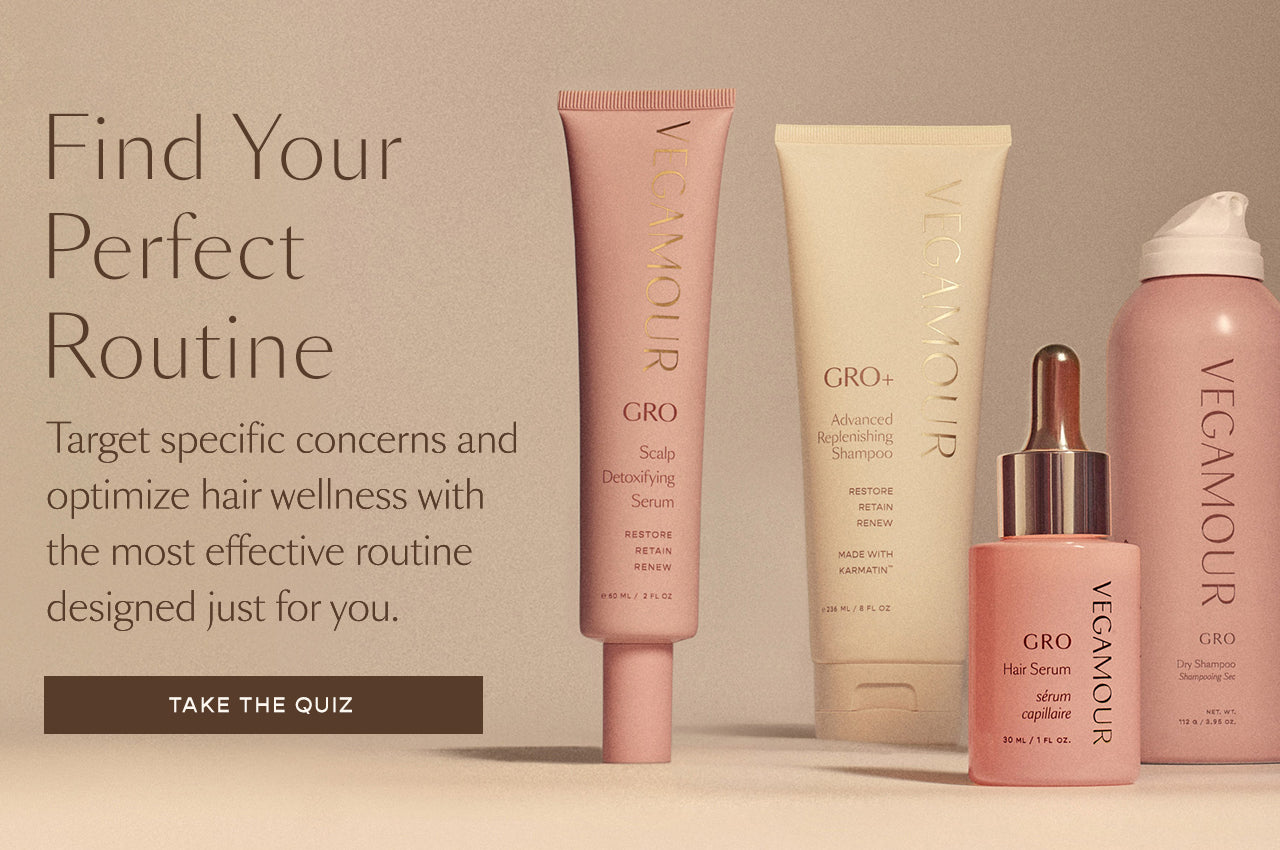 Disclaimer: Information in this article is intended for general informational and entertainment purposes only. It is not intended to constitute medical advice, diagnosis, or treatment. Always seek professional medical advice from your physician.