Can Dry Shampoo Cause Hair Loss?
Dry shampoo is the ultimate time-saver and multitasker, reducing oil at the root and adding volume and texture. And if you're a faithful user of this wonder in a can, you know how it can turn a bad hair day into a good one in just a few minutes.
But can your reliance on dry shampoo cause hair loss? VEGAMOUR spoke to experts to get the facts straight when it comes to dry shampoo and hair loss. Plus, find out what dry shampoo you should be using if you have thinning hair.
Dry Shampoo and Hair Loss
So, does dry shampoo cause hair loss? First, it's important to understand what dry shampoo can and can't do for your scalp and hair.
Dry shampoo helps absorb excess oil in the scalp, which makes your hair look like it has been freshly washed and styled. With occasional use, it can save you time and money since you wash your hair less frequently and, as a result, use fewer styling products. However, too much dry shampoo can impact the health of your hair.
"Dry shampoo is meant to be a quick fix for longevity, to deodorize and mask dirty hair," said Julie Jaczkowski, a hairstylist at Modesty Hair Studio. "Think of a strong air freshener in an overworked cab."
However, Jaczkowski points out that relying on dry shampoo too much can do more harm than good.
"If overused, it has the potential to build up on hair follicles, delaying new growth," she said. "When any product starts to build up on hair, you will notice a change on the scalp. Whether it be an increase in oil or flakiness, it can be easily avoided. "
Jaczkowski stressed the importance of continuing to regularly shampoo when using dry shampoo to reduce product buildup on the scalp. "Although this product has a lot to give, it is important to remember it is not, I repeat, not a shampoo replacement!"
Dry shampoo doesn't remove oil, dirt and dead skin cells the way that a regular shampoo with water does. For clean, strong and healthy hair, it's best to determine your ideal wash routine depending on your hair type and lifestyle. For some people with normal hair types (i.e., not especially thin, oily or coarse), shampooing and conditioning every other day works well to properly cleanse the hair follicle and rid the scalp of excess oils.
Shop: GRO Hair Products for Thinning Hair
How Can Dry Shampoo Cause Hair Damage?
Using too much dry shampoo too much can lead to a whole host of scalp and hair issues, including:
Hair breakage: Dry shampoos (especially those that come in aerosol spray containers) sometimes contain alcohol, which can be drying for your hair. The constant application of these drying ingredients on your head can make your hair more susceptible to breaking and splitting, giving it a thinner, less full appearance overall, especially around the temples.
Clogged hair follicles: Without regular shampooing, the scalp buildup can end up clogging your hair follicles, leaving you dealing with major buildup, an itchy scalp and potentially even folliculitis, which is a bacterial or fungal infection in the hair follicle.
Dandruff: The harsh ingredients in dry shampoo can cause irritation and a dry, itchy scalp. This can lead lead to a form of dandruff called seborrheic dermatitis, which may be associated with an overgrowth of Malassezia, a yeast fungus that's naturally present on your skin. In these cases, a medicated shampoo containing Ketoconazole may be necessary to treat the fungus and reduce the appearance of dandruff.
Poor scalp health: Your body is designed to produce sebum, your skin's natural moisturizer. If sebum, dead skin cells and sweat are left to sit and build up on the scalp, they can negatively impact the function of hair follicles, leading to poor scalp health and slowed hair growth.
Related: 6 Signs You Need a Scalp Detox
GRO Dry Shampoo Helps Combat Thinning Hair
Not all dry shampoos are created equal. While some contain harsh ingredients like drying alcohols can be harmful to your health, the best dry shampoos are effective at reducing buildup and actually work to improve hair health — all without the use of harsh, damaging ingredients.
That's why GRO Dry Shampoo is safe, non-toxic, and formulated without benzene. And it includes the same powerful phyto-active ingredients found in all of our other GRO products, which encourage thicker, fuller-looking hair! Check out these before-and-after photos.
The gentle, lightweight spray helps balance the scalp, volumize the hair and support a healthy hair ecosystem in between washes without leaving your scalp feeling itchy. Plus, the eco-friendly propellant offers even, effective distribution for fuller-looking, gorgeous hair that isn't weighed down by too much hair product. And to top it all off, it smells great! Celebrity stylist Ashley Streicher states: "If hair growth is your goal, we recommend using the Dry Shampoo as needed, in conjunction with daily use of GRO Hair Serum!"
Regular Shampooing Is Important
Even though using dry shampoo on days when you don't want to shampoo (or don't have time) is the perfect solution, it's still important to regularly shampoo your hair. And our GRO Revitalizing Shampoo does more than just cleanse your scalp and hair. It also utilizes microencapsulation to deliver powerful phyto-actives deep beneath the scalp's surface to encourage thicker, fuller, longer-looking hair! Additionally, it contains our proprietary Karmatin™ (our vegan version of keratin), which bonds to the hair even after rinsing — repairing and protecting your strands long after you've shampooed.
Related: How Much Shampoo Should You Use?
Healthy Hair Starts With a Healthy Scalp
Dry shampoo is an incredible product to use whenever you're short on time, or your hair needs a quick lift — especially if you use a formula packed with powerful phyto-actives designed to encourage thicker, fuller-looking hair. But dry shampoo should never completely take the place of regular shampooing. And if you're using dry shampoo excessively and noticing an impact on the health of your hair, you might want to reduce the number of times you use dry shampoo each week in favor of more regular shampooing. After all, healthy hair starts with a healthy scalp and using various targeted hair wellness products in tandem is the best pathway to encourage thicker, fuller-looking hair!
More From VEGAMOUR:
Photo credit: Vladimir Fedotov/Unsplash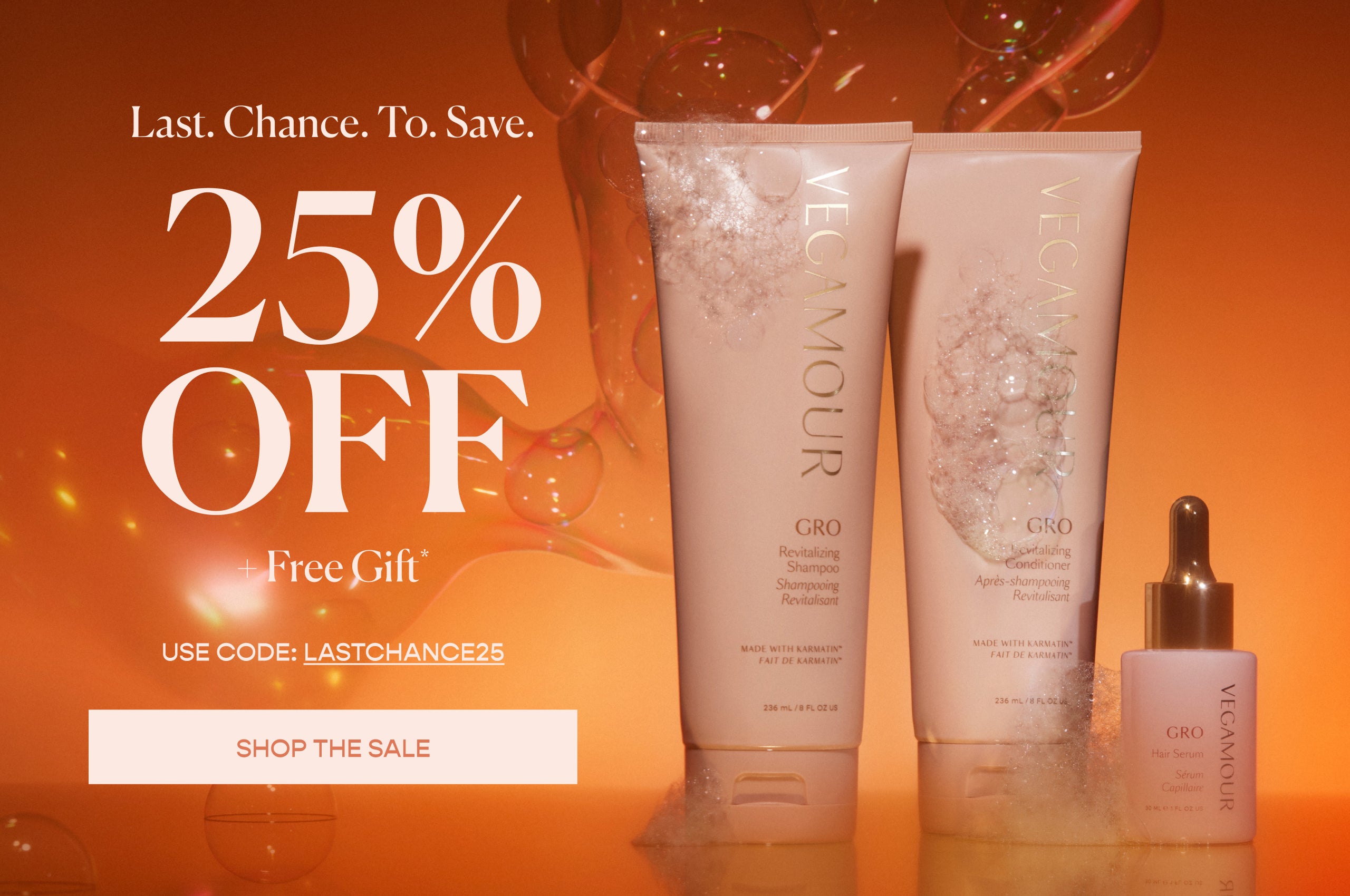 Disclaimer: Information in this article is intended for general informational and entertainment purposes only. It is not intended to constitute medical advice, diagnosis, or treatment. Always seek professional medical advice from your physician.