How Often Should You Wash Curly Hair?
If you have curly hair, you know it needs some extra TLC to look its best. And while it's true that an effective curly hair routine is a bit more painstaking than one for straight hair, it's worth it for the outcome. But how often should you wash curly hair? Read on to find out — plus, discover what products you should use to keep your curls clean and healthy.
How Many Times Per Week Should You Wash Curly Hair?
How many times per week you should wash your curly hair depends on your curl type and hair type. Here's what you need to know.
Tight Curls, Coils and Coarse Hair
If you have tight curls, coils or coarse hair on the dryer side, washing once a week should be sufficient. Some people like to co-wash curly hair in between washes or use a cleansing conditioner between shampooing days. If your hair is dry, this practice can be especially beneficial. You might also consider using a deep conditioner on your wash days.
"This [hair] type should not be washed more than once a week," said hair expert Gwenda Harmon. "Use a gentle shampoo that is also sulfate-free and a curl-defining conditioner. Gels for curly hair are also recommended to use to define your curls. One of the most important steps in caring for curly hair is washing it correctly. Many people make the mistake of shampooing too often, which can strip away natural oils and leave hair feeling dry and brittle."
Shop: Hair Products Formulated Without Sulfates
Medium Curls or Waves
If you have medium curls or waves, shampooing once a week is sufficient, and you can refresh with dry shampoo as needed. You can also consider co-washing or using a cleansing conditioner between wash days.
"This type is more prone to dryness because the hair follicles do not lie flat," said Harmon. "This type of curl should only be washed once every five days with a moisturizing shampoo. Use a light leave-in conditioner to prevent weighing down the roots."
Related: How to Use Dry Shampoo to Get Clean Hair Between Washes
Fine Curls
If you have fine curls, your hair might be more prone to looking greasy. You'll want to use lighter styling products that don't weigh the hair down. Also, for this hair type, co-washing in between wash days isn't recommended; otherwise, you could weigh your hair down with too much moisture.
Instead, consider washing every two to three days and using light styling products and a lightweight dry shampoo to refresh your hair. "This type of curly hair should only be washed every three days using a hydrating shampoo and conditioner. Cold water is a must to prevent drying out the scalp and hair cuticles," Harmon said.
See Also: Does Cold Water Help Your Hair Grow?
Ingredients to Avoid in Hair Care Products
Not all products designed to wash your hair are created equally, so your hair care wellness routine might need an overhaul. "Avoid these ingredients in your hair care products," Harmon advised.
Silicones
"These ingredients are often used in conditioners and serums to add shine and smoothness. However, they can also build up on the hair, causing it to look greasy and limp. "If you see dimethicone or cyclomethicone on the ingredient list, put the product back on the shelf," Harmon advised.
Read: 9 Ingredients in Shampoo To Avoid (And What to Look for Instead)
Sulfates
"Sulfates are harsh cleansing agents that can strip natural oils from the hair, leaving it dry and brittle," Harmon said. "Look for sulfate-free shampoos and avoid products with sodium lauryl sulfate or sodium laurel sulfate."
Related: Is Sodium Laureth Sulfate Bad for Hair?
Additional Hair Care Tips for Curly Hair
Harmon offered these additional hair tips to help your curly hair look its best.
Use a Moisturizing Shampoo and Conditioner
"Curly hair tends to be drier than other types of hair, so it's important to use products that will hydrate and nourish your strands," Harmon said.
Harmon also advised using a light leave-in conditioner that's made for curly hair. "A good leave-in conditioner will help to keep your hair hydrated and prevent frizz," she explained.
Invest in a Good Diffuser
A good diffuser attaches to your blow dryer and will help distribute heat evenly among your curls without blowing them apart. This can minimize frizz and maximize curl definition.
Protect Wet Hair
"Protect your hair at night," said Harmon. "Sleeping with your hair wet can cause damage, so make sure to use a silk pillowcase or sleep with your hair in a loose bun or braid."
Additionally, most curly hair needs to be detangled wet and needs to set the curl pattern while wet. Use a wide-tooth comb during the detangling process, so you don't risk breakage.
Also: How to Sleep With Curly Hair
Help Curly Hair Look Its Best With an Updated Wash Routine
How often you wash your curly hair comes down to your hair type and curl type. Dryer, coarser hair with tight curls will need less frequent washing than medium curls or waves — or fine curls or waves that tend to get oilier faster. "Don't overwash your hair," said Harmon. "Curly hair doesn't need to be washed as often as straight hair, so try to shampoo only two to three times per week depending on the type of your curl and how oily your scalp is."
On wash days, use a high-quality shampoo and conditioner that will gently, yet effectively, cleanse and condition your curly hair like the VEGAMOUR GRO Revitalizing Shampoo and Conditioner Kit. This sulfate-free cleansing and conditioning duo is color-safe and works beautifully for all types of curly hair. Both products feature our proprietary vegan b-SILK™ protein, Karmatin™, which bonds to hair, smoothing and strengthing it. In addition, the duo contains wild-harvested marula oil, ximenia oil and organic murumuru butter to condition and hydrate hair and deliver the bouncy, defined curls you crave!
By incorporating a new wash-day schedule, giving your hair some extra TLC and using products designed to care for your curls gently and effectively, you'll be well on your way to your best hair days yet!
More From VEGAMOUR
Photo credit: Vlada Karpovich/Pexels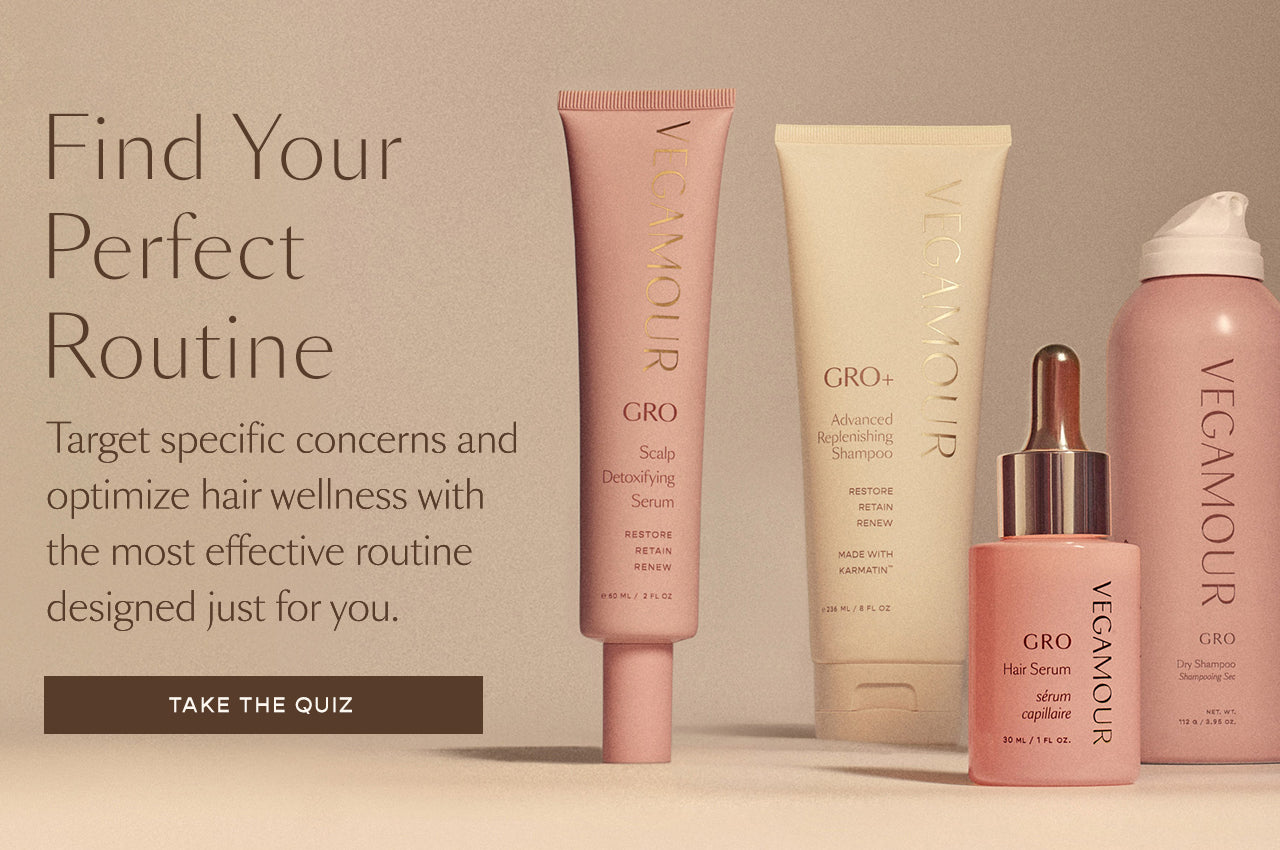 Disclaimer: Information in this article is intended for general informational and entertainment purposes only. It is not intended to constitute medical advice, diagnosis, or treatment. Always seek professional medical advice from your physician.