Here's How to Get Softer Hair
Your hair goes through a lot — from harsh weather to drying dyes and hot heat styling tools on rotation. Unfortunately, hair care habits like these have consequences and can cause your strands to become dull and brittle.
No magic wand will rid you of damaged hair overnight, but there are steps you can take to soften it. Read on for expert-recommended tips, and find out what thirst-quenching hair products you should use to soothe dry, parched strands.
What Stops Hair From Feeling Soft?
LA-based hairstylist Alice Rawling told VEGAMOUR, "Everyone wants soft luminous hair. However, many things, such as age, poor hair care and eating habits, can lead to unhealthy hair and dryness ..."
If you're addicted to using flat irons, blasting your strands with a blow dryer or wearing a wooly hat throughout the winter, friction and heat will eventually cause hair breakage. Also, if you naturally struggle to keep curly hair smooth, have frizz-prone hair or have an overly oily scalp, keeping strands soft and luscious might feel like an uphill battle.
"Dry hair can be treated to encourage softness using home remedies that moisturize it — and having a consistent hair care routine can help," Rawling said.
Things To Avoid If You Want Soft Hair
The first step toward softer hair is knowing what you should avoid. For example, if you regularly color, bleach, perm or chemically straighten your hair, think about other options. Unfortunately, chemical processes are hard on hair and can lead to dryness.
Here are some other suggestions of things to avoid.
Rubbing With Rough Towels
Rubbing your strands with a towel after a shower might be an ingrained part of your routine from way back. But wet hair is incredibly fragile, and cotton fabrics can aggravate the hair cuticle. Dragging a rough material back and forth over your locks can create friction leading to tangles, knots and dull hair.
What to Do Instead
To help restore your natural shine and keep hair strands smooth, grab a cotton T-shirt or a microfiber towel, and instead of rubbing, use it to gently squeeze out excess water from your hair.
Brushing Damp Hair
Hair is most fragile when wet, so yanking a brush through the strands trying to detangle knots could cause severe damage. And that ripping noise you're familiar with? That's probably the sound of your hair actually tearing as the outside layer gets damaged.
What to Do Instead
Treat damaged hair carefully and use a wide-tooth comb only on wet hair.
Start at the hair's ends and work through the knots, working up toward the mid-lengths and then the roots. Never comb from the root down.
Only use a brush once the hair is dry.
Read: Comb vs. Brush — When to Use Each
Mindless Shampooing
Another habit you might've had since you were a babe is rigorously shampooing the hair shaft from the roots to the ends every time you bathe. Unfortunately, this technique can wreak havoc on curly hair, which tends to lack moisture. Straight hair tends to be smoother because the natural oils found around the hair follicles slips down the hair shaft giving strands a natural shine. But with curly hair, the kinks and coils mean the oil has a more challenging time reaching the end of the hair. This means that those with curly hair don't need to shampoo their hair as often.
What to Do Instead
Shampoo curly hair less often, and, no matter your hair type or texture, always use an all-natural shampoo, such as GRO Revitalizing Shampoo, which contains nurturing phyto-actives, vegan silk keratin and restorative botanicals to nourish, moisturize and protect dry hair.
To use, squeeze a quarter-size amount into the palm of your hand. Then shampoo, focusing on your scalp. Next, rinse your hair with cool or cold water (rather than hot water), pat it with a microfiber towel or cotton T-shirt to remove excess moisture and allow the hair to air dry.
Too-Tight Hairstyles
If your hair feels brittle and damaged, dragging it back into a too-tight hairstyle will exacerbate any existing issues and upset the hair cuticles.
What to Do Instead
Always use protective hair ties and never elastic bands. If you pull your hair back to play sports or use the gym, release your strands as soon as possible and use a nourishing hair conditioner after shampooing. VEGAMOUR's GRO Revitalizing Conditioner is gentle enough for daily use and wild-harvested marula oil, organic murumuru butter and ximenia oil help hydrate without imparting pore-blocking residue.
See: Hairstyles That Might Stress Your Hair Out
Hot Tool Overload
A blow dryer and a flat iron can help you create some beautiful hair looks, but prolonged heat on your hair can create bubbles around the cuticle, which could lead to long-term damage.
What to Do Instead
Whenever possible, let your hair air dry. Also, when you do use hot tools, always apply a heat protectant and turn down the heat.
Natural Remedies To Soften Hair
Now that you know that your daily habits can remove the natural oils from your strands, leaving them looking lackluster and dry, here are some natural remedies that could help bring your hair back to life.
Coconut Oil 
Studies suggest that coconut oil can benefit dry skin by penetrating the skin's barrier, but there's also some evidence that the healthy fats in the oil can help you achieve softer hair. But, of course, too much could make your hair feel oily, so concentrate on only putting it on your dry ends and use it every other day.
Related: 12 Ways to Use Marula Oil in Your Beauty Routine
Hair Masks
A weekly hair mask of aloe vera gel and honey could leave rough hair feeling super soft.
Combine a spoonful of honey and a scoop of aloe together.
Smooth over your hair, concentrating on the lengths and ends.
Cover with a shower cap and leave it on for as long as feels comfortable.
Rinse off with lukewarm water.
This natural conditioner will provide hydration and hopefully make your hair soft and glossy.
Hot Oil Treatments
Professional hot hair oil treatments can make your strands feel soft and shiny, but if you're on a budget, you could concoct something at home. Olive oil is known for its internal health benefits, but did you know it's also emerging as a hair care savior? Research suggests that the hair absorbs olive oil, which could have a moisturizing effect. Warm up a little olive oil and gently massage into your hair for a few minutes. Wrap the hair, leave for 10 minutes and then rinse. You can also a couple of drops of essential oil, such as peppermint or tea tree, to further invigorate the scalp.
Softly Does It
The road to soft, luscious hair begins with small steps. Turning down the heat on hot tools, avoiding tight hairstyles and applying natural remedies will introduce softness. However, be aware that getting hair back to a soft state could take some time.
Concentrate on your overall wellness by reducing stress and eating a nutritious diet full of nutrients and minerals to maintain a healthy mane. The VEGAMOUR collection is full of hydrating, nourishing hair products. To ensure results, use consistently, and if you're really struggling to build up your strands, always check in with a medical professional to identify any potential hormonal changes or dietary deficiencies that should be addressed.
More From VEGAMOUR
Photo credit: Mathilde Langevin/Pexels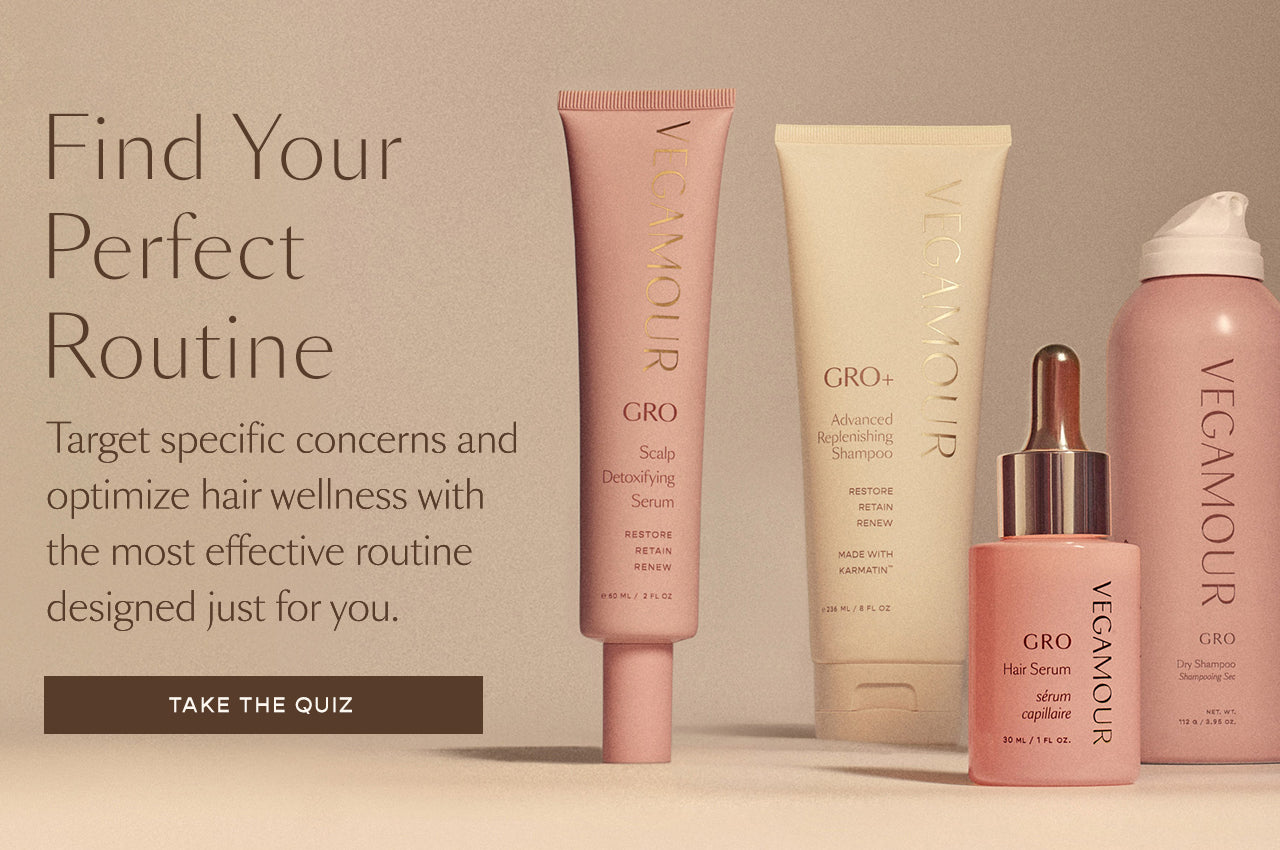 Disclaimer: Information in this article is intended for general informational and entertainment purposes only. It is not intended to constitute medical advice, diagnosis, or treatment. Always seek professional medical advice from your physician.