Can You Prevent Postpartum Hair Loss?
Pregnancy hormones can undoubtedly alter how you look and feel. Alongside the skin changes and mood shifts, women can experience thick, glossy locks as hormone levels rise. But this excess new hair growth usually falters postpartum, with excessive shedding just one of the many unique challenges new moms face.
With hair loss on the horizon at a time when confidence levels tend to dip, what can be done to prevent postnatal hair loss? Whether you're pregnant or recently pregnant, find out what you can do to encourage healthy, thick looking hair.
What Is Postpartum Hair Loss?
Excessive hair loss after childbirth is surprisingly common, with most women experiencing some kind of hair shedding after giving birth.
"Postpartum hair loss happens after childbirth and is caused by the shift in estrogen levels, not to mention the stressful exposure the body goes through during childbirth," explained trichologist Celestine Gitau.
The hair growth cycle has four stages. The growth phase is called anagen; the transition phase is catagen, the third phase is the resting phase — the telogen phase, and the final round of the cycle is exogen or the shedding phase. When the hair follicles enter the resting phase, the hair falls, and this process is medically known as telogen effluvium and can also affect your lashes and eyebrows.
The hair on your head grows at different stages, which means we're constantly shedding and growing new hair. "During pregnancy, the estrogen hormone rises to support pregnancy, a phenomenon that causes the hair to stay longer in the growing phase," said Gitau. "After delivery, the estrogen levels fall back to their normal levels. This causes the hair previously held longer in the growing phase to shift to the shedding phase resulting in excessive shedding of hair from three months post-delivery."
Shop: GRO Hair Products to Encourage Thicker, Fuller Looking Hair
Can Postpartum Hair Loss Be Stopped?
Approximately 5%-10% of your hair follicles are in the resting phase at any one time. Telogen effluvium shocks the body and causes an inordinate amount of hair follicles to enter the telogen phase prematurely. 
The good news? Excessive hair shedding signals that your hair cycle is shifting back toward the active hair growth phase — meaning your hair is back on track after the hair loss happens. Unfortunately, there's no real scientific evidence proving you can stop or slow hair thinning postpartum, but fortunately, it's not usually something new moms experience for long. Thinning hair returns to its pre-pregnancy state, and the hair cycle re-regulates.
If you experience hair loss, it's important to remember that hair growth can take time. On average, hair grows approximately 6 inches per year, which equates to about half-inch per month.
If you're desperate for a postpartum hair loss treatment, there are a few different things you can do to keep your locks looking lovely during this strange transition.
More: Hair Loss Postpartum? Here's What You Can Do
How to Prevent Postpartum Hair Loss
These tried and tested techniques will help maintain the thicker hair you experience during pregnancy and potentially prevent postpartum hair loss.
Enjoy a Healthy Diet
Hair wellness starts from within — especially when it feels like your hormones are all over the place during pregnancy. Maintaining optimal health via your diet during pregnancy can assist your overall recovery and give your body (and hair) the nutrients it needs to stay healthy.
Gitau explained, "One aspect that could make postpartum hair loss linger long after this period has elapsed is the presence of deficiencies such as iron, ferritin and vitamin D, which could be acquired during delivery, childbirth or breastfeeding. Proper feeding habits and adequate supplementation go a long way in preventing or easing postpartum hair loss."
The American Pregnancy Association recommends a diet that includes:
Vitamin B
Calcium
Iron
Vitamin C
Folic Acid
Vitamin and mineral supplements with biotin can help boost your hair wellness, but always talk to your doctor before taking supplements while pregnant.
Shop: Supplements for Healthy Hair
Reduce Stress Levels
Being pregnant is challenging. You see your body in a way you never have before, plus you have the whole "new baby on the horizon" thing to contend with. Unfortunately, one thing that will exacerbate hair loss is stress  — whether you're pregnant or not.
It's a good idea to practice various relaxation techniques to maintain a level of calm. This could include journaling, gentle exercise and mindful meditation. In addition, a nice way to reduce stress and stimulate each hair follicle is with a soothing yet invigorating scalp massage. A high-quality scalp massager will stimulate the scalp and boost scalp health, delivering a relaxing and stress-free experience.
Use a Hair Serum
While you probably don't want to apply a range of chemicals and toxins to your scalp during pregnancy, using a nourishing, vegan serum could help increase the appearance of the hair density.
GRO Hair Serum is plant-based and free from known toxins. This lightweight, non-greasy formula is designed to support a balanced follicular ecosystem. Additionally, the powerful phyto-actives in the formula have been clinically proven to increase hair density while reducing the signs of shedding.
Switch Up Your Products
While they're not proven to be harmful to use while pregnant, many drugstore hair products won't keep your hair looking and feeling shiny. You could support the appearance of longer, denser, thicker and healthier looking hair by adjusting your hair care routine and reconsidering the products you use. For example, a revitalizing shampoo and conditioner duo that contains a vegan protein that coats the hair will make your mane appear thicker.
While pregnant, it's also a good idea to turn down the heat on hot tools and use styling products that don't contain harsh ingredients. Always brush gently and avoid chemical treatments, too. Letting the hair do its natural thing will avoid stressing out fragile strands.
Change Your Hairstyle
Though it can be a cliche to opt for a shorter "mom 'do" while pregnant, a shorter style can help hide postpartum hair loss. It's also a really practical way to prevent your little one from grabbing at your hair during feeding time!
Talk to your hairdresser about hairstyles that will provide volume but require little effort to style. The less heat your put on your hair, the better. And let's face it, once the baby does arrive, the time you spend on your hair will dramatically reduce — at least for a while. You may also want to press pause on coloring your hair while pregnant. If you dislike your natural color, ask your colorist for advice.
Read: Influencer Madie Wilkes Talks Postpartum Hair
When to Contact a Health Care Professional
Hair loss can be a complex topic at the best of times, and everyone experiences it differently. If you feel like your postpartum hair loss continues for more than a year or you're experiencing other symptoms, check in with a health care professional.
Postpartum hair loss is stressful but a common symptom of hormone change. One postpartum symptom you shouldn't neglect is depression. If you're feeling increasingly sad, highly anxious, overwhelmed or angry pre or post-birth, reach out to your loved ones for support and speak to a doctor, too.
The Takeaway
Unfortunately, postpartum hair loss is often a reality for many women, but while pregnant, keeping stress levels as low as possible will help your mane stay healthy. Typically, postpartum hair loss will correct itself a few months after giving birth.
In the meantime, make the switch to clean hair products that combat thinning hair. Choose products made form all-natural blends made without toxins, and use a hair serum to help keep strands as strong and long as possible. Nourish your body with delicious foods full of iron and vitamins, and be patient — this is a short-term experience that will soon pass.
More From VEGAMOUR
Photo credit: Kjekol/iStock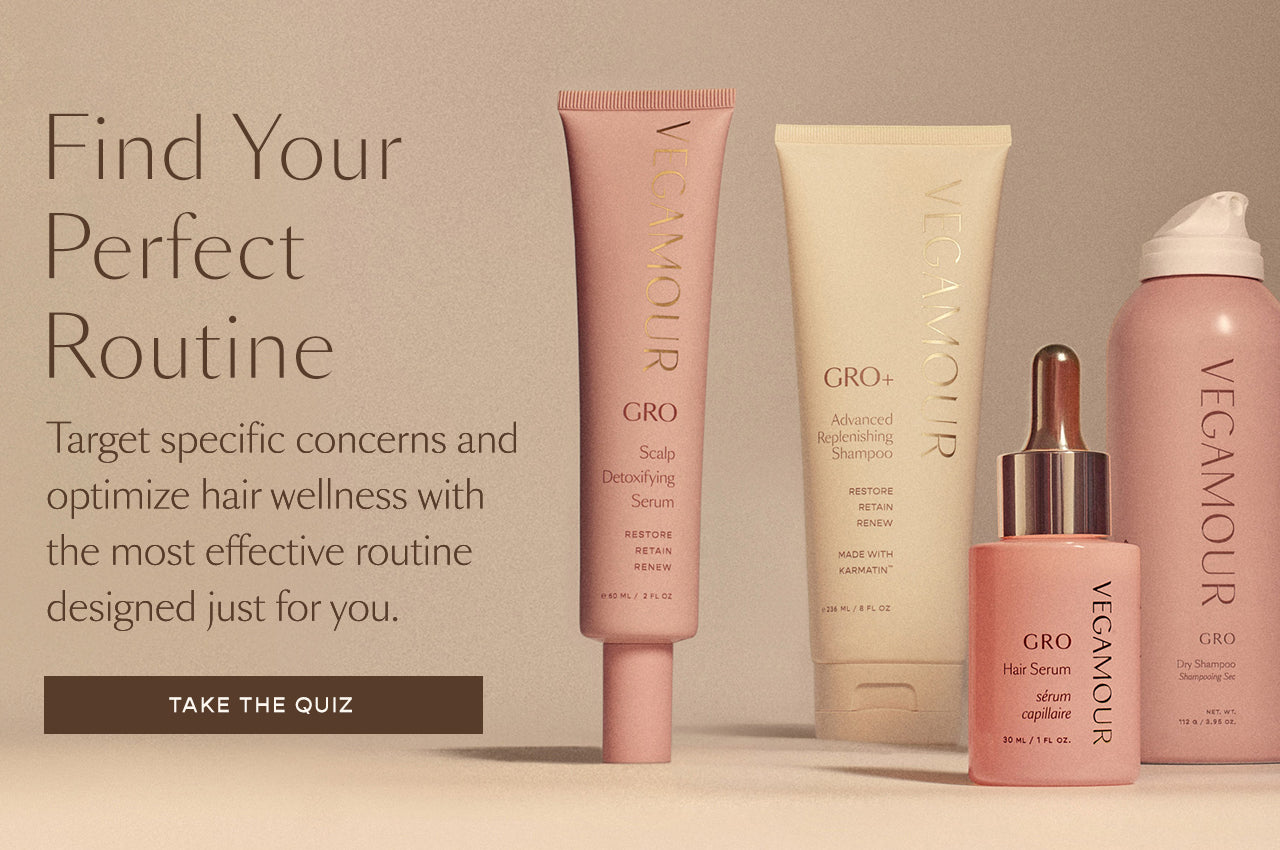 Disclaimer: Information in this article is intended for general informational and entertainment purposes only. It is not intended to constitute medical advice, diagnosis, or treatment. Always seek professional medical advice from your physician.