How to Use Hair Conditioner for Best Results
Not all hair conditioners are the same — some coat the hair with an oily residue that makes your hair go limp and flat, while others contain unwanted ingredients. And some only work for certain hair types. Choosing the right conditioner for your hair can make all the difference — and so can using your conditioner correctly.
VEGAMOUR spoke with the experts about how to use conditioner more effectively. Plus, we'll share what conditioners you should be using to elevate your results — no matter your hair type or texture.
Your Hair Needs Conditioner
Your hair goes through a lot. Blow-drying and styling take their toll on your strands. Plus, damaging free radicals in the environment can wreak havoc on your hair, and spending a lot of time in hot, cold or windy weather can dry out your hair. Hair woes like these are often solved by using a really good conditioner.
However, the wrong conditioners for your hair will create buildup and dullness or simply not work well enough to improve the appearance and manageability of your hair. Often, there's no real work done on a damaged hair shaft by many conditioners on the market because they simply coat the hair.
Shop: VEGAMOUR Shampoos & Conditioners
What Does Conditioner Do?
In general, conditioner has other benefits for your hair besides bathing your hair in emollients to keep it silky soft, like the following:
Detangles strands
Helps control curly hair and reduce frizz
Supports natural oils and balances porosity
Balances the pH of hair and scalp
Smoothes hair cuticles
Protects hair against cuticle lift, split ends, dryness, heat damage and free radicals
Some conditioners work primarily on the outer protective layer of the hair, while others allow for more penetration into the hair, using the scales of your cuticle layer like mini doorways. The right conditioner can address all the various needs of your hair, keep it healthy and make your hair appear more radiant.
How to Use Conditioner
Here are the general instructions for using conditioner on your hair.
Shampoo, rinse well and squeeze out excess water. (Sopping wet hair won't absorb conditioner well.) If you are co-washing, skip the shampooing and proceed with conditioning.
Apply a small amount of conditioner to your hair, working it from roots through the midshafts and ends of your hair with a wide-tooth comb or your fingers. Tip: If it's really gooey on the hair, you might be using too much conditioner.
Allow the conditioner to sit on the hair to process, according to the manufacturer's instructions. This is the length of time the manufacturer has determined (through testing) that it takes for the product to fully do its work.
Rinse thoroughly with lukewarm or tepid water — never hot — to smoothe the hair cuticles, promote shine and leave your hair soft and radiant. For very thick or curly hair, you can partially rinse to leave some weight in the hair. A leave-in conditioner could help as well.
Hair Conditioner Options
VEGAMOUR spoke with Madison Dufour, barber, cosmetologist and owner of The Exquisite Find, who gave us some great tips on using and applying conditioner. Dufour told VEGAMOUR that you can tell if your conditioner is doing well for your hair if your hair is free from frizz and oil and doesn't feel like it has a coating of buildup on the strands.
Dufour said it sometimes takes a little trial and error to find a conditioner your hair loves, and the results you're looking for can vary from person to person, depending on what results you're looking for. It also helps to know how to use conditioner effectively.
Home Treatment Options
Home treatments usually involve deep conditioning treatments with common oils and creams found at home: olive oil, coconut oil, jojoba or argan oils. All you have to do is add a few drops of your favorite oil to your conditioner, apply to hair and leave on for 20 to 30 minutes.
These make fun, at-home deep conditioning treatments but often fall short in terms of a daily conditioner or one that provides lasting results. Home treatments offer temporary moisture but often at the cost of weight or buildup on the hair.
See: Is Coconut Oil Good for Your Hair?
Daily Rinse-Out Conditioners
These versatile maintenance conditioners — recommended for all hair types from long hair to thin hair to curly hair — are a must-have part of daily hair care and maintenance of hair, usually as an everyday conditioner. Use after shampooing (especially following a clarifying shampoo) or as a stand-alone shower treatment called co-washing.
See Also: The No-Poo Method of Washing Hair: Does It Work?
Leave-In Conditioners, Serums, Foams
For medium to thick hair, coarse hair, curly hair or hair that has a lot of texture or static, you can use a leave-in conditioner to reduce frizz and flyaways. Apply to damp hair before any other styling products. Do not rinse. Then, detangle hair gently with a wide-tooth comb, and apply your styling products.
Deep Conditioner
A deep conditioning treatment can help boost moisture and soothe a sensitive scalp.
Apply liberal amounts of hair conditioner to damp hair and work through to the ends of your hair. Wrap your hair in a shower cap or scarf and leave it on for half an hour or more. Rinse well with lukewarm or cool water for maximum shine. Avoid hot tools for the first few days after your deep condition to allow your hair some stress-free rest.
VEGAMOUR's GRO and GRO+ Conditioners
VEGAMOUR offers silicone-free, lightweight, vegan conditioners that combine natural oils with carrier creams, so your hair gets just the right level of moisture without all the weight. Plus, these provide unbeatable shine without the buildup from silicones.
Unlike other conditioners that are only designed to be applied to the hair, our formulas are designed to also be applied to the scalp to hydrate the scalp's skin and allow the powerful phyto-actives to reach the hair follicles.
Type: Lightweight, daily rinse-out conditioner
About: Ditch the toxic animal keratin proteins and silicones of your regular conditioner with our favorite silicone-free conditioner for any hair type: GRO Revitalizing Conditioner. Celebrity stylist Ashley Streicher states: "This conditioner is smoothing enough for dry brittle hair but light enough for fine and thin. It somehow has a nice heavy, moisturizing feel in the shower but does not weigh the hair down or leave any kind of greasy or heavy residue."
Why you'll love it:
Phyto-actives work deep into hair follicles and shafts in only 30 seconds
Vegan, cruelty-free, color-safe
Physically bonds microencapsulated vegan b-SILK™️ protein to strengthen hair strands (Perfect for damaged hair!)
Promotes visibly thicker, fuller looking hair that feels soft and silky but manageable
Won't clog pores or result in buildup
Lightweight and luxurious hydrating ingredients: Marula oil, organic murumuru butter and ximenia oil
Always free from phthalates, silicones, GMOs, parabens, sulfates, mineral oils, gluten and synthetic fragrances
Good to Know: Read This Before Getting a Keratin Smoothing Treatment
Type: Lightweight, daily rinse-out conditioner
About: GRO+ Advanced Replenishing Conditioner is the super-hydrating and nourishing option.
Why you'll love it:
This fomula has all of the benefits of our GRO formula and also includes micro-encapsulated hemp, which allows the blend of powerful phyto-actives to more quickly penetrate the scalp to support visibly thicker looking hair, as well as calm and soothe scalp irritation. Plus, like all of our VEGAMOUR products, it's made to partner with our hair serums and foams.
Choose the Best in Hair Care
VEGAMOUR specializes in hair care. Our conditioners contain powerful phyto-actives to promote fuller, stronger hair and hydrating ingredients for softness without buildup. VEGAMOUR's silicone-free conditioning options are the perfect pick, no matter your hair type and texture — from the thinnest, straightest strands to the thickest, curliest tresses!
More From VEGAMOUR
Photo credit: Julia D/UnSplash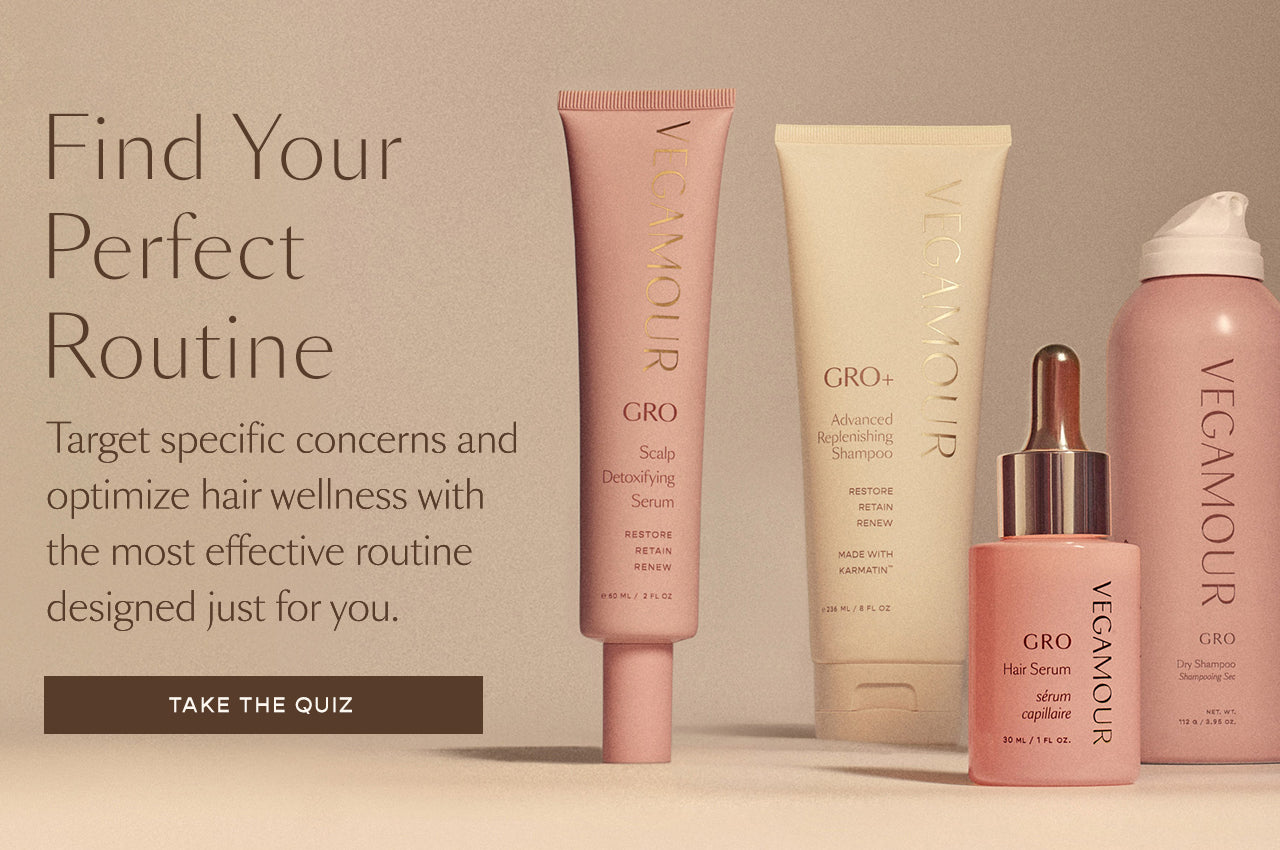 Disclaimer: Information in this article is intended for general informational and entertainment purposes only. It is not intended to constitute medical advice, diagnosis, or treatment. Always seek professional medical advice from your physician.