Hyperbaric Chambers Are Being Used to Reverse Aging — Is This the Future of Anti-Aging & Beauty?
The idea of making lifestyle modifications to slow down the normal aging process is nothing new. For centuries, humans have been creating pharmacological and environmental interventions to slow biological aging, from the cold creams of the 1920s to the retinoids of today. Now, new technologies that allow us to slow and even reverse the aging process on a cellular level are beginning to be studied more seriously and, for the first time, becoming available in the marketplace.
Read on to get a closer look at exciting new advances that could benefit healthy aging adults, including the way hyperbaric chambers can reverse aging by repairing old and malfunctioning cells and what products you can use to slow down and reverse the appearance of gray hair.
Advances in Anti-Aging Technology
So what's on the horizon for anti-aging technologies? VEGAMOUR founder and CEO Daniel Hodgdon recently sat down for a chat with WWD to discuss the many ways the beauty industry is poised to change the face of aging forever.
When asked what excites him most about the future of wellness, Hodgdon replied, "The advances in biological and physiological knowledge and the tools at our disposal make it really affordable for a consumer, and that is exciting," he said. "And we're only at the crux. With AI and the availability of these technologies and our understanding of how to make things bioavailable and stable in formulation, it's advancing at the speed of light."
Each year, the technology that helps us prevent and repair the physical impact of aging improves by leaps and bounds. "In the next five years, before 2030, you're going to be able to buy off-the-counter products that are clinically proven to reverse your age," Hodgdon predicted. "For every year, it could reverse two years. There's so much that's going to be possible, and it's going to be available to everyone."
Shop: AGELESS Gray Control Duo
Hyperbaric Chambers: What the Science Has to Say
One of the anti-aging technologies Hodgdon is so excited about is hyperbaric oxygen treatments. While the science behind hyperbaric oxygen treatment is still in its infancy, there's a great deal of excitement about its potential to positively impact the cell cycle.
"My clinic has received many inquiries about hyperbaric chamber therapy," said board-certified hyperbaric medicine physician and medical toxicology physician Kelly Johnson-Arbor MD.
The buzz all began with a study run by Shamir medical center, where participants provided blood samples to be analyzed before and after repeated exposure to hyperbaric oxygen therapy to discover whether this therapy increases telomere length.
Dr. Johnson-Arbor said early results were promising. "A 2020 study, published in the journal Aging, investigated the effects of systemic hyperbaric oxygen therapy on cellular changes of aging," she said. "The investigators studied 35 adults aged 64 and older who underwent 60 daily hyperbaric treatments. In this patient group, cellular changes of aging, specifically telomere lengths, were improved  in patients who completed the 60 hyperbaric treatments."
Telomeres are compound structures at the end of chromosomes, and the length of telomeres within isolated blood cells is often used as a marker of biological aging. As we age, telomere length becomes reduced. Telomere shortening results from prolonged cellular impact that occurs when the DNA in telomeres shortens as cells divide, eventually halting and becoming senescent cells as the telomere reserve is depleted. As a result, discovering significant telomere elongation in these subjects could be a promising sign.
However, Dr. Johnson-Arbor said that more research is needed before we discover whether hyperbaric medicine can actually impact the external, rather than the internal, genetic markers of aging. "While the results of this study are intriguing, they do not prove that hyperbarics reverses the visible signs of aging," she said. "The study looked at cellular changes of aging, not skin elasticity, wrinkles or other visible signs of aging. Hyperbaric oxygenation does have anti-inflammatory effects that have been well described in the medical literature, so this may be one of the reasons for the positive results found in this study."
Inflammation within the body is a risk factor associated with many of the diseases we associate with aging, so anything that reduces it, from hyperbaric medicine to eating anti-inflammatory foods, will reduce the impact of aging. If hyperbaric medicine can effectively reduce age-related inflammation throughout the body, it could potentially slow down or even reverse the visible signs of aging, such as wrinkles or gray hair.
However, Dr. Johnson-Arbor also said that there are some flaws in the study that warrant further examination. "The study had several limitations, including that it did not control for lifestyle factors, such as nutrition or exercise, that may have also impacted the study participants' results," she said.
Dr. Johnson-Arbor said that while hyperbaric medicine does hold promise, at this stage, it's difficult for most people to access. "The study was performed in Israel, but in the United States, insurance carriers do not consider hyperbaric oxygen therapy to be medically necessary for the prevention or treatment of aging, so patients would need to pay out of pocket for the procedure. The costs of hyperbaric oxygen therapy in medical facilities can exceed thousands of dollars per treatment (and remember, patients in this study got 60 treatments)." So at this stage, the cost of accessing these treatments within the U.S. remains prohibitively high.
Dr. Johnson-Arbor believes more research is necessary before we make a final judgment on the efficiency of hyperbaric oxygen therapy. "For now, the question of whether hyperbaric oxygen therapy can prevent or treat aging has yet to be answered, and more research is needed on this subject," she said.
See: These Are the Characteristics of Aging Hair
The New Technology Keeping Hair Younger for Longer
While you might not be dropping by your neighborhood hyperbaric chamber for treatment anytime soon, Hodgdon's optimism about the future of anti-aging technologies is borne out of advances right in his own backyard.
"We just launched our GRO AGELESS collection to reverse grays," he told WWD. Two key products work in concert to reduce your grays naturally.
GRO AGELESS Anti-Gray Serum combines powerful ingredients like caffeine to reduce oxidative stress, peptides to renew hair color and a vitamin blend that nourishes the scalp and follicles and helps reduce the appearance of gray hair. It's a formula 64% of users said resulted in them seeing less gray hair in as quickly as 90 days.
Meanwhile, the GRO AGELESS Gray Delay Supplement works from the outside in to slow down your strands' natural aging process with a three-pronged formulation of free-radical-fighting antioxidants, stress-relieving botanicals and a vitamin blend packed with essential minerals and nutrients to preserve your hair's natural pigment for longer and prevent premature hair graying.
Also: Why Does Hair Turn Gray?
Stay Tuned for More Anti-Aging Hair Solutions From VEGAMOUR
And Hodgdon says that these products are only the beginning. "What we're working on for next quarter are a bunch of treatment products for hair that actually treat and repair instead of just cover up," he said. "And we'll follow that up with styling products. What we want to do with our treatment products is make sure that we're treating the concern, but also giving you instant gratification that's built on a health benefit."
Now, with VEGAMOUR's groundbreaking new Ageless line, high-tech anti-aging beauty is more accessible and more functional than ever before.
More From VEGAMOUR
Photo credit: Pixabay/Pexels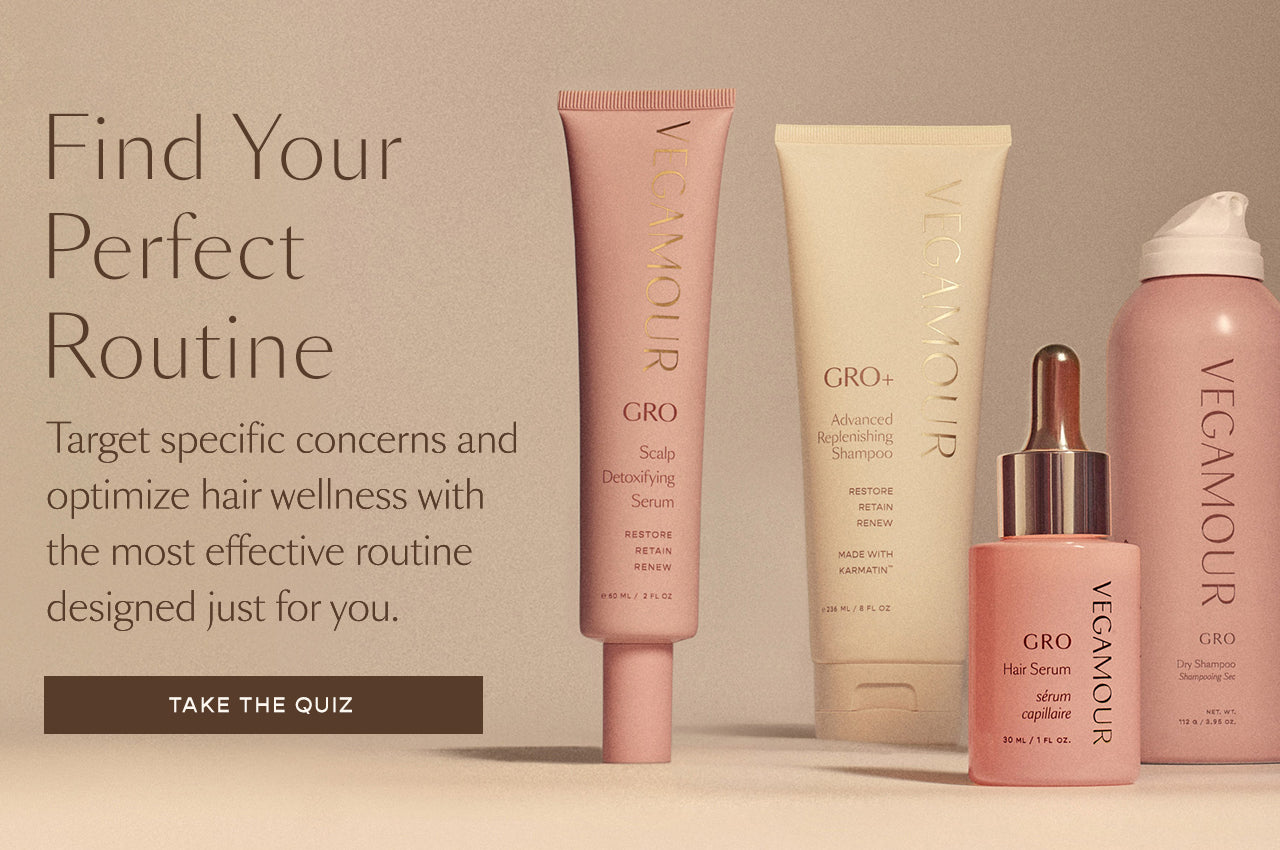 Disclaimer: Information in this article is intended for general informational and entertainment purposes only. It is not intended to constitute medical advice, diagnosis, or treatment. Always seek professional medical advice from your physician.