Your Guide to Medium Porosity Hair
Medium porosity hair is often described as "normal," but what makes hair normal and what will help it thrive?
If your hair quickly shifts from glossy and fabulous to rough and dehydrated, you might be working with medium porosity hair. To help you understand more about your hair structure, VEGAMOUR consulted the experts and dove into the research. Plus, find out what plant-powered products you can use to boost your hair's health — no matter its porosity.
What Is Medium-Porosity Hair?
To understand what medium-porosity hair is, it can be helpful to first understand what low- and high-porosity hair is. Low-porosity hair has tightly packed cuticles that can make it hard for the hair to absorb moisture. High porosity hair holds moisture briefly, but hair strands struggle to retain moisture for long because of the loose cuticles. As you would expect, medium porosity hair is somewhere in the middle. Hair cuticles aren't too close together or far apart, making it easier for strands to retain moisture. This cuticle layer structure means natural hair can hold moisture for a good amount of time.
Shop: Treat Yourself to the GRO Complete Kit
What Is a Hair Cuticle?
The cuticle is the outer layer of the hair shaft that is comprised of dead cells, which serve as a protector for each hair strand. If you were to look at a strand of your hair under a microscope, it would appear scaly because the individual cells of the cuticle overlap like slates on a rooftop.
Certified and award-winning dermatologist Dr. Alpana Mohta MBBS, M.D., DNB said, "If your cuticle is somewhere in between raised and flat, your hair is considered to be medium porosity. This means that the cells are moderately spaced, making it somewhat easy for moisture and oil to enter. Medium porosity hair can be prone to tangles and frizz but not as much as high porosity hair."
How To Recognize Medium-Porosity Hair
Hair with a medium porosity is often referred to as normal porosity hair and holds moisture at a healthy level. Some characteristics associated with medium porosity hair include the following:
Not moisture resistant
Retains moisture from liquid-based products
Gets wet easily
Air drys easily
Can hold a curl pattern and styled waves
Slightly raised cuticles
Easy to color
Read: Compare GRO vs GRO+ Advanced 
Test Your Hair's Porosity Type
If you're unsure of your hair's porosity type, here's an easy way to find out:
Fill a clear glass with water. This will help you see how well your hair absorbs or retains moisture.
Pick out a couple of strands. Drop the hairs in the water and see how they react. Gather strands from different parts of the head if you sport a curl pattern to truly know what you're dealing with.
Watch the hair react. If your hair sinks to the bottom fast, then you likely have high porosity hair. If it floats somewhere in the middle, you'll likely have medium porosity hair, and if it bobs around the surface, you have low porosity hair.
The more you know about your strands, the better you'll be able to care for them. Hair damage isn't always apparent, and it's not always easy to know why it's happening, so the more you know, the better you can care for your hair!
Also: 26 Hair Wellness Tips From Experts
How Does Hair Become Porous?
Problems with medium porosity hair are likely to arise from external factors such as chemical treatments or too much protein. It's a delicate balance! Highly porous hair can result from heat styling and damaging heat treatments. Every hair type will benefit from styling products that don't negatively impact hair health or encourage product buildup at the scalp. Low-porosity hair can look limp and lifeless, and hair with medium porosity can, at times, also benefit from a volumizing approach.
GRO Hair Foam has been formulated with the same powerful, all-natural ingredients found in VEGAMOUR's best-selling hair serum — ingredients that encourage thicker, fuller-looking hair. The rich, non-sticky foam provides body and texture to strands needing a boost. It applies beautifully to damp hair and penetrates the scalp to help visibly improve hair density. Regardless of your hair porosity type, each strand will look and feel easier to manage when you use this gentle but effective hair product.

Hair Care Tips for Medium Porosity Hair
Even though it can be easy to manage, medium porosity hair requires gentle, consistent care to prevent breakage and lessen the effect of frustrating product buildup. Hair with a medium porosity can also be thin, leaving it vulnerable to damaged hair cuticles when put under pressure. If you're blow drying constantly under super-high heat, the cuticles will begin to rise, gradually worsening the appearance of the hair's structure.
Mohta explained, "If you have medium porosity hair, avoid products with sulfates, which can strip your hair of its natural oils." Follow these key pieces of advice to keep your hair in tip-top condition.
Use a Good Hair Conditioner
Medium porosity hair is generally balanced and healthy, but it can still benefit from a good hair conditioner. GRO Revitalizing Conditioner is a lightweight but effective formula that won't weigh strands down, and its unique blend of vegan ingredients will keep locks looking luscious, soft and silky. In addition, the thirst-quenching formula made with vegan keratin helps restore damaged follicles and ravaged cuticles. Plus, it's made without silicon or sulfates, which can damage hair long-term.
Related: 9 Ingredients in Shampoo To Avoid (And What to Look for Instead)
Detangle With Care
If your medium porosity hair is prone to tangling after washing, use an all-natural detangling spray or spritz your hair with a leave-in conditioner before combing. Always use a wide-tooth comb when detangling and start at the bottom of your strands before moving up toward the roots.
It can also help to gently brush your hair before washing to remove any tangles and sleep on a silk pillowcase to avoid friction on your hair as you sleep.
Learn: How to Detangle Hair With Minimal Damage
Avoid Heat and Chemicals
If you're lucky enough to have medium porosity hair, you won't want to risk its integrity by applying excessive heat or chemical treatments. Instead, only use styling tools when necessary and air dry to maintain the resilience of your strands. Finish off your look with lightweight styling products to avoid accessive buildup at the scalp.
Also: 5 Tips for Healthy Hair Growth
Take a Holistic Approach When Caring for Medium Porosity Hair
If you have medium porosity hair, you'll likely enjoy manageable strands that you can easily style and color. A good hair wellness routine combined with a holistic approach to overall health will help keep your hair balanced. Combine good sleep hygiene and a nutritious diet with products made to keep hair happy from the inside out. Healthy habits will help keep your hair and scalp in the best condition, so your strands can grow strong and long!
More From VEGAMOUR
Photo credit: Artem Podrez/Pexels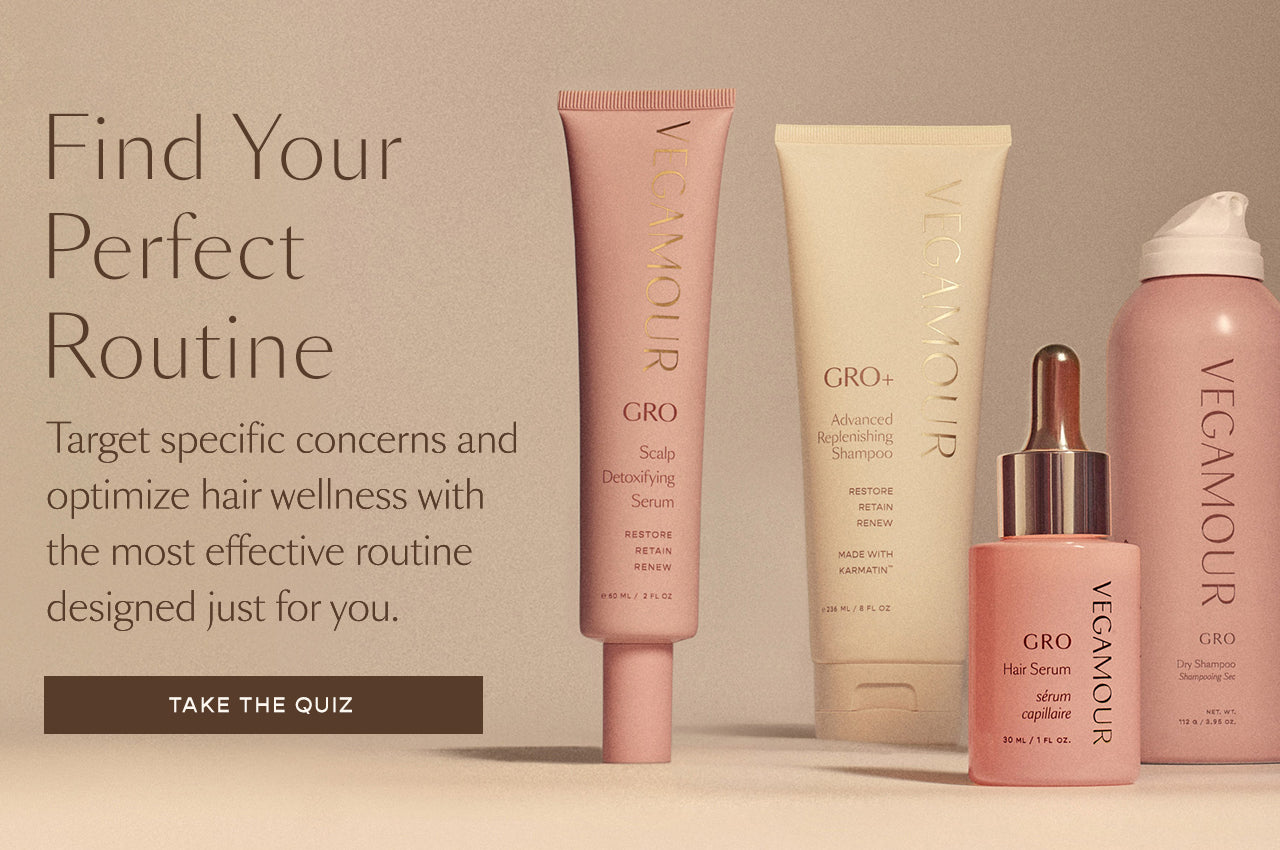 Disclaimer: Information in this article is intended for general informational and entertainment purposes only. It is not intended to constitute medical advice, diagnosis, or treatment. Always seek professional medical advice from your physician.