Love Your Eye Color? Stay Away From This Popular Lash Serum Ingredient!
If you've been searching for the best lash serums, you've likely come across one of the most popular lash serum ingredients, prostaglandin analogues. Even if you don't know them by name, these hypotensive lipids have been added to lash serums for their ability to help lashes grow longer.
Prostaglandin analogues are derived from fatty acids, and they were originally used to relieve intraocular pressure in the eye of glaucoma patients. An unintended side effect is their ability to disrupt the lash growth cycle, resulting in longer lashes. 
Sounds great, right? While these lipids can both induce longer eyelash growth and help glaucoma patients, there could be other unintended side effects. Let's learn more about this potentially harmful ingredient and discover safe lash serums you can use instead.
Prostaglandin Analogues in Eyelash Serums
"Prostaglandin analogues are one of the most commonly used glaucoma medications, and I use them regularly in the treatment of my patients," shared Dr. Amanda Salter, a comprehensive ophthalmologist with Shanbom Eye Specialist. 
In fact, prostaglandins are chemical compounds naturally produced by our bodies and they are used in a variety of prescriptions to treat other medical conditions. Because they behave like hormones, prostaglandins can produce a wide-range of effects and research continues to understand the complex functions these compounds play in important bodily functions like pain, inflammation, uterine cramping, and general healing.
And while prostaglandin analogues are useful in relieving the intraocular pressure associated with glaucoma, once patients began using the drops one unintended benefit of applying them topically soon became visibly clear.  
"One of the main side effects of using prostaglandins is longer, darker, and thicker upper eyelashes. This led to the development of Latisse," Dr. Salter added. Latisse is a prescription lash serum that is primarily prescribed to folks who do not have adequate or enough lashes.
"The prostaglandin analogues used in lash serums work to lengthen lashes by prolonging the anagen phase (active growth phase) of the hair follicles. They also stimulate the production of melanin, which produces darker eyelashes. Lastly, they increase the size of the dermal papilla and hair bulb, increasing lash thickness," explained Dr. Rose Makerewich of the Toronto Cosmetic Surgery Institute.
The Side Effects of Prostaglandin Analogues
Longer lashes are great, but when artificially deposited in the eye prostaglandins can also have some unpleasant common side effects.
What could this mean for you?
Eye Pain & Irritation
This is one of the most common side effects, and it can take the form of a common allergic reaction: irritation, redness, inflammation and itchiness. It might also cause ocular dryness and swelling of the eyelids (also known as eyelid edema). In fact, according to the publicly available Latisse side effects, one in 25 people who try prostaglandin-infused lash serums experience this. 
You want the focus to be on your beautiful eyelash growth. But when your eyes are red, itchy, dry or watery, we're betting that won't be the case. Plus, the more you rub your lashes, the more they fall out, likely counteracting the serum's effects and promoting further eye swelling.
Shop: All-Natural Lash Serums With No Side Effects
Hyperpigmentation
Aside from itchy, swollen eyes, prostaglandin analogs might also darken your upper eyelid and the skin surrounding the eye. This hyperpigmentation probably wouldn't look all that great on its own, and certainly wouldn't alongside eye redness. 
The good news is that both the irritation and eyelid skin darkening hyperpigmentation typically resolves after you stop using the serum.
Darkening Of The Iris
If you really love your eye color, you should know that using a  lash serum  containing prostaglandin might change it.
"One of the most frequently asked and googled questions about prostaglandin lash serums  is whether or not they change the colour of your eyes. One of the side effects that doctors noticed was that the [bimatoprost ophthalmic solution] medication was darkening the colour of the patient's iris. This side effect is still a possibility in those who use lash serums that contain prostaglandin analogues, though it is rare," explained Dr. Makerewich.
While hyperpigmentation of the skin is reversible, any changes to the color of your iris are typically not.
Shop: Eye Mask
Unwanted Hair Growth 
We're not saying this stuff doesn't work to grow hair. But it may not grow hair exactly where you want it. While longer, fuller lashes may be the goal, those unwanted hair on your lids, or other places, may not be worth the risk.
One case study found that a patient using a prostaglandin medication for glaucoma ended up with noticeable hair growth on her chin and upper lip.
While the concentrations of prostaglandin used in cosmetic formulations is lower than in glaucoma medications, you might just notice new hair growth in places beyond your lash line.
Who Should Avoid Prostaglandin Lash Serums?
Prescription prostaglandin lash serums are approved by the Food and Drug Administration (FDA) and are generally considered to be safe. But because these compounds can impact eye health in a variety of ways, there are some things to consider before using one.
"I would caution anyone using a lash serum with a prostaglandin to be regularly monitored by an ophthalmologist. I would also tell anyone with glaucoma to ask their eye doctor before starting a lash serum because it will affect their eye pressure and treatment regimen. Prostaglandin analogs should also be avoided in patients with macular edema, conjunctivitis and uveitis," explained Dr. Salter.
A Lash Serum Without Prostaglandin 
The popularity of lash serums has got your attention, and it certainly got ours. We knew women wanted longer, fuller lashes, and wanted to achieve that without the use of prostaglandin analogues.
"The healthier alternative is a lash serum formulated with safer ingredients, and vetted as a clean beauty product," advised Dr. Ailynne Marie Vergara-Wijangco, a clinical dermatologist and researcher with Thank Your Skin.
So we rolled up our sleeves and got to work developing a different eyelash serum. The result? GRO Lash Serum, an all-natural and vegan formulation not only matched the results of other lash serums, but also outperformed them in clinical trial results! 
Just check out this amazing before and after from a customer who used GRO Lash Serum (not to mention GRO Brow Serum) with incredible results after six weeks.
GRO Lash Serum is packed with natural actives, like mung bean and red clover, to stimulate growth while strengthening follicles for less fallout. Use twice daily for the first month to see thicker and fuller lashes within 30 days. For an added boost, try GRO+ Advanced Lash Serum with broad-spectrum CBD.
Find Out: The Difference Between VEGAMOUR's GRO vs. GRO+ 
The Takeaway
Prostaglandin analogues are generally safe and effective lash serum ingredients that do help treat people with chronically little or inadequate lashes. That said, they also come with unintended side effects like eye irritation, skin discoloration and possibly even an eye color change. 
Luckily, there are all-natural and vegan lash serum formulations out there to help you get thicker and fuller looking lashes without the side effects.
Additional members of Team VEGAMOUR contributed to the reporting for this article.
More From VEGAMOUR
Photo credit: Erik Mclean/Unsplash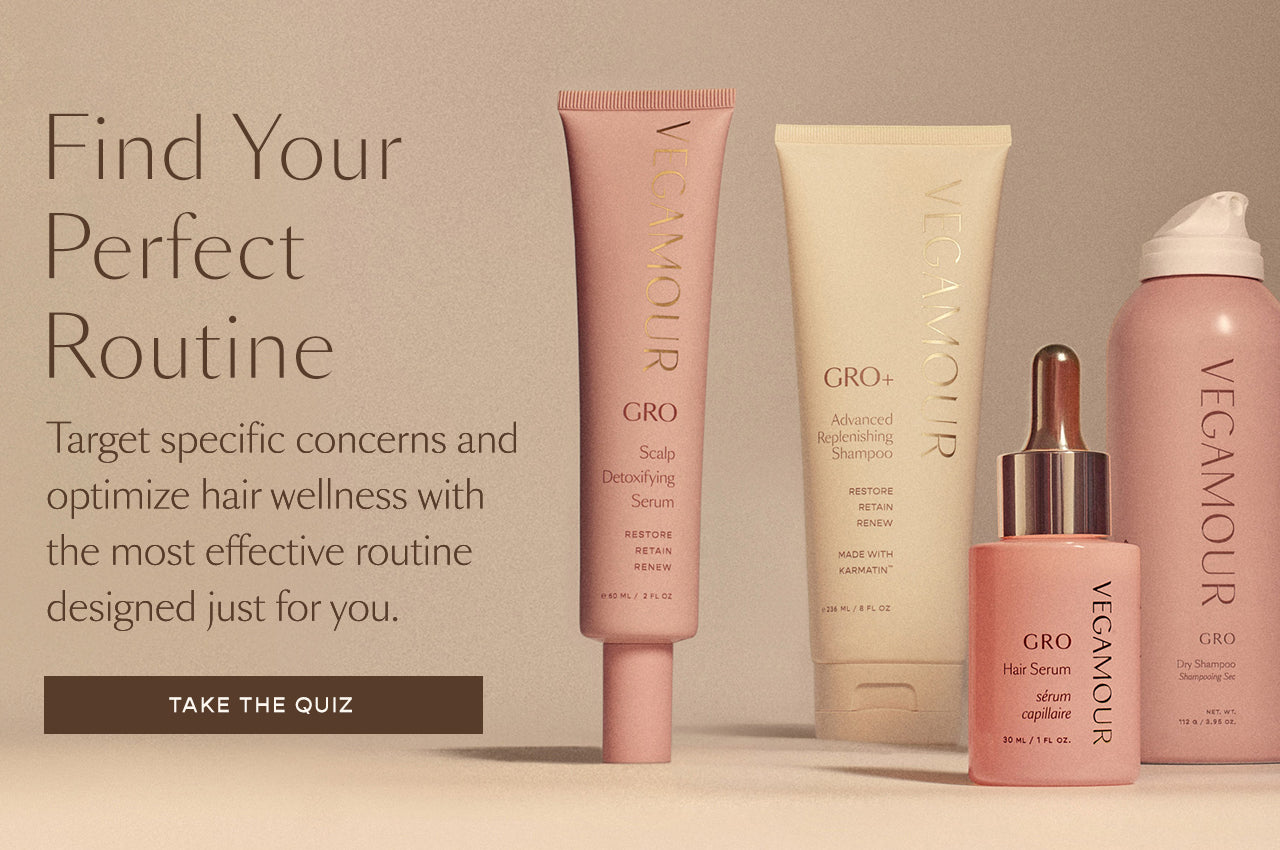 Disclaimer: Information in this article is intended for general informational and entertainment purposes only. It is not intended to constitute medical advice, diagnosis, or treatment. Always seek professional medical advice from your physician.