9 Mistakes to Avoid If You Have Thick Hair
If you have thick hair, you already know it can be a challenge to care for it. Thick hair can snap flimsy drugstore hairbrushes in two like the Hulk. Plus, your locks can turn gummy when you use products designed to add volume to thinner hair.
But that's not all you have to worry about when you have thick hair. To help, here's a handy list of the top nine most common mistakes thick-haired people make when caring for their strands. Plus, what products you need to help your thick hair thrive.
1. Neglecting Your Scalp Health
Supporting all that gorgeous hair can be tough on the scalp! People with thick hair tend to be prone to dandruff and other scalp ailments, as sebum builds up at the base of all those strands. 
Adding a scalp detoxifying serum to your wash-day routine is the best way to unclog those blocked pores. A serum exfoliates follicles and removes product and oil buildup, supporting the growth of healthier, shinier hair.
2. Using the Wrong Hairbrush
The wrong hairbrush can spell disaster to thick hair. Some flimsier models can't handle the pressure, and others may pull and snag on tangled strands, causing breakage and damage.
Try a classic paddle brush. Its sparser bristle style means it can more easily penetrate dense hair without causing damage. Also, use the proper brushing technique to avoid breakage: start at the ends of your hair and work your way up.
3. Using the Wrong Shampoo and Conditioner 
If you have thick hair, you're familiar with the unpleasant side effects of using the wrong wash- day products. Unfortunately, many common shampoos and conditioners are packed with not-so-great ingredients that can cause unpleasant gummy buildup that can wreak havoc on the look and feel of strands.
Instead, use a shampoo and conditioner that will hydrate thick hair. Your go-to products should be moisturizing, replenishing and free of ingredients like harsh chemicals that can accumulate on strands. Try a deeply hydrating and nourishing shampoo and conditioner are enriched with the perfect blend of botanicals and a vegan Keratin blend. Plus, each formula provides intense moisture and light volume, which is the perfect balance for thick locks.
Read: How to Add Volume to Fine Hair
4. Washing Too Often
We all love a long, hot shower at the end of a stressful day, but if you're washing your hair every time you hop under the nozzle, you may be damaging your strands.
Thick hair can be prone to depletion of its natural oils, so many experts recommend washing only once a week. If you feel greasy between wash days, simply spritz on a little dry shampoo to maintain a fresh feeling.
Also: Why Does My Hair Get Greasy So Fast?
5. Not Using Enough Product
While the instructions on your conditioner may say to apply a dime-sized squirt, too little product can keep your thick hair from getting the full benefit. 
To compensate, thick-haired people often employ a "squish to condish" method, applying conditioner a handful at a time until hair makes a squishing sound. If that's too much for you, try simply increasing your product allowance by a squirt or two each week and monitor your hair's response. If your strands feel greasy and heavy, you're using too much. 
6. Skipping Trims
When you have thick-enough hair, there's a serious temptation to go full Rapunzel. However, it turns out that might not be the best move for your strands. Skipping trims can cause thick hair to take on a bulky feel and look. 
If you want to go long, talk to your stylist about adding layers to create dimension. Tell your hairdresser you're looking for shape but don't want to take too much volume from those glorious locks.
Related: How to Care for Thick Hair
7. Using Too Much Heat
Drying thick hair can feel like it takes forever, and you may decide to speed up the process by blasting your locks with super-high heat. But as it turns out, using heat regularly can do a lot of damage to thick hair. Instead, try "plopping," which is twisting hair up in a hair wrap to absorb as much of the excess moisture as you can before you dry. Then, blow-dry hair with a diffuser to minimize heat damage. Better yet, consider air-drying your hair to avoid the heat altogether.
8. Not Deep Conditioning Regularly 
If you're using a lot of conditioner when you shower, you might think deep conditioning isn't a necessity. But for people with thick hair prone to dryness, it's an essential step for keeping strands happy and hydrated.
For best results, use an overnight hair mask once a week to lock in moisture and help keep your thick hair looking healthy and sleek. A deep conditioning hair mask is a great add-on to your hair routine. The nourishing mask contains VEGAMOUR's proprietary vegan Karmatin™ and works to restore damaged hair, making it smooth and shiny. 
More From VEGAMOUR
Photo credit: Dmitriy Ganin/Pexels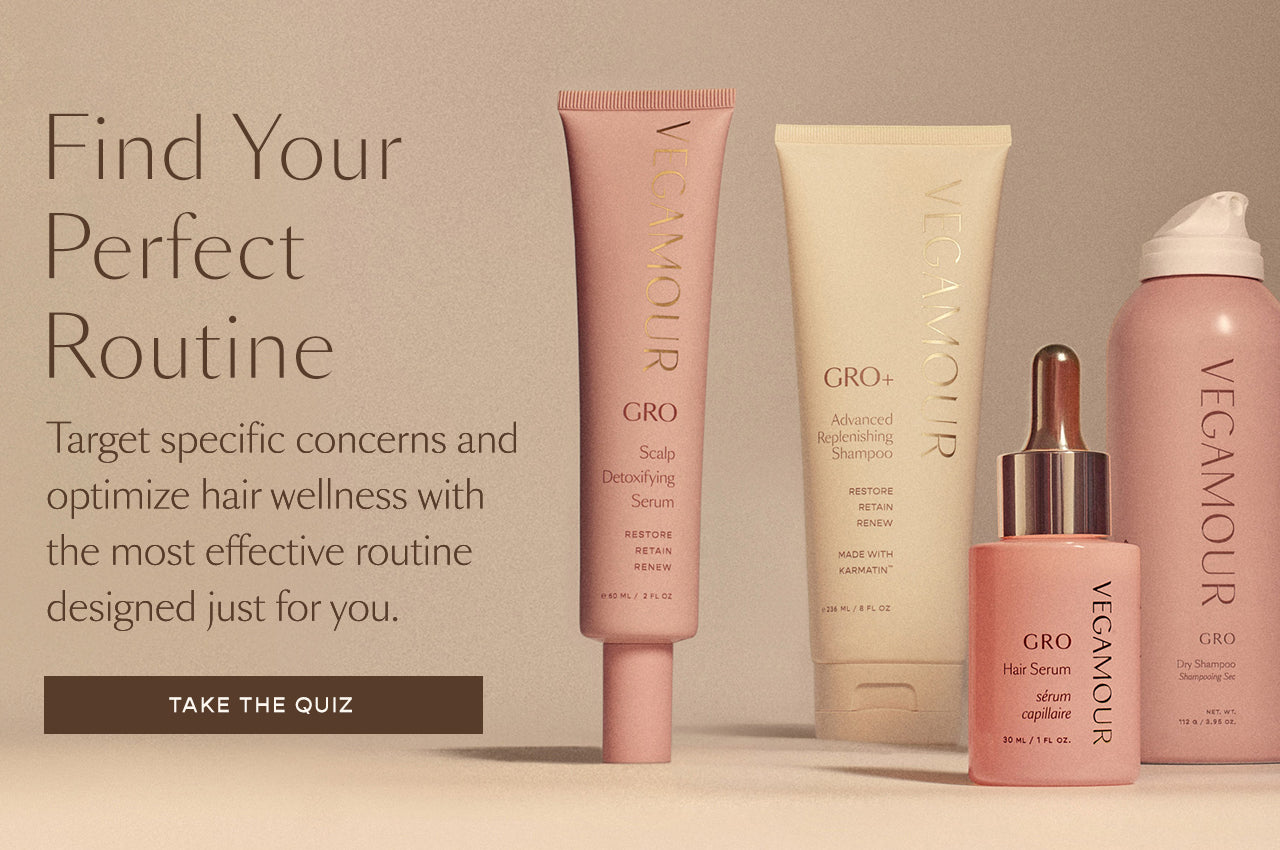 Disclaimer: Information in this article is intended for general informational and entertainment purposes only. It is not intended to constitute medical advice, diagnosis, or treatment. Always seek professional medical advice from your physician.