Try This Dry Shampoo to Refresh Hair & Add Volume
Using dry shampoo is arguably the best way to freshen up your hair between wash days. But have you met the botanical-based dry shampoo that helps promote fuller, thicker looking hair while absorbing excess grease?
Why Use Dry Shampoo
It's important to keep dry shampoo on hand, especially if you have flat, thin hair. Unfortunately, thin hair lacks volume, and it tends to look even flatter when it's weighed down by excess oils. But the right kind of volumizing dry shampoo, such as GRO Dry Shampoo, can absorb excess oils and pump up your hair, which will allow you to temporarily press pause on hair washing but still leave your hair looking fresh and clean.
Why Not All Dry Shampoos Are Created Equal
While dry shampoo does offer a powerhouse of benefits, choosing the right kind, especially if you have thinning hair, is not always easy. Unfortunately, while most drugstore dry shampoos might be cheap and feel like they're getting the job done, a majority of these formulas contain harmful ingredients that cause more irritation to your follicles than they do good. Here are more concerns you should know about popular drugstore dry shampoos.
Shop: Kathleen Post's Top VEGAMOUR Picks
Some Contain Talc and Other Harmful Ingredients
Many popular dry shampoos contain a hidden concentration of toxins that cause future scalp problems. One of the most common ingredients found in popular dry shampoo formulas is talc. Talc might be effective at absorbing excess grease, but it has been linked to major respiratory problems and even cancer.
And talc isn't the only concern. The truth is that many popular dry shampoos are formulated with a host of other harmful ingredients that are bad for both you and our planet, including LPG's (aka liquid petroleum gas) like butane, propane and isobutane.
Fortunately, VEGAMOUR's dry shampoo has a safe, nontoxic blend that's got you covered. Staying true to our 360º approach to hair wellness, we developed a plant-based dry shampoo that's fortified with the same proprietary blend of phyto-active ingredients (mung bean and red clover) as our other GRO hair products to support thicker, fuller looking hair on your hair wellness journey.
Some Leave Behind White Residues
Many dry shampoos leave a stubborn white residue on your hair that lasts even after you brush it. And who wants embarrassing white streaks in their hair?
No such worries with Vegamour's GRO Dry Shampoo. The formula is transparent, meaning each application works to help fine hair types achieve volumizing texture and absorb excess oil without any unwanted residues. Plus, it always sprays on evenly thanks to our bottle's eco-friendly propellant that creates a more effective distribution. Oh, and did we mention it smells amazing?
See: 10 Unexpected Ways to Use Dry Shampoo
Vegamour's GRO Dry Shampoo Stands Out for a Reason
GRO is far from your average dry shampoo. If you're not convinced yet, here's what makes GRO Dry Shampoo a must-have for your hair wellness collection.
Fortified with advanced phyto-actives to support thicker, fuller looking hair: The scalp-balancing, volumizing formula harnesses the botanical power of mung bean and red clover — the phyto-actives used in other GRO products — to encourage thicker looking hair.
Toxin-free: The formula is free of synthetic fragrances and is, of course, cruelty-free, so you can clean up greasy roots and revive limp strands with a clear conscience.
Leaves no residues: It creates an even and invisible finish that works magic on every hair type and hair color without leaving you worrying about product buildup or embarrassing white traces, even on dark hair.
Adds major volume: Not only does this dry shampoo banish oily hair (and oily roots), each spray instantly enhances volume and texture. Thanks to the formula's key phyto-actives like rice starch, this plant-based formula can be used to fluff up roots and improve texture, creating an instantly volumized look when styling your hair. Say goodbye to limp hair woes!
Smells amazing: If you've ever used dry shampoo from the drugstore, you know that the synthetic, heavy smell can be a real turn-off. Not so with GRO Dry Shampoo. It features the citrusy-fresh scent of bergamot found in our serums.
Why Customers Love GRO Dry Shampoo
Now that we've gotten you up-to-speed on the benefits of GRO Dry Shampoo, see what some of our customers have to say about the product:
"I have tried so many dry shampoos (and have even made my own) and this is, by far, the most effective. It is also the only one that doesn't leave my hair and scalp feeling dirty and itchy. Smells wonderful! Love the added volume to my hair! A little goes a long way ..." -Darian Z.
"Love this dry shampoo! Smells amazing and works really well for fine hair." - Linnea H.
"Smells nice, excellent product. I have straight, thin hair, and this removes greasiness and adds volume." - Megan A.
"Love that this product has all-natural ingredients! It leaves my hair feeling full and takes away the limp second and third day. It smells nice, and I love that I'm still encouraging hair growth on the days I'm not washing my hair." -Leah B
GRO Dry Shampoo: The Perfect Pick for Flat Hair
At the end of the day, the type of dry shampoo you choose is important, especially if you're struggling with flat, thin looking hair. And the best dry shampoo for thin looking hair is one that absorbs excess oil, sweat and odors while also supporting thicker, fuller looking strands — all without the addition of harmful toxins, white residue or an unpleasant smell. The good news? VEGAMOUR's GRO Dry Shampoo is a multitasker that meets all of these expectations, which makes it the perfect choice to add to your hair care routine.
More From VEGAMOUR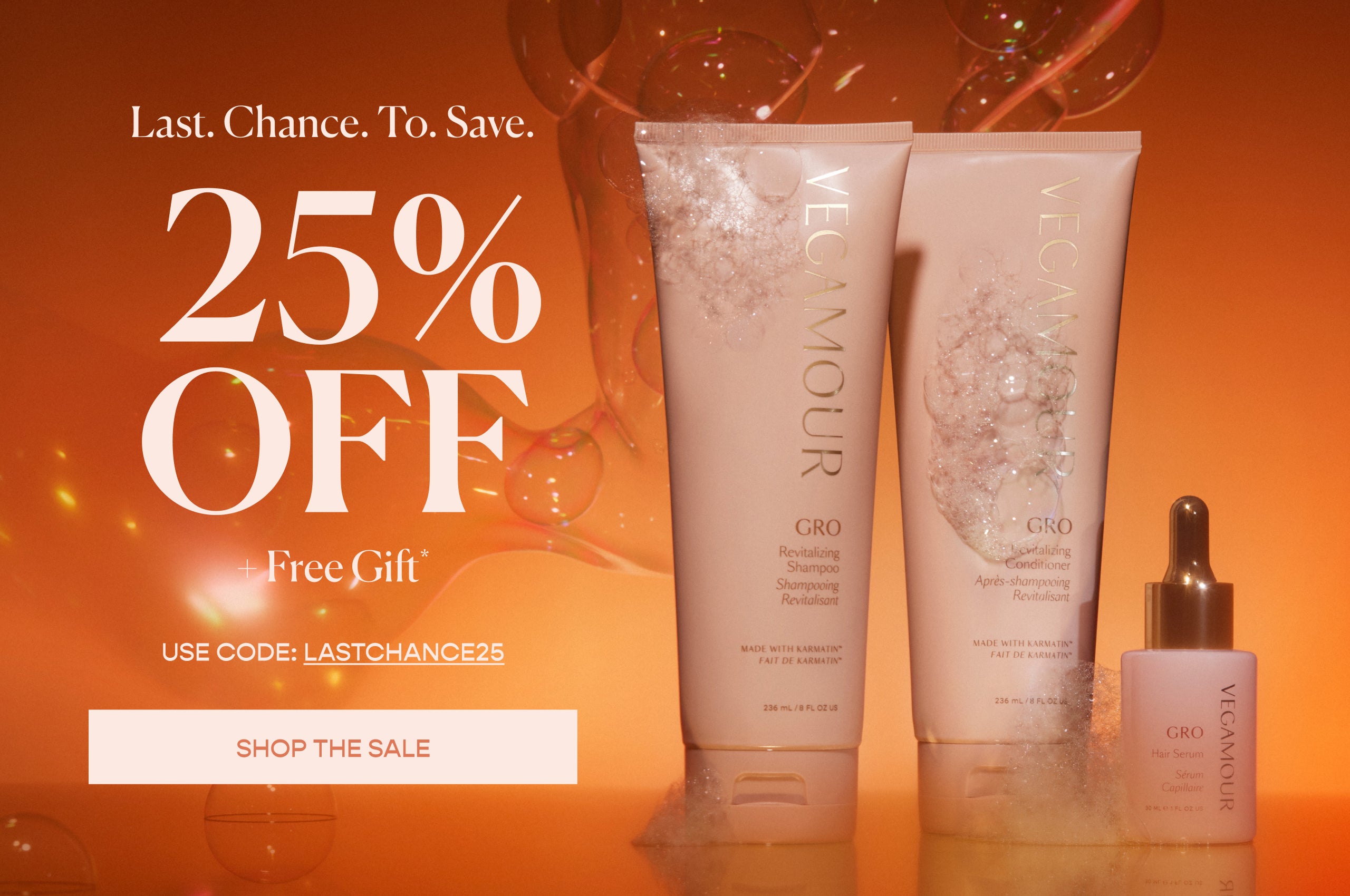 Disclaimer: Information in this article is intended for general informational and entertainment purposes only. It is not intended to constitute medical advice, diagnosis, or treatment. Always seek professional medical advice from your physician.