A Beauty Editor's Travel Hair Wellness Routine With VEGAMOUR
Travel is an exhilarating experience. Along with new adventures, however, a change of scenery can be challenging for your skin and hair care routine. Fortunately, you don't have to stop jet-setting, as long as you know how to prep and what to pack!
Press trips, vacations, weekends away, you name it. As a beauty editor and travel lover, I consider myself a seasoned pro when it comes to curating the perfect skin and hair plan for any destination. Read on for the routine that will help you arrive at your destination looking and feeling your best, so you can relax and enjoy your travels. Plus, discover which natural, non-toxic hair wellness products to use before, during and beyond your next trip!
Travel Tip #1: Know Before You Go 
Anticipation is part of the excitement of travel (planning a trip actually triggers happy hormones in the brain) and prepping a smart beauty routine is no exception! First, I think about my destination and what my skin and hair will need to "weather" the elements. For example, a beach trip will likely mean extra shampoo, while a cold-weather climate might require extra conditioner. 
Travel Tip #2: Pre-Plan a Skin & Hair Care Strategy
I always bring travel-sized GRO+ Advanced Shampoo and Conditioner because no matter the destination or how fancy the hotel is, there's no way those freebie amenities would work on my hair! The pint-sized pair are like a vegan alternative to a keratin treatment, making them perfect for packing for any destination! Featuring Karmatin™️ micro-encapsulated vegan b-SILK™️ protein, which bonds and remains attached to hair, even after rinsing, plus broad spectrum, micro-encapsulated CBD, the smooth-as-satin results last until the next time I wash my hair. I also bring a satin pillowcase and bamboo scrunchies to keep my hair in check, eliminating tangles, abrasion, frizz and flyaways. 
Read More: Is Sleeping With Wet Hair Bad for You? A Hairstylist Explains
Travel Tip #3: Hydrate, Hydrate, Hydrate
Whether it's a plane, train or car, it's no secret that there's less-than-ideal circulation on any mode of transportation. Lack of circulation can wreak havoc on hydration levels, which extends to the hair, skin and scalp. Aside from downing extra H2O, I follow this expert advice. 
"A little known fact: Airplane cabins actually have zero humidity," said dermatologist, clinician and cancer researcher Dr. Dennis Gross. "If you already have dry skin, this can make your skin even drier, while if you have oily skin, you're likely to get even oilier as the skin produces more oil in an attempt to re-hydrate itself. The dry, re-circulated air also draws moisture from your scalp as well, which can cause flakes and itchiness. For the scalp (which is just like ordinary skin), I recommend bringing a hydrating shampoo and conditioner, as the airflow on public transportation can be very drying."
Travel Tip #3: Maximize Moisture Before, During & After Travel
Another pro tip: Pamper hair and the scalp with extra TLC before a long-haul flight. 
"To protect the scalp before the flight, apply a conditioner directly to the scalp itself for more hydration there. Many people only apply conditioner to the tips of the hair or on the hair itself, but if you want to moisturize the skin on the scalp, apply the conditioner down your part and massage it in thoroughly," said Dr. Gross. "Once the conditioner has been evenly distributed throughout the scalp, let it sit there for a minute or two. For double protection, you can also apply a nourishing leave-in mask or oil post-shower. This will help your scalp stay comfortable and balanced throughout your travels."
Travel Tip #4: Pack a Multi-Tasking Nourishing Oil
I love bringing pure marula oil with me just about everywhere. It's the perfect multi-tasking (and packing!) trifecta that can be used on hair, skin and nails. This makes it a great space saver, skipping the need for cuticle oils or extra body lotion. Use it to smooth down and tame tresses, moisturize nails or even add a soft, subtle glow to skin. 
Read More: 12 Ways to Use Marula Oil in Your Beauty Routine
Travel Tip #5: Lighten Your Load
Planning on only packing a carry-on? Me too! I never check baggage, which means thinking strategically when it comes to my beauty bag. Another space-saving trick I use is to pack only my GRO Brow Serum, rather than liquid brow gel makeup. 
Travel Tip #6: Alternate Hair Wash Days
Vacations are meant for fun and relaxation, not about stressing or spending ages doing your hair. Rather than waste limited precious moments, I try to go as long as possible between washing. I also avoid the time-consuming act of blow-drying my hair with a hotel blow dryer at all costs. My secret: I get a blowout as close as possible prior to departure. If I'm flying, I loosely braid my hair in two pigtails, then wind them into loose buns and use a satin hair wrap. I also always fly wearing a hooded sweatshirt for added protection. If I'm traveling by train or car, then I tuck both GRO Dry Shampoo and GRO Hair Foam into my styling stash. 
Travel Tip #7: Treat Your Whole Body With TLC
I'm big on supplements and that doesn't stop when hitting the road — or air! I bring GRO Biotin Gummies on every trip. Rather than pack the whole bottle, I stash just enough gummies for the amount of days I'm gone. They're a tasty way to get in a daily dose of vitamins such as 16,666% of the daily value of biotin or 5000 mcg, along with folic acid, vitamins A, B-5, -6 and -12, C and E, zinc and more key minerals. Plus, no water required makes them a travel necessity! 
Travel Tip #8: Stretch, Recharge and Reboot
Movement does a mind and body good. And, it's especially helpful to loosen up and work out any travel-related kinks from sitting for prolonged periods of time. I like to do seated cow and cat stretches for my spine, gentle neck and shoulder rolls as well as get up and walk as much as possible when on a plane or train. I also wear compression socks, elevate and/or use a lymphatic paddle massage on my legs and do gentle yoga before and after departure and arrival. 
Read: Yoga for Digestion: Poses for Gut Health
Make the Easeful Vacation Mindset a Daily Habit
Finally, don't forget to take all those travel endorphins and recharged state of being with you post-travel! Daily wellness habits add up to big results, including integrating natural, non-toxic hair wellness products into your at-home, regular routine. Make the most of your whole body wellness by prepping, pampering and protecting your mind, body and spirit and take that transformative travel mindset to any destination!
MORE From VEGAMOUR
Photo credit: Andrea Piacquadio/Pexels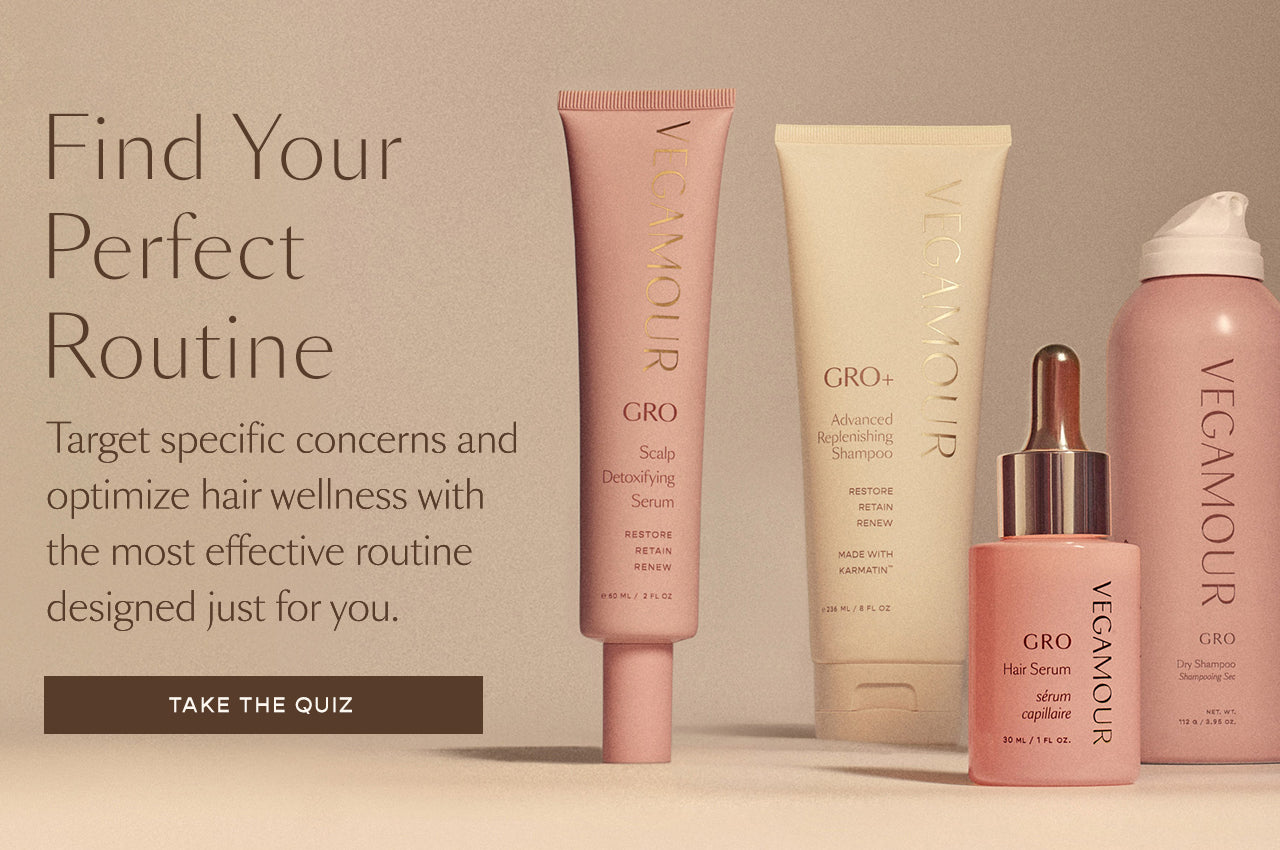 Disclaimer: Information in this article is intended for general informational and entertainment purposes only. It is not intended to constitute medical advice, diagnosis, or treatment. Always seek professional medical advice from your physician.