A Beauty Editor's Morning Routine With VEGAMOUR
Mornings are sacred to me — so much so that I even schedule my A.M. self-care routine as the first priority in my planner! Taking care of my skin and hair is a ritual that helps me start off each and every day on a positive note. It really helps me to prioritize "me time" during those early hours before the to-dos of the day ahead.
I find that if you begin the day looking and feeling your best (and in a clear headspace), you'll experience more of the same positive energy throughout the day. Read on for the morning routine that helps give me a physical and mental boost. Plus, find out what clean, naturally nourishing products you should use for some much-needed morning TLC!
Morning Mantra: Begin With Intention
Each morning offers the opportunity for a fresh start, allowing us to choose our energy for the day. I immediately write in a gratitude/intention journal upon waking (while still in my bed) and then head to the beauty closet to start my skincare routine! 
Shop: VEGAMOUR's Best-Selling Hair Products
Morning Mantra: Oils Are an A.M. Essential
Depending on the day, I use an ice roller in combination with my daily lymphatic drainage massage. However, I always use my morning skin serum with a drop or two of Pure Marula Oil before using a rose quartz gua sha massage tool on my face, forehead, neck and hairline. 
I apply the oil by gently dabbing — rather than patting or rubbing it in — to pamper and protect my skin before massaging my skin in a downward motion to allow excess lymphatic fluid to drain. In the winter, I also use a bit of the oil on my cuticles, which get super dry. It's also helpful for taming static-induced flyaways.
Morning Mantra: Serums Go Beyond Skincare
Besides taking care of my skin with serums, I also use them on my lashes and hair. 
Each morning, I use GRO Lash Serum on both my lower and upper lashes. I've noticed such a dramatic difference in both the length and volume of my lashes ever since I started using the serum. I even go so far as to skip mascara completely on some days, which I had never previously done!
Next, I apply GRO+ Advanced Hair Serum. Tip: I keep it right next to the lash serum on my vanity, so I won't forget to use both in one fell swoop! I part my roots in sections, fill the dropper completely and apply directly to my scalp, massaging in with my fingertips. I love that it dries instantly and isn't greasy, so it doesn't weigh down my hair. Better yet, each time I see my stylist, she remarks how much thicker and quicker my hair has grown ever since I began using it! 
Morning Mantra: Daily Movement Is a Must
I like to do some sort of morning movement, whether it's yoga, cycling on my stationary bike or mat-based strength training. Not only does it ensure I won't miss the opportunity to work out later in the day, those exercise-induced endorphins are a great physical and mental boost. 
And, thanks to GRO Dry Shampoo, I can't use the excuse of messing up my hair (I shower and wash my hair at night, before bed) by working out. One thing I love is that this ultra-lightweight dry shampoo is formulated without benzene or talc. Instead, it's powered by clean, phyto-active ingredients such as USDA organic certified rice hulls, mung bean, red clover and kaolin clay, and it's free of synthetic fragrances. 
This multi-tasking formula is balancing, volumizing, texturizing, refreshing and absorbs excess oils, odors and sweat. It's also perfect for my dark brunette hair as its eco-friendly propellant perfectly and evenly disperses the dry shampoo and doesn't leave behind those annoying telltale white traces other dry shampoos do. 
Morning Mantra: Supercharge Your Day With Supplements
Now that my morning movement is done, it's time to bolster my whole-body wellness with my morning supplement routine — and, let's be honest, I also need my homemade AM adaptogenic cold brew caffeine kick. I keep my supplement drawer right under my caffeine corner in the kitchen, so it's all together, and I stock up on a few months' supply at a time of GRO+ Advanced 3-pack Gummies with VEGAMOUR's Subscribe & Save option. Not only does it save me money, but I never have to worry about running out! 
Each gummy harnesses the therapeutic power of broad-spectrum hemp, along with biotin and folic acid, plus, vitamins A, B-5, -6 and -12, C, E and zinc to support and nourish the scalp and hair from the inside out. Plus, the natural strawberry flavor tastes great!
Maximize and Make Each Morning a Wellness Ritual 
There you have it: Healthy habits for your hair and beyond that encourage mind, body and spirit wellness that begins from within. With VEGAMOUR, I can rest assured my skin and hair are as safe as they are healthy. Try prioritizing a self-care practice by integrating these ideas and non-toxic scalp and hair wellness products into your daily routine. Then, watch your hair, along with your whole body wellness, thrive and flourish to look and feel its very best!
MORE From VEGAMOUR
Photo credit: Karolina Grabowska/Pexels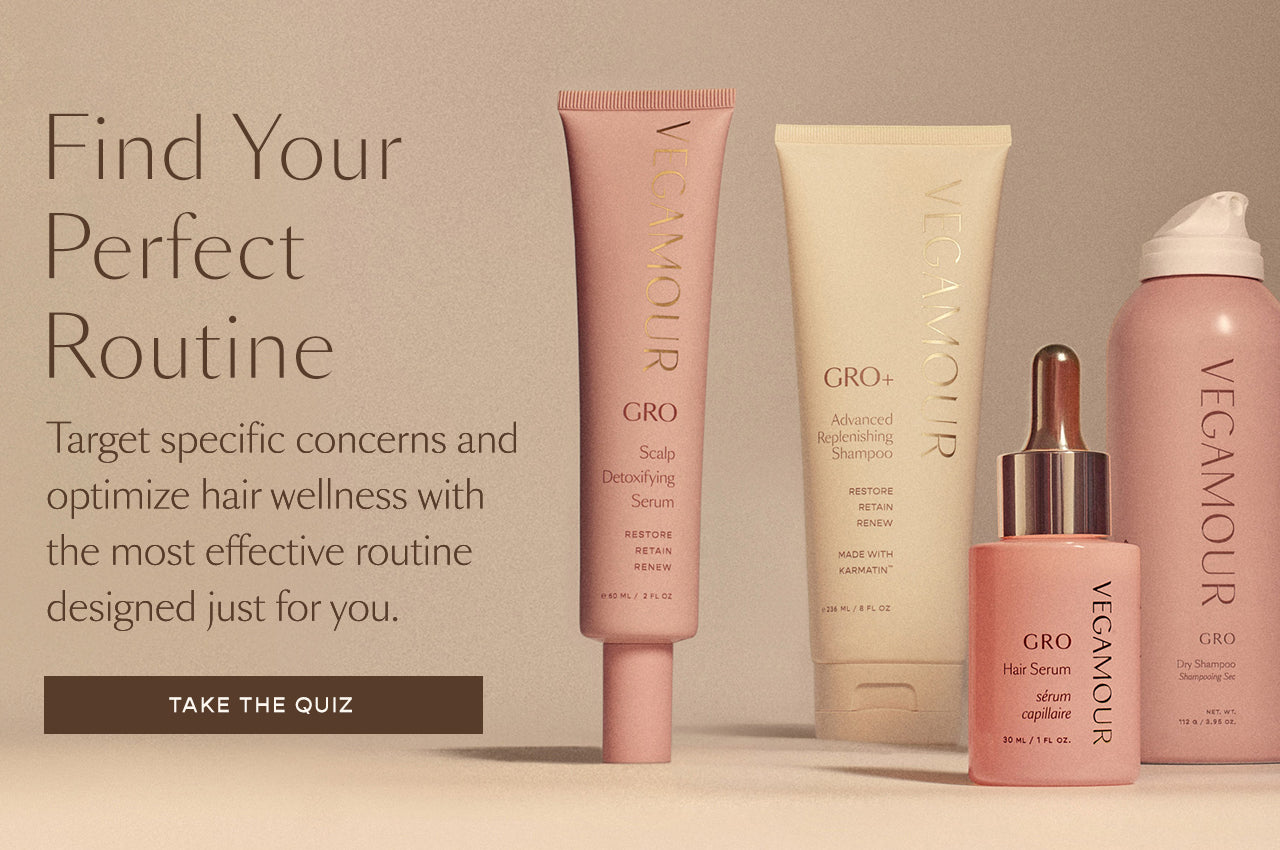 Disclaimer: Information in this article is intended for general informational and entertainment purposes only. It is not intended to constitute medical advice, diagnosis, or treatment. Always seek professional medical advice from your physician.