The 8 Best Benefits of Sesame Oil for Hair
Sesame oil has some considerable benefits for your hair and skin. If you're curious about what sesame oil can do for your hair and how to use it properly at home, you've come to the right place!
VEGAMOUR spoke with a hair expert on the benefits of sesame oil for your hair and scalp. Plus, discover what hair products you should be using at home for smoother and healthier hair.
Using Sesame Oil for Hair — The 8 Best Benefits
Home remedy oils for hair are numerous; coconut oil, almond oil, tea tree, essential oils, neem oil, avocado oil and vegetable oil derived from various fruits and plants. Often, these botanical oils are used as hair masks to relieve scalp dryness, hair dryness and to restore shine and moisture for that radiant, healthy hair look and feel.
1. A Trusted Ayurvedic Treatment
Many naturally sourced plant oils with reputable benefits have roots in Ayurvedic medicine. Sesame oil for hair is one of those botanical wonders in Ayurvedic medicine that people have used at home as a topical hair and scalp treatment for centuries due to its natural medicinal and protective properties.
Grown originally in the Indus valley of India, sesame oil is now mass-produced in several countries, including China. Today, you can find sesame oils online or at your local grocer.
Related Reading: Turmeric for Hair Growth? Here's What Research Shows
2. It's Completely Natural
Also called gingelly or til oil, sesame seed oils are made by crushing and pressing Sesamum indicum seeds to extract the rich oils. The resulting oils are lightly fragrant with a nutty scent. Sesame seeds are hulled, crushed and pressed to extract the oils. (A cold-pressing process makes cold-pressed sesame oil.) Occasionally, some chemical treatments are used to extract the oils but it's better to go with the most naturally grown and naturally pressed oils.
3. Improves Hair & Scalp Health
VEGAMOUR spoke with professional hair stylist Lauren Holland of LatestLocks.com about why sesame oil for hair is so beneficial. Holland praised the scalp-soothing ingredients, as well as the powerful antioxidants in sesame oil — all of which make sesame oil one of her favorite home remedies for your hair.
"Vitamin E, vitamin K, as well as the polyphenol antioxidant lignans sesamolin and sesamin, are abundant in sesame oil." According to Holland, this minimizes oxidative stress and lessens scalp inflammation.
The phenolic compounds likely give sesame seed oil antioxidant and anti-inflammatory properties. There are others in sesame oil that bear mentioning, including:
Tocopherol
Pinoresinol
Sesaminol
Sesamol
4. Moisturizing
"[Sesame oil] absorbs deeply into the skin, moisturizing the scalp and reviving the health of your hair," said Holland. "The uses for sesame oil are numerous. It is a base oil for creating other poly-herbal oils, including formulae for hair treatments. Practitioners of Ayurveda advise that the greatest time to use sesame oil for hair treatment is during the chilly, dry winter months."
When used as a hair mask, sesame oil is moisturizing, which is especially effective on dry hair.
5. Provides Essential Fatty Acids
Sesame oil is packed with essential fatty acids that are incredibly important for your skin, particularly omega-6 and omega-3 fatty acids, which help play an immunological role in the skin. Oils from sesame seeds contain essential fatty acids, oleic acid, palmitic acid, stearic acid and linoleic acid, making sesame oil a power-packed nutritive for your scalp and hair health.
6. Fights Free Radicals
Sesame oil is packed full of nutritious benefits, including antioxidants. The vitamin E content of sesame oil provides soothing properties to calm your scalp, and it's full of free-radical fighting antioxidants. This helps to reduce oxidative stress on your hair and keep your hair more youthful.
Read More: These Are the Benefits of Vitamin E Oil for Hair
7. Helps the Scalp to Stay Healthy
Some research suggests sesame seed oil has antifungal and antibacterial properties, which may help prevent fungal and bacterial infections on the scalp. Hair loss often occurs when the scalp biome is out of balance. Keeping your scalp healthy promotes hair growth and reduces hair loss. For this reason, some consider sesame oil in your hair care routine as an effective hair loss treatment to boost hair growth.
Ayurvedic traditions also used sesame oil as a dandruff treatment and a treatment for head lice when mixed with neem oil and tea tree oil.
8. Protects Your Hair & Pigments
Sesame oil also protects your hair from harmful UV rays exposure, making it a natural sun-blocking agent. Black sesame may also have hair-darkening properties. This may be why people use it in their hair masks to help stave off hair graying.
Related Reading: How to Stop Gray Hair Naturally
How to Use Sesame Oil At Home
Preparation: Place a few teaspoons of sesame oil (preferably the highest-quality and most naturally sourced you can find) into a bowl. It can be room temperature or slightly heated by placing the bowl into a warm water bath to warm it for a few minutes.
Apply the sesame oil to the scalp (where the hair follicles do their magic) and to the hair shafts, root to tips. Concentrate on dry areas.
Gently massage into the scalp to stimulate blood circulation, which promotes hair growth. (Scalp and hair massage ) Hair massage, or rubbing sesame oil into the hair strands, can help work oils into dry areas and can help your hair products and treatments penetrate more deeply into the hair follicle for even more hair benefits. Gently massage, rather than scrubbing and rubbing the hair strands, to avoid unnecessary friction to the hair cuticle layer of the hair shaft.
For deep conditioning, cover the head with a shower cap and let the sesame oil hair mask soak for 30 minutes to one hour.
If you have thick, coarse or curly hair, follow with a moisturizing shampoo. For fine hair, a second cleansing with a mild cleanser may be necessary.
Related Reading: These 10 Herbs Might Help With Hair Loss
Sesame Oil Isn't for Everyone
Sesame oil can be too heavy for some hair types. If you have thin hair, try following your sesame oil treatment with a mild shampoo to remove excess oily residues from the hair.
Sesame seed oils can turn rancid, meaning they can sour in the bottle. So if your sesame oils begin to have a strange smell, toss out that bottle and buy a new one. To help prevent this, keep the sesame oils untainted. Do not put used oils back in the bottle or allow parts of your skin to touch the rim of the bottle, thereby potentially contaminating the oils.
Natural Alternatives to Sesame Oil Treatments
If you want to nourish your follicles, keep the hair free from toxins and protect your natural hair growth cycles but are not ready to DIY your own sesame oil hair mask, VEGAMOUR has the perfect cleansing and conditioning duo for you.
GRO+ Advanced Replenishing Shampoo and Conditioner with vegan protein, b-SILK™ helps to fortify your strands. It's safe, nutritive and free from excess chemicals or additives that can build up on your hair and scalp.

To reduce hair fall and promote hair growth, be sure to boost your diet! Try these hair-boosting foods to keep your hair follicles growing long and strong — and your skin looking supple and healthy, too.
Lastly, if you have scalp conditions that are worrying you or hair fall that seems to amplify overnight, then you may want to talk with your doctor to rule out any medical conditions.
The Takeaway
Sesame oil has been a part of Ayurvedic traditions for centuries, but it's not for everyone. VEGAMOUR's all-natural hair care products feature plant-based actives, including mung bean and red clover, to address a variety of scalp and hair health needs. If you want to treat your hair to clean, vegan formulas, explore VEGAMOUR's full range of carefully formulated hair wellness products.
More From VEGAMOUR
Photo credits: Karolina Grabowski/Pexels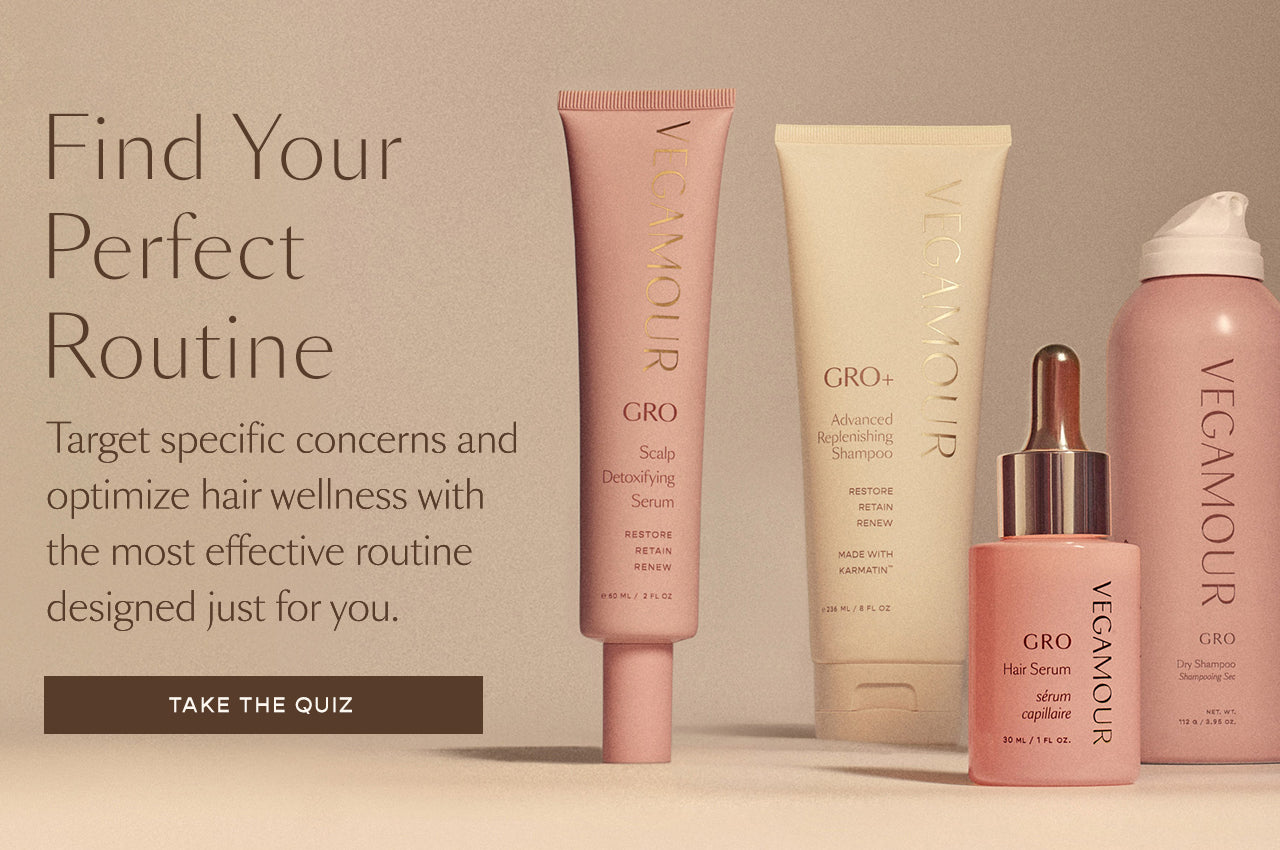 Disclaimer: Information in this article is intended for general informational and entertainment purposes only. It is not intended to constitute medical advice, diagnosis, or treatment. Always seek professional medical advice from your physician.