This Is the Best Hair Mask for Thirsty Hair
Whether you have naturally dry or bleached hair that's becoming hard to manage, parched strands can look limp and lifeless. And if you wait too long to treat damaged hair, you could need a big chop at your next hairdressing appointment. Thankfully, a hair mask full of nourishing ingredients will help keep the scissors at bay.
But what is the best hair mask, and what ingredients should you look out for? VEGAMOUR spoke to an expert to find out more — plus, what hydrating hair mask you should be using to gain 15x hydration and 3x times stronger strands after just one use.
What's the Point of a Hair Mask?
Excessive heat styling, color treatments or erratic weather and pollution can trigger dry hair, making it hard to manage. And it's not just your actions that trigger dry or brittle hair; some hair types (often coily or curly hair) can be naturally parched. Strands can often lack moisture when the outer layer of the hair (the hair cuticle) absorbs moisture from the atmosphere, triggering swollen, frizzy hair. People with straight hair often have more hydrated strands because the natural oils produced by the scalp slide down the hair easily, maintaining shine and gloss. With curly hair, the natural kinks and twists in the strands make it harder for the oils from the scalp to reach the ends, so strands get dryer faster.
Using a deep-conditioning mask regularly can help repair hair and bring struggling strands back to life with a hit of hydration.
What To Look For in a Hair Mask
LA-based hair stylist and editor Alice Rawling explained, "A hair mask should ideally have oils, moisturization and nourishment components. Butters and oils such as coconut oil, avocado and aloe vera, among others, are ideal in a hair mask for it to be complete and effective."
Also, understanding your hair type and texture is important when choosing a hair mask because using one with the wrong ingredients could make your hair too flat or even more frizzy.
See Also: How Often Should You Use a Hair Mask?
For Curly Hair
Because curly, coily and kinky hair can look and feel dry quickly, it's best to look for a treatment mask that contains deeply nourishing ingredients such as mango seed oil, coconut oil, shea butter or avocado to replenish straw-like strands. They can help make curls soft, shiny, bouncy and easier to manage.
For Frizzy Hair
Frizzy hair can be incredibly frustrating, so swapping out your conditioner once a week for a hydrating hair mask designed to smooth strands can make all the difference.
Read: How to Achieve the Sleek Hair Mask Bun Every Busy Hair Lover Is Doing
For Fine Hair
If you have fine hair, you won't want to use a heavy hair mask that will weigh strands down. Instead, opt for formulas that strengthen delicate strands and smooth out any damage to the hair cuticle without making fine hair look lank.
For Heat-Damaged Hair
A hair conditioning mask that contains deep levels of moisture can help heal heat-damaged hair. Olive oil may have a moisturizing effect on your hair, but if you have a naturally oily scalp, apply the olive oil to the ends only.
For Thick Hair
A good hair mask for thicker hair could include marula and moringa oil, which will nourish strands and add brilliance and shine. Argan oil could also be a hair mask remedy for thick hair that's feeling coarse, as it's rich in fatty acids and contains vitamin E, which can help protect delicate strands.
For Color-Treated hair
Argan oil could also help hydrate color-treated hair. Rosehip oil could also be helpful. If you want to make a DIY hair mask to hydrate and moisturize damaged strands, mashed banana is rich in vitamins and minerals that strengthen the hair, synthesize collagen and potentially decrease oxidative stress in aging hair. More research needs to take place to prove these effects, though.
See: How to Make a DIY Banana Hair Mask for Shiny, Healthy Hair
A Hydrating Mask Made for All Hair Types
Whether you have damaged hair that's prone to breakage or brittle strands ravaged by the sun, the HYDR-8 Deep Moisture Repair Mask is a hydrating mask that's ideal for dry, parched hair of any type or texture. The mask can help transform your locks with its all-natural ingredients, including marula oil and moringa seed oil, which help reduce frizz and enhance shine and milk thistle, which imparts moisture and softness to hair strands. The mask also includes Karmatin™ — VEGAMOUR's proprietary vegan silk alternative to keratin —  which bonds to hair to fortify strands and fight frizz. Clinical tests show that after just one use, hair was left 15x more hydrated and 3x stronger*.
Read: What Is Karmatin™? VEGAMOUR's Quest for Vegan Keratin
Ingredients to Avoid in Hair Masks
If you're wondering what ingredients you should avoid in hair masks, Rawling said to avoid ingredients such as sulfates, mineral oil, parabens, silicones and coal tar dyes. The good news is that you won't find any such ingredients in any of VEGAMOUR's product lines, including our new HYDR-8 collection.
How To Apply a Hair Mask
If the hair mask has directions for use, you should follow them. However, if you're making your own hair mask or do not have the directions, here are some general steps to follow when applying a hair mask.
Section your just shampooed hair using a comb or your fingers.
Use your hands to coat the strands.
Focus on the ends where hair is dryer and more damaged, and only gently massage the scalp.
Leave the hair mask on for the time indicated or no more than 15-20 minutes.
Rinse hair thoroughly and style as usual.
Rawlings advised that you use the hair mask in place of a hair conditioner to avoid overloading the hair. Then, apply a hair mask weekly to maximize the benefits.
Make a Hydrating Hair Mask Part of Your Routine
A regular hair mask routine will help keep locks super soft and extra smooth regardless of your hair type. Start by identifying your hair type and avoid ingredients that could cause further damage. 
We recommend our new HYDR-8 collection that features a hydrating and nourishing shampoo, conditioner and a hair mask to help revive damaged hair and leave it with a glass-like shine, ensuring your hair is pampered and protected!
*In a controlled hair swatch study.
More From VEGAMOUR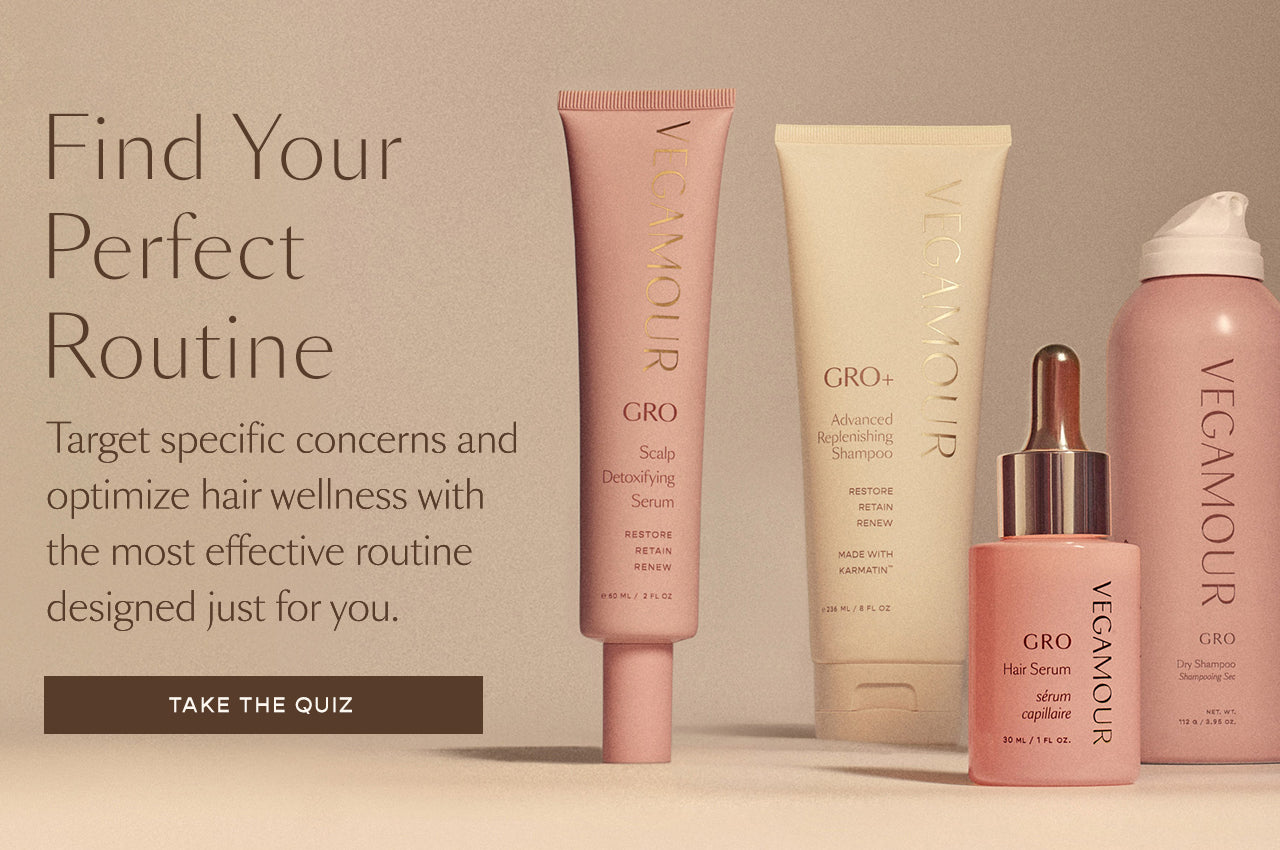 Disclaimer: Information in this article is intended for general informational and entertainment purposes only. It is not intended to constitute medical advice, diagnosis, or treatment. Always seek professional medical advice from your physician.