This Is My Favorite Shampoo Formulated Without Sulfates
There's nothing quite like the feeling of freshly-washed hair — that is, as long as you're lathering up with the right shampoo. Some shampoos contain harsh sulfates, which can leave your hair feeling worse for wear than it did before you even washed it!
Before you lather, rinse and repeat, read on. Fortunately, there are cruelty-free cleansing options that forgo harsh sulfates in favor of natural ingredients. Plus, discover the best non-toxic, shampoos formulated without sulfates you should be using to cleanse with conscious care.
What Are Sulfates?
Sulfates are a type of surfactant, a class of ingredients used as cleansing agents in shampoos to create that sudsy, foamy lather.
Sulfates act as an efficient detergent in regular shampoo. However, what makes them work so well can potentially do more harm than good when it comes to your skin, scalp and hair.
While sulfates are good at washing away debris and eliminating build-up, they might cause irritation, inflammation and dryness in those with sensitive skin by removing too much of your scalp's natural oils. Sulfates can also worsen existing conditions such as eczema and contact dermatitis.
Sodium laureth sulfate (aka ammonium lauryl sulfate) and sodium lauryl sulfate (SLS) are the two most common types of sulfates found in shampoos that strip away the hair's natural oils. This can leave fine hair looking lifeless and limp hair in its wake. Drying sulfates are something you should avoid to prevent damaged hair, especially if you love to experiment with hair color or are a frequent hot tools user that already has brittle hair.
Read: These Ingredients in Shampoo Might Contribute to Hair Loss
Lather Up With the Best Shampoo Formulated Without Sulfates
If that all sounds like something you'd like to avoid, now for the good news! You can wash without having to worry about damaged hair or color loss. Does a hydrating shampoo that's effective, gentle and safe sound too good to be true? That's where shampoos made without sulfates come into play!
A gentle shampoo such as GRO Revitalizing Shampoo is formulated without harsh ingredients like sulfates you don't want on your hair or scalp. Instead, the color-safe, cruelty-free formula is entirely plant-based, utilizing the power of natural ingredients to purify and cleanse, while nourishing and supporting your scalp.
What to Look For When Choosing a Clean Shampoo
Since healthy hair strands require a healthy scalp to grow, it's time to shake up your shower — starting with your shampoo! Here's more about why you should swap out your standard shampoo for a safe, effective and sulfate-free one:
1. Stay Away From Silicones
Hair products, including shampoos, that contain silicone can create build-up and clog hair follicles, which could, in turn, interfere with hair growth or lead to hair loss. Trade the synthetic chemicals found in traditional shampoos in favor of plant-derived, natural ingredients that won't compromise the integrity of your scalp or hair.
2. Cleanse With Silicone-Free Vegan Keratin
Establish a solid foundation for scalp and hair wellness with the cleanser you choose. Opt for a shampoo that is formulated without sulfates that is also silicone-free and cruelty-free. Rather than traditional keratin treatments (which use dangerous chemicals), the cleanser offers a non-toxic, vegan alternative, featuring Karmatin™ micro-encapsulated vegan b-SILK™ protein, which physically bonds to hair follicles and remains attached to strands even after rinsing.
Think of the creamy formula as a chemical-free, vegan keratin alternative that's safe to use each day and for all hair types. Plus, it's powered by phyto-active ingredients such as mung bean and red clover, along with nourishing wild-harvested marula, baobab and ximenia oils to provide moisture without leaving behind any pore-blocking residue.
3. Harness Hemp Oil's Healing, Soothing Properties
Healthy hair begins with a clean, calm scalp. Tap into the therapeutic power of micro-encapsulated hemp using GRO+ Advanced Replenishing Shampoo. Purifying plant actives wash away dead skin cells, sweat, excess oil, sebum and styling product buildup. Plus, the micro-encapsulated hemp within the cleanser penetrates deep below the scalp surface to soothe scalp irritation, stimulate follicles and encourage a healthier scalp and hair. Better yet, it includes all the same great ingredients including vegan b-SILK™ Karmatin™ so your hair will be as soft as satin until the next time you wash it.
4. Be Considerate of Your Color
"Go with color-safe formulas that are sulfate-free when selecting your shampoo and conditioner," said New York City-based hairstylist Jasmine Anna Galazka. "These can help seal and heat-protect the natural hair shaft before styling with hot tools. And, sulfate-free shampoos and conditioners are safe for use on hair extensions and can help prevent color-treated hair from fading too fast."
5. Clarify With Conscious Ingredients
Sulfate-free shampoo is less likely to irritate a sensitive scalp or damage the hair follicles needed for hair growth. Additionally, a sulfate-free, gentle formula is beneficial for most hair types, including oily hair, frizzy hair, as well as chemically treated and processed hair. It can also cleanse fine hair without weighing it down. Lemon tea tree oil, apple cider vinegar and aloe vera juice are good enhancement options for a deeply clarifying yet gentle cleanse.
6. Nourish With Natural Oils
Sunflower seed extract is an ultra-lightweight emollient, which works to prevent water loss, adding softness and shine. These hydrating ingredients penetrate the hair shaft, making them great for nourishing natural curls, dry hair or textured hair, helping it to retain and maintain moisture levels. Jojoba oil, marula oil, coconut oil and argan oil are other naturally nourishing essential oils that can help promote shiny, healthy hair.
7. Treat Your Hair and Scalp With Self-Care
Aside from investing in a gentle, sulfate-free shampoo, bring that same thoughtful care to your scalp. Consider a weekly scalp detoxifying treatment to prime, protect and prep your scalp. Supporting your scalp to help maintain its healthy microbiome is necessary for hair growth and will help you avoid any issues before they begin!
Read: Get to Know VEGAMOUR's Shampoos and Conditioners
Cleanse and Recalibrate With a Holistic Approach
Keep your scalp, hair and whole body wellness in mind by taking a fully integrative approach to your self-care routines. Healthy hair begins from within, making it key to prioritize practicing a holistic lifestyle to promote scalp, hair and overall wellness. Re-assess your daily routine, including mindful practices, movement, maintaining a balanced, nutrient-dense diet, staying hydrated and minimizing stress.
Recalibrate your hair by infusing it with protective, nourishing, natural ingredients that cleanse without comprising scalp or hair integrity. Use shampoos made without sulfates in tandem with your other favorite VEGAMOUR hair wellness essentials are always formulated without sulfates, silicones, parabens, artificial fragrances and gluten. Daily shifts in your day-to-day habits yield big results, making you happier and healthier overall. When you feel good on the inside, it reflects on the outside. Your hair and whole body will thank you!
More From VEGAMOUR: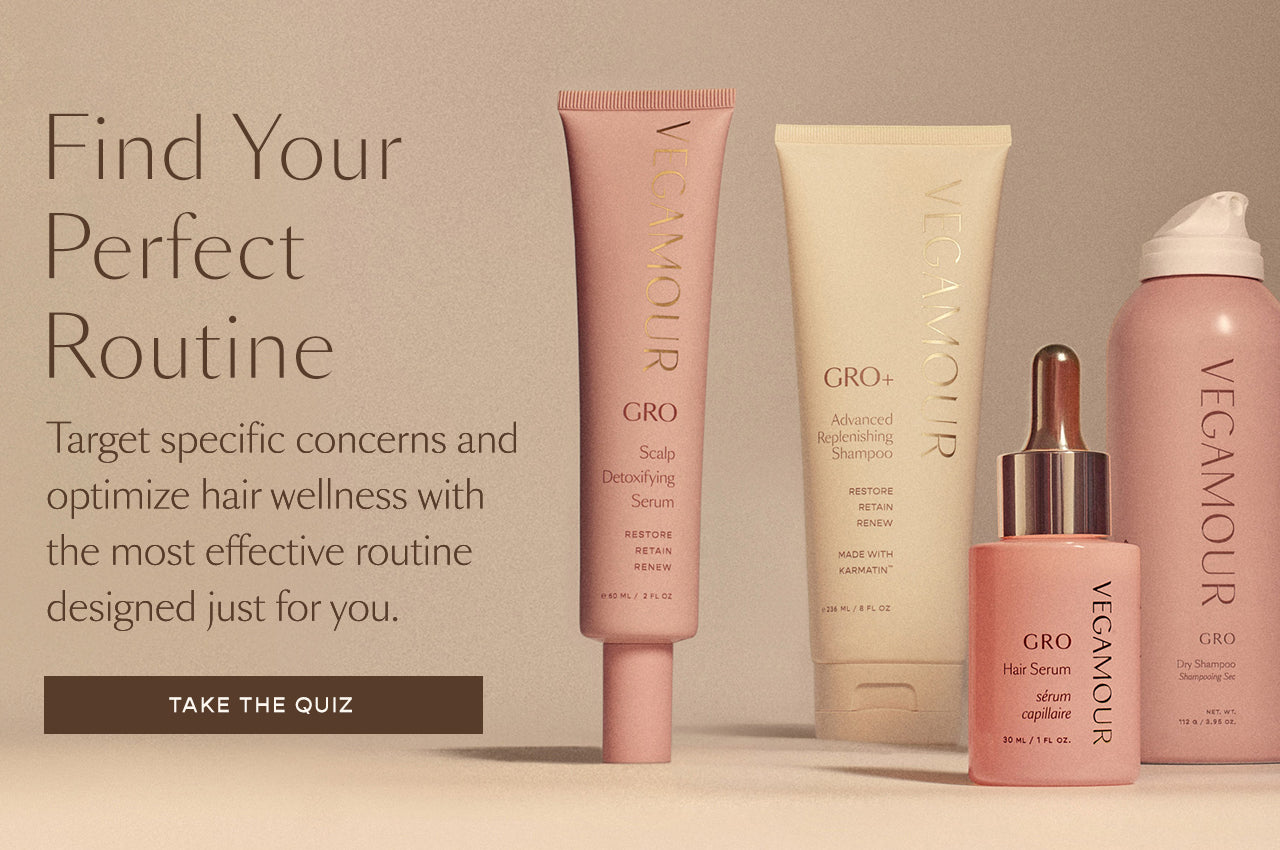 Disclaimer: Information in this article is intended for general informational and entertainment purposes only. It is not intended to constitute medical advice, diagnosis, or treatment. Always seek professional medical advice from your physician.