This is the Best Dry Shampoo for Curly Hair
Dry shampoo is likely already a staple in your styling routine, whether you have straight hair, waves or curls. If you're a curly girl, however, finding the right formula might lead to frustration.
Curly hair presents its own unique challenges, making it all the more important to pick a styling product uniquely suited to address your curls' needs. Read on to discover the best dry shampoo for curly hair, along with discovering which other wavy hair products you should be using on your curls for a beautiful frizz-free finish.
How to Cleanse Curly Hair
Chances are high that you've struggled with how often to wash your hair if you have curly hair. It sounds counterintuitive, but daily washing can increase dryness in the scalp and hair. Plus, some traditional shampoos can contain harsh detergents such as sulfates and other ingredients to avoid, which can further exacerbate dryness and other issues such as thinning, loss or breakage.
Lathering up too frequently can lead to dryness and frizz, while infrequent cleansing can leave curly hair looking worse for wear. What's a curly girl to do? Enter: Dry shampoo, the quick-fix holy grail for when you need to put off wash day, but still crave the clean hair, just-washed look. Celebrity stylist Ashley Streicher states: "The GRO Dry Shampoo is great for anyone looking for clean ingredients and clean-feeling hair, without the hassle of washing."
Read: Can Dry Shampoo Cause Hair Loss?
Why Curls Need a Natural, Clean Dry Shampoo
Now for the good news: Using the right dry shampoo and applying it correctly can prevent you from hiding your gorgeos curls under a hat. Curly hair types can reap the benefits of dry shampoo as long as you know what to look for — and what to skip.
Recently, personal care products such as dry shampoo have been noted to contain harsh additives such as the chemical benzene, which can cause negative health effects. This makes choosing non-toxic, paraben-free hair products — including cruelty-free vegan shampoos — an absolute "mane" must!
Read: How Does Dry Shampoo Work?
Discover the Best Dry Shampoo for Curly Hair
Fortunately, you can forgo the potential harm by opting for a natural alternative like GRO Dry Shampoo. Here's a rundown of the benefits that make it the best bet for curly hair:
Formulated without talc or benzene: Instead, GRO Dry Shampoo is powered by the same proprietary blend of phyto-active ingredients found in GRO Hair Serum, including USDA organic certified rice starch, mung bean, red clover and kaolin clay.
Free of additives such as synthetic fragrances and chemicals: The 100% vegan, cruelty-free, gluten-free, natural formula is just what curly hair needs to absorb excess oil and add volume without creating dryness.
No white residue or telltale white marks on dark hair
Lightweight spray: The targeted nozzle delivers the ideal amount of dry shampoo to safely and effectively absorb oils, neutralize odor and remove dirt.
Eliminates extra oil: GRO Dry Shampoo balances the oil or sebum production on the scalp, enhancing natural volume and maintaining your curl pattern.
GRO Dry Shampoo texturizes and refreshes any hair type and texture — curls included — and is also safe for color-treated and chemically-treated hair. It can even help increase color longevity, preserving the healthy hair molecule by reducing how often you wash and heat-style hair.
Best of all, thanks to clean, natural phyto-actives that encourage thicker, fuller-looking hair, consistent use of the dry shampoo helps promote a long-term, positive impact for healthier, fuller-looking hair. Even if your curls don't need more fullness, they can benefit from a wellness boost!
Elevated Care for Curly Hair
Now that you've found the perfect dry shampoo, it's time to learn how to use it! Create a curl-friendly care plan using these expert-approved tips for using dry shampoo in your routine.
Pick the Right Product
According to New York City hairstylist Jasmine Anna Galazka, if you have thicker or curly hair, it's essential to opt for styling products that help minimize matting and keep tangles at bay. Refresh strands with dry shampoo; then, immediately fluff out curls from roots to ends to nix any knots.
Use Dry Shampoo to Prep for Styling
Dry shampoo can be used for more than simply refreshing hair. Try it as a pre and post-styling hair helper.
"Use a medium hold hair spray or dry shampoo before and after back-combing sections of curls," said celebrity hairstylist Mirna Jose. "This will make sure the curls stay the way you want for a longer period of time."
Apply Dry Shampoo to Curls Correctly
Curls need the right technique when it comes to styling.
Shake the bottle and hold it four to six inches from your hair.
Spray roots and massage into curls.
Style as desired — the fast-absorbing powders quickly eliminate excess oils.
Maximize and Maintain Adequate Moisture
Curly hair craves moisture, making it a good idea to finish with smoothing, naturally nourishing oils. Prevent moisture loss and boost hydration using vitamin E, coconut oil, argan oil or pure marula oil. Use the multi-tasking hydrating oil on your curls to ensure you don't get frizzy or dry at the roots, moisturize cuticles or even add a subtle glow to your skin.
"Use a hair oil to add shine, control and encourage natural texture on wet hair," said Angel Mendez, stylist at Salon YOSHIKO at Bergdorf Goodman. "Oils applied on fully dry hair also create an anti-humectant effect."

Cultivate a Smart Cleansing and Clarifying Schedule
Assess your curls' unique needs to create a cleansing plan that works best. For example, if you're on the drier side, don't wash your curls more than twice a week. If you tend to get oily, opt for a clarifying apple cider vinegar rinse before you shampoo.
"If you have dry hair, I suggest washing less frequently, allowing the natural oils to build up and naturally condition the hair," advised Mendez. "If your hair is more oily, you should wash more frequently and use a clarifying shampoo one to two times a week to remove any product build-up and impurities. Then, use a light leave-in conditioner before styling hair."
Read More: How Often Should You Wash Your Hair?
Nourish Curls Naturally with Holistic Support
Finally, don't forget that healthier hair begins with your scalp health. After all, your hair is an external reflection of what's happening on the inside.
Support your hair, scalp and whole body health with daily habits such as movement, getting key nutrients, staying hydrated, reducing stress and choosing frizz-minimizing hair wellness products free of harsh chemical additives like sulfates and silicones that can damage curly hair.
MORE From VEGAMOUR
Photo credit: Cottonbro Studio/Pexels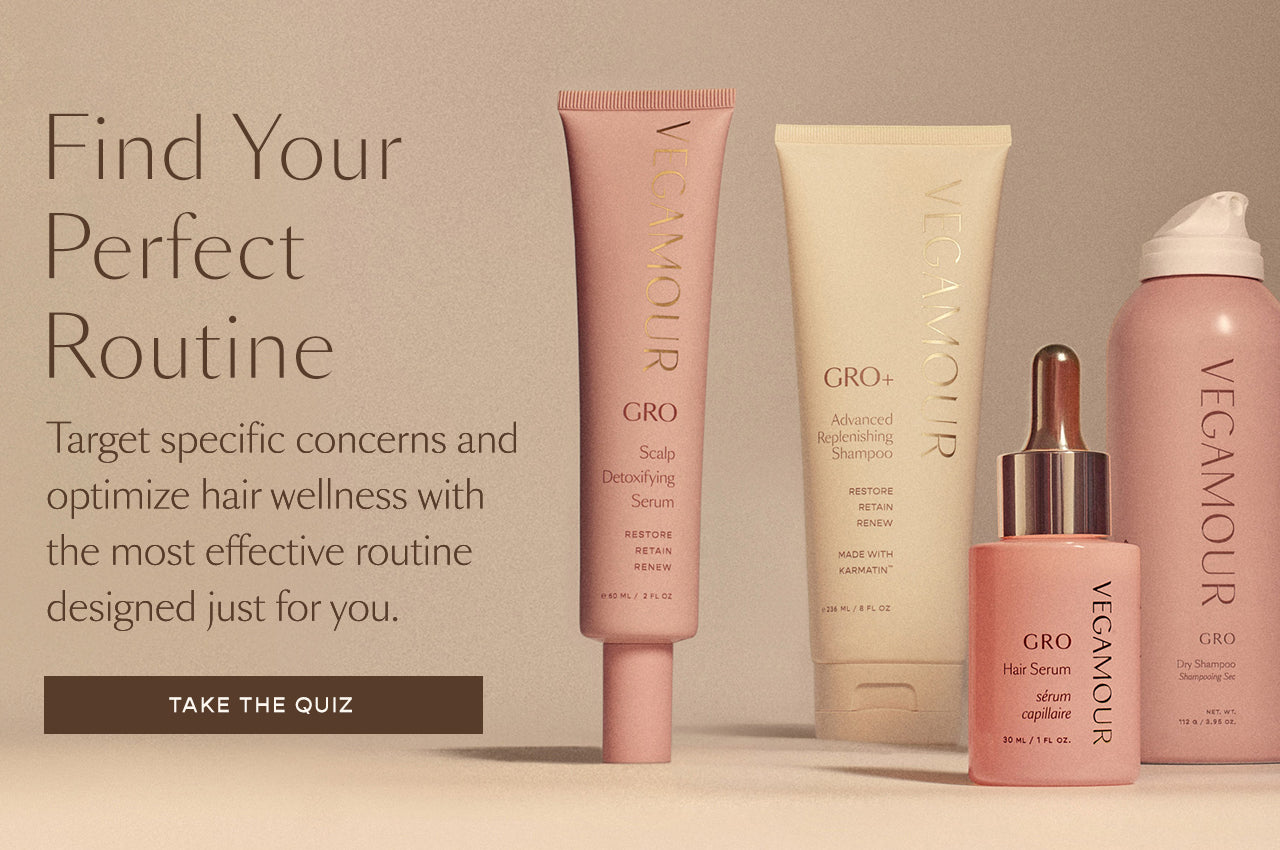 Disclaimer: Information in this article is intended for general informational and entertainment purposes only. It is not intended to constitute medical advice, diagnosis, or treatment. Always seek professional medical advice from your physician.