Get to Know VEGAMOUR's Lash Products
Flutter-worthy, lush lashes are undeniably alluring. And while there are plenty of unnatural options out there — think mascara, extensions, falsies and chemical-laden lash volumizers — nothing compares to getting the look of thicker lashes without annoying applications and all the additives. 
Fortunately, there are natural, clean and completely vegan alternatives to encourage longer-looking, fuller lashes! VEGAMOUR's eyelash enhancers are powered by plants rather than ingredients you can't pronounce. Read on to find out what natural and safe eyelash products you really should be using to get next-level lashes. 
GRO Lash Serum

Skip the chemicals and transform sparse lashes with GRO Lash Serum — a hormone and carcinogen-free formula that supports lashes with plant-based power. Here's what makes our best-selling lash serum a winner:
Red clover is clinically shown in some subjects to inhibit DHT production
Mung bean is clinically shown to help fortify the cellular matrix of the dermal papillae
Oil-free won't damage extensions
Safe for daily use, plus free of hormones and toxins
Effective, visible results in as soon as 30 days. After four months, subjects saw a 94% increase in density and volume and 34% longer-looking eyelashes. 
How to use it: Consistency is key for best results. Apply twice daily for the first two months, followed by once a daily (morning or evening) for best results.
Here's what customer Hiker N. had to say about the serum: 
"I have sparse eyelashes, and this serum helps my lashes grow full and lush. I don't even wear mascara anymore because I don't need to. I had a small bald spot where I had pulled out some lashes, and the serum helped it grow back full in just a few weeks. I love this product so much — I have a monthly subscription." - Hiker N.
Shop: Eyelash Enhancers for Thicker, Fuller Lashes
GRO+ Advanced Lash Serum

Try GRO+ Advanced Lash Serum to take your lashes to the next level! Packed with the same powerful phyto-active ingredients found in GRO Lash Serum, plus an added bonus: micro-encapsulated, full-spectrum CBD. 
Here's the scoop on this advanced formula's lash-boosting benefits:
Micro-encapsulated CBD is a concentrated cannabidiol that quickly penetrates and soothes the skin while working in tandem with other phyto-actives, mung bean and red clover, to create a healthy environment that supports the appearance of visibly fuller, longer-looking, lashes.
Visible results of thicker-looking lashes in as soon as 30 days and peak results after four months. 
How to use it: Use twice daily for the first two months; then, switch to once a day, morning or night. As with our other lash and brow serums, use the serum on clean, dry skin and avoid oil-based makeup remover or products.
Customer Tammy said "it really works," and she was even able to forgo using lash extensions!
"Used to do lash extensions but stopped once I found this serum. My lashes are not only growing, but areas where I had bald patches have been filled too. After three pregnancies and breastfeeding, and serious allergies that lead to constantly rubbing my eyes, my lashes are beautifully long. Lash extensions no more!" - Tammy
Read: The Difference Between VEGAMOUR's GRO vs. GRO+ Advanced Collections
GRO Lash and Brow Kit

Before you flutter that fringe, don't forget about your brows! The GRO Lash and Brow Kit is the perfect pairing of products: the brow-boosting GRO Brow Serum and lash-amplifying GRO Lash Serum.
Here's what makes this dynamic duo so great: 
Powered by plants - Formulated with mung bean and red clover (trifolium pratense)
Supportive and safe - No known carcinogens or hormones included.
Proven results - The powerful pair is clinically shown to deliver visibly fuller, thicker and more lush-looking lashes, along with supporting the appearance of increased eyebrow density and fullness. 
Here's what customer Theresa reported regarding the brow serum:
"GRO Brow Serum has made my eyebrows grow back stronger and longer. My brows are filling back in quickly, and I couldn't be happier. I've received many compliments on my eyebrows since using GRO Brow Serum and will never go back." - Theresa
GRO+ Advanced Lash and Brow Kit
Elevate lashes and brows with the GRO+ Advanced Lash and Brow Kit! Pairing GRO+ Advanced Brow Serum with GRO+ Advanced Lash Serum, this duo dials up the drama on lashes and brows with the enhanced bonus of microencapsulated, full-spectrum hemp oil. 
Treat lashes and brows with extra TLC:
Plant-based power magnified. The addition of full-spectrum hemp oil to the original best-selling serums allows phyto-actives such as mung bean and red clover to penetrate more quickly while soothing the base of brows and lashes.
GRO+ works, according to customer Brenda:
"My lashes are fuller and longer. Now for a quick,simple look, I just curl my lashes with no mascara because they have grown so much. When I add mascara, it's next level." - Brenda
GRO+ Ultimate Lash and Brow Kit
For optimal whole body wellness, opt for the GRO Ultimate Lash & Brow Kit. It includes our best-selling original GRO Brow Serum, GRO Lash Serum and GRO Biotin Gummies, a daily supplement that's as good for your overall wellness as it is for your hair, lashes and brows!
Nourish with key nutrients. Each gummy is packed with good-for-you ingredients, including 16,666% of your daily value of biotin and folic acid. The gummies also include vitamins B-5, -6 and -12 to support your body's production of collagen and keratin and A, C and E to neutralize free radicals. Also, there's zinc to support scalp health.
Vegan-friendly. Gelatin-free, gluten-free and 100% vegan gummies are the perfect match for any plant-based lifestyle.
Great on the go. Each heart-shaped, natural strawberry-flavored gummy is a tasty way to get in a daily dose of vitamins anywhere, at any time — no water required.
Customer Jordan called GRO Biotin Gummies "my favorite biotin gummies ever!" and shared her love for their hair and nutrient-boosting effects:
"These are the best biotin gummies I've found. They taste so good and have so much biotin, but [they] also have a ton of other vitamins that I've been able to use as my multivitamin. My hair has grown so much since I've started taking these. 10/10 recommend." - Jordan
VEGAMOUR's Lash (and Brow) Products: See for Yourself
Want thicker, fuller, lusher lashes (and brows)? Try one of our lash serums or lash and brow kits and see the results for yourself! With consistent use of our safe, natural and cruelty-free products or kits, lush, fluttery fringe and brows that wow are closer than you might think!
More From VEGAMOUR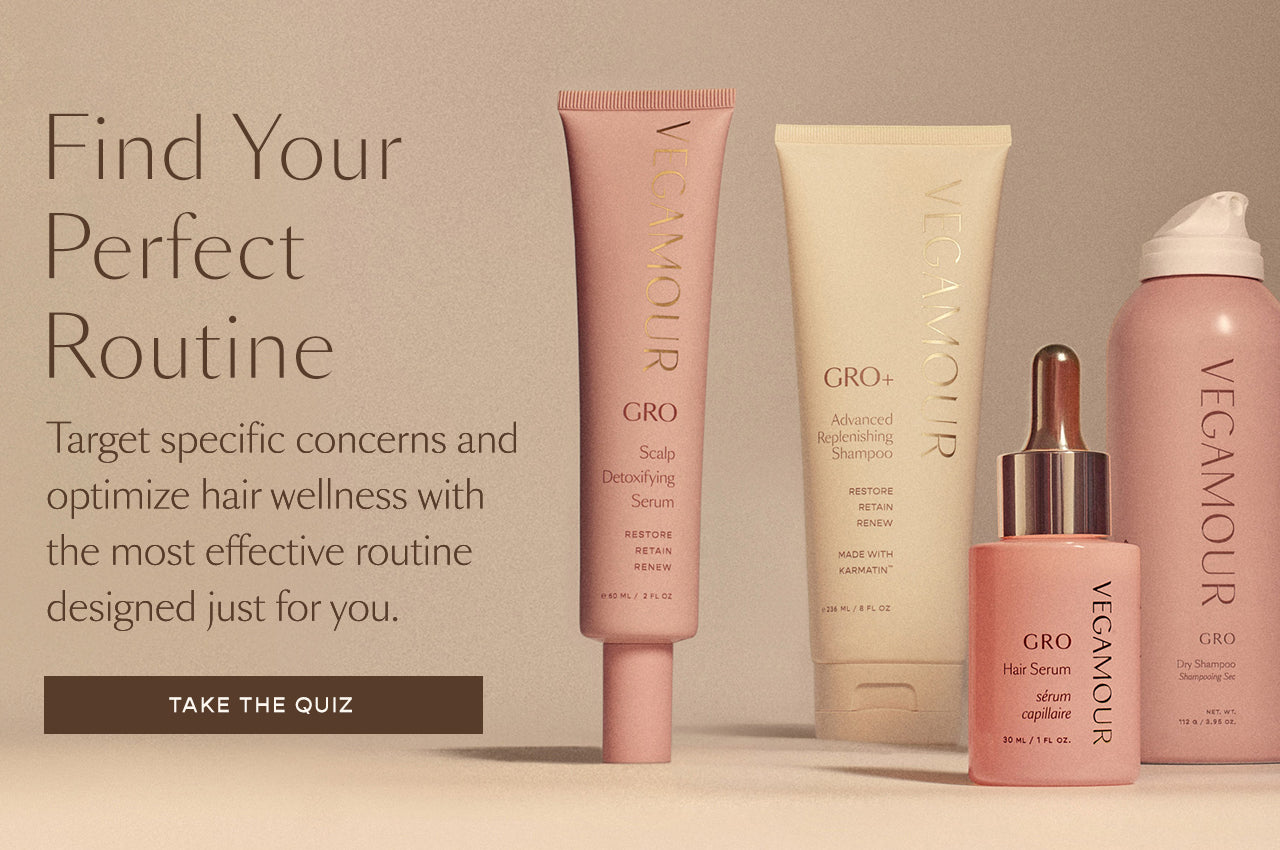 Disclaimer: Information in this article is intended for general informational and entertainment purposes only. It is not intended to constitute medical advice, diagnosis, or treatment. Always seek professional medical advice from your physician.