Why Use This Best-Selling Vegan Eyelash Serum to Get Fuller Lashes
Vegan and plant-based foods have become as mainstream as the corner coffee shop — and now more and more beauty and wellness products are being made with this philosophy in mind. That's good news if you're on the hunt to score thicker lashes using a lash-boosting serum that is free of any animal-derived ingredients.
Adding a vegan eyelash enhancing serum into your daily routine can take your lashes from lackluster to lush, the natural way. Whether you lead a plant-based lifestyle, have allergies to certain ingredients or are simply looking to incorporate more clean ingredients into your routine, vegan products — including eyelash serums — offer a natural alternative to enhancing your lashes with incredible results.
Why Go Vegan
Your skin is your largest organ, making what goes both on — as well as in — your body important. In the quest for lush, long lashes, you may have been tempted by an extensive array of options. Eyelash enhancing and growth serums, mascara, lash primers, false lashes and extensions are everywhere — many of these, however, are made from non-organic and/or chemical compounds. 
With the current focus on clean, sustainable, healthier ingredients, there's no longer an excuse to use products formulated with potentially harmful ingredients. Ingredients such as prostaglandin (we'll get into this below) may lead to unwanted side effects or irritation of sensitive skin or eyes. 
Instead, options abound to be as selective when choosing which products you use on your face as you are about what you eat. If you're leading a vegan lifestyle or simply have sensitive eyes, you might want to consider swapping out the chemicals for a vegan eyelash serum. 
The Problem With Prostaglandin 
There are tons of eyelash growth serums out there. Many of which contain prostaglandin, which is "added to counteract any irritation that ingredient might cause" and "can help stimulate lash growth" according to Ramy Gafni, eyebrow expert and founder of Ramy Cosmetics.
The flip side is that eyelash serums containing prostaglandin — also known as bimatoprost — are formulated using chemical compounds with hormone-like effects. This does have the potential to boost lash length and fullness, but it also comes with risks.
A prostaglandin-infused lash enhancing serum may cause side effects such as:
Dark spots in the iris
Eyelid itching
Eye redness
Eye irritation
Eyelid skin color discoloration
Hair growth around eyes if medication regularly runs/drips off eyelids
"More commonly, the skin where the serum is applied (along the roots of your lashline) can become discolored and look like you have eyeliner on," said Gafni. "This usually fades away once you stop using the serum."
Shop: GRO Revitalizing Scalp Massager
Turn Up the (Vegan) Volume
Enter: Vegan alternatives for lashes and brows that put the focus on plants, rather than prostaglandin or other potents made from chemicals. Lash enhancing serums like GRO Lash Serum (formerly called vegaLASH Volumizing Lash Serum) or GRO+ Advanced Lash Serum may promote healthier, fuller-looking lashes by moisturizing and strengthening existing eyelashes, along with the surrounding skin. 
And yes, they're equally as, if not more, effective and work as well as their non animal-friendly counterparts. 
VEGAMOUR products are certified by Leaping Bunny. All products, including GRO Lash Serum and GRO+ Advanced Lash Serum, are 100% vegan, cruelty-free and free of sulfates, parabens, silicones, gluten and artificial fragrance. 
Best of all, these eyelash enhancing serums deliver clinical grade results that rival prescription and OTC serums — all without the aid of any animal byproducts or animal testing. Plus, you can skip the trip to the doctors office — there's no RX required.
"There are many great lash and brow serums that condition the hairs and encourage lash and brow growth without getting into medical-grade ingredients," said Gafni. "I suggest trying these first."
The Pros of Vegan Lash Serum 
For those with allergies, delicate skin or easily irritated eyes, using a vegan lash serum also makes sense. Clean ingredients may help keep irritation at bay, as well as minimize the risk of eye or eyelid infections. Both the brow serum along with the eyelash serum in the GRO+ Advanced Lash and Brow Kit make use of nature's medicine — plants — to power up the natural botanical formulas. Apply the vegan lash serum twice a day for best results.
The prostaglandin-free, gluten-free, hypoallergenic serum that is formulated without animal byproducts, which make it ideal even for the most sensitive eyes. But, you ask, will a more naturally-derived lash serum actually deliver real results? The answer is YES.
As we age, our bodies produce different hormones, including testosterone. Through a natural biochemical process, testosterone is converted by 5AR (the 5a reductase enzyme) into DHT (dihydrotestosterone) which travels to the eyelash follicles. When DHT builds up around the base of the eyelash, it actually causes inflammation and irritation. I
t also shortens the growth phase of hair by blocking important growth messages flowing from the skin to the dermal papilla cells located in the base of the lash bulb. Eventually, the inflammation can cause dermal papilla cells to push farther away from the lash bulb. This can lead to slower lash growth and, if left untreated, lash loss.
To help counteract DHT buildup and the potential for eyelash thinning and lash loss, GRO Lash Serum features important plant actives:
Red Clover (trifolium pratense) Organically grown red clover is a natural source of biochanin A, a potent antioxidiant isoflavone. Biochanin A quenches inflammation and neutralizes 5AR that converts our body's testosterone into hair and lash damaging DHT molecules, thus helping to conserve existing hair and lashes.
Plant Stem Cells from Mung Bean Organic plant stem cells derived from highly concentrated mung bean proteins contain natural L-lysine, an essential amino acid. L-lysine provides a natural protective barrier around the derma papilla, shielding it from errant DHT while helping to produce vital collagen protein, which is necessary for healthy hair and lash growth.
Acetyl Tetrapeptide-3 is one of the proven peptides that helps to build stronger cellular matrices around the dermal papilla, which means that lashes will be better anchored for less chance of fall out. Additionally, this peptide has also shown to increase shaft diameter, which means that new lashes will grow in thicker. 
Go ahead, get ready to flutter those fuller, lush lashes. Our holistic approach extends beyond simply hair wellness. Rather, both the brow and lash serums make use of nourishing ingredients with a plant powered base to build and strengthen both the hair follicles, support and soothe scalp, creating the optimum foundation for healthy hair – along with the rest of your body.
To treat your body, from head to toe, to improved health, you may want to integrate other healthy habits into your daily routine. Think: Maintaining a balance diet, daily movement, being mindful, practicing gratitude. 
More From VEGAMOUR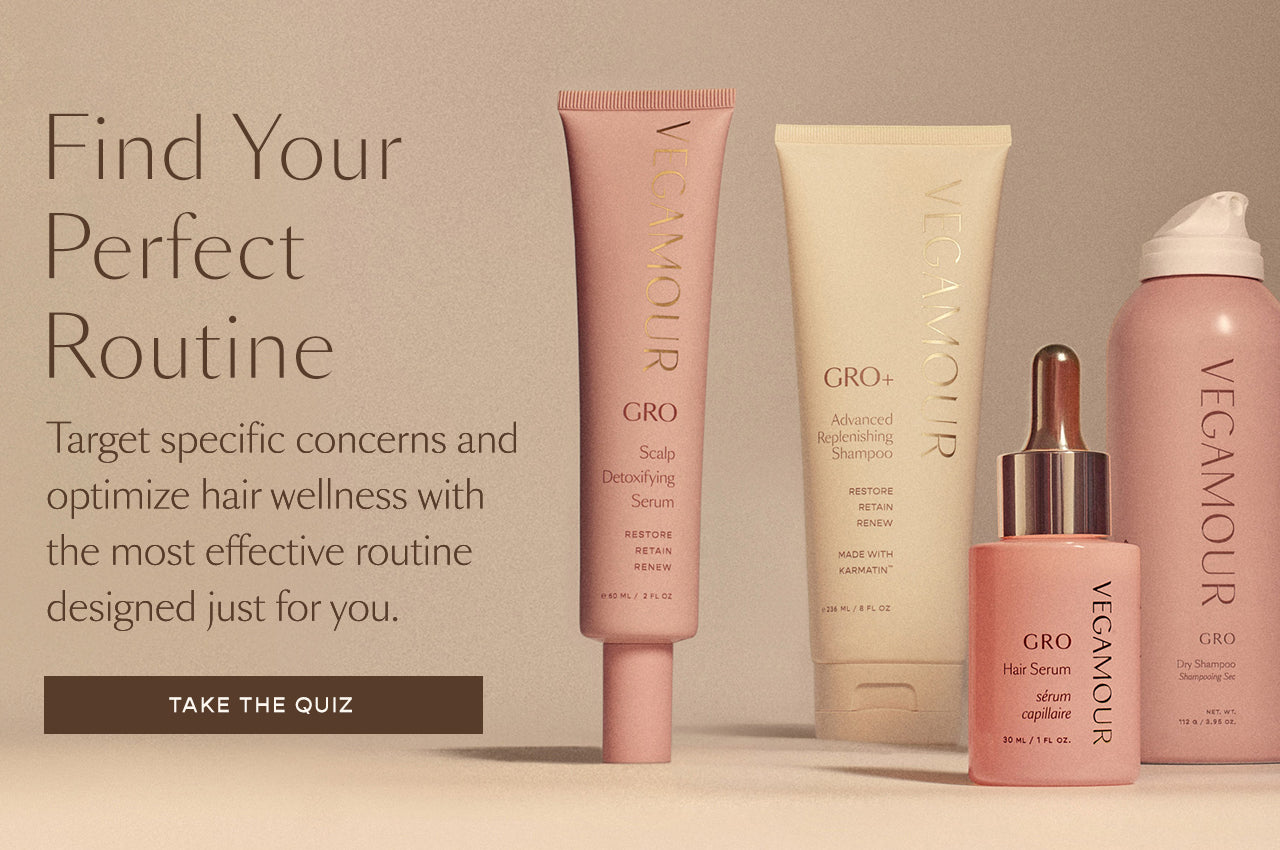 Disclaimer: Information in this article is intended for general informational and entertainment purposes only. It is not intended to constitute medical advice, diagnosis, or treatment. Always seek professional medical advice from your physician.