Here's How GRO Biotin Gummies Boosted My Daily Routine
You've likely heard of biotin, especially if you've ever taken any kind of beauty supplement for hair, nails or skin. Biotin is commonly used to boost skin, nail and hair health, and let's face it, we could all use a boost in those areas at times — myself included!
Despite an already overflowing stash of supplements, I decided to give GRO Biotin Gummies a try. And I'm so glad I did! Read on to find out about my experience and what makes this biotin supplement a game-changer for your hair.
Biotin Benefits
Biotin, also called vitamin H or B-7, is one of the most popular ingredients in the wellness world. Biotin may help combat thinning hair, help with hair loss issues and can be of benefit to nails and skin. This means it plays a starring role in many beauty and hair vitamins!
While biotin can be found in certain foods, taking biotin supplements, such as GRO Biotin Gummies, may further enhance the key ingredient's benefits. And along with being used to support hair growth, strengthen nails and improve skin, biotin supplements may also assist with proper brain and liver function, as well as eye health. 
Shop: All Subscriptions
What Makes GRO Biotin Gummies So Good?
Besides the fact that these pink, heart-shaped gummies are super cute, they're also 100% vegan — and plant-based gummies can be a rare find! GRO Biotin Gummies are packed with a ton of good-for-you benefits, including:
Biotin and folic acid support healthy hair, scalp and skin.
Gluten-free
Gelatin-free
Vitamins B-5, 6 and 12 help support your body's natural collagen and keratin production.
Vitamins A, C and E help neutralize follicle-damaging free radicals.
Zinc helps promote and maintain scalp health.
Natural strawberry flavor (no artificial colors or flavors).
VEGAMOUR also offers GRO+ Advanced Gummies that contain all the same great ingredients, plus the power of healing hemp oil. They are the first hair gummies to harness therapeutic, broad-spectrum hemp oil for visibly thicker hair.
Read: 3 Ways a Daily Biotin Supplement Can Benefit Your Hair
Why I Love GRO Biotin Gummies
As a self-proclaimed supplement expert, taking a slew of pills on the regular can get — and taste — beyond boring. Thankfully, these heart-shaped, strawberry-flavored wonders make it easy-breezy to add a daily dose of sweetness to your routine.
So, did these supplements pass my personal checklist? See my answers here:
Do they taste good? Yes! The natural strawberry flavor is perfectly sweet and delicious.
Do they work well for travel and/or if you're pressed for time? Also, yes. You can bring your daily dose with you on the go, anywhere and take it anytime, no water required!
Are they vegan? Yes. This is super important for me. As it can be challenging to find supplements, specifically gummies that don't contain gelatin or other animal byproducts, I appreciate that they're not only 100% vegan but also packed with essential vitamins and minerals.
Most importantly, how did my hair look and feel? After consistent, regular use in my daily routine, my hair definitely felt and looked better than before I started using them. Hair loss around my hairline is my main concern — I definitely noticed a big difference in the increased amount of new baby hairs and regrowth throughout my roots and around the crown. My hair also felt soft and looked shiny, making the gummies an even bigger win! And because I am a fan and user of various other VEGAMOUR GRO topical products, such as the GRO Hair Serum, these gummies were a perfect addition to my hair care routine, helping me promote healthier, shinier, thicker-looking hair from the inside out!
Shop: GRO Biotin Gummies 3-Pack
What Others Have to Say About GRO Biotin Gummies
Don't just take my word for how amazing these biotin gummies are — see what other real customers had to say about falling in love with the hair supplement!
"I have been struggling with thinning hair for some years. I just starting taking these biotin gummies about 1.5 months ago. and my hair is already showing signs of more volume and growth! Plus the gummies are so cute and tasty to start the day with! Am loving it! " -Cecilia A.
"I am so obsessed with these biotin gummies! They are a super cute heart shape and taste soooo good! They have a ton of other vitamins besides biotin, like vitamin A, D, C, E and more, so I take in this place of a multivitamin since it does that but also supports hair growth. The only problem is my boyfriend keeps eating them too, lol, so I have to buy the 3-pack next time. I highly recommend these biotin gummies for hair growth for anyone trying to grow out their hair." - Jacey
"My favorite biotin gummies for hair growth. I've tried a lot of different biotin gummies for hair growth and nail strengthening, but this is, by far, my favorite. I love that it has a ton of other vitamins and minerals. so it can replace my multivitamin and also is packed with biotin. It's also one of the few vegan biotin gummies I've found that actually tastes really good. I highly recommend these biotin gummies to anyone looking to grow their hair!!" - Joanne W.
How to Save on GRO Biotin Gummies
Take one gummy per day for best results. Each bottle includes 30 gummies, enough for one month. Better yet: Stock up on a few months' supply so you never have to worry about running low, and is the ideal way of seeing optimal results.
Or, for beautiful hair on a budget, subscribe and save to have the gummy vitamins delivered directly to your door. This way, you can reap the benefits of biotin beauty-wise and budget-wise!
Hair Wellness Begins With Love
Maximize your VEGAMOUR hair wellness routine by bolstering your daily diet with the great-tasting and beneficial GRO Biotin Gummies! Each heart-shaped gummy will make you smile as you get a daily dose of essential nutrients that taste as good as they are for you and your hair! And if you find that these are for you, order a 3-pack and/or utilize our Subscribe & Save feature to help you reap both benefits and savings!
More from VEGAMOUR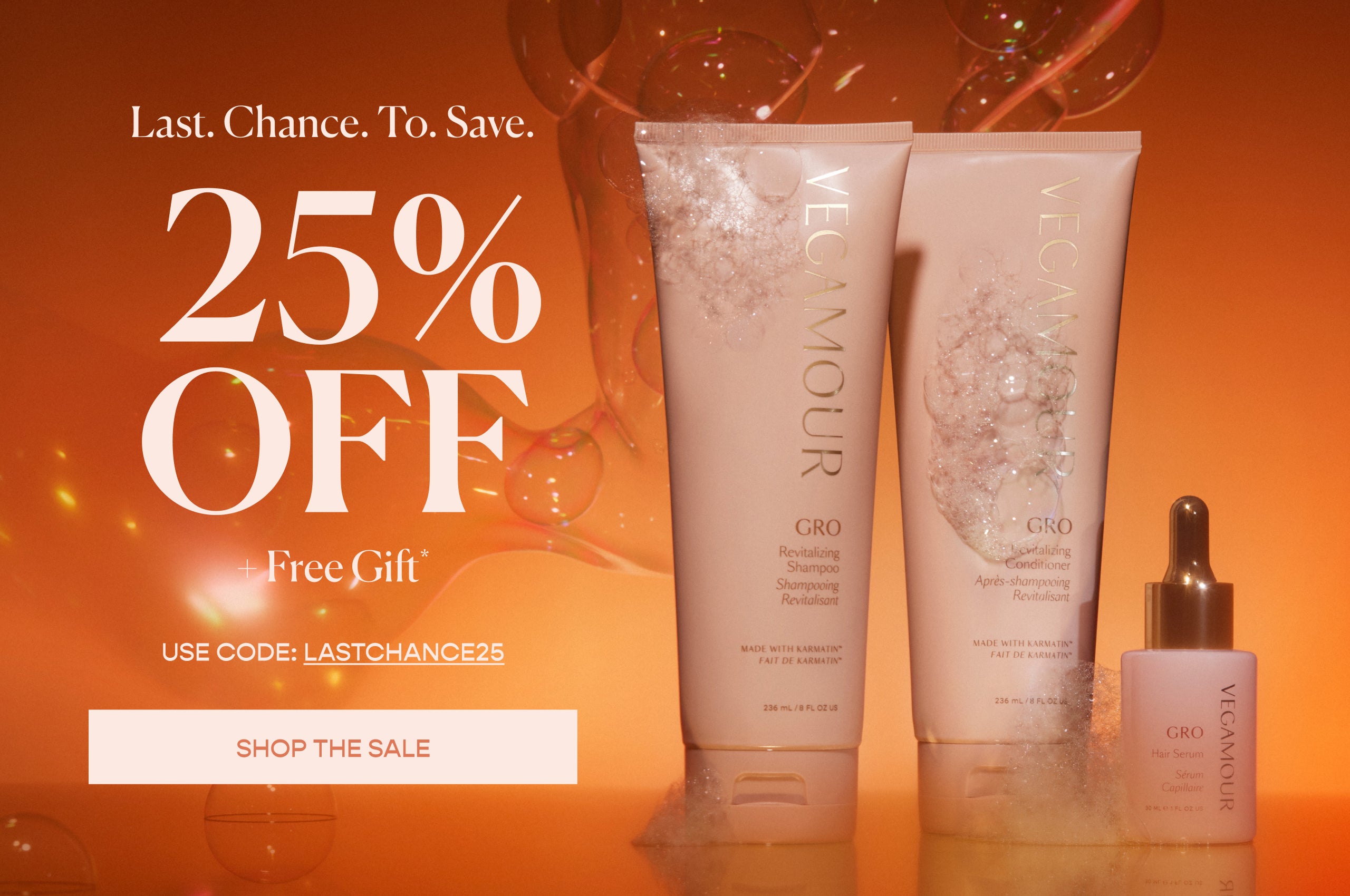 Disclaimer: Information in this article is intended for general informational and entertainment purposes only. It is not intended to constitute medical advice, diagnosis, or treatment. Always seek professional medical advice from your physician.