Should You Wash Your Hair After Working Out?
Whether you've been hitting the hiking trails, jogging around your neighborhood or lifting weights at the gym, a tough workout can leave your scalp and hair feeling like a gross, greasy mess. If you follow traditional haircare advice then you know that experts often suggest shampooing only 2-3 times per week, but what about if you are the kind of person who works out more than that?
Gym hair leaves you with excess oil at the roots that makes it difficult to style, but showering and washing your hair after ever sweaty workout session can lead to a dry scalp and other scalp issues. You might be wondering, "Should I wash my hair after working out?" Read on to find out what the experts say, as well as the best products for cleansing and nourishing your hair after a workout.
To Wash or Not to Wash Post Workout?
While overwashing your hair can lead to a whole mess of issues, there are good reasons to consider washing it after you work out.
"Washing your hair immediately after working out is the best way to remove sweat and buildup from your scalp," explained hair surgeon Dr. Harikiran Chekuri. "This will help to keep your hair healthy and prevent any scalp issues from developing. However, if you have dry or damaged hair, washing too often can strip away natural oils and make your hair look and feel even worse."
Washing your hair not only removes dead skin cells from the scalp but also sebum, which is basically your body's natural conditioner. If you strip the scalp of this protective oil every day, it can lead to dry and damaged hair and even issues like seborrheic dermatitis, which is a form of hair loss.
Chris Pitt, co-founder of HairBro UK, agreed that washing after every workout could do more harm than good. "Exercising causes sweating, which makes you feel like your scalp needs a good scrub," he said. "Regardless of how frequently you sweat, you should shampoo 2-3 times per week. Shampooing too frequently strips the scalp of its natural oils."
Read More: 6 Essential Pre- and Post-Workout Hair Tips
Dry Shampoo is Your Friend
If your hair type allows you to only wash it 2-3 times per week, then there are some other measures you can take so you don't feel like a hot mess after working out. "The best method to use will depend on your hair type and texture, as well as your personal preferences," said Dr. Chekuri. For those with dry hair, Dr. Chekuri suggested you forgo washing after a workout and use dry shampoo instead.
Using a high-quality dry shampoo like VEGAMOUR's GRO Dry Shampoo can help absorb excess oil in sweaty hair while preventing clogged follicles. This scalp-balancing and volumizing dry shampoo formula combines the texturizing benefits of a traditional dry shampoo with powerful, plant-based ingredients that work to support a healthy hair biome.

"When your scalp feels too oily and greasy between wet shampoos, use a dry shampoo," said Pitt. "However, keep in mind that dry shampoos are not a replacement for regular shampoos and you cannot condition your hair after using one."
While you don't want to strip the scalp of its natural oils, it's also not great to leave excess sweat on the scalp day after day. If you are able to coordinate your hair wash days with your workout days, that's the best recipe for a happy healthy hair ecosystem. If you decide to skip washing after a workout, lean on dry shampoo to absorb sweat.
Read More: 10 Unexpected Ways to Use Dry Shampoo
Get Dirty Hair Out of Your Face
If you're someone who likes to exercise outside, your hair will come into contact with more than just sweat. If you hike or trail run, you're more likely to have dirt and dust get into your hair. If your hair gets dirty when you work out, you'll want to keep it off your skin.
"If you don't have time to wash your hair after working out, simply tie it back into a ponytail or bun," Dr. Chekuri suggested. "This will help to keep sweat and dirt off of your face and prevent your hair from getting in the way. You can also try using a headband or scarf to keep your hair out of your face."
Pitt suggested using hair ties to keep your hairstyle in place while working out. "Tying back your hair can mean the difference between a frizzy mess and cool waves," Pitt said. "Cover your strands with a sweat-wicking material. Wear a scarf or a hair wrap. Even a sweat-proof headband can help. These materials will protect your hair from workout damage while also absorbing frizz-inducing sweat."
A loose braid or bun can be helpful in holding your hair in place while you workout. Keeping it out of your face can reduce the amount of frizz you'll be dealing with when you end your workout session.
Read More: This Dry Shampoo Was Formulated With Thinning Hair in Mind
A Good Rinse is Wise
If you decide not to wash your hair after you work out, you should still rinse your skin with plain water (at the very least) to get rid of any sweat, which could clog pores. If you swim and your hair comes into contact with chlorine, shampooing is non-negotiable, especially for color-treated hair. "No matter what method you choose, be sure to rinse off any salt or chlorine immediately after working out," said Dr. Chekuri. "These substances can dry out your hair and skin, so it's important to remove them as soon as possible." Getting a quick rinse in post-workout will keep your skin healthy — and also make you smell nice.
Dr. Chekuri also suggested avoiding using heat styling products immediately after working out. "This can further damage your hair," he said. "Wait at least an hour before applying any heat or chemicals to your hair."
Make Your Wash Days Count
When you do wash your hair, you want to make the most out of your wash day. Whether that's right after a workout or a day or two later, you want to use quality products that cleanse and nourish the scalp and hair follicles.
"Ideally, you should wash your hair once or twice a week if you have dry hair and every 3-4 days if you have oily hair," he said. "Be sure to use a mild shampoo and conditioner and avoid using hot water when washing your hair. After washing, apply a leave-in conditioner or other hair treatment to help protect your hair from damage."
Using a quality shampoo and conditioner duo like VEGAMOUR'S GRO Revitalizing Shampoo and Conditioner can help you make the most out of your wash days, getting rid of that cakey residue from sweat buildup while adding moisture back into your follicles to promote healthy, hydrated strands.

Read More: Is Sweat Good for Hair?
The Takeaway
Shampooing your hair every day isn't wise unless you have very fine hair that gets greasy fast, or if you find that your scalp is reacting to a buildup of sweat and dirt. If you're suffering from scalp conditions like seborrheic dermatitis, it might be time to reevaluate your post workout routine and haircare products.
Most hair textures can be washed every 2-3 days, while a coarse or very curly hair texture can go even longer between washes. If you are able to adjust your workout schedule to fall on the same day as your wash day, this is ideal, as it allows you to wash sweat and dirt off your scalp and hair follicles immediately without over washing or compromising your scalp health.
When you do shampoo, make sure you use sulfate-free shampoo, which is less likely to irritate a sensitive scalp or damage the hair follicles needed for hair growth. If you do decide to use dry shampoo between washes, use a good high-quality dry shampoo that won't harm the scalp's ecosystem.
More From VEGAMOUR
Photo credit: Tirachard Kumtanom/Pexels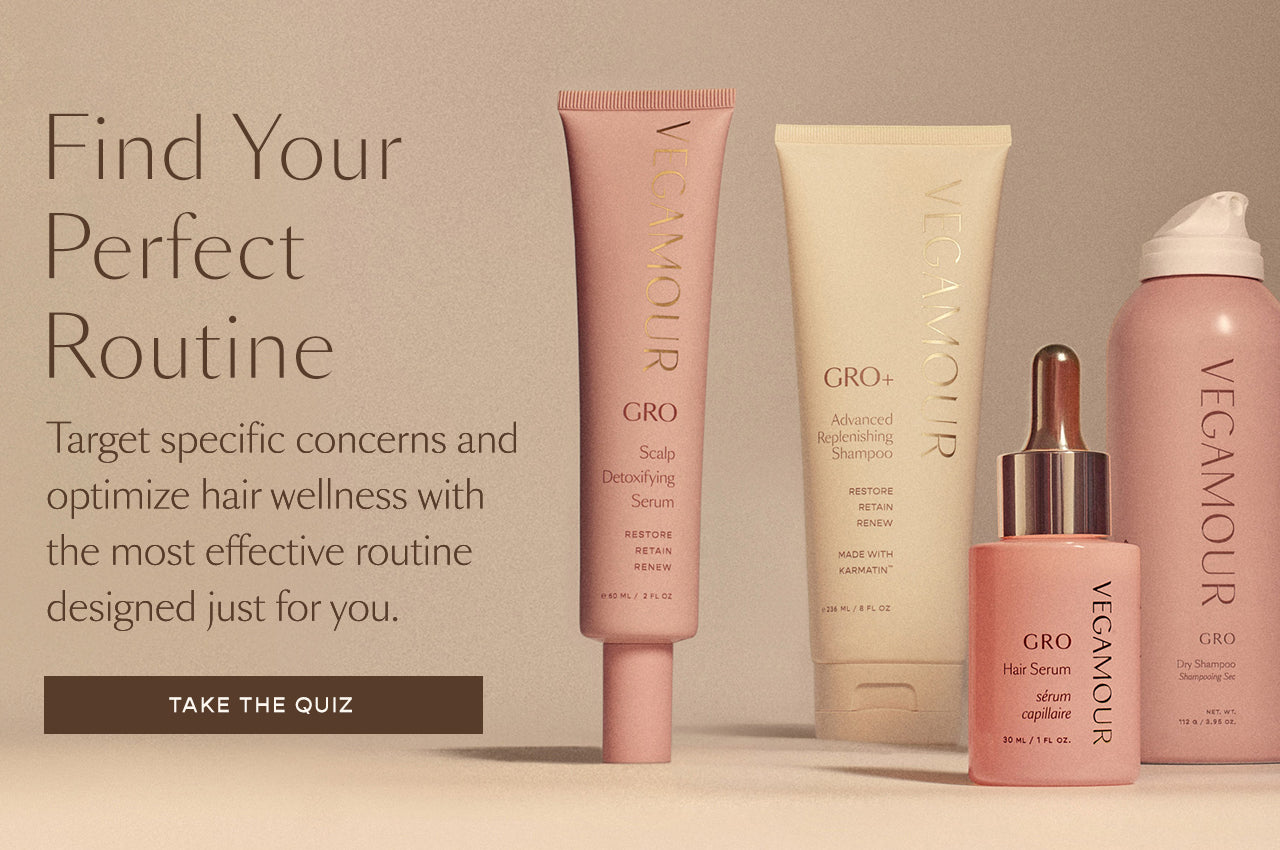 Disclaimer: Information in this article is intended for general informational and entertainment purposes only. It is not intended to constitute medical advice, diagnosis, or treatment. Always seek professional medical advice from your physician.