Top 5 Tips If You're "Losing" Your Eyebrows
Many of us are still recovering from the beloved razor-thin '90s brow trend, feeling impatient as fuller, bolder brows are not only the new trend but also a look that will likely stick out as a timeless staple.
While getting too tweezer-happy is easily the biggest culprit when it comes to thin eyebrows, there are other factors that can cause them to shed. Nutrient deficiency can impact both hair structure and growth, which requires a doctor having a look at both your medical and dietary histories. Genetics can also play a big role in the growth pattern or lifespan of your hair.
The good news? Whether you're someone who's over-plucked your arches to a fine line at some point in your life or had hair inexplicably get sparser, you can choose from more options than ever available before to help grow those brows back. There are steps you can take to restore the health of your eyebrows and get back to your fluffiest, thickest archest yet.
5 Tips If Your Brows Need a Boost
Whether your brows have thinned with age or you've just gone a little too far with your tweezers, there are ways to get them back into shape. Here are 5 tips for thicker, fuller brows: 
1. Invest in New Products
If you're dealing with hair loss on your eyebrows, you can't solve the problem without the right products. One product in particular that will do you wonders is an eyebrow serum that can condition your arches while also treating the issue. Keep in mind the best brow serum will not only tackle eyebrow thinning but will also prevent it in the future.
Enter GRO Brow Serum — it's become such a fan favorite for a reason. It featured phyto-active ingredients, such as red clover, mung bean, curcumin, and magnolia bark, which have been shown to reduce inflammation. This powerful blend also works to extend the anagen, or growth, phase of the hair growth cycle and anchors hair follicles to prevent future hair loss. The natural formula is both safe and effective, and provides the nourishment needed to support fuller brows. Take a look at this before and after image of a customer who used GRO Brow Serum (formerly called vegaBROW) for just six weeks!
For an added boost, try GRO+ Advanced Brow Serum with microencapsulated, broad-spectrum CBD. Formulated with the same phyto-actives as the original GRO Brow Serum formula, this serum quickly penetrate and soothe skin. Concentrated cannabidiol works in tandem with our phyto-actives to support your thickest, fullest brows ever.
Shop: The Ultimate Lash & Brow Kit
2. Be Mindful of Ingredients
We totally get it—ingredient lists can be complex and confusing, but it doesn't have to be this way.
By now you've likely heard the wonders biotin can do for hair; on the flip side, having a biotin deficiency can be linked to hair loss. Our eyebrow serum's natural formula contains an exclusive Polyphytobase Complex with biotin, which works in synergy with other ingredients such as red clover and mung bean. Red clover has shown to help slow down the production of DHT, an androgen that promotes male sex characteristics including body hair, but can also lead to hair loss. Mung bean is a good source of protein, vitamin B6, magnesium, and other nutrients that help inhibit inflammatory cytokines.
For an inside-out approach to hair health, you can also take daily biotin gummies for hair. With biotin, folic acid and vitamins B-5, -6 and -12, this yummy gummy is an easy way to stimulate keratin production and new cells. 
These are just a few of the nourishing ingredients found throughout our hair  products — and there's plenty more where that came from! The main takeaway? Do your research.
Read: Should You Choose Biotin or Collagen for Healthy Hair?
3. Experiment With Makeup
While you're aiming long, set your full brow sights near with a quick temporary fix: makeup! Using a fine-tip eyebrow pencil to fill in sparse areas is an easy way to create hair-like fibers that won't look unnatural. To get a closer look at the natural shape of your eyebrows and to spot any unevenness, first brush your eyebrows upwards with a spoolie brush. "The goal is to really have the most even brows, but try not to overly fill in the inside corners of the brows or make the end points too harsh," makeup pro Nico Guilis, tells Elle.com. If there are any harsh lines once you're done filling them in, use a spoolie brush to blend out the color.
You can follow this up by using a clear eyebrow gel to keep any unruly hairs in place or brush up your brows for a bushier look. For a more dramatic look, use a brow pomade or brow powder and angled brush to fill in your arches.
After your favorite brow serum dries, use a spoolie brush and brush the eyebrow hairs upward.
Use a small, angled eyebrow brush for application.
With very light hand pressure, start by applying the product at the base of the eyebrows, brushing from the center of the brows out towards the ends.
Continue brushing the pigment throughout the brows with light strokes, eventually making your way to the top of the eyebrows.
Once you reach the inner corners of your eyebrows, use the lightest pressure as you'll want less pigment here.
With a small shader brush, blend out any harsh lines and soften up the overall look.
On the other hand, if you're a bit more low-maintenance when it comes to your beauty routine, a tinted eyebrow gel gives you a simple one-and-done approach to fuller brows.
Using the applicator included with your eyebrow gel, begin by brushing the color onto the middle of your eyebrows out towards the ends.
Using the leftover pigment on your brush, brush the eyebrow gel onto the beginning of your brows at the inner corners towards the center.
If the overall pigment is too intense, use a clean spoolie brush to blend it out.
4. Take Daily Supplements
Incorporating a supplement into your everyday routine is a great first step to take towards getting stronger, thicker eyebrows. Finding the best hair supplement doesn't have to be difficult—because we did the homework for you!
Vegamour's GRO Biotin Gummies are formulated with an array of vitamins and minerals that are essential for your eyebrow goals. They contain biotin, folic acid, vitamins A,C,E, and zinc. This combination works together to protect the hair from free radicals, stimulate keratin production, and maintain hair tissue repair. Just like our eyebrow serums, our gummies have a CBD sister too. GRO+ Advanced Gummies have all the same nutrients as the original formula plus 10 mg of CBD and 10 mg of CBG per gummy! 
Try It Yourself: Biotin Gummies for Gorgeous Hair
5. Consider an In-Office Treatment
If you're not getting the results you need elsewhere, it might be time to take a more serious approach. There are both cosmetological and alternative medicine options that can help change the state of your scant eyebrows. One of the most popular approaches to getting fuller brows now is microblading. The semi-permanent tattoo technique is done by a trained professional who draws in your brows to resemble natural hair. Microblading has grown in popularity over the last few years and it can last for up to a year, and in some cases even 18 months.
A newer technique, eyebrow lamination, has now hit the scene and has likely graced your Instagram feed already. The technique originated in Russia and involves chemically straightening your eyebrows so that the hair is smoothed into a vertical direction. The result is fluffier, fuller brows, minus the tattoo-like procedure of microblading.
Another surprising technique for achieving thicker eyebrows is acupuncture. Yes, you read that right! Believe it or not, in some cases, acupuncture has successfully helped eyebrow hair loss by stimulating circulation. This helps restore the hair follicles and reduces any inflammation that can directly affect hair thickness and overall hair wellness.
Related: How Often Should You Brush Your Hair?
Bold Brows Take Time
At the end of the day, getting your brows back into tip-top shape is going to take patience and commitment. You won't see a change overnight, or even in a few days, but the waiting game is so worth it. Remember, stay away from the tweezers for a minute!
More From VEGAMOUR
Photo credit: VEGAMOUR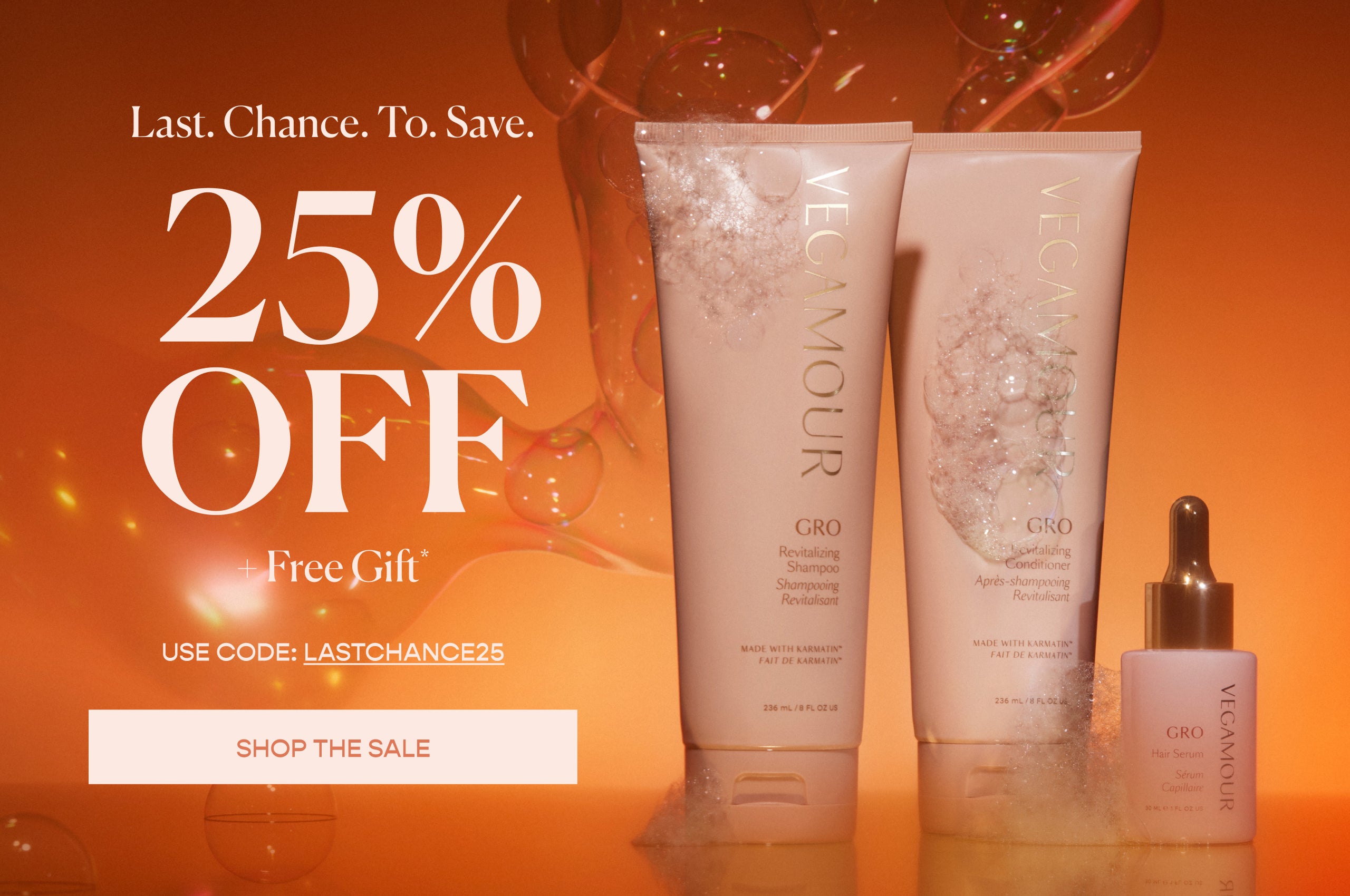 Disclaimer: Information in this article is intended for general informational and entertainment purposes only. It is not intended to constitute medical advice, diagnosis, or treatment. Always seek professional medical advice from your physician.