How To Trim Your Eyebrows Yourself
If you've been putting brow care on the back burner, it's time to make a change. Brows are more than functional, twin arches of hair that block sweat from trickling into your eyes. They're also key to your overall look — a perfect combination of function plus form. Just a few tweaks to your eyebrows can go a long way in accentuating your eyes and visually shaping your face.
If you're skipping the salon or simply want to learn how to trim your eyebrows on your own, you're in luck. VEGAMOUR spoke with Ramy Gafni, Creator of Ramy Cosmetics and eyebrow expert, who has shaped, tweezed and styled the eyebrows of a roster of celebrity clients. He shared his pro tips and tricks on creating perfect eyebrow arches. Here's how to trim your eyebrows with a precision that will make you look red-carpet ready.
3 Rules to Remember When Trimming Your Eyebrows
According to Gafni, there are three golden rules to follow when it comes to trimming eyebrows. Read these before you start plucking.
Follow nature. "Your brows should align with your bone structure, so don't veer too far from your natural brow line," said Gafni. Groom eyebrow hairs with the idea of cleaning them up, not completely reconfiguring the eyebrow shape. 
Be conservative when trimming your brows. "You can always remove and/or trim more later, so it's better to err on the side of caution," said Gafni. "When in doubt, don't pluck it out!"
Think in terms of straight lines when tweezing from long hairs that extend below your brows. "The line should be straight instead of being curved inward or outward. This eliminates 90% of mistakes people make when grooming their own brows," Gafani said.
Try It: GRO Brow Serum for Thicker, Fuller Brows
The Tools You Need to Trim Your Brows
Think of trimming your brows as an artistic endeavor. To get the job done right, having the proper tools on hand is a must. Here's your go-to list to create a salon-quality eyebrow grooming experience at home.
Tweezers with a slanted, rounded tip
Eyebrow scissors, nail scissors or baby scissors 
An eyebrow brush or a disposable mascara brush
Eyebrow Pigment
Concealer
Brow Shaping Tool
Spoolie Brush
Brow Powder
Brow Gel
Also: How to Do Your Eyebrows Based on Their Natural Shape
Pro Pointers for Choosing an Eyebrow Shape
The first thing to do is to determine the correct shape before picking up the tweezers and plucking away. Here's how to trim eyebrows with the right shape for your face and bone structure.
"The arch of your eyebrow should peak directly where your brow bone protrudes the most," said Gafni. And, when it comes to eyebrow trimming, it's best to "always err on the side of being conservative" with too long hairs, as opposed to brow hair that is too short. "It's better your brows should be too close together than too far apart."
Related: How to Grow (or Regrow) Your Eyebrows
How Often Should You Trim Your Brows?
"Everyone has a different rate of hair growth," said the brow expert. "Check your brow hair when brushing your teeth and remove any obvious strays as needed."
If you find your eyebrow hair to be on the sparse side, consider using products such as eyebrow enhancers that stimulate hair growth and regrowth. Plant-based GRO+ Advanced Brow Serum also includes the skincare benefits of microencapsulated, broad-spectrum CBD. This concentrated cannabidiol works in tandem with phyto-actives to support thick, full brows with visible results in as soon as 30 days.
See: Your Guide to Saving Thin Eyebrows
Tips for Using a Mirror When Trimming Your Brows
When trimming your brows at home, start by setting up a good mirror in a room with good lighting.
Begin looking at your face in the mirror from 2 feet away, as opposed to holding the mirror up to your nose.
Then, move in closer to the mirror to identify long hairs that need some TLC. "Doing this gives you perspective and helps you see your brows in proportion to your whole face," said Gafni.
The mirror can be on the wall in front of you. Or, use a magnifying mirror if needed. If you opt for a magnifying mirror, start by assessing with the non-magnifying side first. Again, this will give you perspective. "If you start with the magnifying side, you'll just focus on the stray hairs instead of seeing the big picture."
Proceed with caution and take a slow approach to avoid any mishaps — especially when you're wielding metal brow scissors near your eyes! And, if you're truly lost about how to find your ideal brow shape, try using a stencil to guide you while trimming with scissors, tweezing, shaping or filling your brows.
Related: How to Get Perfect Brows
8 Technique Tips for Trimming Your Eyebrows
Use these techniques to get the perfect brow trim every time:
Begin by brushing brow hairs in an upward direction.
Before removing any hair, it's key to understand where your eyebrows should begin, the direction in which they should arch and where they should end. Use the slanted edge of a brow brush to dip into brow pigment. Hold the brush straight up and align it with the side of your nose and the inner corner of your eye. Place a dot where the brush meets your brow to pinpoint where your eyebrow should begin.
Next, dip your slanted brow brush into the pigment again. Hold the brush at an angle and align it with the tip of your nose and over your pupil. Place a dot where the slanted end of your eyebrow brush meets your eyebrow. That's where your eyebrow should arch.
Dip your slanted brow brush into the pigment one last time. Hold the brush at an angle and align it with the side of your nose and the outer corner of your eye. Place a dot where the end of the brow brush meets your eyebrow. That's where your eyebrows should end.
Now, trim any excess length along the brow line. 
Tweeze the most obvious strays between the brows and below the brows. If needed, also tweeze the hairs above the brows that are not part of the natural progression of the shape. This area is considered "no man's land," according to Gafni.
Be sure to take care not to remove hairs too close to your actual browbone.
Finally, don't remove the peak. "This is a rookie mistake," said Gafni.
Also: 5 Tips If Your Eyebrows Are Thinning
What to Do If You Trimmed Too Much Hair
OK, so maybe you got a little zealous and trimmed too much eyebrow hair. What next? First, grab your favorite eyebrow serum to encourage thicker, fuller brows in as soon as 30 days (it'll fly by!). Then, use an eyebrow pencil, brow gel or even a powder that matches your hair color to fill in your brows for a fuller appearance until your hair grows in naturally. 
Shop: GRO Dry Shampoo 3-Pack
Don't Stop With Brow Trimming
Once you've whipped your brows into shape, don't forget to show your lashes some love, too. The GRO Ultimate Lash & Brow Kit includes everything you need for healthy brows and lashes, including GRO Biotin Gummies, GRO Lash Serum and GRO Brow Serum. Use twice daily to support fuller, thicker and visibly longer-looking lashes and brows.
More From VEGAMOUR
Photo credit: cottonbro studio/Pexels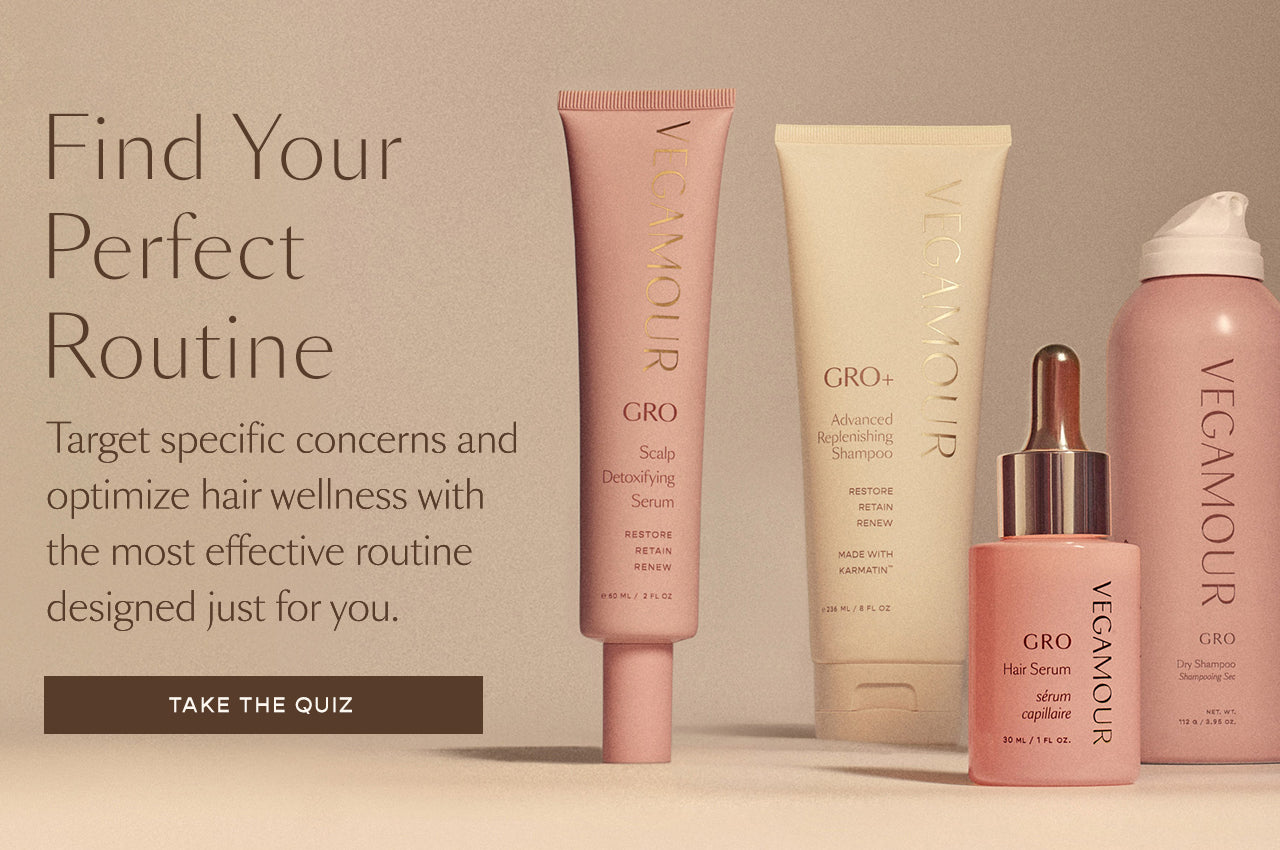 Disclaimer: Information in this article is intended for general informational and entertainment purposes only. It is not intended to constitute medical advice, diagnosis, or treatment. Always seek professional medical advice from your physician.