This Vegan Hair Mask Is So Hydrating
From dry hair to gray hair, a good hair mask can leave all hair types shiny, smooth and beautifully healthy. Vegan hair masks are becoming increasingly popular as people become more aware of the benefits of natural and cruelty-free products.
Read on to discover the benefits of a vegan hair mask and the revolutionary, cruelty-free, vegan hair mask that will nourish and hydrate dry, damaged tresses.
Difference Between Vegan & Non-Vegan Beauty
The main difference between vegan and non-vegan beauty products is the presence of animal-derived ingredients. Vegan beauty products do not contain any animal products or by-products, such as keratin, beeswax, lanolin or collagen. They can also be free from animal testing, which is still common practice in the cosmetics industry. But just because something is vegan doesn't mean it's also cruelty-free. A product can only carry a cruelty-free label (the Leaping Bunny stamp, for example) if none of the ingredients have been tested on animals. Non-vegan beauty products could contain animal-derived ingredients and might be tested on animals.
Read More: This Vegan Shampoo and Conditioner Changed My Hair
Benefits of a Hair Mask
If you don't include a hair mask in your weekly routine, you might be missing a vital hair care step. A deep conditioning mask will help revive damaged hair and a vegan hair mask does it without animal-derived ingredients.
"Vegan hair masks are sustainable, biodegradable and environmentally friendly," suggested Jean Lopez of LilyHair.com. "Vegan hair masks can make your hair stronger and softer than the average chemically formulated hair mask."
One of the biggest benefits of a hair mask is that it cleanses the scalp while keeping it nourished so that the hair has a healthy environment to continue growing long and strong. A good conditioner will keep tangles at bay, but a vegan hair mask will strengthen brittle and fragile strands, so you can expect fewer split ends and less breakage. A vegan mask will also help hydrate the cuticles so each hair strand looks and feels softer. Someone might also experience less frizz when they apply a hair mask regularly.
See Also: How Often Should You Use a Hair Mask?
Why Do Vegan Ingredients Work Well in a Hair Mask?
Regardless of hair length or hair type, vegan ingredients work well in a hair mask because they are free from harmful chemicals that can damage the hair. Many non-vegan beauty products can contain harsh chemicals that strip the scalp of its natural sebum, impacting the hair follicles and leading to dryness and breakage.
A healthy scalp produces healthy hair. Keep your scalp in the very best condition by applying a regular vegan scalp detoxifying serum. Vegan ingredients are typically nutrient-rich, packed with B vitamins and amino acids, which are great at strengthening, hydrating and repairing the hair. These natural ingredients provide the hair with the vitamins and minerals it needs to stay healthy and strong.
Hair Mask Ingredients to Avoid
When choosing a hair mask, avoiding ingredients that can be harmful to the hair is essential. Some of the ingredients to avoid include sulfates, parabens and silicones.
Sulfates remove oil from the hair and leave strands feeling clean. Unfortunately, they don't discriminate between natural moisture and the buildup of dirt and pollutants, meaning they can strip away natural oils. This can dry out some hair types and even cause scalp and skin irritation.
Parabens, commonly found in shampoo and conditioner, play a vital role in inhibiting the growth of pathogens, bacteria and mold. According to the FDA, parabens don't have a negative effect on human health. Nonetheless, scientists continue their diligent investigation of parabens to reveal any potential long-term consequences.
Silicones are often found in conditioners and hair masks because they leave the hair looking super glossy. However, silicones can also impact the strength of your strands and build up on the scalp over time, which might weigh the hair down and could even trigger dry hair.
It is also important to avoid products that contain synthetic fragrances, which can irritate the scalp and skin, causing an allergic reaction.
What to Look For in a Hair Mask
Many vegan ingredients are beneficial for hair. Some of these ingredients include:
Coconut Oil or Coconut Milk: Coconut oil is a popular ingredient in hair masks due to its ability to hydrate and nourish tresses. Coconut oil or coconut milk is especially beneficial for dry, damaged and curly hair types.
Karmatin™: Keratin is a powerful protein that strengthens hair, but unfortunately, it's not vegan. Karmatin™ is a spun, b-silk protein that helps repair the roughened surface of the hair cuticle. It binds to hair and fills in the tiny cracks in the hair cuticle, making strands smooth and effortlessly silky.
Almond Milk: Almond milk is rich in nutrients such as magnesium. Magnesium can help prevent pore-blocking calcium deposits around the follicles, reduce scalp inflammation and improve scalp circulation.
Argan Oil: This natural oil has been used in home remedies for centuries to help soften strands. It's rich in vitamins, minerals and antioxidants and can protect hair from mechanical stress caused by coloring and excessive styling.
Marula Oil: Marula oil is rich in amino acids and fatty acids, which have hydrating, moisturizing and anti-aging properties. The oil won't weigh strands down, but it will help smooth away frizz and flyaways beautifully. It also keeps strands hydrated by trapping moisture under a protective layer.
Olive Oil: Olive oil is another great ingredient for hydrating and nourishing the hair, although the research is limited. Olive oil is rich in antioxidants and can help improve the hair's overall health and appearance.
Almond Oil: This lightweight oil is easily absorbed into the hair. It is rich in vitamin E and can help to strengthen and nourish the hair.
Fresh Lemon Juice: Lemon juice is a natural citric clarifying agent that can help remove buildup from the hair. It can also help to enhance shine and reduce frizz. It is best used on oily hair.
Aloe Vera: This is a natural moisturizer that can help to soothe the scalp. Aloe is also rich in nutrients that might promote healthy hair growth. However, this claim still needs more clinical research to prove its effect.
Avocado Oil: This is a nutrient-rich oil that is high in vitamin C, vitamin E and amino acids. It can help to moisturize and nourish the hair as well as promote healthy hair growth.
Why Try This Cruelty-Free & Vegan Hair Mask
The new HYDR-8 Deep Moisture Repair Mask is a cruelty-free, vegan hair mask that quenches thirsty strands to improve the appearance of damaged hair instantly. Perfect for dry, parched locks, the weekly mask delivers a boost of hydration and improves the strength of your strands after just one use. Karmatin™, the vegan alternative to keratin and silicone, powers the unique, creamy, silicone-free mask. It helps fight frizz and bonds to the hair, leaving it strong, smooth and shiny after every rinse.
To apply your vegan hair mask, wash your hair with shampoo, rinse with cool water and towel-dry your hair until it is damp. Next, apply the hair mask to damp hair, focusing on the ends and any particularly dry or damaged areas. You don't need to massage your scalp with a hair mask rigorously. Instead, just gently smooth it over your strands. Finally, use a wide-toothed comb to distribute the vegan hair mask evenly throughout your hair.
Once you have applied the mask, cover your hair with a shower cap and leave it for three to five minutes. Rinse the mask away with warm or cool water. You can also wrap your hair in a warm towel to help the mask settle in even more.
The Takeaway
The best vegan hair mask contains a powerful blend of hydrating natural ingredients that are not derived from animals. Every product in VEGAMOUR's extensive range is 100% vegan and cruelty-free. If you want stunning, glossy, hydrated hair, the new HYDR-8 collection adds moisture to parched strands and revives damaged hair for a glass-like shine. Made for thirsty hair, every product leaves locks stronger and super silky from the very first use.
More from VEGAMOUR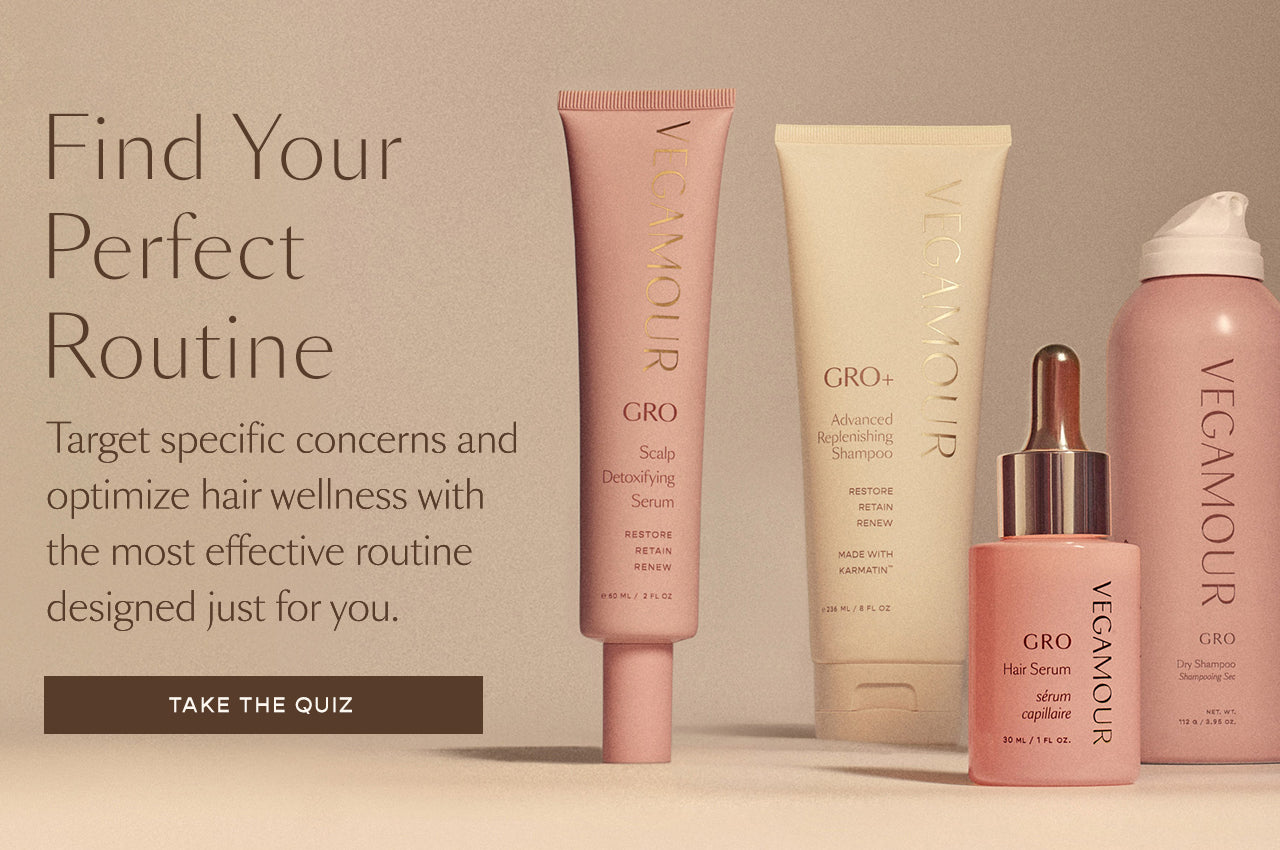 Disclaimer: Information in this article is intended for general informational and entertainment purposes only. It is not intended to constitute medical advice, diagnosis, or treatment. Always seek professional medical advice from your physician.